In the Susukino area of Sapporo you can buy bread and sandwiches any time of night!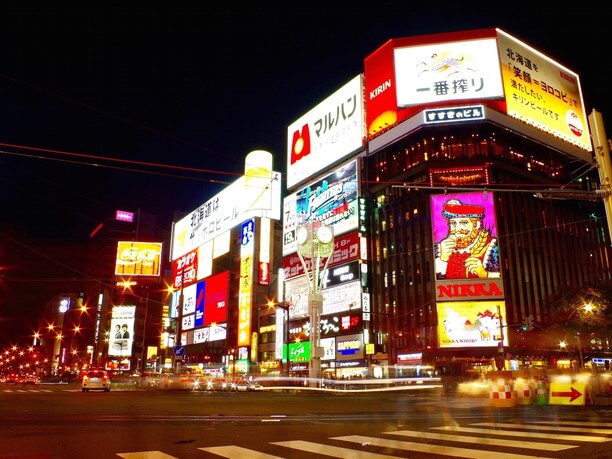 Susukino (すすきの) is one of Japan's largest and busiest districts! There are around 3500 pubs, bars and stores in Susukino. It is a place where local citizens as well as tourists meet in crowds. They meet in back alleys, large buildings and roadside shops.
There are dozens of foods that Susukino is known for. There is "Hokkaido seafood", "Genghis Khan," Ramen, and "soup Curry" that can be found in taverns and other so-called "Hokkaido gourmet" restaurants. Gaining popularity are the "bread" and "sandwich" shops.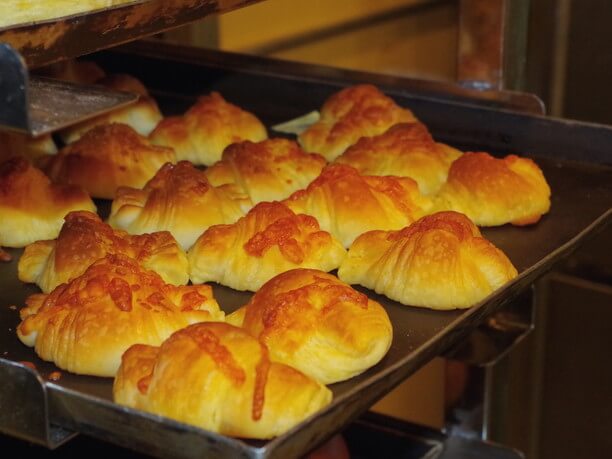 Yorunoshigepan is a place you can get bread in the middle of the night!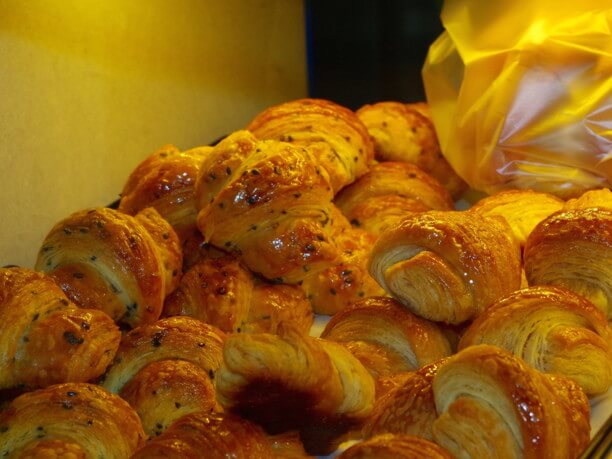 Yorunoshigepan is serving fresh-baked bread sticks at night. The aroma of baking bread in their building fills the air. While a small shop, they have large ovens that allow them to offer freshly baked authentic French bread, soft, hard, and deep fried bread.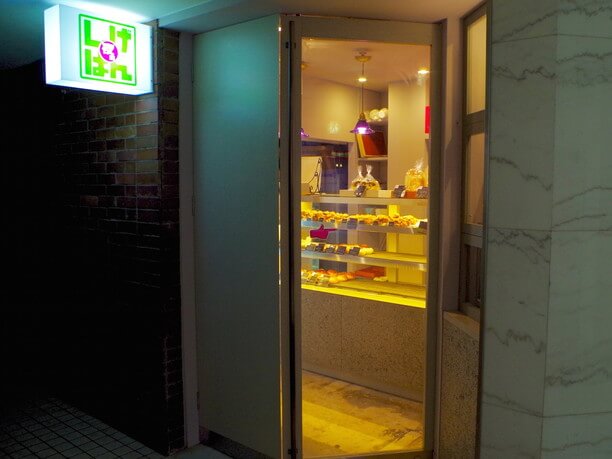 The shop is located in an alley behind station street, at the intersection of South 5 West 6. When you see the number 5 Katsuwa Bldg. you can see the shops entrance on the first floor of the building. If you didn't know it was there you could pass it by. Their main branch is called Shigepan and is located at South 4 West 13. They opened their second shop because they wanted customers not to only think about bread during the day, they wanted people to eat bread at night. They opened the second shop in June of 2015. "I wanted people to be able to get freshly baked bread in the middle of the night, not just get whatever was offered in the Susukino convenience stores." Said the store owner, Mr.Tachihara (立原さん).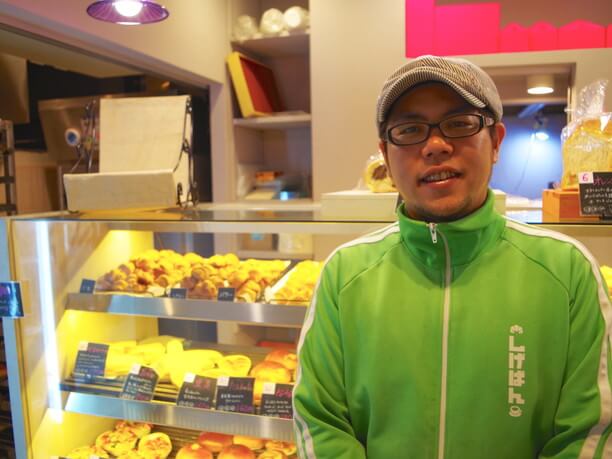 "Shigepan's" bread has interesting names!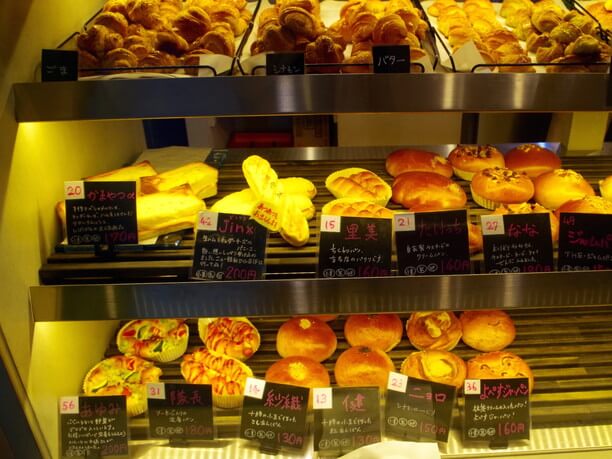 You might be surprised by names of some of the bread at Shigepan. Their bread has names like Night butterfly, Ayumi, Ken, Nana, Tsugumi, and captain. Many of the breads are names after customers. That is because he gets many of his ideas for bread recipes from customers. He provides pen and paper at his shop and asks customers to give him their suggestions of what type of bread to make and what to call it. He currently has around 110 types of bread!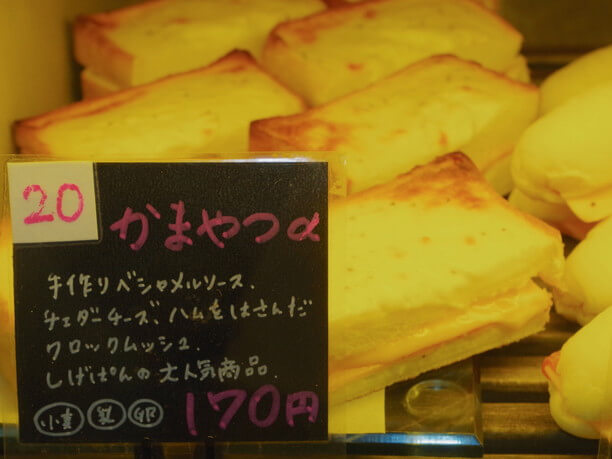 One of their most popular is kamayatsu alpha (170 yen)." It is basically a ham and cheese sandwich.
The Sandria sandwich shop is open 24 hours a day!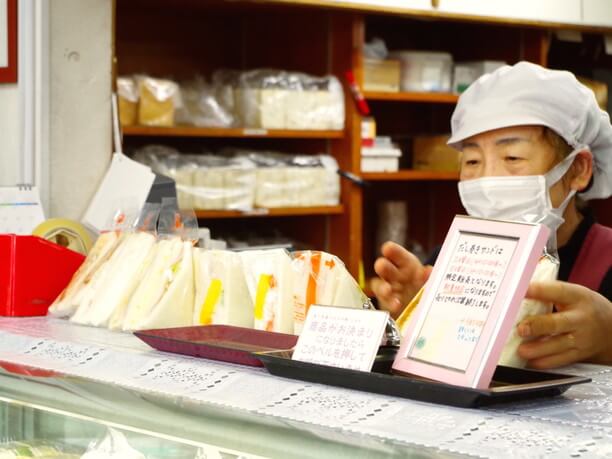 The famous 24-hour takeout sandwich shop "Sandria" was founded in 1978. It is a great place to get homemade sandwiches as a snack or main course. It is a popular spot for young and old alike! The shop is located at South 8 West 9 Higashitonden Street. Though a little far from the Susukino area this shop with Showa era atmosphere is worth the effort to get to.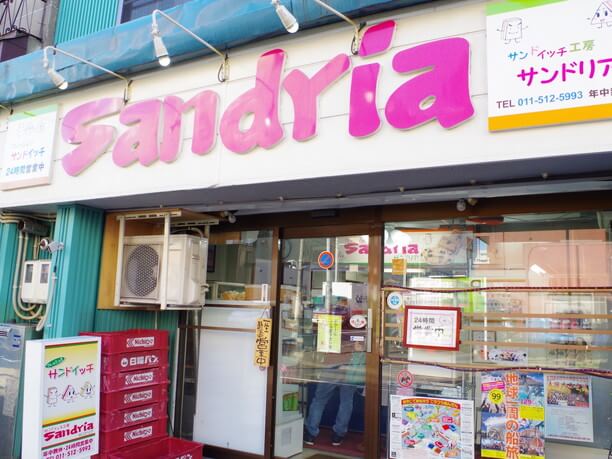 They have about 40 types of sandwiches!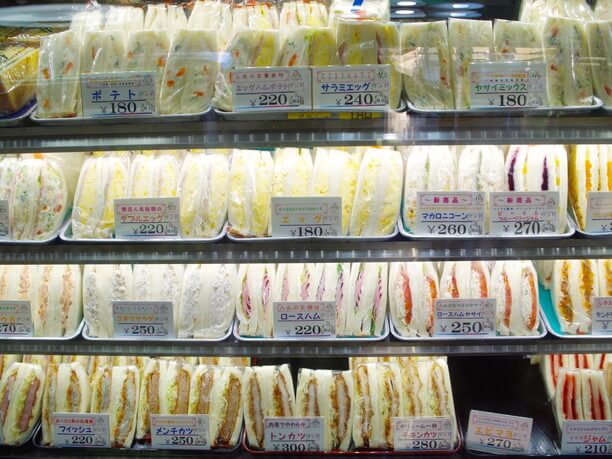 Sandria sandwiches are all handmade. This popular restaurant sells about 1000 sandwiches a day. And the prices are reasonable!
They always have about 40 different sandwiches to choose from including classic ham and cutlet, vegetarian, and fried meat. They also have some unusual sandwiches like green tea with azuki and fruit sandwiches. With so many to choose from you may be looking for awhile. Among the most popular is their "double-egghamsand" (220 yen) and their new "mentaiko vegetable" sandwich (280 yen) and"tandoori chicken" sandwich (260 yen).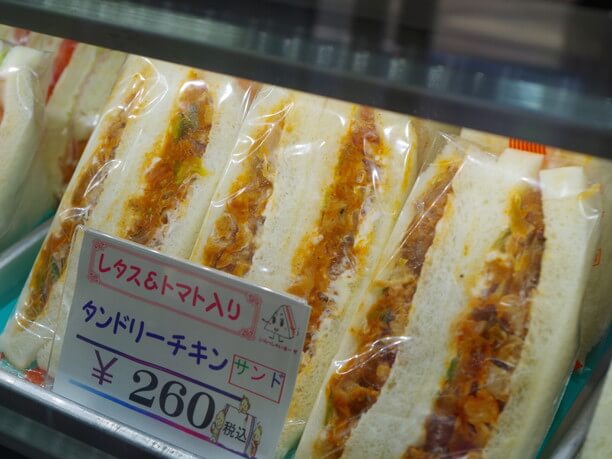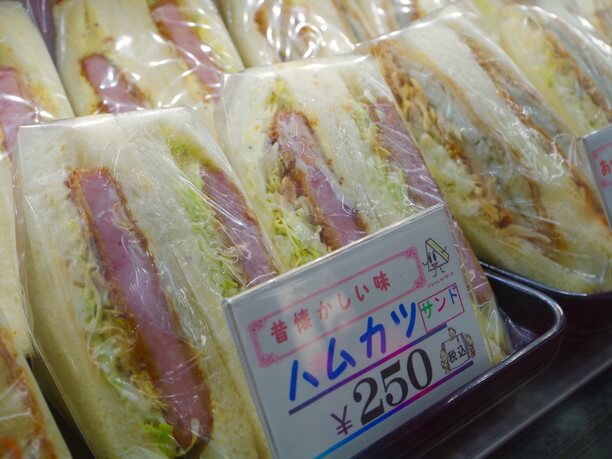 A little away from the center of Susukino, but worth the trip. It is a great place to come after a night out on the town. They have delicious sandwiches waiting 24 hours a day!
Wide variety of gourmet
Any given night there are as many as 80,000 people visiting the Susukino area. It is a wide range of store types and genres. For those who typically like to eat ramen after drinking, you may want to try having a sandwich instead. A sandwich makes a good midnight snack or something you can buy for tomorrow's breakfast.
Smart tip
Yorunoshigepan is a great place to buy bread at night. They start serving fresh bread at 4:00 p.m.! They have the most selections available from 10:00 p.m. to midnight. The best time for fresh bread is 4:00 p.m. and the most selections at 11:00 p.m.!
Sandria sells bread crust. You can get 3 lbs for 50 Yen and 750 grams for 30 yen.
Sandria sells a strawberry fruitsand (240 yen) as a winter seasonal item.
What's interesting
There are many charming shops located near Susukino, Visiting "Yorunoshiniganpan" and "Sandria" is absolutely recommended.
Yorunoshigepan
Spot name(Ja)

夜のしげぱん
Address

No. 5 Katsura building 1F Nishi 6-Chome Minami 5-Jo Chuo-ku Sapporo-city HokkaidoClick the
Address(Ja)

北海道札幌市中央区南5条西6丁目第5桂和ビル1F
Telephone

011-551-3922
Price

100 yen-300 yen
Open

4:00 p.m. to 4:00 a.m.
Close

Wednesday
Parking lot

Without
Note
Sandria
Spot name(Ja)

サンドリア
Address

758-14 Nishi 9-Chome Minami 8-Jo Chuo-ku Sapporo-city HokkaidoClick the Show map
Address(Ja)

北海道札幌市中央区南8条西9丁目758-14
Telephone

011-512-5993
Price

180 Yen to 400 Yen
Open

Open 24 hours a day
Close

Open all year round (however 12/31-off 1/2)
Parking lot

Without
Note