Kyoto people's kitchen for 400 years, Nishiki Market to stroll along and find souvenirs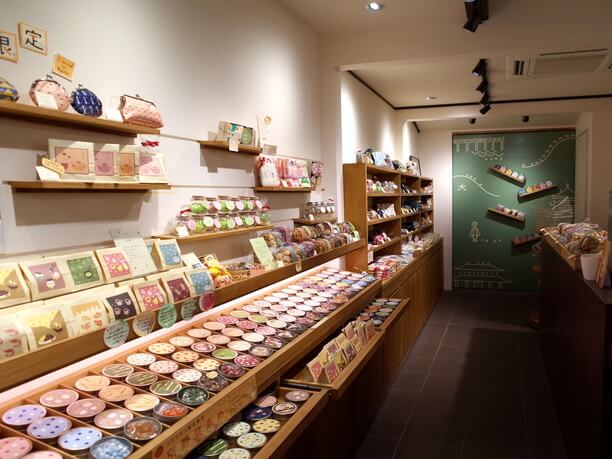 In about the middle of Nakagyo-Ku ward in Kyoto-City, there is "Nishiki Market" shopping arcade where shops are crammed for about four hundred ninety meters from east to west. The width of the Nishiki Market is somewhere between three meters and twenty-five centimeters to five meters (about eleven to sixteen feet wide), and it is so narrow that you might have a hard time walking through the crowd without bumping into someone's shoulders. It is surprising to see one hundred thirty shops in this narrow shopping arcade and you'll find a lot of Kyoto's special items there. There once were many shops that delivered fish to the Kyoto Imperial Palace and the Nishiki Market celebrated its four hundredth anniversary in 2015.
You'll enjoy sightseeing and strolling along the Nishiki Market and feel the history of this lively shopping arcade.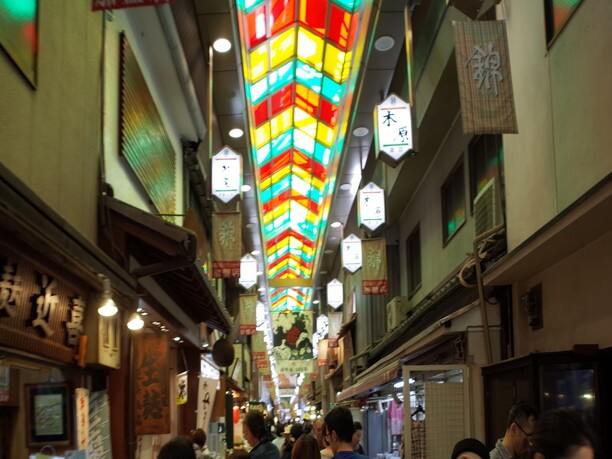 Every single food in Kyoto is here
If you want to buy Kyoto's foods in season, you must come here. The numerous cooks from traditional and luxurious Japanese restaurants and inns come here to buy ingredients, and local people come to shop in this arcade just like their supermarket.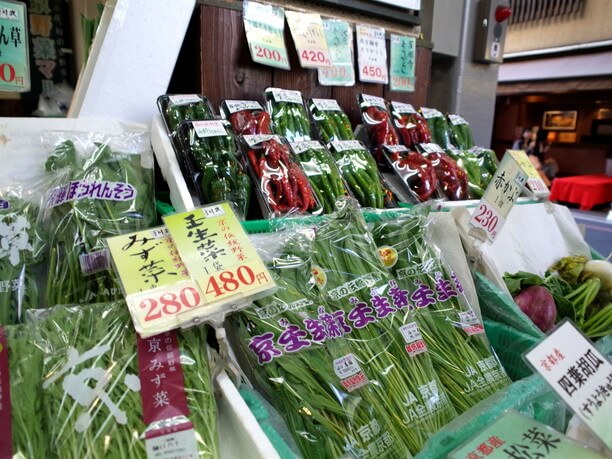 You can see what the food culture of Kyoto is like in the Nishiki Market. The market has a wide range of shops from fish shops that sell sea eel (Common Japanese conger) and Sasa-Karei (delicious dried flatfish) to shops that sell Kyoto-vegetables, Kyoto-pickled vegetables, tofu, yuba-bean-curd-skin (gently boiled soy milk), dried fish and dry goods. It is so much fun just to look around and a great place for sightseeing to experience the unique atmosphere.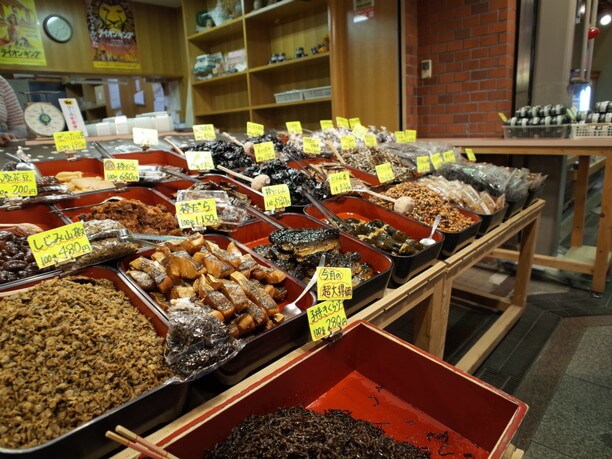 Experience Kyoto Culture beyond foods and ingredients
The foods and ingredients are not the only things that the market attracts. The cooking knife and utensil shop "Aritsugu" has been in business for over four hundred fifty years and is loved so much by many chefs and cooks. Nowadays visitors from other countries flock into the shop to buy knives, and are excited to watch how knives are sharpened and the name is engraved. They wait patiently for the knife to be done with a sparkle in their eyes.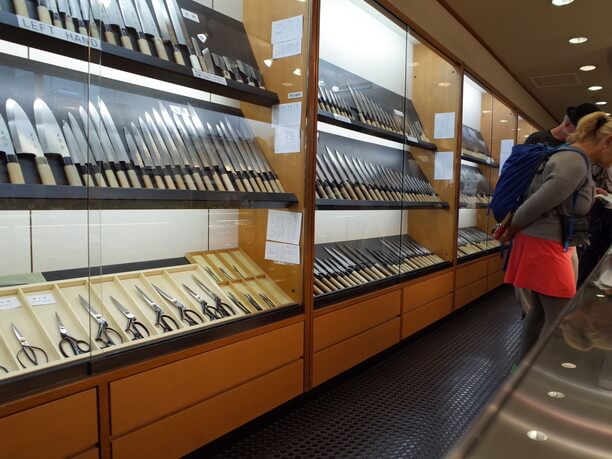 Feel the beauty of "Kyo-ware" in your hands
One of the aspects of the Kyoto culture is "Kyo-ware". Speaking of Kyoto, "Kiyomizu ware" is well known, however the Kyoto's ceramic ware used to be called "~ ware" that had names of places of Kyoto such as "Yasaka-ware", "Awataguchi-ware" and "Oshikoji-yaki." The word "Kyo-ware" was a word to describe Kyoto's ceramic ware in general. As the time passed, the word "Kiyomizu-ware" started to describe Kyo-ware. Now when you say Kyo-ware, you mean "Kiyomizu-ware." A lot of people purchase "Kyo-ware/ Kiyomizu-ware" as souvenirs and you can see colorful Kyo-ware in the Nishiki Market. The ceramic ware shop "Touan" has a coffee and tea area where they use Kiyomizu-ware.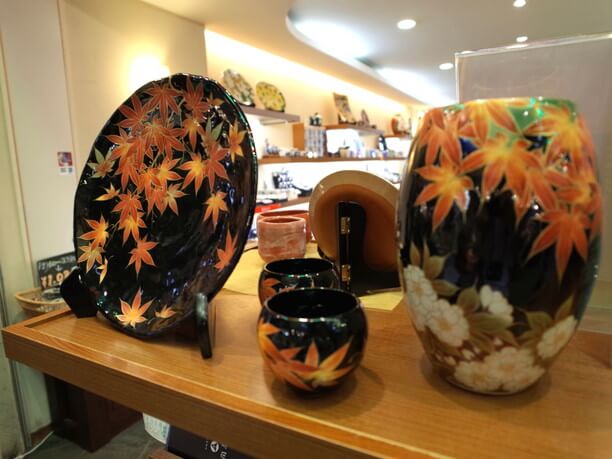 At the pottery shop "Kidoairaku", you can watch a potter turning a pottery wheel. Their prices are very reasonable.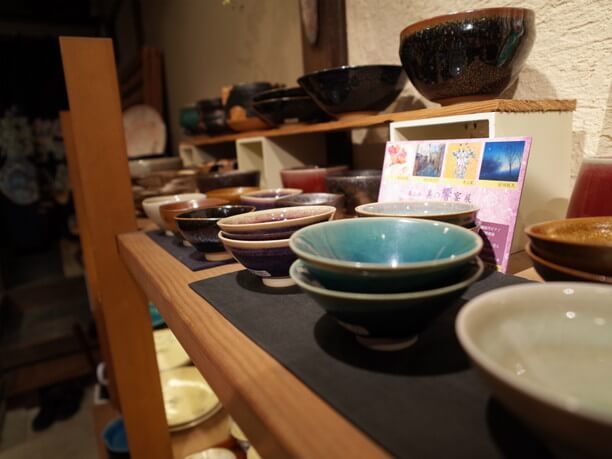 So many cute fancy goods and impossible to choose one
When you hear a word "market", you may think it would be a place where only fresh fish and dry goods are sold and not a place for girls. The Nishiki Market has fancy goods shops that capture girls' hearts. "Maneki-Neko-no-Te" has very popular Japanese fancy goods that use Kyoto's traditional fabric Tango Chirimen silk crepe. A lot of the motifs are lucky items, so you get souvenirs and luck at the same time.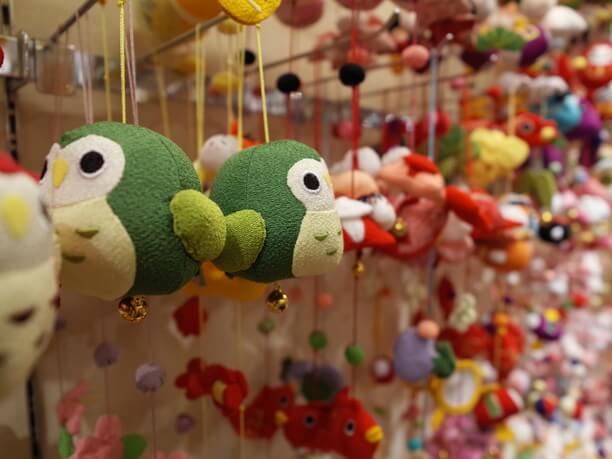 "Corocoroco" has soda pop flavored candies and other candies packed in cute cans that girls would love them.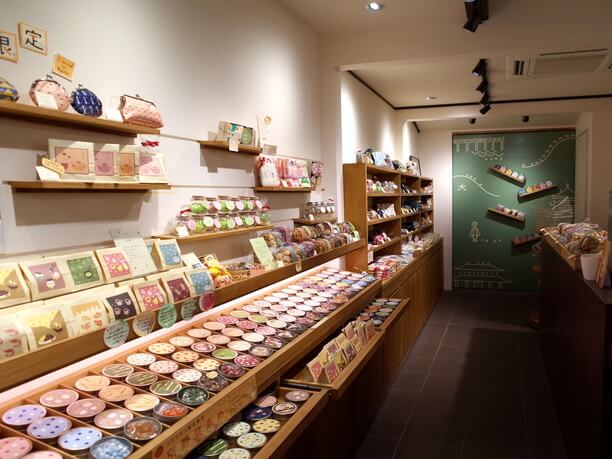 If you like Asian fancy goods, go to "pulau deco." The shop has a Japanese-modern atmosphere and stylish fancy goods. Once you step into the shop, you'll be surrounded by purses, tableware, figurines and glasswork and forget you are in the market.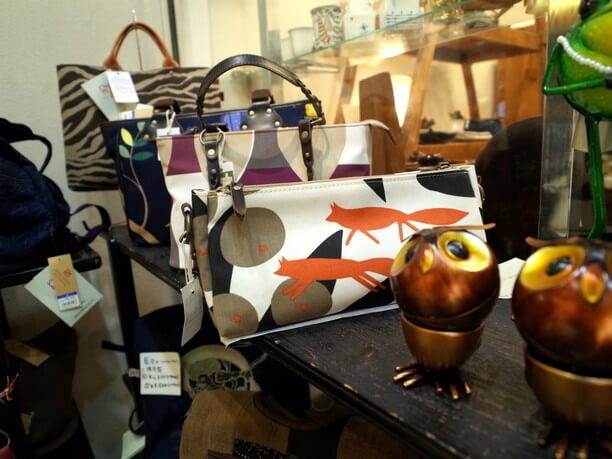 Something else to see above your head, too.
There are shops on your left and on your right in the market, you'll get busy with looking around here and there. Visiting the market one time might not be enough to see everything there. However, when you come to one of the five crossroads, please look up. You'll see stained glass pictures on the ceiling.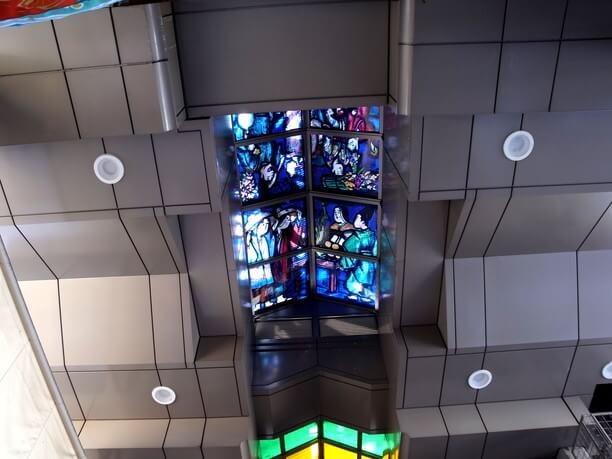 All the pictures are different on each crossroad and it is interesting to compare each picture. The pictures depict the tradition of Kyoto's food culture in each season.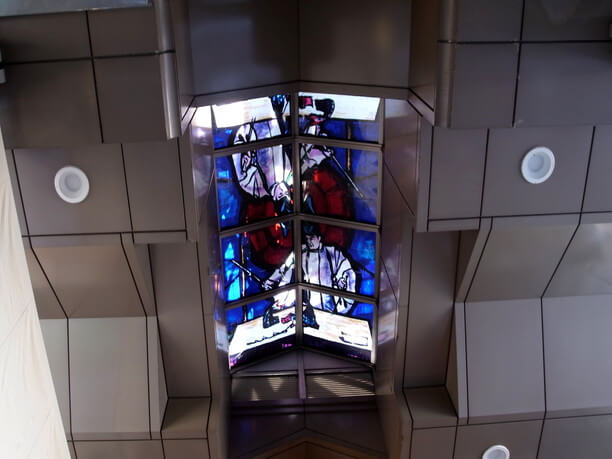 You won't have time to look down on the ground if you really want to enjoy the Nishiki Market that has so much to offer. If you have time, visit there often. If you don't, it is better to have your theme of shopping like "OK. I am going to buy souvenirs today." The Nishiki Market is a great spot for sightseeing and you can never get tired of.
Smart tip
The Twitter by the Nishiki Market shop owners. They tweets updates of the shops, for example what the shops' specials are or how crowded the shops are on that day.
HP : https://twitter.com/nisiki__ichiba/lists/nishiki
There is a Kyo-machiya (machiya in Kyoto / machiya: a dwelling house combined with a store) that they server you the delicatessen food you've bought if you place one order! If you want to eat in a nice atmosphere, this is the place to go. 
HP : http://nishikiagaru.jp/
The Nishiki Market common parking is super cheap! "Kyoto Nishiki Market Shopping District Promotion Association common parking" 500yen @hour! Because parking lots around here are quite expensive, so it is absolutely cheap. You can park your motorcycle or bicycle cheap here.
What's interesting
You can make your own shichimi-chili at "Ochanokosaisai" close to the Takakura street. You make your original blend.
Nishiki Market
Spot name(Ja)

錦市場
Address

Nishikikoji-Dori, Nakaghyo-ku, Kyoto-City, Kyoto (Tera-machi ~ Takakura)
Address(Ja)

京都府京都市中京区錦小路通(寺町~高倉)
Telephone

075-211-3882
Open

varies in each shop
Close

varies in each shop
Parking lot

Tominokoji-dori "Amicale Nishiki" discount available
Note