Experience Okinawan culture at the Makishi Public Market! This local market is well known for travel programs
The Makishi public market (牧志公設市場) is found underneath the arcade really close to International Street in Naha City.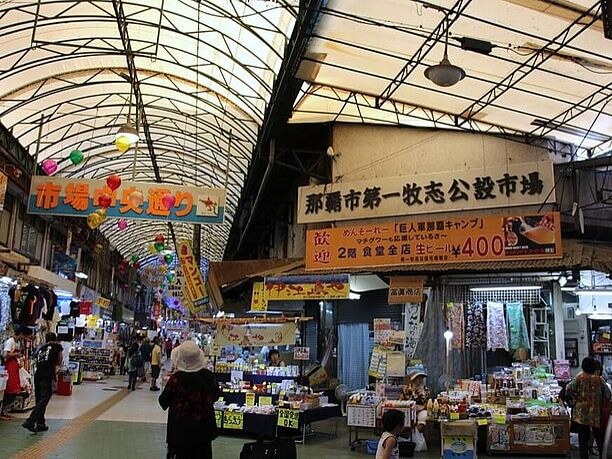 Have you ever seen a pig wearing glasses or a lot of colorful fish in one market?

This is really a popular place for tourists at Naha city that is normally introduced on travel programs. And yes, here you can find pigs in sunglasses and colorful fish lined up.

When Naha was in ruins after World War II, people migrated towards the rivers and traded goods. They continued coming here for many years. This was the start of the Makishi public market.

It has been in the same place now for more than 60 years.

Many of the current buildings were built in 1972 and it is now considered one of the best public markets in Japan.

The arcade is jammed with unique local shops and boutiques creating a nostalgic atmosphere.

It is chock full of Okinawa culture offering such items as meat, fish, vegetables, fruits, pickles, candy, seasonings, and dry goods.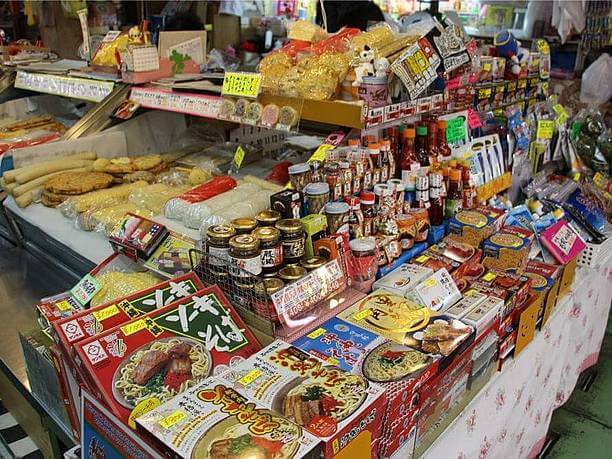 How to taste the colorful tropical fish!
If you visited the public market, you will see a lot of colorful fish that you might not have seen before.

For example, the bright blue Aobudai. These and other colorful tropical fish
are very photogenic.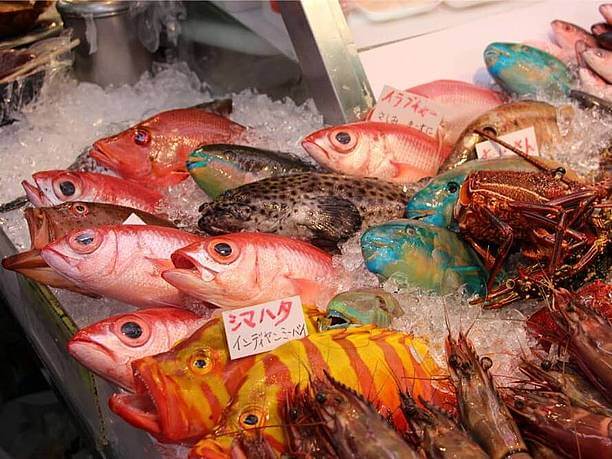 The fish you buy in the public market can be prepared in the dining room on the second floor for a fee of 500 yen. That is an affordable price. However, it can get very expensive if you get a lot of smaller fish and shrimp since they charge by the fish.

A good deal is to select a local tuna for sashimi.

Because it is harvested in Okinawan coastal waters and is available fresh or frozen, you can easily buy one as cheap as 350 yen.

You don't have to bring your own fish if you do not want to. There are additional restaurants where you can enjoy a meal including Okinawa soba and desserts.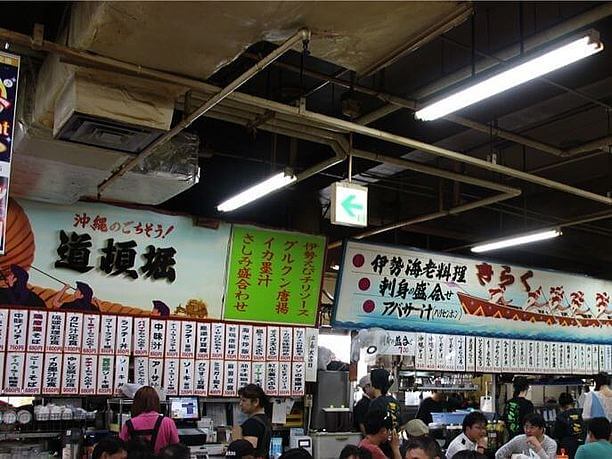 Island vegetables and fruits are highly recommended!
From international Street, you turn on Ichibahon Street when you see the sign for Ichibachuoh Street. On the right side is the Makishi public market. Around Ichibachuoh Street, there are many fruit and vegetable stores.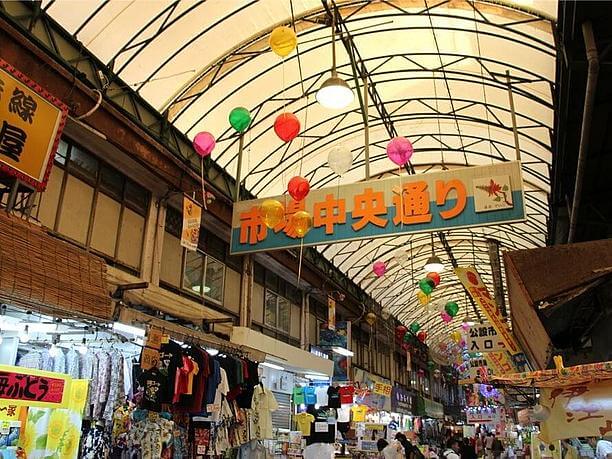 You can usually see Ammars (mother figures of Okinawa) sitting on chairs in front of their shops. It is a relaxed, slow pace atmosphere with a lot of elderly people doing their everyday work.

Depending on the season, you can find items such as Island shallots, goya, large winter melons, mangos, pineapples, and bananas,
as well as many other fruits and vegetables unique to Okinawa.

Worth noting is the small island bananas. They are fewer and more expensive, but so tasty when ripe. They have a sweet and savory, exceptional taste.

If you see fruits and vegetables that you don't know what they are or how to prepare them, just ask! The shop owners love to provide this information as a special service to their customers.
Around the market, there are other streets that are worth exploring!
Around the public market, there is another arcade that includes streets like Ichiba Main Street (市場本通り), Heiwa Street (平和通り), and Mutsumi Bridge Street (むつみ橋通り). Around these, there are many connecting alleys such as Parasol Street.

From International Street, you can get to the market many different ways so take your time and explore them to find the way you enjoy most.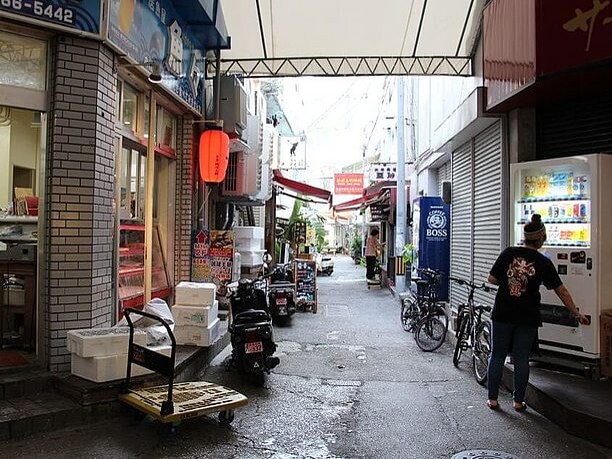 Around the market, there are not only old-fashioned shops but many modern stores as well.

You can find coffee stands, grocery stores, bookstores, and many other small unique shops.

These shops are not just for tourists many locals enjoy them as well.

For those who like books please go Ichibanofuruhonya-urara shop (市場の古本屋 ウララ) near the public market.

The woman owner wrote a book about Okinawa and so she has in her shop a lot of Okinawa-related books.

Buying a book about Okinawa in the market is going to add another
unique experience to your trip.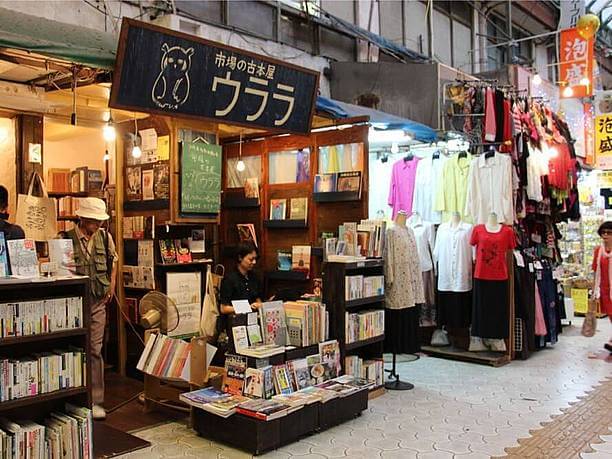 Smart tip
The Makishi Public Market has many distinctive stores around the arcade. I recommend exploring these shops.
You can choose from many different dining rooms on the second-floor food court.
Most of the shops in and around the market (Including the fruit and vegetable stores around the crowded market) get busy around 5pm. So I recommend going earlier.
What's interesting
Local people still enjoy going to the market. Especially before the Obon (a special occasion) when they can experience a different type of atmosphere.
Makishi public market
Spot name(Ja)

牧志公設市場
Address

Okinawa Prefecture, Naha city Matsuo 2-10-1
Address(Ja)

沖縄県那覇市松尾2-10-1
Telephone

098-867-6560
Open

8:00a.m. to 8:00p.m. (depending on store)
Close

4th Sunday
Parking lot

Without