Enjoy the popular "Ajito," a standing drinking shop in the Ura Nanba section of Osaka's Minami area!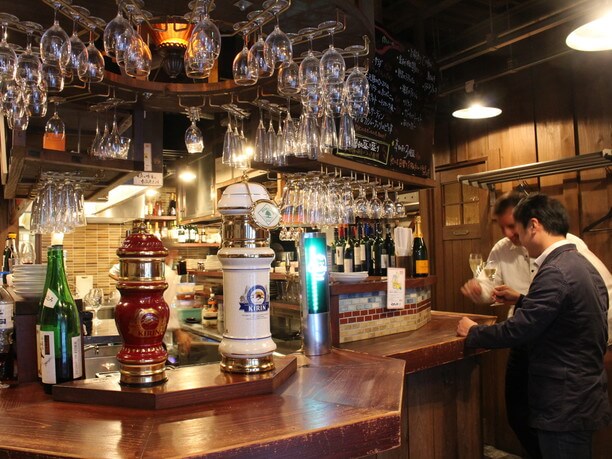 In recent years, "Ura Namba" has become known "the lively part of the city of Osaka." It is a drinking street located on narrow alleys from Nankii Namba Station on the east side, to Nan San street. It is full of delicious and cheap food that a lot of people frequent after sunset. You will find many businessmen on the way home from work, students, and elderly guests here! A very popular shop is the third store of the popular restaurant chain "Dining Ajito." The " Standing Ajito" is now a shop where you can enjoy their pleasant atmosphere while experiencing the standing drinking style. You can enjoy the taste of the food from the Dining Ajito in a more casual setting.

Their unique U-shaped counter attracts a lot of customers!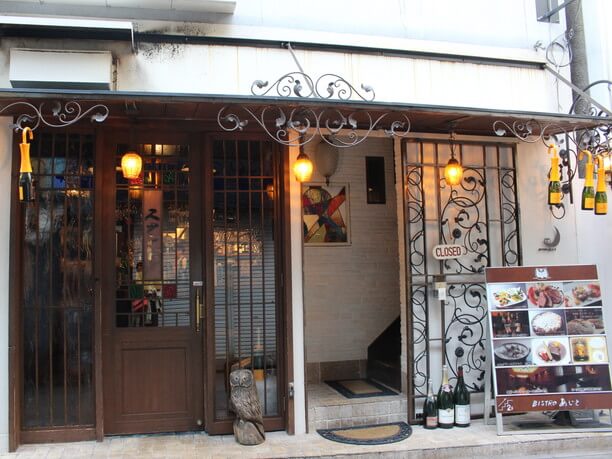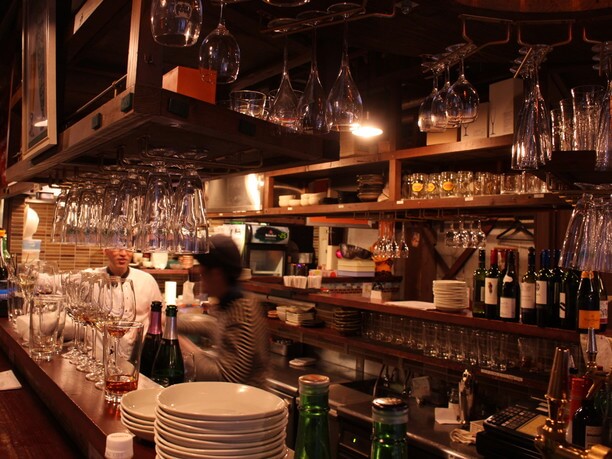 The Ajito group of shops has an owl motif. At the center of "Standing Ajito," is a large U-shaped counter, with an open kitchen that allows you to be close to the cooks. It is an old style standing drinking shop in Osaka, but the counter and furnishings are chic and very fashionable. Wherever you stand you can see the entire shop as well as the appearance of the shop clerks and the cooks preparing your food. There are times when it is not possible but depending on the size of the crowd they divide the counter into smoking and non-smoking sections. It is a fun place to drink while feeling the nostalgic atmosphere of Osaka surrounded by the cooks and the customers enjoying themselves!
Only 20 a day special appetizers plates are created and sold at a great price!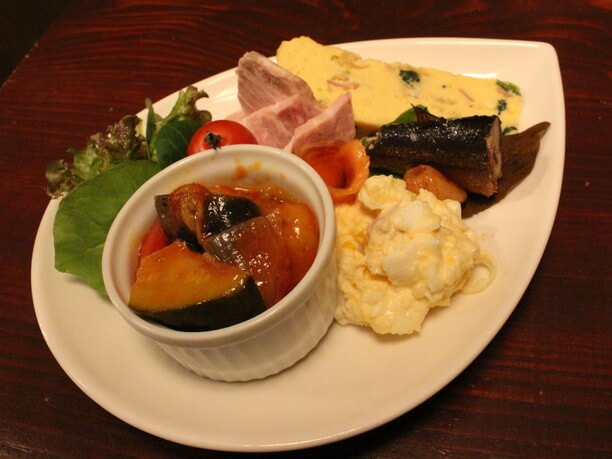 When ordering a drink, you can purchase a special appetizers plate that served with 5 or 6 items for 680 yen. It is a great dish that you can enjoy classic popular menu items such as potato salad, chef specialty loose ham, vegetable ratatouille. For 30 yearsthe Western cuisine chef has created these delicious appetizers for the patrons. The potato salad is rich in flavor with plenty of eggs. The ratatouille has a rustic flavor that allows you to enjoy the taste of vegetables. Each one is carefully made, and all go well together! There are also plenty of small dish menus items that you can eat along with a large assortment of drinks, draft beer. They have whiskey from 380 yen, and wine by the glass from 480 yen.
You will enjoy the head office's charcoal grilled meat!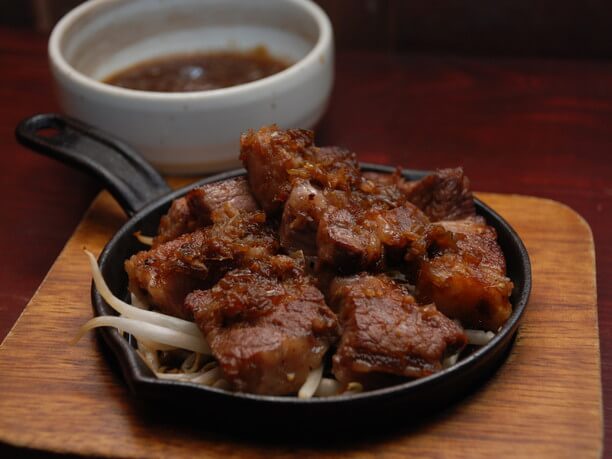 At the head office "Dining Ajito", the most popular menu for lunch is their "charcoal grilled meat " (900 yen). It is served with a soy sauce and mirin base sauce with sugar, garlic, ginger, onions, white onion. It adds to the delicious flavor of the meat. At the "Standing Ajito," they serve a "130 g Wagyu Beefsteak" (780 yen) It is an affordable high-quality, full volume steak that attracts many repeat customers!
There is a private room available for groups and special occasions!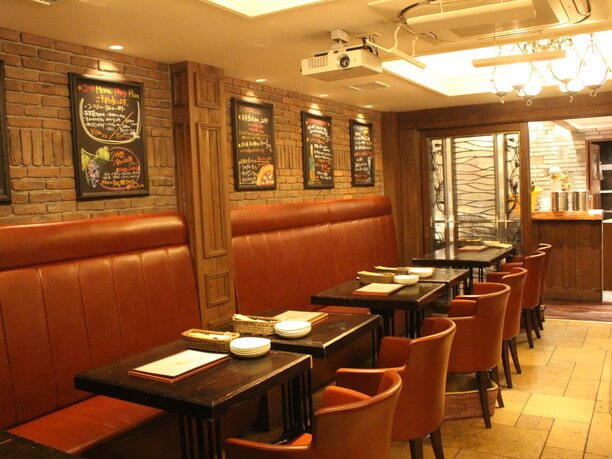 "Bistro Ajita" is located on the 2nd floor of the Standing Ajita. It is a party space that can accommodate up to 30 adults in a private room. They serve many kinds of wines, and feature a Western menu with items such as Gorgonzola pizza (980 yen) and beef tongue (1,480 yen). The banquet menu can be arranged according to the budget, so it is perfect when you want to enjoy their authentic cuisine with your friends. You can also request "Dining Ajita" cuisine from the head office. If you like local wine, they have an abundant variety of Japanese sake and wine that you can choose from to go well with whatever food you are having.
Ura Namba is a good place to enjoy a "drinking ladder"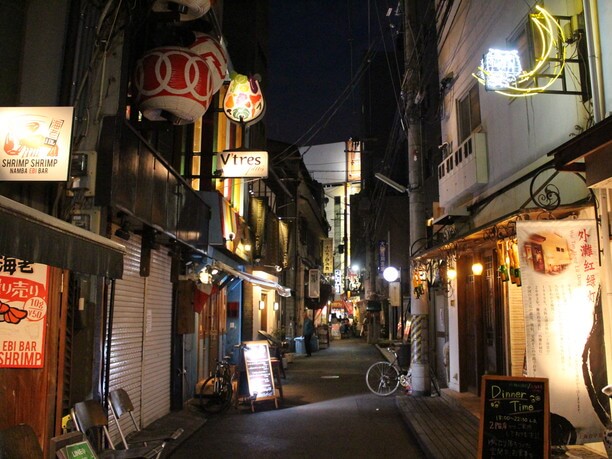 The best way to enjoying Ulla Namba is a drinking ladder, (a tradition where you go from bar to bar after one drink at each location). Besides Ajito, this neighborhood has plenty of other interesting and fun shops to experience. You are sure to encounter "fun" people and exquisite cuisine in every shop that you enter.
One of the charms of this city is the close distance between shops and the number of people visiting them. There is an "Ulla Nanba Cultural Festival" held every year since 2012. It is a cheerful night in a drinking town where the whole area is enveloped by a mysterious sense of enjoyment and unity.
Smart tip
Standing Ajita is a fine space where female customers feel safe while enjoying champagne, wine, cocktails and the taste of head office "Dining Ajita's" food at reasonable prices.
The second floor's "Bistro Ajita has many kinds of wines and Western food. Because there is a private room and party room, it is convenient for group use. The menu can be selected according to budget.
The vibrant Ura Namba is a fun town that is exciting even when just walking around. Feel free to join a drinking ladder liquor, where you can enjoy meeting people and drinking alcohol.
What's interesting
Osaka's standing drink was once a tradition of only older men, but now the number of these shops preferred by young people and women is increasing.
Stand Atsugi
Spot name(Ja)

スタンドあじと
Address

Tsuruya pottery shop building 15-4 Nanba sennichimae Chuo-ku Osaka-city Osaka
Address(Ja)

大阪府大阪市中央区難波千日前15-4つるや陶器店ビル
Telephone

private
Price

1,500 yen
Open

16: 00 ~ 23: 30
Close

Irregular holiday
Parking lot

None
Note