Enjoy the old and new Osaka tourist spots around Tennoji Temple!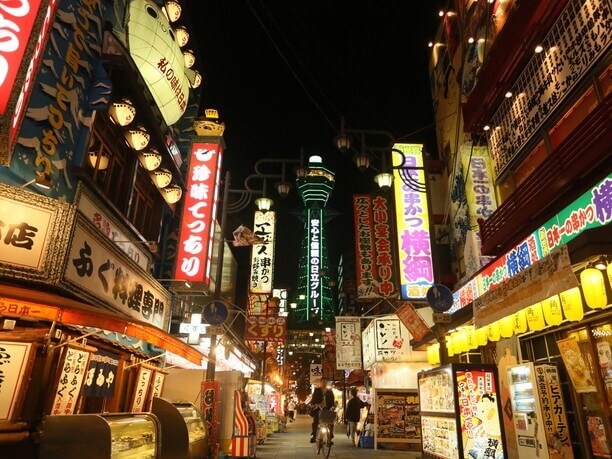 The Tennoji (天王寺) area is the center of many of the popular tourist spots of Osaka.

From Tsutenkaku and the New World (where you can find plenty skewered katsu) to the new landmark of Osaka, (the Abeno Harusaka building), the Tennoji area features many classic tourist destinations in Osaka that you will want to visit.

Even though 100 years have passed since it was built, this symbol of Tennoji is still evolving!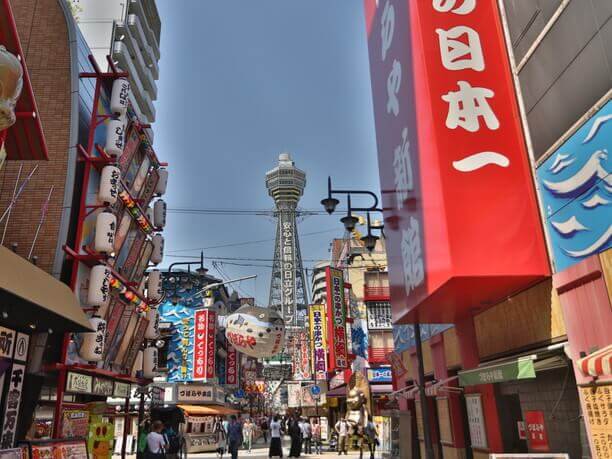 Stretching over 300 feet from the ground this symbol of Osaka is a very popular tourist destination.
In addition to a wide variety of shops on its 6 floors such as the famous "Waku Waku land," (where you can find souvenirs galore), the tower also features an observatory on top that offers a 360 degree view overlooking the city of Osaka. You will find at the observatory a shrine for the God of good luck "Biriken, as well as dioramas that will take you back in time 100 years ago.
The tower was remodeled in December of 2015 and continues to add more and more attractions.

【Spot name】Tsutenkaku Tower
【Address】1-18-6 Ebisu Higashi Naniwa-Ku Osaka-city Osaka
【Hours of operation】9:00a.m. to 9:00p.m. (admission up to 8:30p.m.)
This tall landmark is considered the face of Tennouji.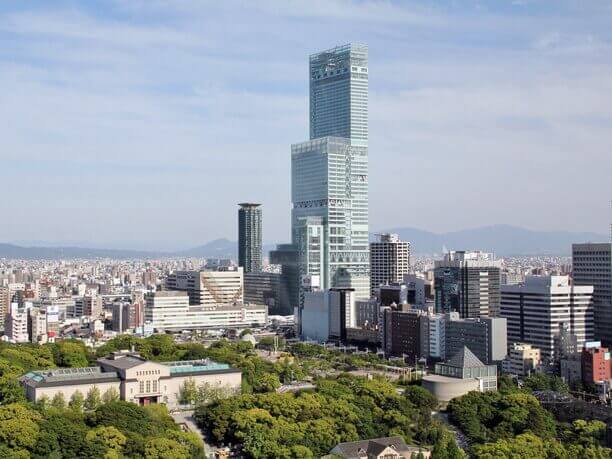 Opened in the spring of 2014, Abeno Harukasu (あべのハルカス) boasts of being the tallest high-rise building in Japan.
Abeno Harukasu is home to the Kintetsu headquarters, as well as having museums, restaurants, hotels, and many popular stores.
The Designation 300 observation deck on the top floor, overlooking the Kansai region has a 360-degree panoramic view that is breathtaking!
This building has a convenient location, with easy access from the JR subway Tennoji station and Kintetsu Abenobashi station. It is walking distance from the Tennoji Zoo and the Tsutenkaku tower.
It is considered as the new base for a tour of Osaka.

【Spot name】Abeno Harukasu
【Address】1-1-43 abenosuji abeno-Ku Osaka-city Osaka
【Hours of operation】Abeno designation 9:00a.m. to 10:00p.m.
【Closed 】Open all year round.
The Tennoji district's New World overflows with Osaka culture!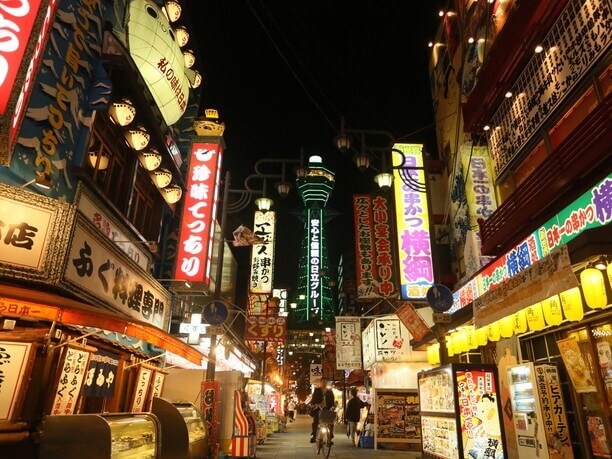 The New World which surrounds the Tsutenkak tower is a popular tourist area.
Along with its many unique shops, it is famous for its gourmet kushikatsu, its many popular theaters, and chess clubs.
You can experience the true culture of Osaka here.
You can get there by taking a nostalgic ride on hankai tramway which runs along the Hanshin Expressway on the west side of the Tennoji Zoo, or on the Sakaisuji line that travels on the East side.

【Spot name】New world
【Address】1-18-8 Ebisu Higashi Naniwa-Ku Osaka-city Osaka
【Hours of operation】[Weekday] 11:30a.m. to 10:00p.m.
            [weekends & holidays] 10:00a.m. to 10:00p.m.
Enjoy grilled skewered katsu, doteyaki, takoyaki, and much more, at Tennoji's Janjan alley!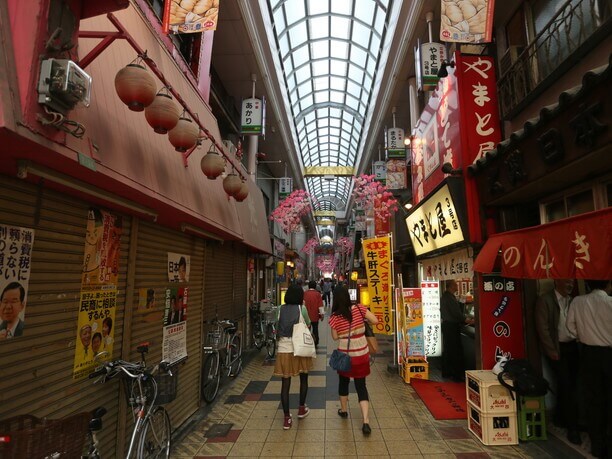 Located in the southeastern part of the new world, there is a stretch of road traveling North to South, known as "Janjan alley."(じゃんじゃん横丁)
This section of town, popular since the Showa era has remained busy. It is gaining more popularity every day with an increasing number of young people and tourists coming here to shop and dine.
With its very popular gourmet sushi, udon cafeterias, pubs, and shop lined with vibrant. fashion items, visiting Janjan alley is becoming Tennoji tradition.

【Spot name】Janjan alley
【Address】Naniwa-Ku Osaka-city Osaka
【Hours of operation】Depends on each store
This oasis in the city recently celebrated its 100th anniversary.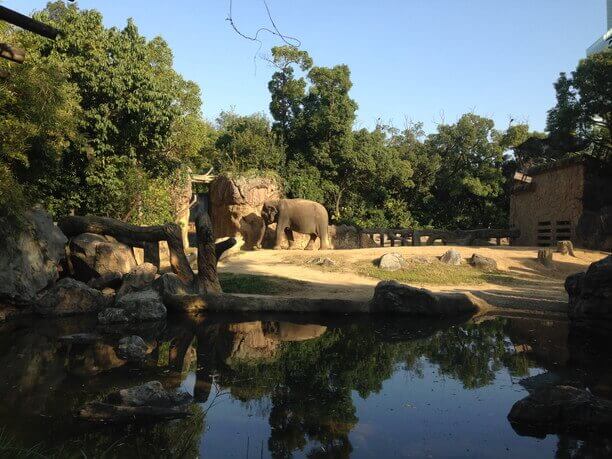 The Tennoji Zoo is Japan's third oldest domestic breeding facility for animals.

With over 1000 animals of about 200 different species, this 26-acre zoo is a very popular destination for locals and tourists.

It recently celebrated its 100th anniversary in January of 2015.

Couples, as well as families, come here to enjoy the "ecological exhibitions" that recreate the natural habitats of so many animals.

There are cute log cabin-style restrooms.

Strollers are available for rental at a reasonable price.

【Spot name】Tennoji Zoo
【Address】1-108 Chausuyama-cho Tennoji-Ku Osaka-city Osaka
【Hours of operation】9:30a.m. to 5:00p.m. (last admission at 4:00p.m.)
May to September on Saturday, Sunday and holidays open until 6 pm, (last admission at 5:00 pm)
The Shitenoh Temple is loved by the locals in Tennoji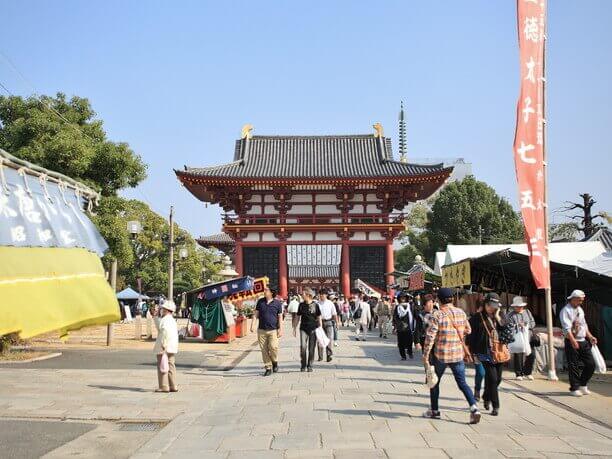 Created during the Asuka period Shitenoh has long been a gathering place for many of the Buddhist faith.
To commemorate the death of Koubou-daishi (弘法大師) and Shotoku-Taishi (聖徳太子) which occurred on the 21st and 22nd of the month, each month on these dates the city opens shops on the temple grounds.
The temple grounds become much busier than usual and the atmosphere is much more lively. It is an occasion that is loved by the locals.
The temple becomes a place to experience a piece of Osaka history while being able to pick up a bargain or two shopping!
【Spot name】Tennoji Temple
【Address】1-11-18 Shitennoji Tennoji-Ku Osaka-city Osaka
【Hours of operation】
Visitors from outside of the Mido 24-hour Hall, Central Cathedral, Garden
April-September 8:30a.m.to 4:30p.m.
October-March  8:30a.m. to 4:00p.m.
Rokujidou    8:30a.m. to 6:00p.m.

Tennoji is rich with its many tourist destinations. It is a particularly wealthy spot when it comes to historical places of interest.

As a result, Tennoji has become the center of Osaka tourism!