Okinawa's locals recommended taverns that feature local cuisine!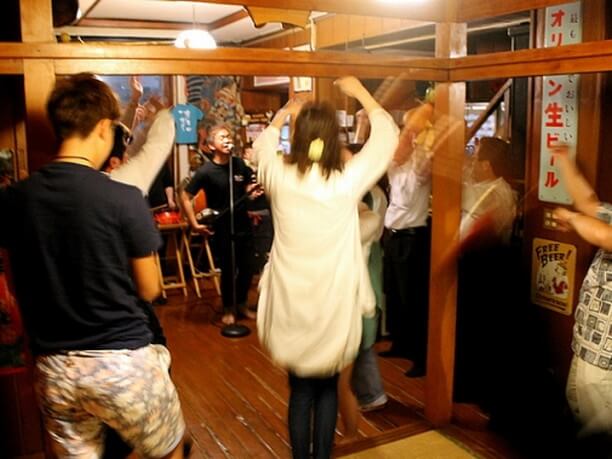 In Okinawa(沖縄), they love plenty of homemade meals. These "tei-anda" (meals made with love) are a popular item at the top taverns.
There are plenty of small restaurants in Okinawa where you can enjoy folk music, a famous Ammar (mother character), with Okinawa cuisine and awamori.(Okinawa saki).
At these taverns, you can enjoy spending time with the owner and eating delicious tei-anda.

Easy to Access, Okinawan cuisine with a lot of love from the Ammar.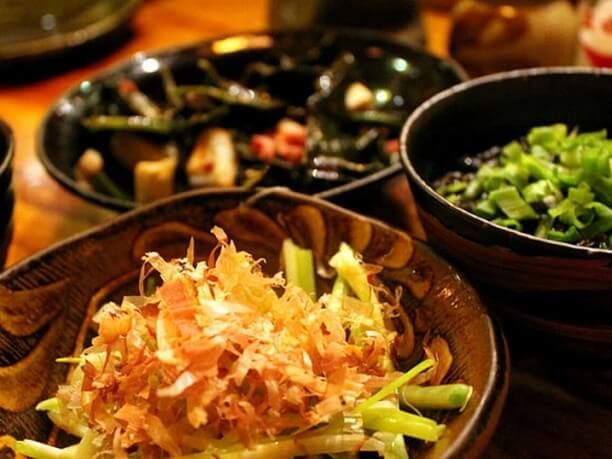 A 3-minute walk from YUI rail miebashi station.
Machimu-ya(まーちぬ家) is the name of the tavern which in the Okinawa dialect means "pine tree house."
Ryukyu pine is used for Interior and exterior designs all over the place.
There is a bit of jazz here that makes it different than the typical tavern.
Okinawa cuisine made by an active Ammar. Rich with vegetables, so it's quite healthy.
With the various Okinawa dishes it is recommended to order half size portions so you can enjoy more dishes. Most popular is Ikasumi-jushi and handama-wo-tsukattaitamemono.

【Spot name】Machimu-ya
【Address】2-7-14 Maeshima Naha-city Okinawa
【Hours of operation】5:30p.m. to midnight
【Closed on Mondays】Sunday
Okinawan cuisine, folk music of Okinawa, Okinawan feeling!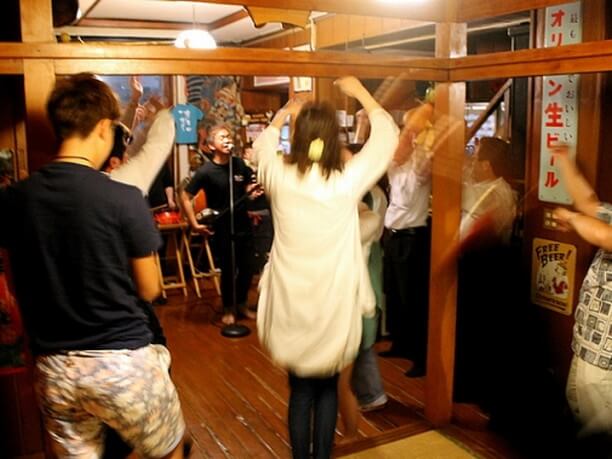 When you walk along side of Kumoji River, you will see the sign for Apparishan(あっぱりしゃん).
A traditional tavern that is obsessed with fresh ingredients direct from the Yaeyama mountains. 100% natural brewed awamori with Okinawa cuisine.
People stand on stage chanting authentic Okinawan folk songs. It is music that will heal your heart. The climax is the familiar kachaasii.
I recommend this inspiring place that rises above other taverns as an absolutely unique experience. Here you can dance folk dance by watching and imitating, eat authentic Okinawan cuisine and enjoy an unforgettable experience that will create a lifetime of memories of Okinawa!

【Spot name】Apparishan
【Address】2F 3-23-8 Kumoji Naha-city
【Hours of operation】5:30p.m. to 1:00a.m.
【Closed on Mondays】Open all year round.
Okinawa national restaurant, Naha Okinawa cuisine, famous Tavern!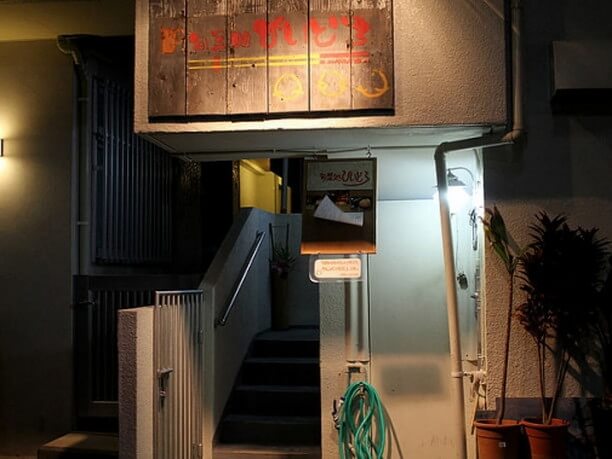 Seasonal Vegetables by Biidoro(びいどろ) is a tavern located in a very ordinary apartment located behind International Street(国際通り). With only 18 seats in this small shop, it makes for a very cozy atmosphere.
The owners serve scrumptious seasonal Okinawan food to create loyal customers. Adding the most delicious ingredients to provide the best dining experience. You can request standard Okinawan food. Whole garlic is used for the "kurogewagyu-motsu-no-tirikaramisonikomi (beef stew with chili miso) that is highly recommended.

【Spot name】Seasonal Vegetables by Biidoro
【Address】1-11-1 Makishi Naha-city Okinawa
【Hours of operation】6:00p.m. to midnight
【Closed on Mondays】Every Sunday and Monday
Urizun is a venerable Okinawan restaurant with an assortment of awamori.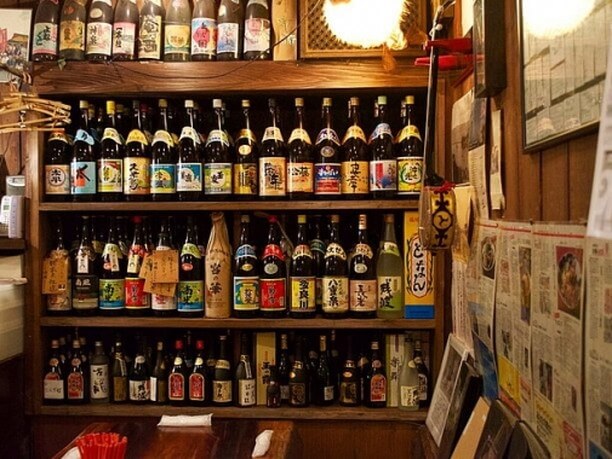 Urizun(うりずん) with a traditional red tile roof is a long-established in Okinawa restaurant.
They have their own old brewery and the shop has more than 200 brands of awamori. You can enjoy plenty of Okinawan music that is appropriate for the rustic home cooking. The most popular dish is Douru-ten (potato croquette). I recommend this to people who typically don't like Okinawan cuisine. Also, you will enjoy the special dishes and cups they use.

【Spot name】 Urizun
【Address】 388-5 Asato Naha-city Okinawa
【Hours of operation】 5:30p.m to midnight
【Closed on Mondays】 Open every day
Feel free to enjoy Okinawan folk song in this Okinawa restaurant!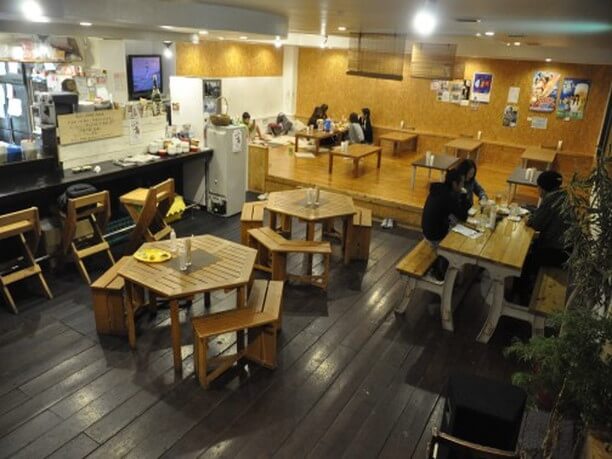 Kitchen HANAGASA(キッチンはながさ) is located in Ginowan City on Central Okinawa's main island. It is a bar that is also open during the day for lunch where you can have authentic Okinawan cuisine.
Inside there is a space where children can play because the owner has children too. Their authentic tasting food is a result of their experience as Bento shop owners. Every weekend the owners sing traditional Okinawa songs. Enjoy the food, song and conversation.

【Spot name】Kitchen HANAGASA
【Address】1-10-3 Hara Ginowan-city Okinawa
【Hours of operation】Lunch: 11:00a.m. to 3:00p.m.
Night: 5:00p.m. to midnight (Last call at 11:30p.m.) folk songs live Sunday, Saturday
【Closed on Mondays】No regular holidays
A different way to drink awamori. Choose the awamori depending on what food you order at Kaka-tochibuguwa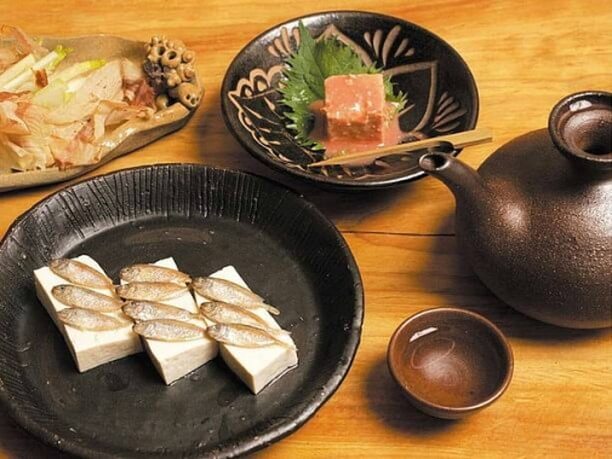 Kaka means "serving bottle used to serve awamori." Chibuguwa means "small cup for saki."
They are located at the back of International Street. They make original Okinawa food and local awamori.
Their most popular menu items are there squid in a homemade broth and Okinawan Soba (noodles)
The staff of awamori specialists will help you choose a suitable awamori for your Okinawa cuisine.

【Spot name】Kaka-Tochibuguwa
【Address】no. 2 Yamako Building 1F 3-15-15 Kumoji Naha-city Okinawa
【Hours of operation】6:00p.m. to midnight (last call at. 11:00p.m.)
【Closed on Sunday】Sunday
Okinawa cuisine and awamori in a long-established tavern.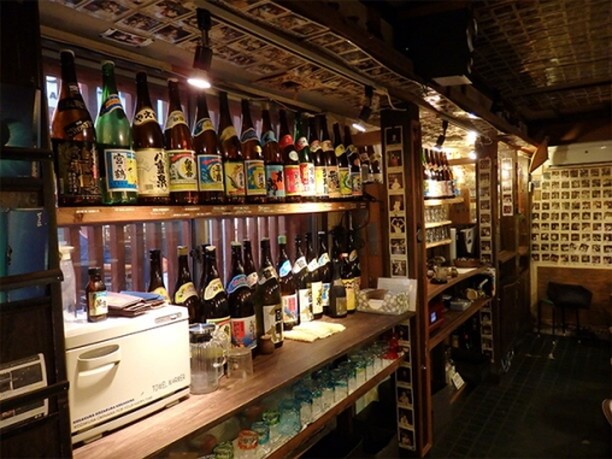 Kozakura(小桜) is located in an alley behind International Street. Patrons return frequently to this long-established tavern to taste the liquor in small groups.
The first floor only has counter seating, so it is ideal for individuals or couples.
They have special awamori designed to go with their popular dishes such as Island tofu and somen-chanpuru (fried noodle)
They have 43 different kinds awamori that you can enjoy comparing. So if you like awamori this is a good place to go.

【Spot name】Kozakura
【Address】3-12-21 Makishi Naha-city Okinawa
【Hours of operation】6:00p.m. to 11:00p.m. (Last call at .10:30p.m.)
【Closed on Mondays】Wednesday & Sunday

Okinawan taverns are a good place for both locals and tourists to have fun. They always have traditional Okinawa music with shamisen.

In Japan, Okinawa taverns are one of the few places you can come together with strangers and eat, drink and dance. It is a great place to make new friends and enjoy Okinawa culture.