Okinawa's top 9 recommended Sea Cafés for a great lunch with an ocean view!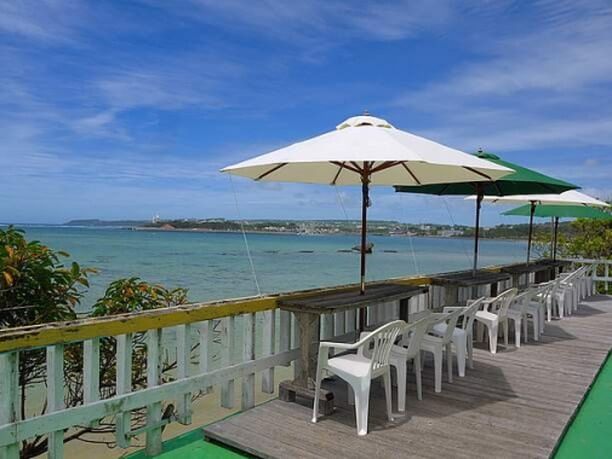 There are so many cafes located near the ocean in Okinawa (沖縄) you can get confused trying to choose which one to go to.
So we have chosen what we think are the 9 best cafes that offer great food, nice atmosphere, with excellent natural scenery and ocean view.
These spot's menu and atmosphere create a retreat that is good for your stomach as well as your heart.

Transit Café on the beach has one of the best views of the Sea!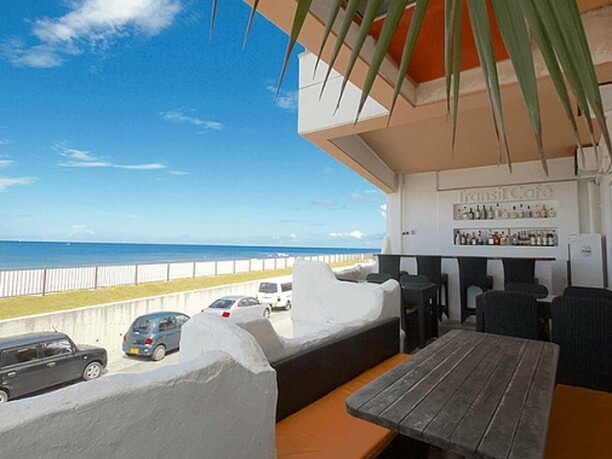 Transit Café (トランジット・カフェ) overlooks the Kerama Islands and conjures up visions of the Mediterranean sea.
Here along the coast of Chantan town, divers and surfers from around the world come to this distinctive sea Café.
The terrace of this all white building overlooks the sparkling cobalt-blue sky and sea.
The sunset atmosphere as daytime transforms into the dusk.is magical.
Long loved by locals for its view and delicious food, this is a very popular Ocean Café.
【Spot name】Transit Café
【Address】2-220-2 F Chatan-town Miyagi Nakagami-gun Okinawa
【Hours of operation】11:00a.m.-12:30a.m. (Last order 11:30p.m.)
【Closed】Regular holidays
Fuu Cafe is surrounded by green!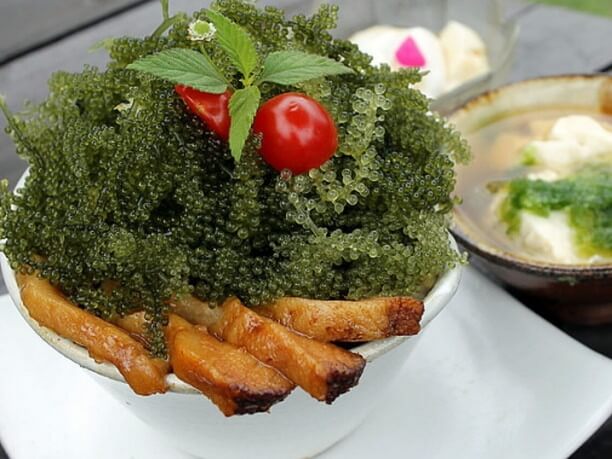 Fuu Garden Café is located on Sesoko Island.
Take the Sesoko bridge leading from the northern part of Okinawa's Motobu. Island. Motobu island is where the popular tourist spots "Okinawa Churaumi Aquarium(沖縄美ら海水族館)" is located.
The menu at this log cabin-style building is loaded with Okinawa local favorites like: "Sea grapes and Agu Pork prepared Don style.
The café is surrounded by green and offers a beautiful view of the sea.

【Spot name】Fuu Café
【Address】557 Sesoko Motobu-town Kunigami-gun
【Hours of operation】11:00a.m.to 5:00p.m.
【Closed 】Wednesdays and Thursdays
This cute café looks like it came out of a fairy tale.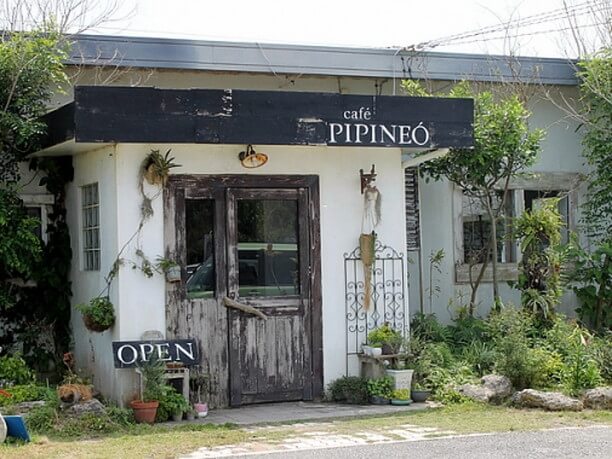 Café Pipineo is popular Uruma city (うるま市) tourist destination along with the World Heritage site of the Katsuren Castle ruins (勝連城跡) and City Sea Road.
Sometimes called the "Sea Café," This East Coast facing cafe is spectacular.
Though looking a little strange, the squid curry is excellent and so is the pork on the bone with wasabi.
There are always at least five lunch items to choose from.
I recommend the homemade cinnamon rolls that are cooked fresh each morning.
I also recommend using your navigation system. This café can be a little difficult to find.
【Spot name】Pipineo
【Address】230-1 Akano Uruma-city
【Hours of operation】11:00a.m.to 5:00p.m.
【Closed】Open every day
At Rakusui (Mountain Tea House) you can enjoy soothing natural food!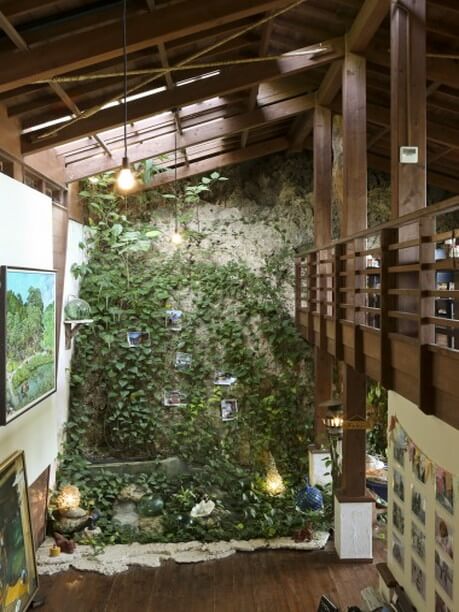 Rakusui (The Mountain Tea House) is a fun place with a sister store on the coast.
It has an atmosphere reminiscent of an ocean café in the woods.
It has a large coral limestone structure on the wall with pristine deck seats made out of wood.
It is a wonderful natural food restaurant with Okinawan cuisine.
Enjoy the homemade bread and pizza baked in a stone oven, as well as the other items on the "Sachibaru-teishoku lunch menu
【Spot name】Rakusui Mountain Tea House
【Address】19-1 Tamagusuku-Tamagusuku Nanjo-city
【Hours of operation】11:00a.m.to 6:00p.m. (Last order at 5:00p.m.) * lunch from 1a.m. to 2:00p.m.
【Closed】Thursday
This Ocean Cafe is located in Chaya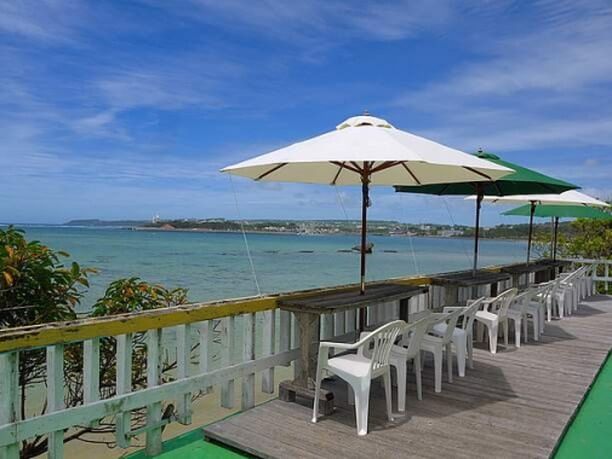 This restaurant is famous for being so close to the beach.
You can enjoy your lunch in this unique sea Café with a view of the sea from every seat.
After lunch, you can take a walk on the beach!
A notepad with visitors' feedback is kept on a bookshelf. So feel free to leave a message about your experience.
【Spot name】Restaurant on the beach
【Address】2-1 Tamagusuku-Tamagusuku Nanjo-city
【Hours of operation】10:00a.m. to 8:00p.m. (last drink order at 7:30p.m.) ((last food order at &:00p.m.) Tuesday-Sunday
2:00p.m. to 8:00p.m. (last drink order at 7:30p.m.) (last food order at 7:00p.m.) on Monday
This sea café has great gourmet food in a small container!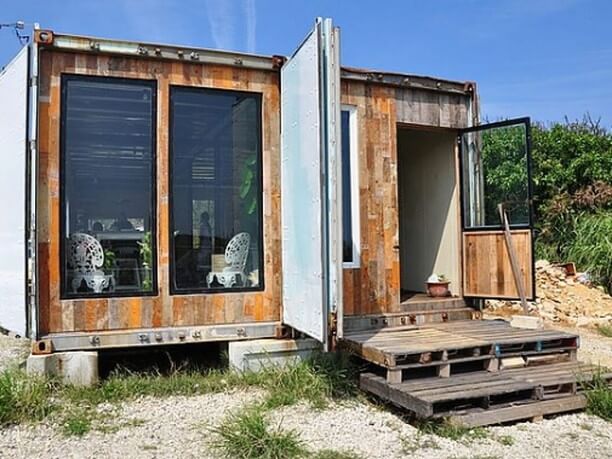 The Little Greek Kitchen is one of the first Greek food shops in Okinawa. It opened in June of 2015, as just a cheese and yogurt shop, but by word of mouth this has become a very popular café.
The shop is a magical space created from a renovated shipping container.
The owner, Pamela is American but speaks fluent Japanese.
Come and enjoy delicious food, fun and an interesting conversation with Pamela!
【Spot name】Little Greek Kitchen
【Address】7 Yonashiro ikei Uruma-city Okinawa
【Hours of operation】Opens at noon, check for dinner times.
【Closed】Sunday Monday Tuesday
Gorgeous luxury at KAI Resort Café.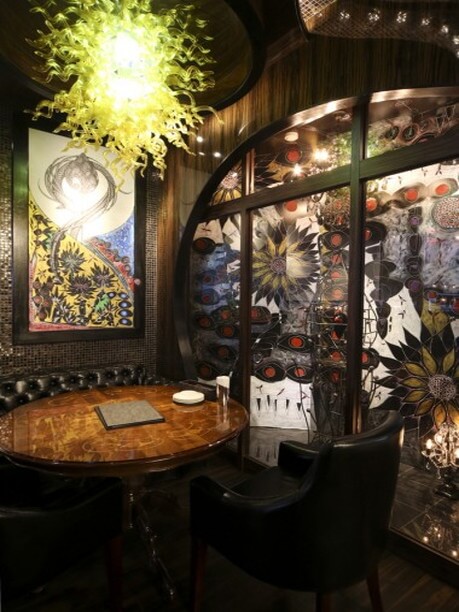 Kai Resort Café is a new sensation with concept art and food.

This ocean café is set in a glittering interior, with art framed on the wall and suspended from the ceiling.
On the menu, you will find rich Italian, French and Asian cuisine.
With a wide range of prices, you can spend whatever suits your mood.
It provides a great opportunity to experience elegant dining when you feel like being pampered.
Sunset Beach is nearby so you can take a sunset walk after dinner.
【Spot name】KAI resort Cafe
【Address】F 1F, PLAZA 9-7 Mihama Chatan-Cho
【Hours of operation】4:00p.m.to midnight (last food order at 11:00p.m., last drink order at 11:30p.m.)
【Closed】Open every day
A beautiful Sea Cafe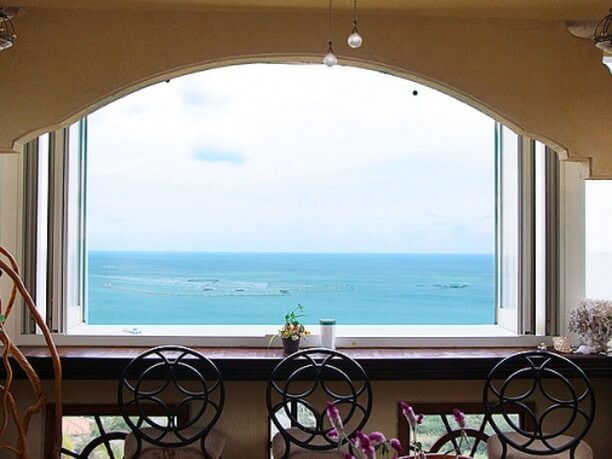 Aisukurini Arc Cafe is the Okinawan edition of "Noah's Ark."
This sea Café is located on a hill overlooking the Honbu town. It has the appearance of a castle-like mansion.
It is patterned after Noahs Arc and has an oceanfront counter located on the second floor with panoramic views.
Its Interior is designed with the image of a ship and the ideas of the President of the company.
Guests can enjoy a meal as if they were aboard a ship.
【Spot name】Aisukurini Arc Cafe
【Address】950-1 Hamamoto Kunigami-gun Okinawa
【Hours of operation】11:30a.m. till dusk
【Closed】On the first Sunday of each month.
One of Okinawa's most famous sea cafés serving delicious pizza!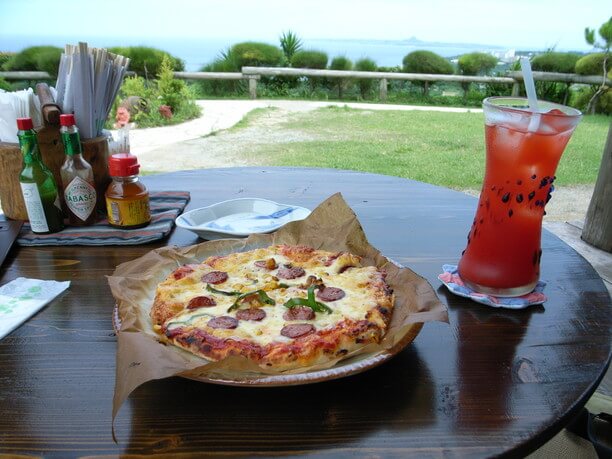 This popular restaurant attracts many tourists, who while admiring the views enjoy some of the best pizza around.
The only item on their menu is pizza but their pizza keeps a steady line of customers waiting to be served.
The melted cheese on these pizzas is irresistible!
The veranda seats feature views of the Sesoko, Minna, and IE Islands. While the mezzanine offers an amazing view of the sunset over the East China Sea.
Highlights include the raw Acerola juice and the Okinawan desserts.

【Spot name】Kajinhou (in Honbu town)
【Address】1153- 2 Yamasato Motobu-cho Kunigami-gun Okinawa
【Hours of operation】11:30a.m to 7:00p.m. (last order at 6:30p.m.)
【Closed】Tuesday & Wednesday
The Okinawa sea cafés are charming. With their views of the blue sea, blue sky, and sunshine combined with their delicious food they are very popular with both tourists and locals.
You will want to return again and again for another Okinawan sea café experience.