3 Delicious Burger Shops in Okinawa.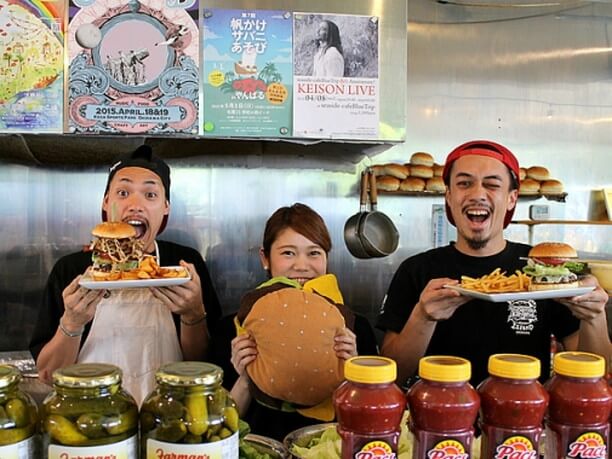 Burgers are a food that originally came from the United States, but today they are aslo a familiar food in Japan.

The American culture has a strong presence in Okinawa as shown by its many hamburger specialty shops.

The burgers are made in many different styles, from the simple old-fashioned tasting ones to the meticulous multi ingredient versions.

Okinawa has become a hamburger heaven for gourmet connoisseurs!

The red gates of Gordie's marks where American hamburgers are sold!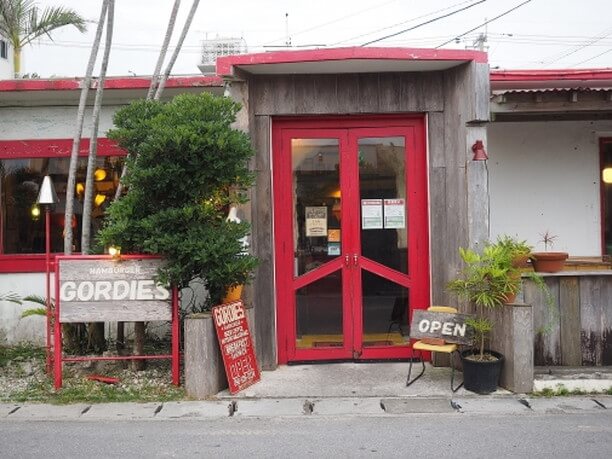 Along the coast is the town of Chatan, Miyagi, which was built for Americans living in Japan.
This town has many aspects of American culture including its love of hamburger joints.
One of the most popular is Gordie's. With its eye-catching Red Gates Gordies is an easily recognized American hamburger specialty shop.
Its interior reminiscent of a diner from the fifties.
Though it focuses on serving a simple standard flavor burger, its menu is sure to satisfy even the customer with a preference for a gourmet taste.
Gordie's (ゴーディーズ) is loved by the Americans in Japan. Why not drop in and give it a try?

【Spot name】GORDIE's (goodies)
【Address】100 Sunabe Chatan-town Nakagami-gun Okinawa
【Hours of operation】BREAKFAS 8:00a.m. to 11:00a.m. (Saturday and Sunday only)
            LUNCH and DINNER 11:00a.m.to 9:30p.m. (Last order at 9:00p.m.)
【Closed】regular holidays
A big Burger welcomes you at Captain Kangaroo!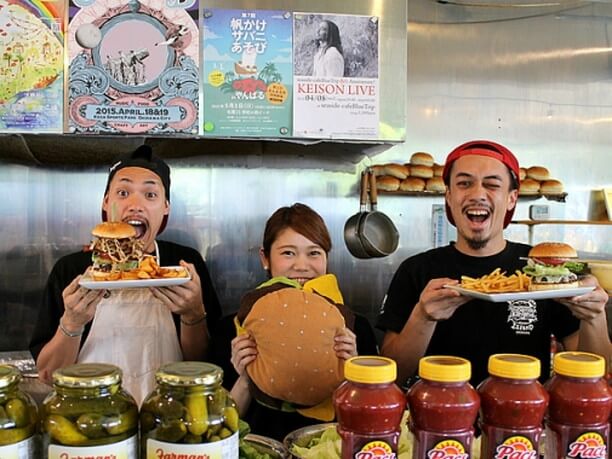 Captain Kangaroo (キャプテンカンガルー) is loved by the locals. It's Hamburger Buns, patties, and sauces create a delicious and outstanding balance.
It is an ideal place to stop when touring the northern part of Okinawa as it is located close to the Okinawa Churaumi Aquarium.
Featured is the 6 inch high "sparky burger".
The owner says "it is a funny sight to see customers trying to eat this big burger, especially the women". But it is ok so don't be afraid to open your mouth big and take a bite. When you do you will be sure to enjoy the combination of spring onion bun, hand-mixed patty, and colletion of special seasonings and garnishings. This is the ultimate Burger!
And don't worry they don't us Kangaroo meat!

【Spot name】Captain Kangaroo
【Address】183 Umusa Nago-city Okinawa
【Hours of operation】11:00a.m. to 8:00p.m. (Last order at 7:30p.m.)
【Closed】On Wednesdays
You can enjoy a jumbo cheeseburger while watching the planes at Kadena Air Force base.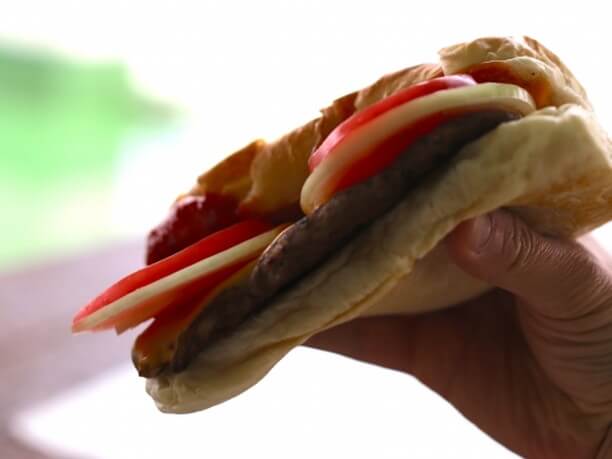 At the Kadena-cho (嘉手納町) Road station you will find "Rotary Driving Up-Kitty restaurant" (ロータリードライブイン UP-KITTY).
It features a jumbo cheeseburger that is 7 inches wide by 3 inches deep and high, and weighs about a pound. Its size defies common sense.
It is made with a combination of local beef and pork, cheddar and parmesan, cheeses, onion, and tomato.
It has been made this same way for over 40 years. It has a real nostalgic flavor.
Kadena Air Force base is right across the street giving you a rare up-close look at a U.S. Air Force base. It is a hamburger joint that is really loved by airplane enthusiasts.

【Spot name】Rotary driving Up-Kitty
【Address】Michinoeki-kadena 1026-3 Yara Kadena-cho Okinawa
【Hours of operation】9:00a.m. to 11:00p.m. (Last order at 10:00p.m.)