Explore the exquisite taste of East coast gourmet food in Uruma City, and Okinawa City!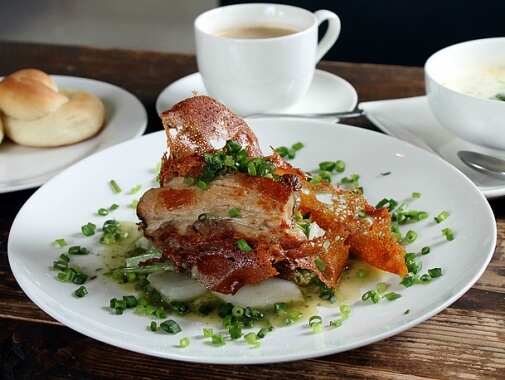 We would like to introduce some special gourmet spots on the East coast of Okinawa. Specifically in the Uruma City (うるま市) and Okinawa City (沖縄市)areas. They are places that will please your stomach and heart with exceptional views of nature and great tasting meals.

Enjoy an elegant tasting lunch in a cafe located in a remodeled foreign residence!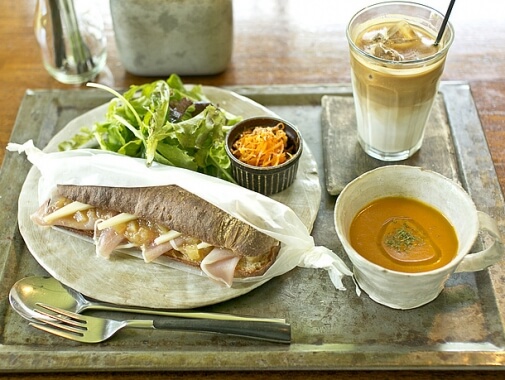 Plowman's Ranch Bakery is located in an old remodeled foreign residence. This cafe always has good music flowing through its inviting space. The bread they sell is created by the owner who is a self-taught baker. He started making his bread by copying what he learned from other shops. The key to his bread's success is the large amount of moisture in his dough and the fact that the fermentation time is considerably long. Items from the sandwich menu can be ordered at any time of the day. Every day at 8:00 a.m. and noon he makes available just 10 special sandwiches that he sells until they are gone! It is also recommended to get some bread for take-out and enjoy the view of the sea and nature of the East coast.

【Spot name】Plowman's Lunch Bakery
【Street address】927-2 Adaniya Kitanakagusu-son Okinawa
【business hours】8:00 a.m. to 4:00 p.m.
【Regular holiday】Sunday
Enjoy one of the best collaborations between pottery and shaved ice!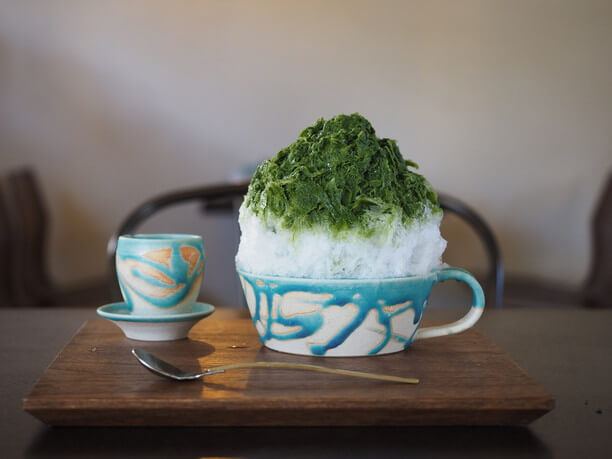 Ruan + Shimairo is a shaved ice shop that is set up next to a potter at Katsushi Shimbuku's gallery. To find it start from the Katsuren Hantou area of Uruma City and cross the Kaichu road across the small bridge to Miyagijima Island This shaved ice is flavored with a fruit-based handmade syrup. The syrup is so good you will want to drink it like juice after the ice melts. They use the pottery of Mr. Shimabukuro to put the shaved ice in. His pottery can also be purchased in the store. The works of Mr. Shimabukuro (島袋さん) are also placed in the adjacent gallery, so it is nice to visit after enjoying your shaved ice.

【Spot name】Ruan + Island color
【Street address】428-2 Yonashiro Toubara Uruma-city Okinawa
【business hours】10:00 a.m. to 6:00 p.m. (Last order at 5:30 p.m.)
【Regular holiday】Wednesday
This superb cafe in Uruma is located near a World Heritage Site!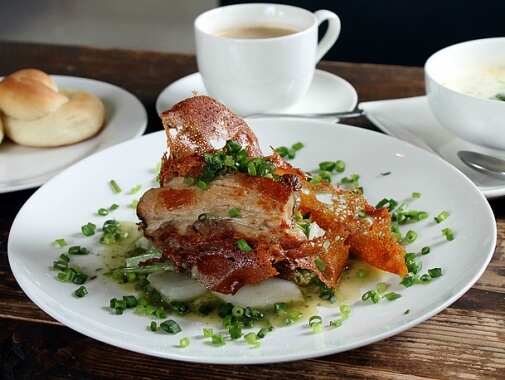 Located in a simple building in Uruma City reminiscent of a foreign residence, Café Pipineo is a popular place to visit after sightseeing and shopping! It is located near the World Heritage Katsuren Castle Ruins and Kaichu road. There are 5 popular lunches available at all times, such as their original "three meat and cartilage with wasabi sauce" served with Western-style sake and Okinawa ingredients and their "Ikasumi curry" which has a surprising appearance. They also have Homemade cinnamon rolls that are baked every morning, and are available for take-out as souvenirs. Lunchtime on weekends is often crowded, so you may want to come at another time. It is situated in an "out of the way" place in the crossroads of the sea and river, so we recommend relying on your car's navigation system to find it.

【Spot name】Cafe Pipineo
【Street address】230-1 Akano Uruma-city Okinawa
【business hours】11:00 a.m. to 5:00 p.m.
【Regular holiday】No rest
This popular Greek restaurant is built inside a shipping container on Ikei Island!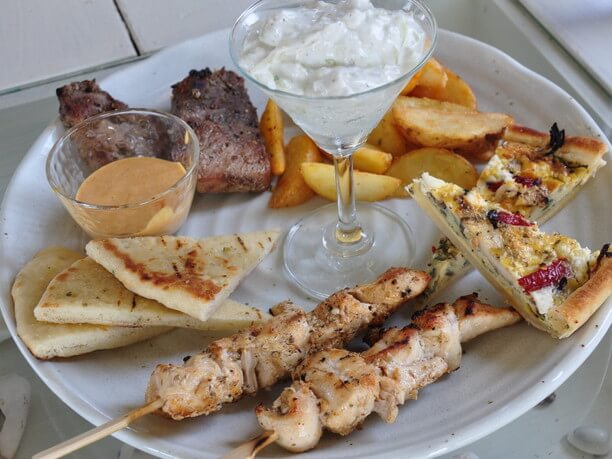 The Little Greek Kitchen is located on Ikei Island on the east coast of Okinawa. It is built inside of a shipping container and has become very popular through word-of-mouth advertising. Here you can enjoy one of the only spots on Okinawa that serves Greek cuisine. The owner, Pamela is American but she is fluent in Japanese. Her cheese and yogurt sauce is some of the best in the world. Please visit The Little Greek Kitchen and enjoy Pamela's delicious food. Because it gets so crowded, it is necessary to make dinner reservations in advance.

【Spot name】Little Greek Kitchen
【Street address】
Coral viewing zumper 1189-3-B Nagahama Yomitan-son Okinawa
【business hours】
Lunch from 11:30 a.m. to 5:00 p.m. (Last order at 3:00 p.m.)
Dinner from 6:00 p.m. to 10:00 p.m. (only on Friday and Saturday)
【Regular holiday】Tuesday Wednesday
Enjoy gourmet food at this cafe in Uruma City!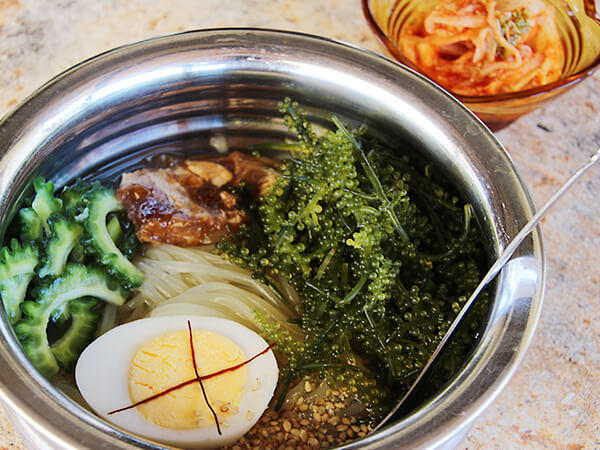 Ippuku ya Is located on Henza jima island which you can reach from Uruma city via Kaichu road. Located on the hill, Ippuku ya is a sea cafe where you can enjoy their magnificent panoramic view of remote islands and Nakagusuku Wan Bay. It is built like a mountain hut with a red roof and yellow walls that conspicuously stand out. Inside the shop is decorated with a sea and ship motif. There are American style model battleships placed with a stylish sense of fun. Their original Okinawa style "cold noodles" are advertised on their signboard menu and you can eat them all the year round. You can also enjoy their original blended coffee. Take out coffee beans are available that make an excellent East coast souvenir!

【Spot name】Ippuka Ya
【Street address】462 Yonashirohenza Uruma-city Okinawa
【business hours】11:00 a.m. to dusk
【Regular holiday】Irregular holiday
Enjoy eating Okinawa gourmet at this old private house with red tiles!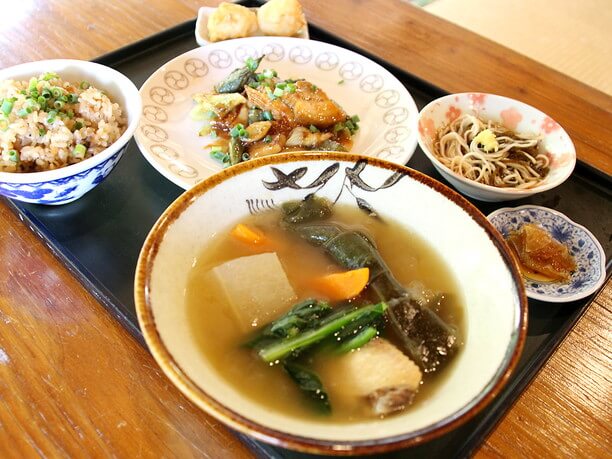 This restaurant built in a remodeled old house on the remote island of Hamahiga jima closes at 4 PM. Here you can enjoy Okinawa cuisine while sitting in a dining room that simulates the living space of an old style Okinawan home. The interior was renewed when they started the business and is now a hospitable place with a wooden rustic texture. Their most popular menu item is their "Hamano Teiyabu set meal" which offers you rice, soup and 2 side dishes from their selections of Okinawa gourmet where the balance of taste and ingredients is exquisite. It is a lot of food, so it is satisfying even to the hungriest of men! Experiencing eating Okinawa gourmet at this old private house creates an exceptional memory that you will cherish!

【Spot name】】Teirabui
【Street address】56 Katsunohama Uruma-city Okinawa
【business hours】1:00 a.m. to 4:00 p.m.
【Regular holiday】Tuesday, the 4th Wednesday
A cute cafe that will fill your stomach and heart!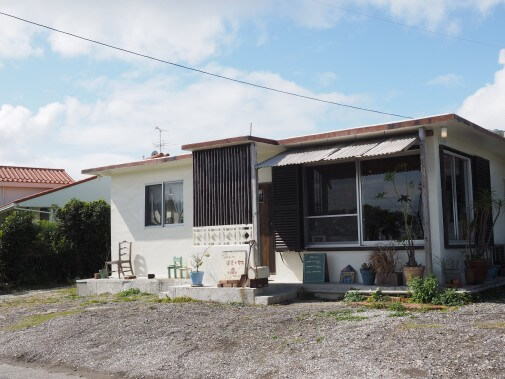 "A café where you can enjoy meals" is the simple theme of cafe Subako. Is a popular shop utilizing what was a foreign residence in the Katanakagusuku son village of the East coast. Inside the shop is a cute space like a nest to which the flying birds return. The lunch menu includes a pasta dish that changes daily and a set plate lunch that changes weekly. On Friday and Saturday, they also serve dinner. The main reason for their popularity is their fine attention to detail, such as the high quality of food materials. It is a gourmet store that will satisfy your stomach and mind. It is definitely a place you will want to drop in to after some East coast sightseeing.

【Spot name】Cafe Subako.
【Street address】
No. 69 263-4 Chunjun Kita-naka-gusu-son Nakagami-gun Okinawa
【business hours】
Lunch 11:30 a.m. to 4:00 p.m. (Last order at 2:30 p.m.)
Late Lunch + Cafe Time 2:30 p.m. to 5:00 p.m. (Last order at 4:00 p.m.)
Dinner from 6:00 p.m. to 10:00 p.m. (Last order at 9:00 p.m.) (Friday and Saturday only)
【Regular holiday】Tuesday