Enjoy delicious Okinawa soba in Chatan City and Ginowan City!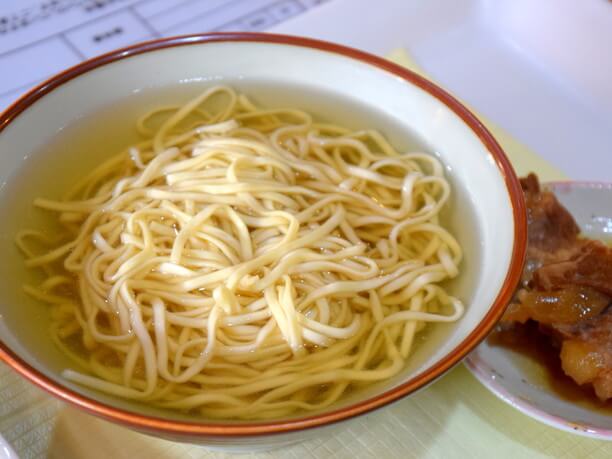 Okinawa soba is said to be the soul food of Okinawa and is loved by local customers and tourists as a classic gourmet food of Okinawa. The taste of the soba and the toppings available vary from store to store. Please enjoy the exquisite taste of Okinawa soba that you can have at these shops in Chatan City and Ginowan City.

We recommend this Chatan City soba shop with its unusual salt base!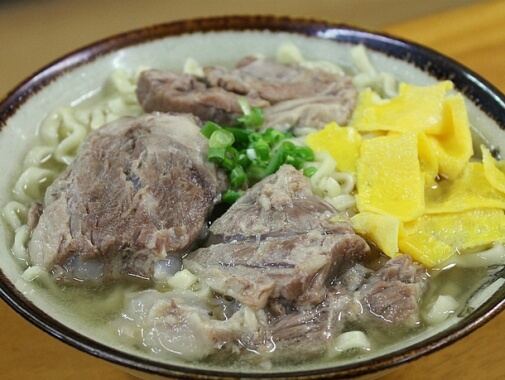 Hamaya is a famous soba shop in Okinawa. It is located along the coast of Chatan Town and is famous among surfers and divers. Hamaya soba never uses a drop of soy sauce. its salt based soup is their big feature. You can enjoy their flat and thick noodles with pig pork cartilage and fried egg. They have a special menu for children and women which features items served in smaller portions. There is plenty of floor seating available, so you can relax and eat with children. So drop into this popular Okinawa soba shop after sightseeing in Chatan City or after enjoying marine sports along the coast.

【Spot name】Hamaya soba
【Street address】2-99 Miyagi Chatancho Okinawa
【business hours】10:00 a.m. to 8:30 p.m. (Last Order at 8:30 p.m.)
【Regular holiday】Bon Festival
This Ginowan City soba shop features a golden color soup with pig cartridge!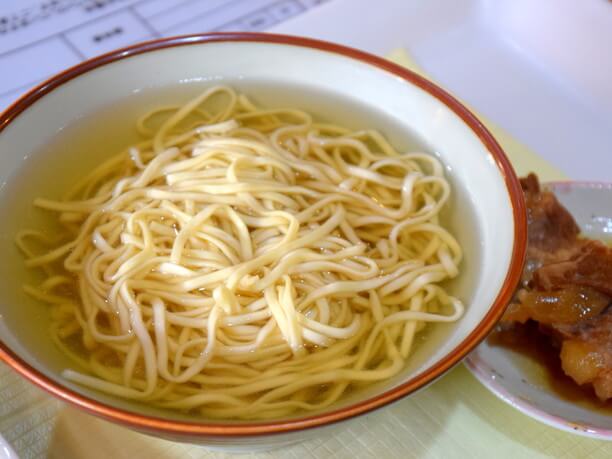 This soba shop is located in Naha city's new city center. It has a fun interior filled with funky looks and business cards. A popular menu item is their nankotsu soba. Unlike general Okinawa soba, it is characterized by the meat being served in a separate dish rather on top of the noodles. They also feature a golden soup that has pork soaked in a delicious golden base. Because it is open until 7:00 p.m., you can also have their soba for dinner. There is also Okinawa soba and cartridge takeaway packs available, so you can enjoy the taste of Kenpanosubaya at home.

【Spot name】Kenpanosubaya
【Street address】Rekiosusukuea building 1F 215 Ohjiyana Ginowan-city Okinawa
【business hours】11:00 a.m. to 7:00 p.m. (or until sold out)
【Regular holiday】Open every day of the year (except January 1 to 3)
Enjoy different tasting noodles every day at this Ginowan City soba shop!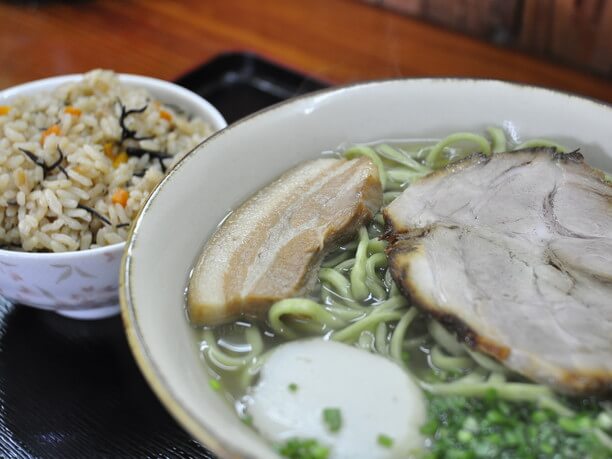 The noodle shop is located on the opposite side of the road from the traffic court in the Ganeko area of Ginowan City. It is a shop where you can eat Okinawa soba that is said to be the soul food of Okinawa. You can have daily noodles made from natural ingredients in an atmosphere that is like coming to a rural family's house. Recommended is their island style soba which is a combination of barbecue pork, onion and fish cake. First taste the flavor of soba without applying anything. Then you can enjoy a change in the taste by adding some of the available toppings.

【Spot name】Menkoubou Shimakaze
【Street address】3-4-2 Ikoya Ginowan-city Okinawa
【business hours】11:30 a.m. to 3:30 p.m. (closes as soon as it is sold out)
【Regular holiday】Monday