Nine popular local Okinawa soba shops we recommend!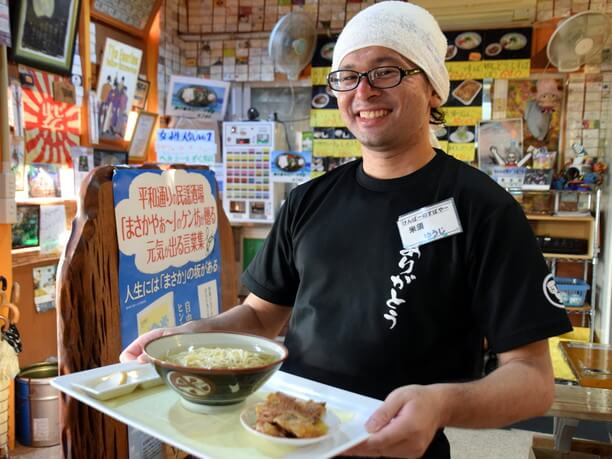 There are so many soba shops in Okinawa, it can be difficult to choose which one to go to. We have made a list of 9 shops that we recommend. When traveling to Okinawa check out a few and compare the different tastes of Okinawa soba?

We recommend this Okinawa soba shop with its unusual salt base!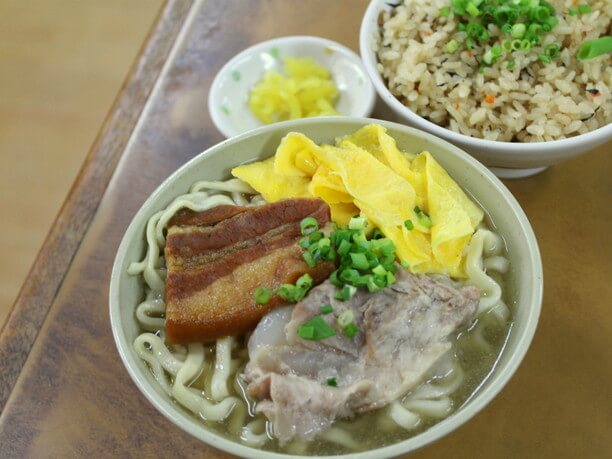 Hamaya is a famous soba shop in Okinawa. It is located along the coast of Chatan Town and is famous among surfers and divers. Hamaya soba never uses a drop of soy sauce. its salt based soup is their big feature. You can enjoy their flat and thick noodles with pig pork cartilage and fried egg. They have a special menu for children and women which features items served in smaller portions. There is plenty of floor seating available, so you can relax and eat with children. So drop into this popular Okinawa soba shop after sightseeing in Chatan-cho or after enjoying marine sports along the coast.

【Spot name】Hamaya
【Street address】2-99 Miyagi Chatancho Okinawa
【business hours】10:00 a.m. to 8:30 p.m. (Last Order at 8:30 p.m.)
【Regular holiday】Bon Festival
This Northern Okinawa soba restaurant is very popular!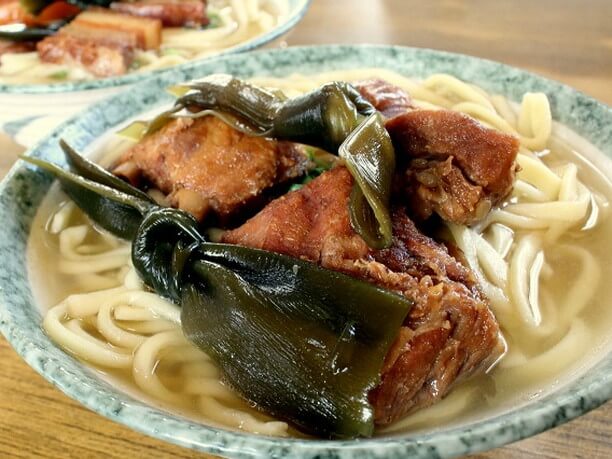 Miyazato soba is one of the most popular soba shops in Okinawa! Especially in is the northern part of Okinawa. Nago citizens and fans inside and outside the prefecture love this place! The shop has a retro atmosphere and is quite crowded whenever you go. For families there are small raised cushion seats and table seats. You start by purchasing a ticket from the ticket vending machines. The process is to buy a ticket, pour yourself a cup of tea, then find a seat. In addition to their Okinawa soba you can also have curry and rice, and toast and spaghetti.

【Spot name】Miyazato soba
【Street address】1-27-2 Miyazato Nago-city Okinawa
【business hours】From 10:00 a.m. until they are sold out.
【Regular holiday】Wednesday
This Okinawa soba shop features a golden color soup with pig cartridge!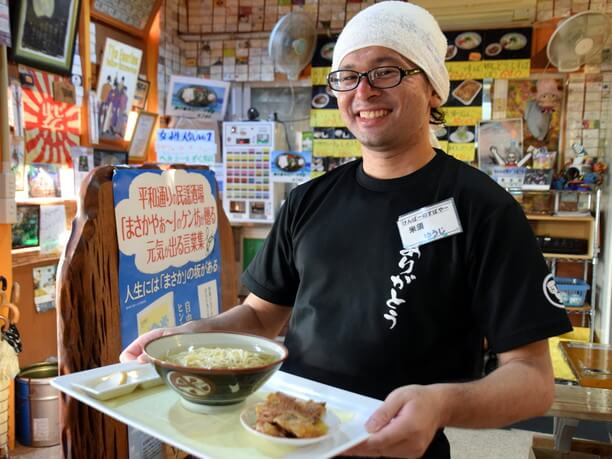 This soba shop is located in Naha city's new city center. It has a fun interior filled with funky looks and business cards. A popular menu item is their nankotsu soba. Unlike general Okinawa soba, it is characterized by the meat being served in a separate dish rather on top of the noodles. They also feature a golden soup that has pork soaked in a delicious golden base. Because it is open until 7:00 p.m., you can also have their soba for dinner. There is also Okinawa soba and cartridge takeaway packs available so you can enjoy the taste of Kenpanosubaya at home.

【Spot name】Kenpanosubaya.
【Street address】4-9-11 Omoromachi Naha-city Okinawa
【business hours】11:00 a.m. to 7:00 p.m. (or until sold out)
【Regular holiday】Open every day of the year (except January 1 to 3)
This Okinawa soba shop is located in a National Registered tangible cultural property!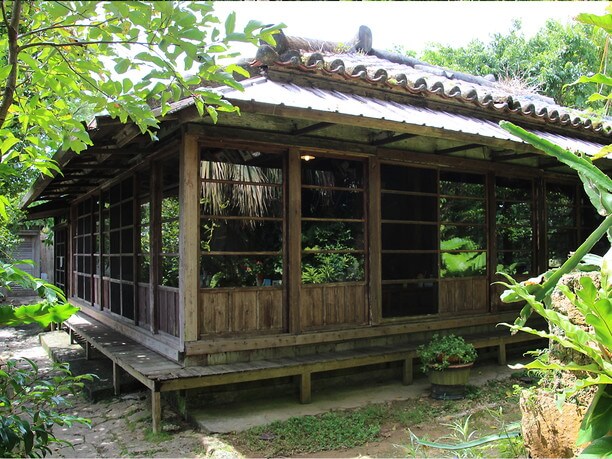 This Okinawa soba restaurant uses an old tiny house with red tile roof located on the hill of Shuri in Naha city. Their reputation for delicious Okinawa soba has spread through word of mouth. On weekends it is a popular store where so many people gather, the parking lot becomes full. The wooden main building is designated as a registered tangible cultural asset of the Agency for Cultural Affairs. You can enjoy meals while viewing the Okinawa style garden through the window. On a nice day, we recommend eating on the terrace that has covered seating and overlooks the streets of Naha city. Enjoy walking on the Ryukyu limestone-covered garden path while waiting for a meal or after eating. Please note that the path can be difficult to walk on with heels!

【Spot name】Shimujo (Naha-city)
【Street address】2-124-1 Shuri Saneyoshicho Naha-city Okinawa
【business hours】11:00 a.m. to 3:00 p.m.
【Regular holiday】Wednesday, Old Festival, Ching Ming Festival
Offering homemade sweets and Okinawa soba!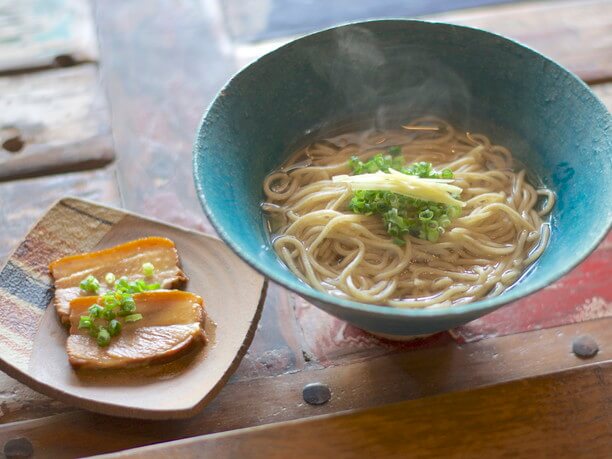 Kinchichi soba is a popular Okinawa soba restaurant. It is famous in the Yomitan village which is known as a village with the largest population in Japan. We recommend having their "flour scented bonito soba". It has a slightly sweet, mild flavor. The noodles are made with wheat grown in Okinawa and you can feel plenty of regional taste in each bowl. For dessert try their thick and mellow cream brulee. This is the perfect place to enjoy Okinawa soba and handmade sweets. It is particularly crowded from noon to 1:00 p.m. so we recommend that you visit at other times.

【Spot name】Kinchichi soba (Yomitani)
【Street address】201 Kina Yomitan-son Okinawa
【business hours】11:00 a.m. to 4:00 p.m. (as soon as it is sold out)
【Regular holiday】Monday
This popular Nago City soba store is marked with a red signboard!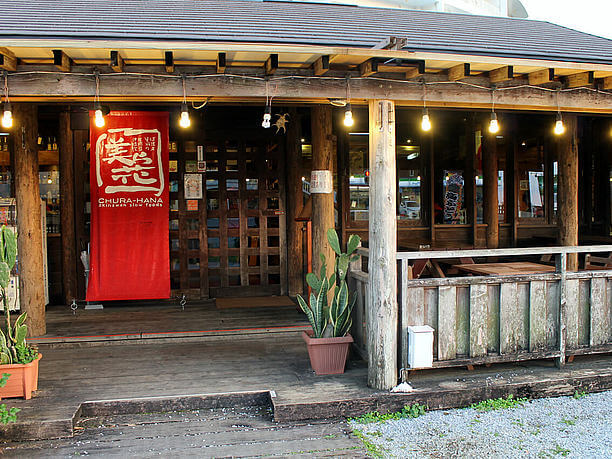 This Okinawa soba shop is busy as a restaurant during the day and as a tavern at night. We recommend the pork soba that comes with 2 pieces of meat, each about 6 inches long. Their original raw noodles are custom-made that blends homemade powder, salt of Okinawa, and the refined water of Nago. It is a delicious taste that can only be tasted here. Enjoying these buckwheat noodles are sure to become a habit. You can stop by before and after Northern sightseeing, such as Nago City or Motobu Town? Their red signboard is visible along National Route 58!

【Spot name】Chura-hana Nago store
【Street address】111-1 Koki Nago-city Okinawa
【business hours】【lunch】11:00 a.m. to 3:30 p.m. (Last Order at 3:00 p.m.)
【dinner】5:00 p.m. to 11:00 p.m. (Last Order at 10:30 p.m.)
【Regular holiday】None
Enjoy local condiments on your Okinawa soba!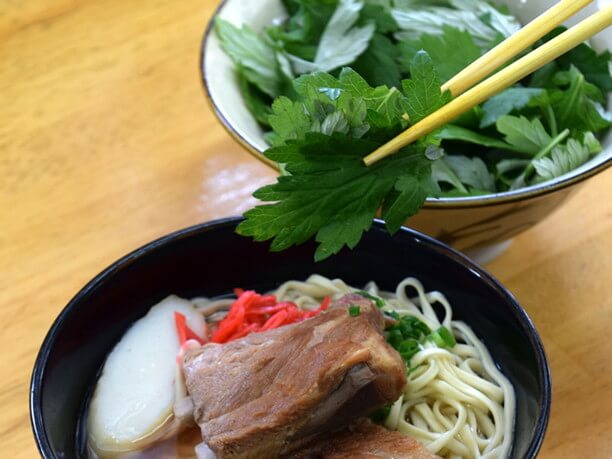 Tamanya is a popular Okinawa soba restaurant that is located on the first floor of a Karate Dojo in Nanjo City. It is a good example of Okinawa soba. They won the soba king prize in the 2nd Okinawa soba king event. Their popular soba features grease free noodles and softly cooked meat. For a more spicy soba we recommend topping it with local condiments like Ryukyu mugwort, along with red ginger and chile sauce!

【Spot name】Tamanya
【Street address】913-1 Ohzatofurugen Nanjo-City Okinawa
【business hours】10:45 a.m. to 6:00 p.m.
【Regular holiday】None
Patterning itself after the legendary Okinawa soba specialty store "Sakura shop!"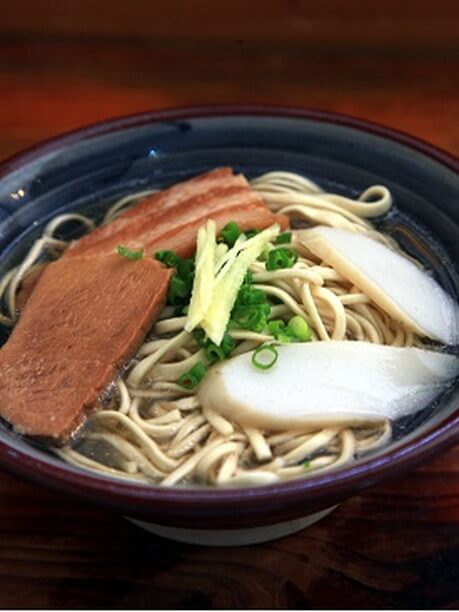 Shuri soba is popular with tourists and locals. This Okinawa soba shop is hands down the closest thing in taste to the legendary "Sakura shop" which was closed more than 20 years ago. Their strength is the whitish hand-rolled noodles that are top class in the Okinawa Prefecture. Their pork and fish cake flavor, soup stock, seasoned with the salt of the island is outstanding. We also recommended combining shiitake mushrooms (that are full of rich flavor) with your soba. Shuri soba is located close to Shuri castle, so it is easy to stop in before and after sightseeing?

【Spot name】Shuri Soba
【Street address】Concert Gallery Shirama 1F 1-7 Shuriakatacho Naha-City Okinawa
【business hours】11:30 a.m. to 2:00 p.m. (open until sold out)
【Regular holiday】Sunday · holiday
Enjoy Okinawa soba in a 100-year-old private house!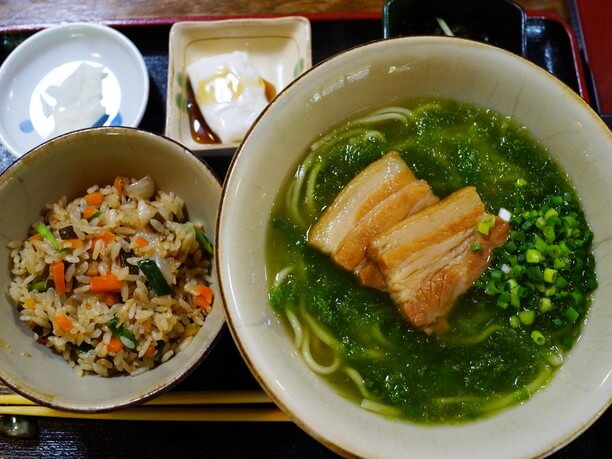 Yagiya is an Okinawa soba shop that is located inside a 100-year-old Ryukyus old house that is designated as a registered tangible cultural asset of the Agency for Cultural Affairs. Their most popular menu items are their Artha soba set (homemade raw noodles with Okinawa-seaweed and cocked pork) their rice and vegetable with seaweed, and their Zemamis (peanut tofu and radishes pickles). In addition, they have a delicious black honey Zenzai for dessert. So come in and enjoy an Okinawan gourmet meal in their tasteful old private house, where the Buddhist altar is still standing where it originally was placed. You can also enjoy walking in the garden before and after meals.

【Spot name】Yagiya
【Street address】1172 Ohton Yaese-cho Okinawa
【business hours】11:00 a.m. to 4:00 p.m. (Last Order at 3:45 p.m.)
【Regular holiday】Tuesday (holiday, GW, summer vacation period, year-end and new year is normal business), January 1