Eight carefully selected gourmet shops in the highly competive Naha City restaurant market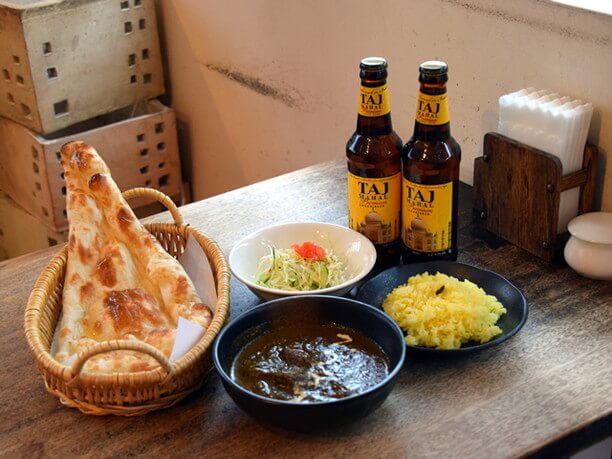 It is the real pleasure of travel when you can enjoy gourmet food unique to that area. Naha city has a treasure trove of some of the best gourmet in Okinawa! Especially now in Naha city where the gourmet boom is on and the number of shops is increasing. We will introduce our recommendations for the best gourmet shops to visit in Naha City!

Enjoy Okinawa gourmet at this out of the way pub in Naha City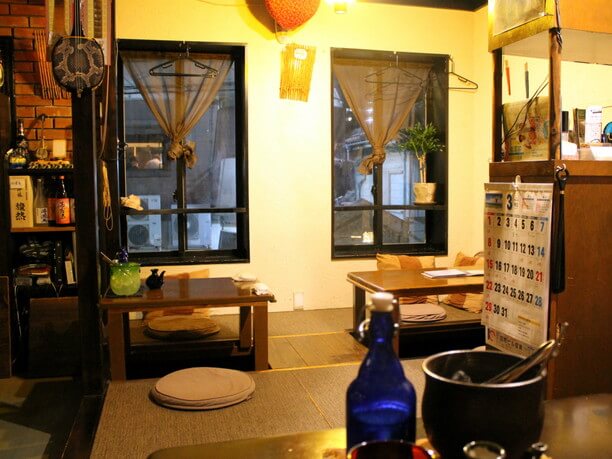 Shusaidokoro Biidoro is located at the back of the international street in Naha City. It is a tavern hidden in amongst very ordinary apartments. In their cozy 18-seat space you can enjoy seasonal Okinawan cuisine. This shop that values "Seasonal food" offers the most delicious recipes made from some of the most delicious ingredients. Because the menus changes quite often it is best to ask the staff for recommendations! It has outstanding popularity among Naha's taverns. It is a great place to enjoy a good conversation with the friendly owner while enjoying one of his gourmet dishes

【Spot name】Shusaidokoro Biidoro
【Street address】1-11-1 Makishi Naha-City Okinawa
【business hours】6:00 p.m. to midnight
【Regular holiday】Sunday and Monday
This Okinawa-style tavern is a very popular place!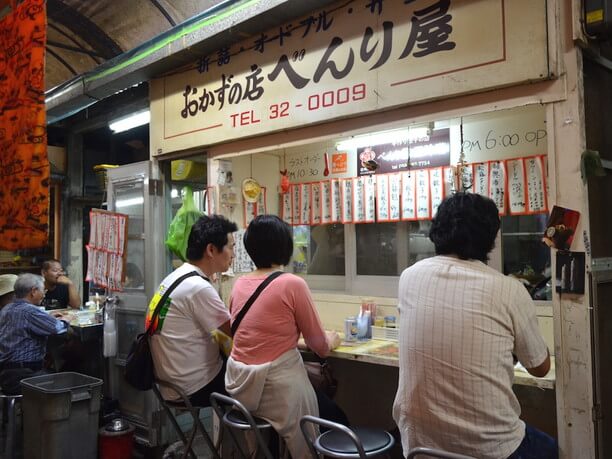 This tavern, with its unique postwar reconstruction atmosphere is a popular shop located in Sakaecho market. They have many original dishes on their menu. You can have dumplings and small bowls of rice at this highly valued gourmet site. In addition, you can have one of their unique menu items such as "Genkotsu chocho" which has become very popular since being featured on television. The tables and chairs are close together in their compact space, so it is an easy place to enjoy with local customers!

【Spot name】Benria
【Street address】388 Asato Naha-city Okinawa
【business hours】6:00 p.m. to 11:00p.m. (Last order at 10:30)
【Regular holiday】Sunday
Enjoy their fresh goat dishes and the personality of shopkeeper!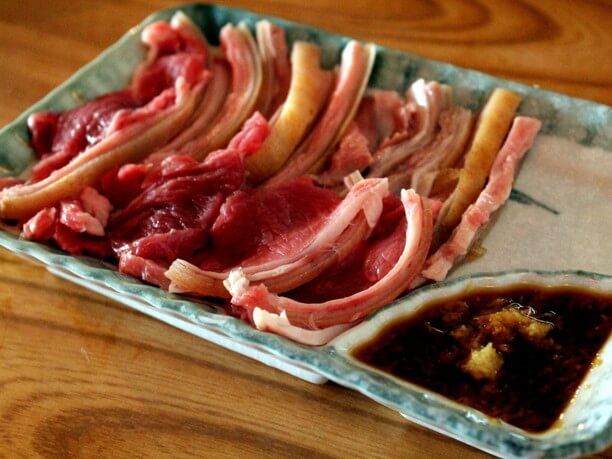 In Okinawa, a goat is a prized as a food for Halle's Day and there are only a few shops that serve fresh goat meat. "Sakae" is the place in Naha. The goat dishes on the signboard menu include stir-fried, sashimi, balls (testicles) and other options. If it is your first time eating goat meat we recommend goat's sashimi. The most attractive point of this store is the hospitality. It is overflowing with the cheerful talk of Masaki Nen (shop owner). As the night goes on it becomes fully occupied. If you are sure you want a counter seat, arriving at the store the store right after opening is the best. The amount and quality of dishes that the shopkeeper serves are exceptional!

【Spot name】Yamahitsuji Ryori Sakae
【Street address】3-12-20 Makishi Naha-city Okinawa
【business hours】3:00 p.m. and – 11:00 p.m.
【Regular holiday】Sunday
Enjoy healthy Taiwanese gourmet in Naha City!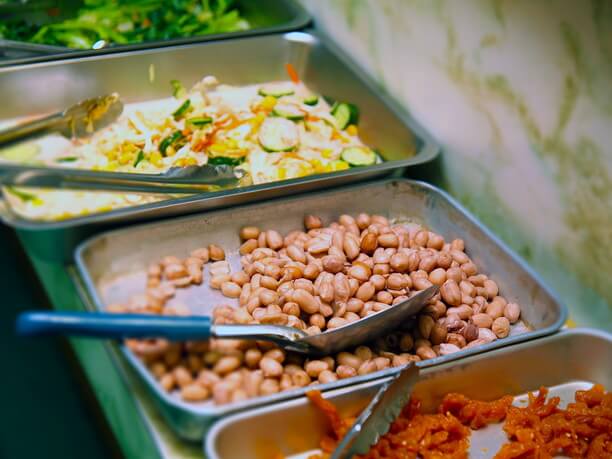 Kintsubo Shokudou Kanpo is located in the corner of Naha city's Tsuboya area. It is a shop where you can enjoy Taiwanese cuisine from 8:00 in the morning!
This is simple "Taiwanese food" that mostly consists of vegetables, seaweed, and grain. Not only is it tasty, it contains a lot of healthy ingredients to help you feel better. This popular gourmet store has many repeat customers who enthusiastically wish to heal their heart and body with a breakfast at "Kintsubo Shokudou Kanpo!" Vegetarian foods or seafood are recommended for those who are concerned about their health!

【Spot name】Kintsubo Shokudou
【Street address】1-7-9 Tsuboya Naha-City Okinawa
【business hours】8:00 a.m. to 4:00 p.m. *buffet: 8:00 a.m. to 2:30 p.m.
【Regular holiday】Irregular holiday
70% of this popular shop (serving authentic Indian curry) customers are Naha City residents!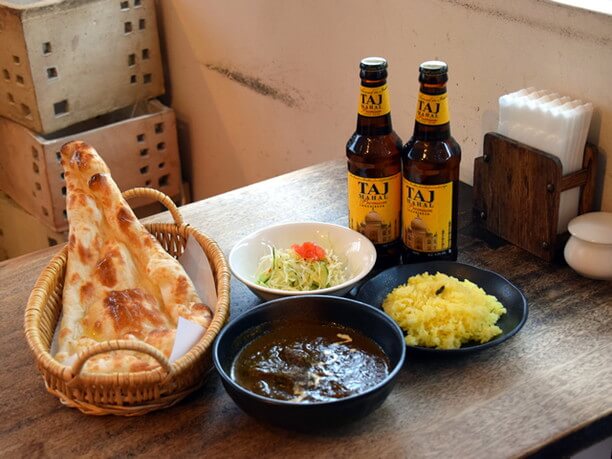 Located in the middle of Naha city on International street. "Cafeteria India" is a social gathering place where 70% of its customers are local residents!
it is a natural, comfortable space, more like a cafe, than a large restaurant! Here you can enjoy authentic Indian curry. The owners are a couple who worked at many Indian restaurants around Japan before deciding to open their own restaurant. It is also a place where you can enjoy rare Indian alcoholic drinks such as Indian beer and wine. You can enjoy them with their "all you can drink" deal anytime. This is a place to enjoy Indian curry along with Okinawan awamori.

【Spot name】Cafeteria India
【Street address】3-8-29 Makishi Naha-city Okinawa
【business hours】11:30 a.m. to 5:00 p.m. 5:00 p.m. to midnight
【Regular holiday】None
This fashionable Naha City café has numerous bear toys awaiting!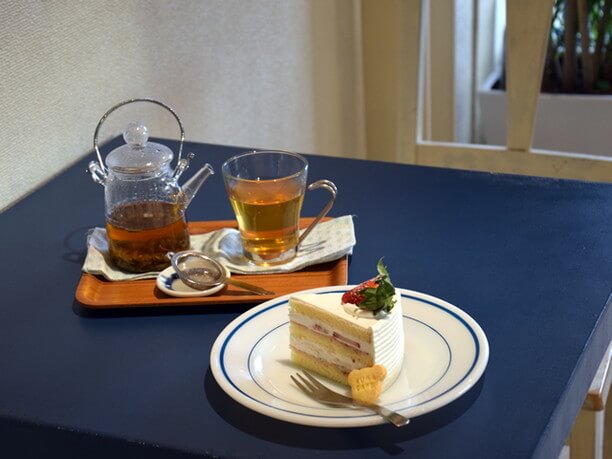 The Kuma café located in the Makishi area of Naha city is a very fashionable café with large windows that catch the eye! It is a valuable gourmet store where you can have a surprisingly small, fresh cake! The interior is a simple and cozy space with a blue and white decor. Since it is open from morning until evening, you can enjoy their delicious dishes at any time of the day! While waiting to eat, it is a pleasure to explore their more than 300 bear type toys on display!

【Spot name】Kuma café
【Street address】2-21-1 Makishi Naha-city Okinawa
【business hours】8:00 a.m. to 6:00 p.m. (Sunday only open to noon)
【Regular holiday】Wednesday
Enjoy Teppanyaki and a fun chef's performance!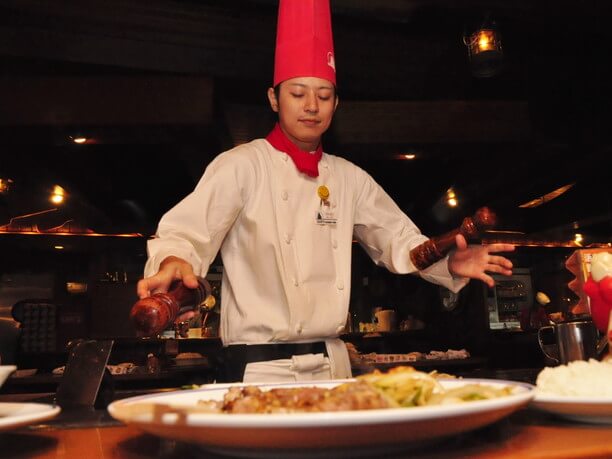 Sam's Anchor Inn is a popular restaurant featuring Teppanyaki on international street. The walls of the shop are decorated with the image of a pirate ship! Business card that tell of the popularity of the place are plastered everywhere! You can enjoy your meal at this shop that doubles as an entertainment facility as a chef performs his preparation of meat and vegetables in front of you. It is a true fusion of gourmet and entertainment. Tropical juice served in a glass in the form of a shisa is a popular drink! Because it gets crowded after 6:00 in the evening, we recommend coming early.

【Spot name】Sam's Anchor Inn International Street Store
【Street address】3-3-18 Kumoji Naha city Okinawa
【business hours】5:00 p.m. to midnight (Last order at 11:00 p.m.)
【Regular holiday】None
This Okinawa soba shop is located in a National Registered tangible cultural property!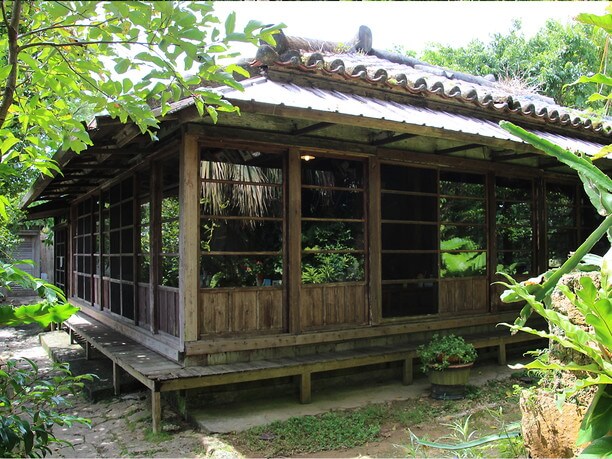 This Okinawa soba restaurant uses an old tiny house with red tile roof located on the hill of Shuri in Naha city. Their reputation for delicious Okinawa soba has spread through word of mouth. On weekends it is a popular store where so many people gather, the parking lot becomes full. The wooden main building is designated as a registered tangible cultural asset of the Agency for Cultural Affairs. You can enjoy meals while viewing the Okinawa style garden through the window. On a nice day, we recommend eating on the terrace that has covered seating and overlooks the streets of Naha city. Enjoy walking on the Ryukyu limestone-covered garden path while waiting for a meal or after eating. Please note that the path can be difficult to walk on with heels!

【Spot name】Shimujo
【Street address】2-124-1 Shuri Saneyoshicho Naha-city Okinawa
【business hours】11:00 a.m. to 3:00 p.m.
【Regular holiday】Wednesday, Old Festival, Ching Ming Festival