If you want to really know Tokyo visiting Shinjuku, Kabuki-Cho is a must!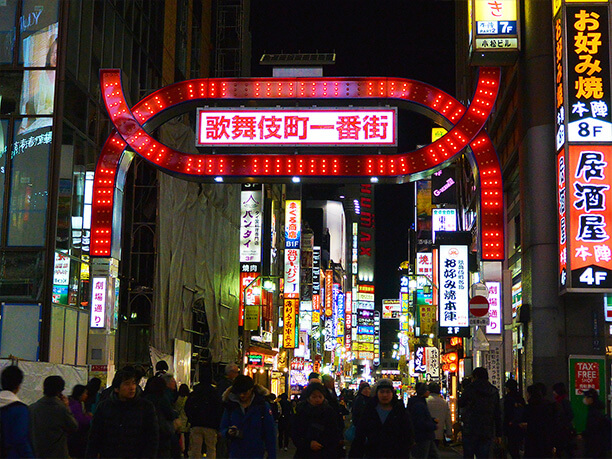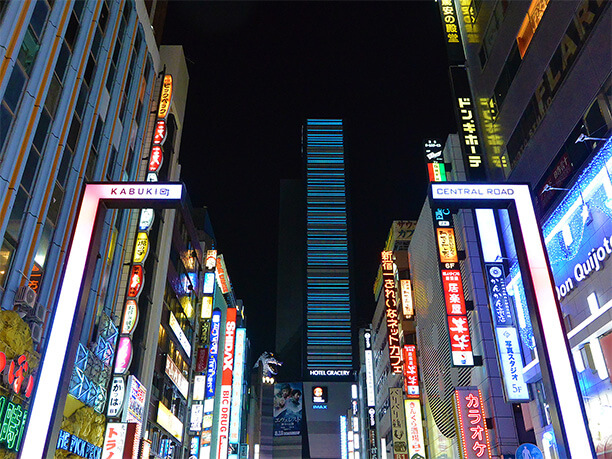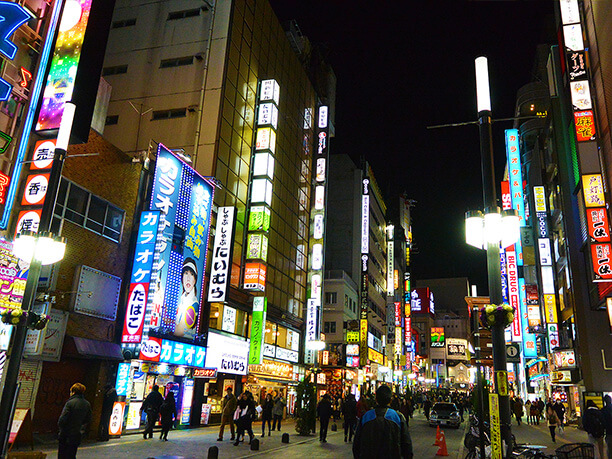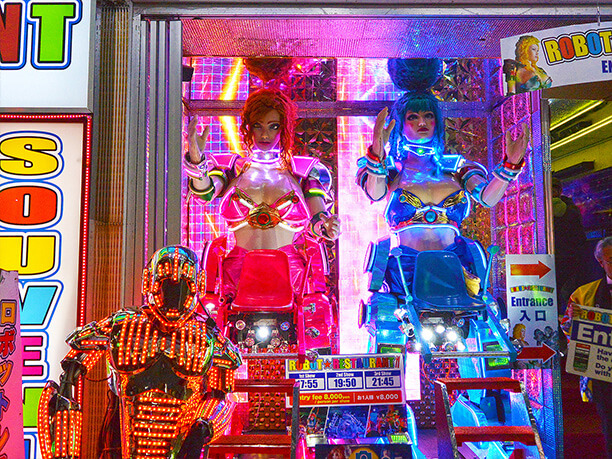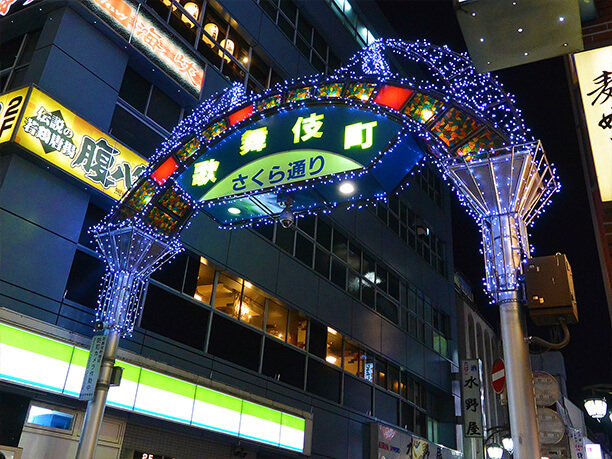 When speaking of Tokyo night spots, the first thing that comes to mind is the Shinjuku Kabuki-Cho area (歌舞伎町). From the JR Shinjuku station and Seibu Shinjuku line Ikebukuro station, it is just a short walk down Yasukuni Street to the Kabuki-Cho.area. If you are coming to Tokyo for the first time you may feel a little apprehension about exploring this area. But there are many safe and inviting shops in Kabuki-Cho. So please come and enjoy this section of downtown Tokyo!

There is a wide variety of Kabuki-Cho shops!
One of the most popular spots in Kabuki-Cho is the "Robot restaurant." It provides a unique form of entertainment that has been featured in the media. It has female dancers dancing with robots to the music of many drummers. It is rumored that the show development costs were in excess 10 billion yen (100 million dollars). This is something you can only see in Kabuki-Cho! Advanced reservations are required.
Let's go to the "Godzilla cinema"!
Another famous spot that has become a symbol of Kabuki-Cho is the Toho cinemas. This Shinjuku Koma is one of the biggest cinema complexes in Tokyo. It is famous for having a giant head of Godzilla on the exterior of the eighth floor. The head's giant eyes are turned on and shine starting at 7:00 pm and really add to the effect. You can get an up close view of this attraction when staying at the Hotel Gracery Shinjuku in the same building or by visiting the 8-floor Café-Bonjour and eating out on the terrace.
Enjoy Shinjuku, Kabuki-Cho hot springs!
From the Toei Shinjuku line "Shinjuku-Sanchome station it is about a 2-minute walk from exit E1. Located behind the Hanazono shrine is the popular hot springs, "Thermae-Yu." It is one of the biggest hot springs facilities in In Tokyo. It boasts of having one of the highest concentrations of carbon dioxide baths. The bath water is brought every day from Naka-Izu, Tokyo's largest spring. In addition Thermae-Yu is equipped with an elaborate relaxation facility, You can lay on a bed of heated rocks or experience aroma Therapy in addition to your soak. The on-site hotel is equipped with free Wi-Fi, and many seats and spacious lounges. They also have a woman only section! It is a bargain for a late-evening soak and bedrock bath for only 2362 Yen. There is an additional fee if you decide to stay the night at the hotel.
Kabuki-cho
Spot name(Ja)

歌舞伎町
Address

Kabuki-Cho Shinjuku-ku Tokyo Cli
Address(Ja)

東京都新宿区歌舞伎町
Telephone

03-3209-9291
Kabukicho shopping street Promotion Association
Price

Store hours may vary.
Open

Store hours may vary.
Close

Store hours may vary.
Parking lot

Without
Note

HP : http://www.kabukicho.or.jp/

In the case of using public transportation
・From Seibu Shinjuku line Seibu Shinjuku station it is a 5-minute walk. By taxi it is approximately a 10-minute ride and costs 660 to 730 yen.
・From the Tokyo Metro Shinjuku-Sanchome station (Marunouchi line, Fukutoshin line, and Toei Shinjuku line) it is an 8-minute walk. By taxi it is approximately a 10-minute ride and costs 660 to 730 yen.