Enjoy a swirling breath of fresh air in a setting reminiscent of the Showa Era at Shinjuku Hanazono Golden Town!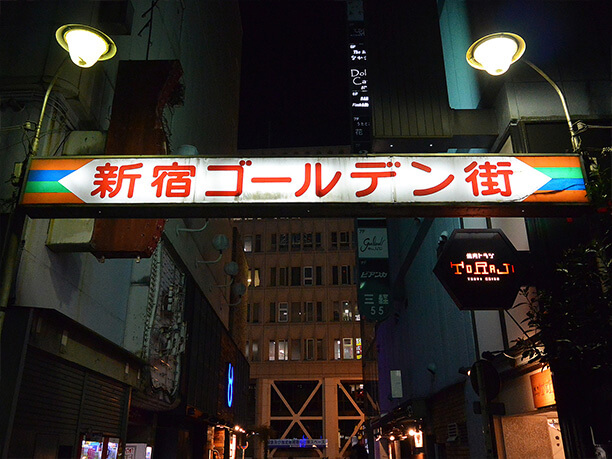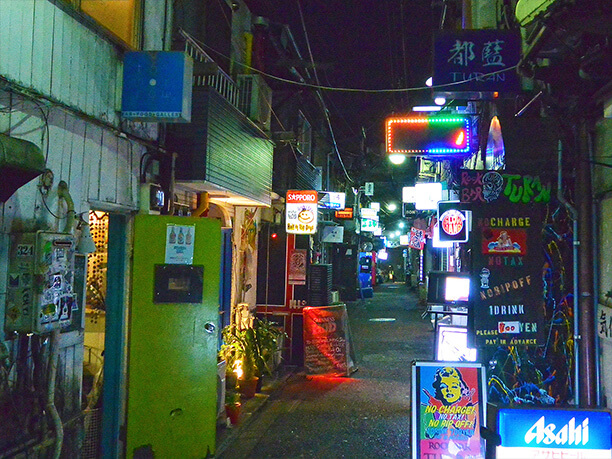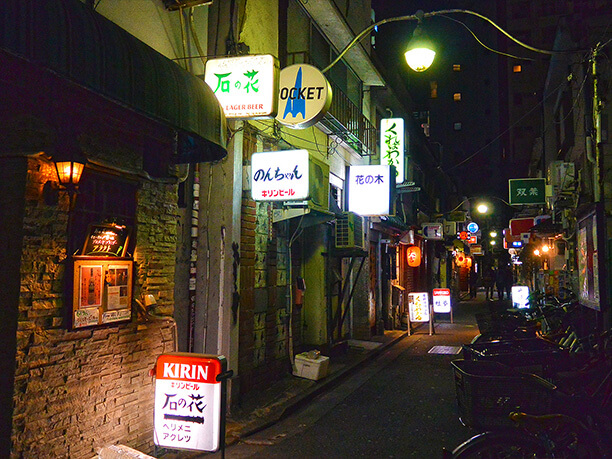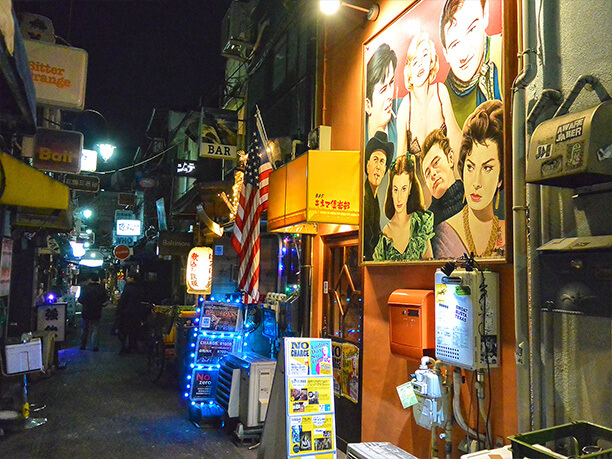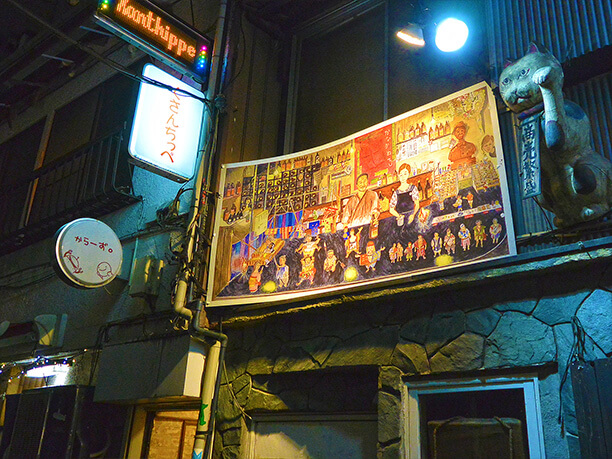 From the East exit of the JR line Shinjuku Station it is an 8-minute walk to Shinjuku Hanazona Golden Town(花園ゴールデン街). Walking down Yasukuni street after you pass through the first intersection you will see a signpost for Hiki no michi. Enter that alleyway and you will come to Shinjuku Hanazona Golden Town. The many shops in wooden buildings lit with neon lighting are reminiscent of the black market after World War II. The Shinjuku area struggled to overcome a difficult relocation and operating regulations. But they survived! Now with younger owners the area is again expanding the unique shops of Hanazona Golden Town.

Enjoy exploring all the eclectic shops!
Shinjuku Hanazona Golden town consists of about 300 stores, For the first-time visitor, at first glance the area might seem a little unsafe. But the truth is that it has many safe, social bars and stylish shops. Even a woman traveling alone can feel comfortable and enjoy the experience. It is definitely worth checking out!
A literary bar was the most popular meeting site!
From 1965 to1975 this area was a very popular place for celebrities to gather. It was especially popular among, writers, editors and other creative types. It was a place you could come and discuss literature. It was a favorite spot of the famous writer and Naoki Prize winner Ryuzo Saki(佐木隆三). He use to frequent a place called the "Maeda bar." All that remains of that popular site is a small sign that marks the spot where so many writers use to meet. In 2012, a new bar (Tsuki Ni) opened and is currently very popular. It is owned by a former journalist and many of his guests are writers!
An old town with long established traditions!
Shinjuku Hanazona Golden town is an old town. There have been people gathering there since ancient times. As a result, some unwritten laws exists about proper behavior and it is a good idea for tourists to show good taste and observe these traditions.. The first rule, don't linger. Son't stay too long at the restaurants. The shops are small and there are always people waiting to be seated. The second rule is, expect to pay for your seat. Many shops charge a minimum just to be seated in their restaurant. So it is a good idea to check on the price before you sit down. The third rule is, refrain from coming with a large group of people. There just isn't enough room to accommodate large groups. If you follow these rules, you will be surprised how welcoming of an area this is.
Hanazono Golden Town
Spot name(Ja)

花園ゴールデン街
Address

1-1 Kabuki-Cho Shinjuku-ku Tokyo Cl
Address(Ja)

東京都新宿区歌舞伎町1-1
Price

Store hours may vary.
Open

Store hours may vary.
Close

Store hours may vary
Parking lot

Without
Note

In the case of public transportation using
・From the East exit of JR Shinjuku Station it is about a 6-minute walk. By taxi it is approximately a 10-minute ride and costs 660 to 730 yen.
・From Toei Shinjuku-Sanchome station (Shinjuku Line / Marunouchi line & Fukutoshin Line) it is about a 3-minute walk. By taxi it is approximately a 10-minute ride and costs 660 to 730 yen.