Let us show you how long it takes to get to some excellent tourists spots by car from Naha airport!
Okinawa is not only a popular summer resort! It has interesting attractions all year round. The only public transportation from the Naha airport is the monorail (YUI rail) (ゆいレール) and it only goes to Naha City.
So if you are planning to go anywhere else a rental car is your best bet. Access is good on the main island of Okinawa. From the southernmost to northernmost
point it only takes four hours by car.
Using Naha airport is (which located in the South of the island) as a starting point you can use the map below to determine the distance and travel time to your chosen destination.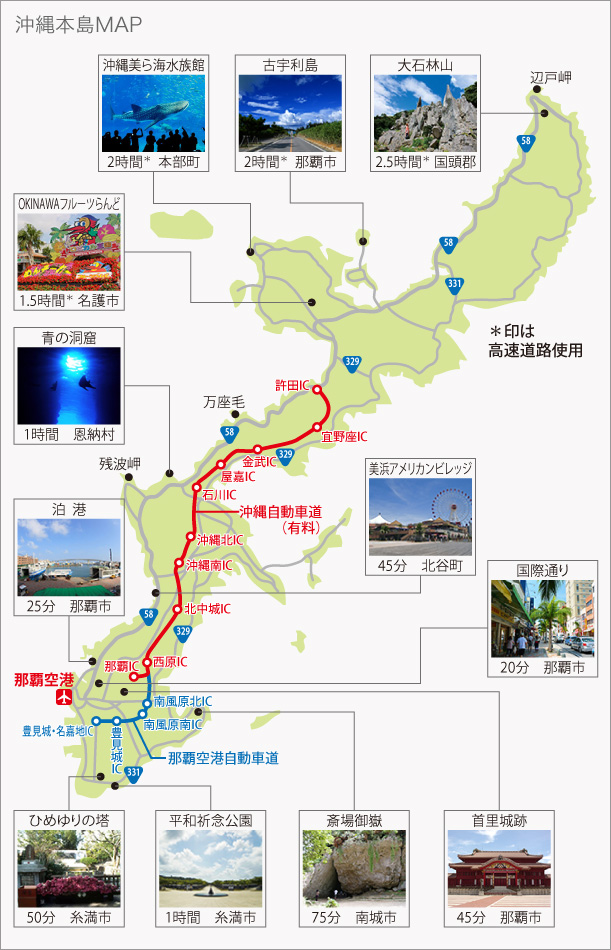 Naha airport is located on the south side of the island. It is
not unreasonable though to travel to Northern tourist attractions.
Shuri Castle (首里城) and tourist spots such as International street in Naha city
can be conveniently accessed within an hour.
If only going to Naha City using the "YUI rail" is highly recommended.
The departure point for the ferry you can use to go to the outer islands
is less than 30 minutes by car from Naha airport.
if you want to go further north then use the highway.
For example, located in Motobo-cho town is the popular "Churaumi Aquarium."
(美ら海水族館) You can get there using the highway from Naha Airport in about two hours.

The time for travel shown on the map does not include the time it will take for the rental car process. So please adjust your schedule to include that the necessary time.