Recommended ways to travel by airplanes and boats to outer islands from Naha Okinawa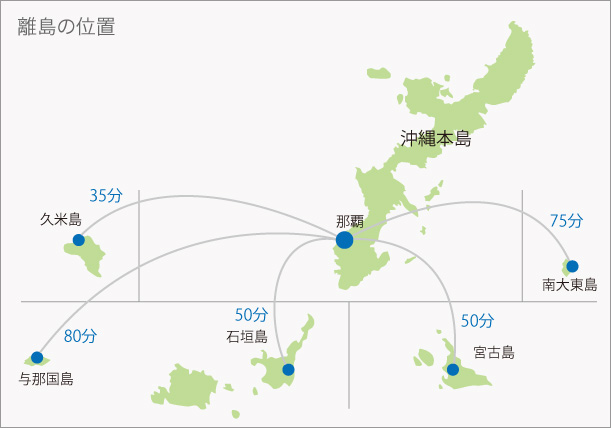 If you look to Okinawa (沖縄) from the Japanese mainland it may seem as one big island. However, the Okinawa main island is in the center of many islands that are scattered throughout the area.

Many popular tourist attractions are concentrated in the Okinawan islands. It is one of Japan's treasures that offers a unique atmosphere filled with natural beauty and charm.

Many of the visitors to Okinawa have said that they prefer the outer islands over the main island.
The islands are divided into two categories: The "Gattesuri islands" which are traveled to by airplane and are typically associated with longer stays. The "Puchi islands" which are usually visited as a one day trip by boat.

For example From the Naha airport on the main island you can reach two of the gattesuri islands, Miyako Island and Ishigaki Island by plane.

"Puchi islands can be reached by boat from the mainland!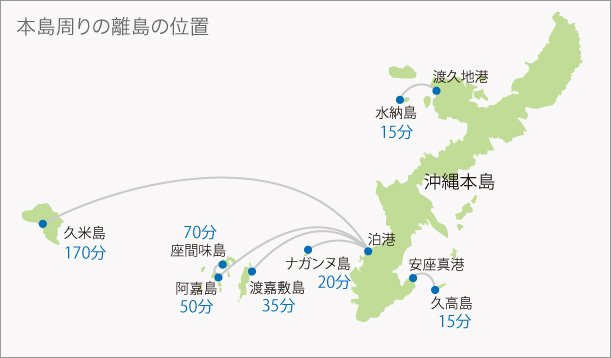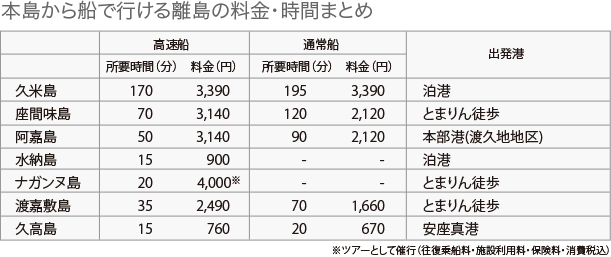 -Kume-jima Island (久米島)

The largest of the Okinawa Islands, with around 30 miles circumference filled with
dazzling white sandy beaches and surrounded by crystal blue sea.

It is most known for the beautiful white sands of Hateno-hama beach(はての浜). Another popular beach is Ifu beach which extends for about 1.2 miles. It also has a very popular stretch of pavement lined with rock on the right side.

-Zamami-jima Island (座間味島)
Zamami-jima Island is part of the Kerama Islands group.

In 2014 it was declared a National Park.

The beauty of the coral reef makes it a popular spot for divers!

It is likely to encounter sea turtles along the coast.

-Aka-jima island(阿嘉島)
The beauty of the sea here is superb!
This is not a popular spot for marine sports, which makes it popular for snorkeling.
It has a reputation as a good spot for seeing tropical fish.

-Minna-jima island(水納島)
As a result of its shape it is known as "croissant island."

It is an excellent spot for watersports and very popular for families.

-Island of Nagannu(ナガンヌ島)
This is a small uninhabited island with a North to South distance of only about 600 feet.

This is a great spot to enjoy water sports.

It takes about 30 minutes to get here from Naha.

● Tokashiki-jima Island(渡嘉敷島)
This is the largest inhabited island of the Kerama Islands. It has a population of approximately 700 people.

Is a popular whale watching and scuba diving spot.

● Kudaka-jima Island (久高島)
The people of Okinawa called this power spot "Island of the gods."

Bicycle rental is recommended. It is about a one-day trip around the island.

It has a peaceful and solemn atmosphere.
Travel to the gattsuri islands by plane from the Naha airport.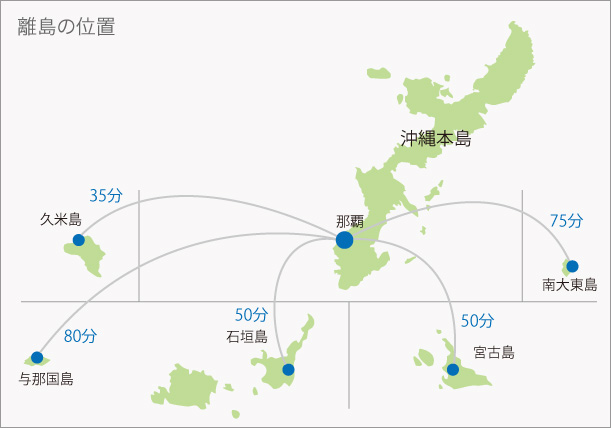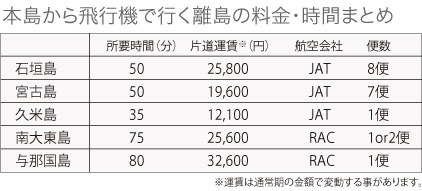 -Ishigaki-jima Island (石垣島)
People come to this island to experience the areas around the Yaeyama Mountains and
Kabira Bay's famous coral reefs. The crystal clear blue sea surrounding the island
provides many opportunities to enjoy the island.

Miyako-jima Island(宮古島)

This popular island has many trails you can hike on and experience a beautiful sea view.
With its many tropical places and "Old Stone Palace" to visit, this is a popular tourist spot. In fact it is considered one of the most popular islands of Okinawa.

-Minami-Daito Island (南大東島)

This still-developing island is only about 100 years old.

With its carved rocks and naturally made salt water swimming pools,
it is an island rich in unique culture.

-Yonaguni-jima Island (与那国島)
This Island is Japan's westernmost point. Located just 80 miles from Taiwan, the island
is actually closer to Taiwan than it is to Okinawa's main island.

With its unique seabed terrain and underwater ruins this island's shores are very popular scuba diving hot spots.
Go by ferry from Ishigaki-jima Island!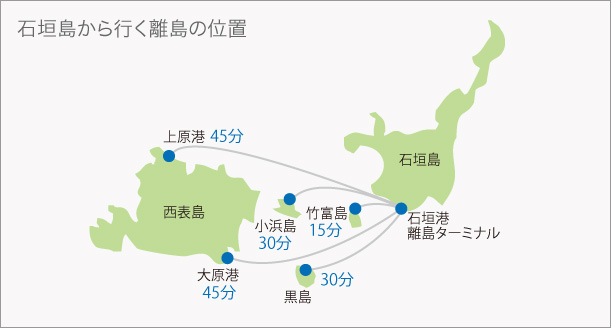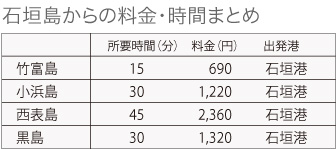 Taketomi-jima Island(竹富島)
This island is famous for Kondoi beach which overlooks Iriomote Island.

There are many Okinawan-style restaurants here.

-Kohama-jima island (小浜島)

This is Japan's southernmost inhabited island.

Here you can feel the atmosphere on the road surrounded by sugarcane fields on both sides.

-Iriomote-jima Island (西表島)

Iriomote-jima Island is home to many rare plants and animals.

The island is only about 1.2 miles across and inhabited by buffalo.

Kuro-jima Island (黒島)
Even though the island's population is only about 200, there is over
3000 head cattle also living in this peaceful area.


There are lots of charming Islands with various features on the islands of Okinawa.

Take a look at these islands and create the Okinawa trip of your choice!