Experience the beautiful night view of the Motomachi church group in Hakodate!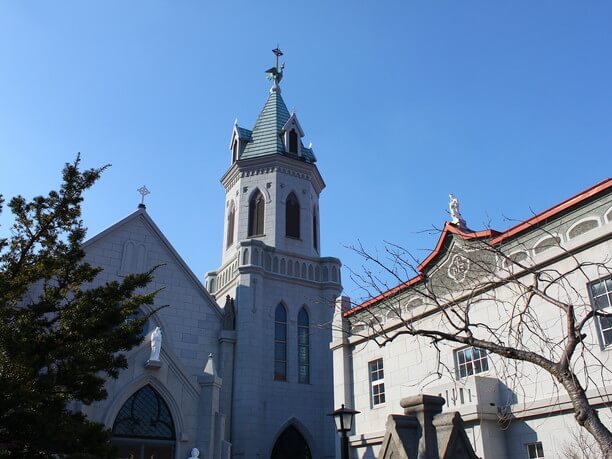 At the foot of Mt. Hakodate, in the Motomachi Area is the place where foreign consulates concentrate. This place also has several historical churches. Combining the scenic slope and beautiful churches, everywhere you look it is a "landscape that would make a beautiful picture." These churches are sacred places where many believers still come to worship, but many tourists come as well to see these famous sightseeing spots! Depending on time and day of the week, there are churches where you can admire the interior, and see the beautiful altars and stained glass.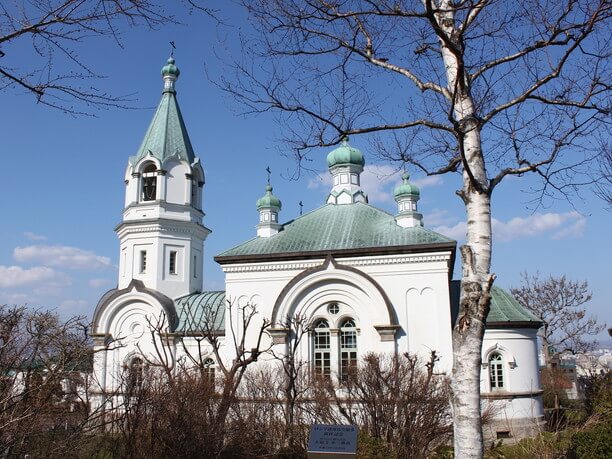 See these beautiful churches while walking on the slope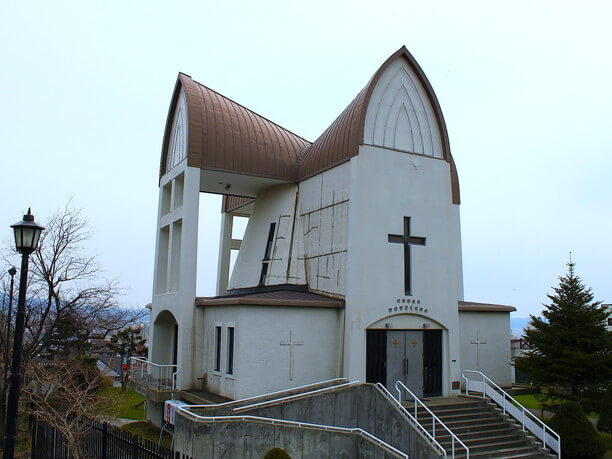 There are three famous churches built facing the steep slope of "Daisan zaka" and the "Cha-cha Nobori" slope. Although they are all Christian churchs, the denominations are different, and the design of the building is also very different. It is fun to compare their features. The Gothic style "Catholic Motomachi church" with a large bell tower with a height of 99 feet meters; the blue-green roof and white walls of the, Russian Bisanthin "Hakodate Christian Orthodox Church;" and the large cross is impressive atop the "Hakodate John Church."
The churches look beautiful lit up at night!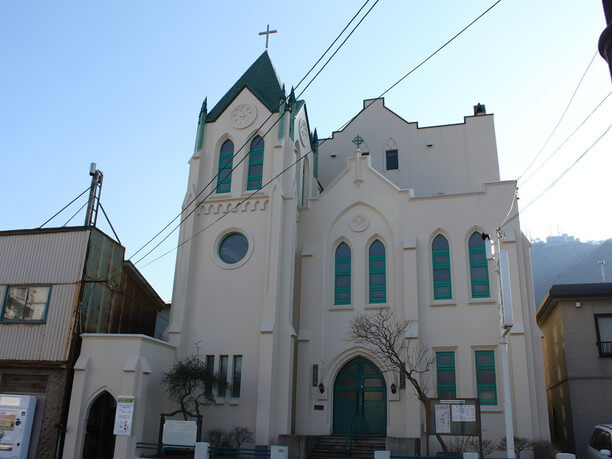 Go down " Daisan zaka," northwest on "Benten Suehiro dori", and you will see there the "Christian Christianity Hakodate Church". The gentle cream colored wall, the green window frame and the arched door all call attention to this building. All the churches are beautifully lit up from sunset to around 10 pm, and create a dramatic landscape. When you see the church group that emerges in the night sky with the light of the city of Hakodate, you will feel like you got lost in a distant land.
On the weekend the bell rings at the Christian Orthodox Church!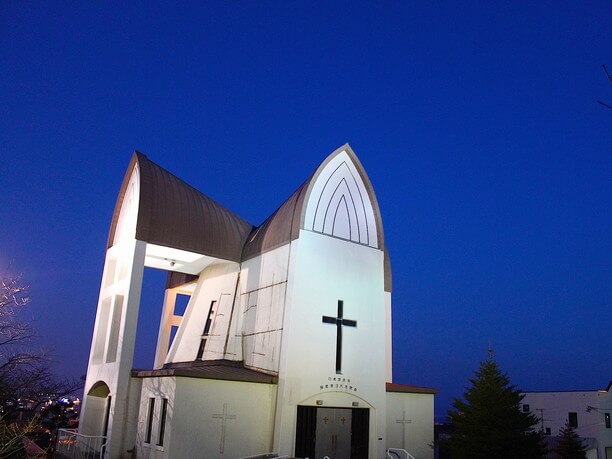 "Hakodate Hallast Orthodox Church" which is a symbol of Hakodate and an important cultural property of the country was the first Russian Orthodox Church in Japan. It was built in 1859, the same year as the opening of the port. It was destroyed by the great fire, and the current shrine was built in 1916. Citizens that are familiar with it call it by the nickname "Gangan Temple", the name was derived from the bell in the church. Every Saturday evening and Sunday morning at worship time, beautiful bell sounds reverberate at the foot of Mt. Hakodate.
Motomachi Church Group
Spot name(Ja)

元町教会群
Address

・Hakodate Hallast Orthodox Church 3 - 13 Motomachi Hakodate city
・ Catholic Motomachi church 15 - 30 Motomachi Hakodate city
・Hakodate St. John Church 3-23 Motomachi Hakodate city
Address(Ja)

・函館ハリストス正教会 函館市元町3-13
・カトリック元町教会 函館市元町15-30
・函館聖ヨハネ教会 函館市元町3-23

Telephone

・Hakodate Hallast Orthodox Church0138-23-7387
・Catholic Motomachi Church 0138-22-6877
・Hakodate St. John Church 0138-23-5584
Price

Christian Orthodox Church 200 yen (worship donation) Other churches are free ※ St. John's Church only observes the exterior
Open

Christian Orthodox Church weekdays 10:00 a.m. to 5:00 p.m. Sat 10:00 a.m. to 4:00 p.m. Days 1:00 to 4:00 p.m. ※ Winter (December 26 - Mid March) Non-fixed holiday Catholic Motomachi Church 10:00 a.m. to 4:00 p.m. (except Sunday morning, during worship)
Close

Hakodate Hallast Orthodox Church December 26 - March 15 (Adult ceremony, the small diameter of Hikari, except Sapporo Snow Festival period) Catholic Motomachi Church New Year's Holiday December 30th - January 5th ※ Closed on Sunday morning and at the time of the church event when using the cathedral ※ The appearance can be watched throughout the year
Parking lot

There
Free Hakodate St. John's Church only available for parking (10 vehicles, limited to visitors)
Note

【Hakodate City Official Tourist Information】
HP : http://www.hakobura.jp/db/db-view/cat227/
【Hakodate Hallast Orthodox】
HP : http://orthodox-hakodate.jp/
・By car from the Hakodate Airport to Hakodate Hallist Orthodox Church is about 5 miles (24 minutes), via Route 63 Route, to Route 278 Route, that goes to Asahi Mori dori, Omori Hama dori, Suehiro Sakae cho dori.
・Train ⇒ From the Hakodate Airport Station take the Airport Connection Bus (Hakodate Line) to the Hakodate Station (22 minutes, 410 yen.) From there it is about 2 minutes on foot to Hakodate tram Station. Take the Hakodate tram 2 lines heading to Taniji tou. Get off at the Jujigai station (5 minutes, 210 yen). Then it is approximately 10 minutes on foot from Jujigai Station (Time required: 39 minutes)
・Bus ⇒ From the Hakodate Airport Station Get on the Airport Connection Bus (Hakodate Grand Hotel Line) and take it to the Hakodate Grand Hotel Bus Stop (about 37 minutes, 420 yen). Then it is