Recommended Sightseeing Spots in Hakodate City!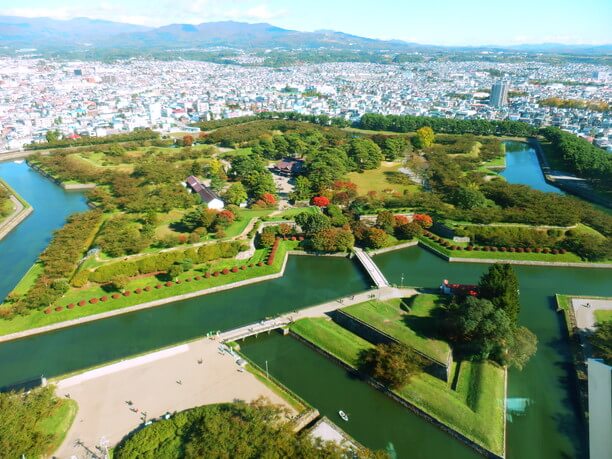 Hakodate city is a place that feels exotic. There are many spots where you can enjoy discovering the history of Hakodate, spots where you can enjoy the happiness of the sea, and spots where the night view is beautiful! We will recommend classic sightseeing spots in Hakodate, where you can watch, walk, eat, and feel, in a way that you can best experience Hakodate!

Landmark spots for Hakodate sightseeing!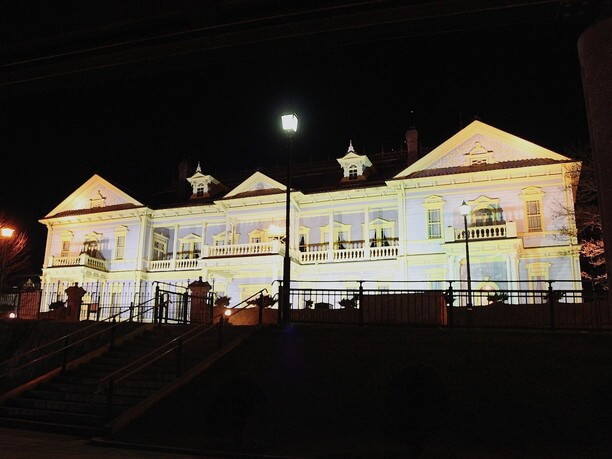 Kyu Hakodateku Koukaido Auditorium, which is located on the hill overlooking Hakodate harbor, is a popular spot. The appearance of blue-gray and lemon yellow of the building is beautiful and popular as a Hakodate sightseeing spot. Inside the auditorium the furniture, stairs, windows, pillars and other details are wonderful, such as in the VIP room where Emperor Taisho stayed. The auditorium is around 429 square yards. In it you can enjoy plenty of elegant atmosphere. Currently it is used as a concert hall. The building is lit up at night, and has an appearance of floating in the night sky!

【Spot name】Kyu Hakodateku Koukaido Auditorium
【Street address】11-13 Motomachi Hakodate-City Hokkaido
【business hours】【April – October】 9:00 a.m. – 7:00 p.m. 【November – March】 9:00 a.m. – 5:00 p.m.
【Regular holiday】Old Hakodate Ward Hiroden Hall (New Year's Holiday) (December 31 – January 3)
Hikara costume pavilion every year from the end of December to February ※ Because there are closed days for organizing, please check with HP. ※ Closed Hikara costumes are closed on holidays.
A variety of sightseeing spots where you can eat, buy, and play in Hakodate!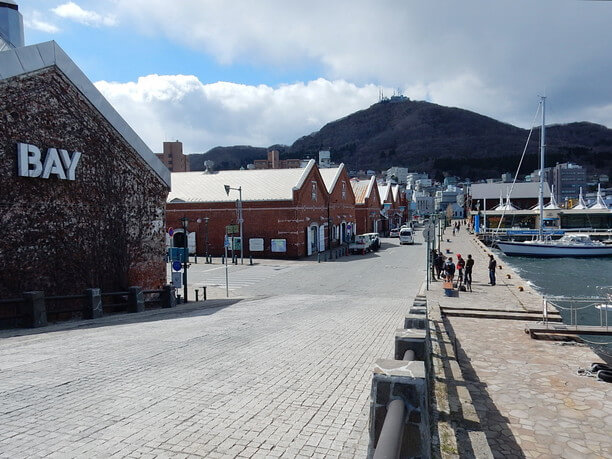 Kanamori Red Brick Warehouse, located in the bay area is a sightseeing spot which you should not miss if visiting Hakodate. The brick warehouse that faces the Hakodate Bay was built in the Meiji era. The warm buildings of the era make you feel the history of Hakodate which has developed as a port town. The scenery of the group of warehouses and the sea make a good commemorative shooting spot. In the warehouse there are cafes, restaurants, local sweets shops, souvenir shops and so on that you can enjoy a variety of ways. It is a recommended tourist spot where you can feel the history of Hakodate engraved in the buildings while enjoying shopping and eating.

【Spot name】Kanamori Red Brick Warehouse
【Street address】14-12 Suehiro-cho Hakodate City Hokkaido
【business hours】Different stores
【Regular holiday】No rest
A sightseeing spot full of the emotions of Hakodate!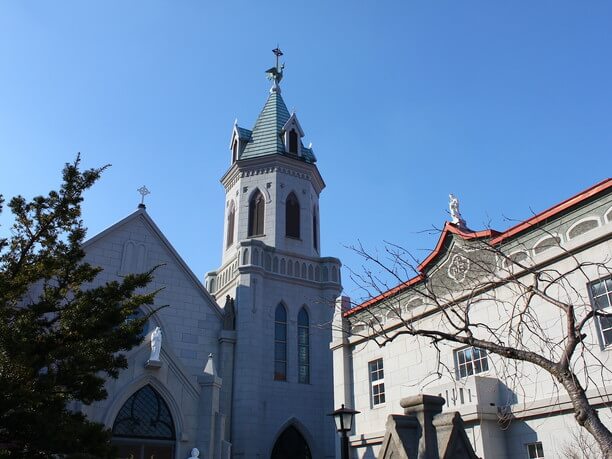 At the foot of Mt. Hakodate, the Motomachi Area is the place where foreign consulates were concentrated since Hakodate City was formed. There are several historical churches. The combining majestic slopes and beautiful churches, create a "scenery that becomes picture perfect." Many people visit this sightseeing spot. Depending on the time and day of the week that you visit, there is probably a church or 2 open where you can enter and see the beautiful altar and stained glass. These churches are beautifully lit from sunset to around 10 pm, in a way that creates an even more dramatic landscape. When you see the church group that emerges in the night sky with the lights of the city of Hakodate, it feels like you have gotten lost in a distant foreign country!

【Spot name】Motomachi Church Group
【Street address】Hakodate Hallast Orthodox Church 3 – 13 Motomachi Hakodate City
Catholic Motomachi church 15 – 30 Motomachi Hakodate City
Hakodate St. John's Church 3-23 Motomachi Hakodate City
【business hours】Christian Orthodox Church weekdays 10:00 a.m. to 5:00 p.m. Sat 10:00 a.m. to 4:00 p.m. Sundays 1:00 p.m. to 4:00 p.m.
※ Winter (December 26 – Mid March) Non-fixed holiday Catholic Motomachi Church
10:00 a.m. to 4:00 p.m. (except Sunday morning, during worship)
【Regular holiday】Hakodate Hallast Orthodox Church
December 26 – March 15 (Adult ceremony, small diameter of Hikari, except Sapporo Snow Festival period)
Catholic Motomachi Church New Year's Holiday December 30th – January 5th ※ Closed on Sunday morning and at the time of the church event when using the cathedral ※ The appearance can be watched throughout the year
This Hakodate hot spring is a special sightseeing spot where monkeys love to visit!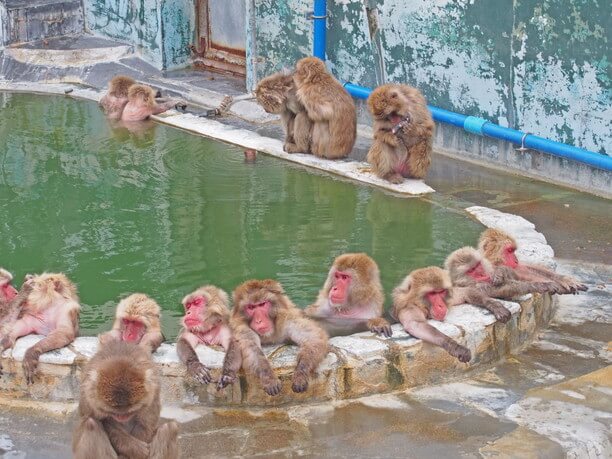 Yunokawa hot spring is the largest hot spring spot in south Hokkaido. it is located near the seaside, where fishing boats used for squid fishing can be seen in the fishing season. It is a recommended spot where you can enjoy the hot springs and walking around. You can get there from the center of Hakodate by using the tram. There you can see Yukura Shrine (which stands as a monument of "The birthplace of Yu no River hot spring") that is famous as the guardian of Yu River hot spring on the hill. There you will find the Nade usheiis, ("a god of wild rabbits") that is said will make a wish come true if you touch it while praying. In Hakodate City there is also the "Tropical Botanical Garden," located along the coast. It is a famous tourist spot that you can see more than 300 kinds of plants and Japanese monkeys soaking in the hot springs from December until May. The hot spring of Yu, is the perfect place for repeat visitors or for those who want to spend their first trip to Hokkaido relaxing!

【Spot name】Yunokawa hot spring
【Street address】2 – chome 7- 6 Yukawa-cho Hakodate City Hokkaido
A sightseeing spot where you can learn the history of the Mashumaru ship!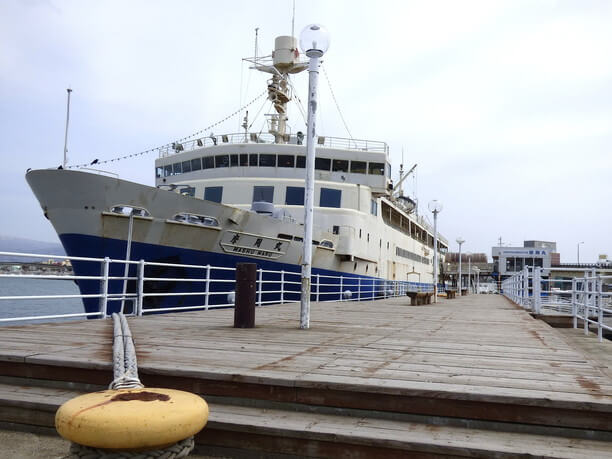 On March 13, 1988, the Mashumaru finished its task of connecting Hokkaido and Honshu. Mashirimaru is moored in Hakodate Port. This ship that once had the role of crossing the sea, is now a museum and a popular sightseeing spot. Not only are their descriptive panels and models on exhibit, you can actually walk around on the ship. We recommend visiting the compass deck above the steering room. From there you can see the superb scenery of the sea and the Hakodate mountain without any obstruction. The air horn attached to the mast symbolizes the Mashimaru. The horn sounds twice a day, at noon and at 5:00 p.m.! Thought the ship no longer leaves the port, the sound of the horn blowing is still an exciting reminder of the days when it traveled the sea.

【Spot name】Hakodate City Seikanrenrakusen Mashumaru Memorial Hall
【Street address】12 Wakamatsu-machi Hakodate City Hokkaido
【business hours】April – October 8:30 a.m. to 6:00 p.n. (Admission is until 5:00 p.m.)
November – March 9:00 a.m. to 5:00 p.m. (Admission is until 4:00 p.m.)
※ Please contact us during the New Year's and New Year's holidays.
【Regular holiday】There is a case of extraordinary closure
A sightseeing spot that seems to return you to the time of the opening of the port of Hakodate!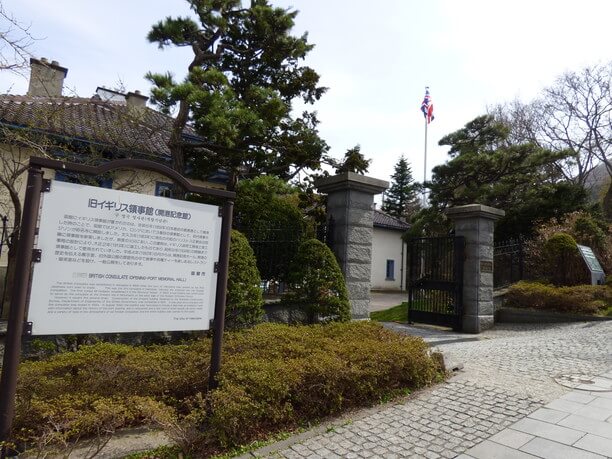 In the middle of the hill overlooking the Hakodate Bay Area, you can see the old British consulate building with the flag of Union Jack fluttering. There is a cobblestone stone path leading to the entrance. Inside the hall, you can see the office and the family room which reproduces the scene of an afternoon tea. Sitting on a chair and taking a memorial photo is OK. There is also a rose garden which you can enjoy from the end of June to around September. There is even a tea room where you can have an afternoon tea. After a few moments in their British style tea room you may forget you are actually in Japan. It is a perfect way to conclude a tour of this historic building!

【Spot name】Old British Consulate
【Street address】33-14 Motomachi Hakodate City Hokkaido
【business hours】April 1 – October 31 9:00 a.m. to 7:00 p.m.
November 1 – March 31 9:00 a.m. to 5:00 p.m.
【Regular holiday】New Year's Holiday
Enjoy their recommended fresh and inexpensive seafood bowls!

Hakodate morning market is now a classic sightseeing spot. Seafood and fresh vegetables made fresh every morning fill the store! You can enjoy eating squid and other seafood bowls in the morning! It is a recommended spot where you can enjoy an early rising. It is a great source for gifts and souvenirs since Hakodate morning market has plenty of fresh, high-quality ingredients. Most products can be shipped by region. Some shops will even ship live squids! When eeding help in nchoosing a product, you can call out to a staff member in the shop, and they will gladly offer you assitance. You can walk around the morning market and try samples at many of the shops!

【Spot name】Hakodate morning market
【Street address】9-19 Wakamatsu-cho Hokkaido Hakodate City
【business hours】January – April 6:00 a.m. to noon (some stores will be open until around 2:00 p.m.)
May – December 5:00 a.m. to noon ( some stores will be open until around 3:00 p.m.)
【Regular holiday】7 days a week
Hakodate night view spot is more beautiful than a picture postcard!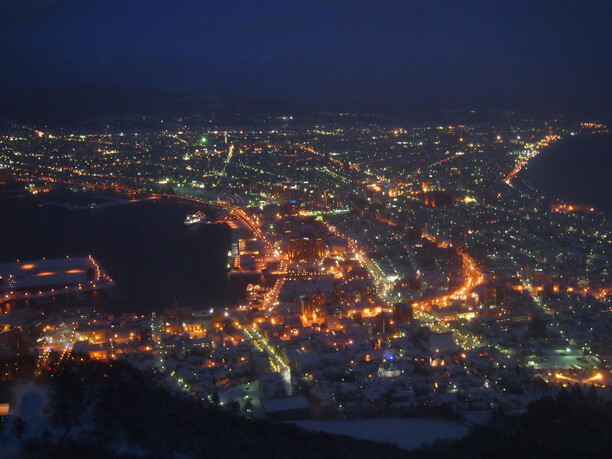 The night view of Mt. Hakodate is a sightseeing spot representing Hakodate that won three stars in Michelin Travel Guide, "Michelin · Green Guide · Japan" revised 2nd edition. If you enjoy a majestic view of the city, go up to the top of the mountain (altitude 1002 feet) while it is bright. From the top you can see the ocean that surrounds the city area, the Shimokita Peninsula of the Aomori Prefecture, and the Tsugaru Strait. It also offers an exceptional view of the churches and historic buildings that are concentrated on the mountain. There is a great hiking course where you can enjoy about 600 kinds of plants and 150 species of birds. It is has been selected as a Hokkaido heritage spot known as "Hakodate Mountain and Battery Trail."

【Spot name】Hakodateyama
【Street address】Hakodate City Hokkaido
【business hours】Depending on the time, there are restrictions on access.
One of the most popular spots of Hakodate sightseeing to visit during all four seasons!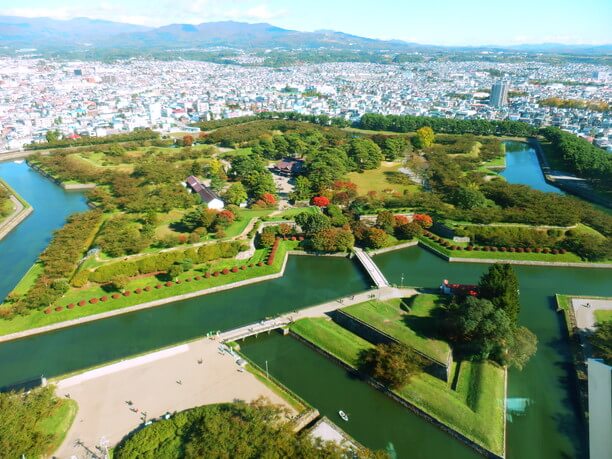 Visit Japan's first Western-style castle "Goryokaku". It was the setting of the Hakodate war! The stars on the ground represent the dreams of Toshizou Hijikata (土方歳三), Takeaki Enomoto (榎本武揚) and others. In 1914 it opened to the public as a place for citizen's relaxation! Many people visit this popular spot for Hakodate sightseeing through all four seasons. The Goryokaku Tower, standing 321 feet above the ground is a symbol of Hakodate City. It can be seen well even from a distance. The area around the tower is formed into the shape of a star. You can see the Goryokaku area with its "star shape" from the observation stand with a height of 270 feet. In the Spring the Goryokaku tower is recommended as a sightseeing spot to view the cherry blossoms.

【Spot name】Goryokaku
【Street address】44-3 Goryokaku-cho Hakodate City
【business hours】5;00 a.m. to 7:00 p.m. (April – October) 5:00 a.m. to 6:00 p.m. (November-March)
Hakodate magistrate office From April to October 9:00 a.m. to 6:00 p.m. (reception closes at5:45 p.m. ) From November to March, 9:00 am to 5:00 p.m. (reception closes at 4:45 p.m.)
Goryokugo Tower April 21 – October 20 is open from 8:00 a.m. to 7:00 p.m. October 21 – Apri20 is open from 9:00 a.m. to 6:00 p.m. "Goryengoshi no Yume" is open during the winter season from 9:00 a.m. to 7:00 p.m. Open January 1 (first sunrise opening) from 6:00 a.m. to 7:00 p.m.
【Regular holiday】Hakodate magistrate place December 31 – January 3 * Other temporary closed