6 Recommended lunch spots in Nanjo City and Itoman City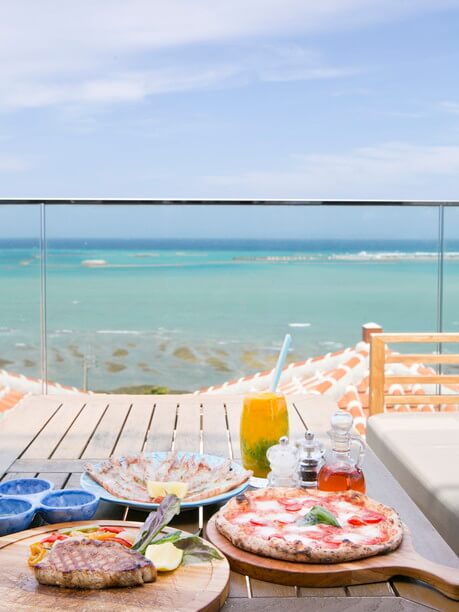 The southern area of Okinawa has plenty of sightseeing spots where you can please your heart and fill your stomach. Enjoy a delicious time in the Najo City Castle and Itoman City areas, which are rich in nature.

Enjoy a nutritious lunch of medicinal gourmet food in Southern Okinawa!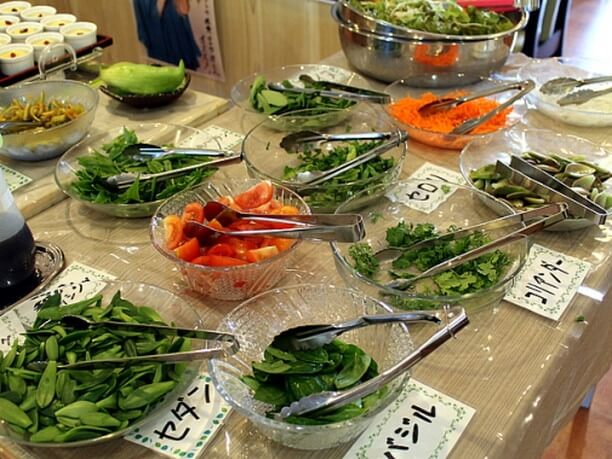 Located in Nanjo City, the Okinawa Chosei Yakusou, main branch was the first store in the country to sell turmeric cultivation and blended herbal tea. In the restaurant adjacent to the shop, you can eat a lunch buffet with plenty of herbs. Recommended is the medicinal turmeric which won the Emperor's Cup award for best " medicinal herb ". "Tibichi" which means pig legs in the dialect of Okinawa is a popular source of collagen, a rich skin enhancing material. The herbs used for lunch was grown on their own farm which can be seen from the terrace seating. You can refresh with natural dishes and drinks packed with energy!

【Spot name】Okinawa Chosei Yakusou
【Street address】116-1 Sashikinakaiho Nanjo City Okinawa
【business hours】Restaurant 11:00 a.m. to 5:00 p.m. Plant Shop 9:00 am to 6:00 p.m.
【Regular holiday】Tuesday
A Southern forest cafe where you can enjoy lunch in nature!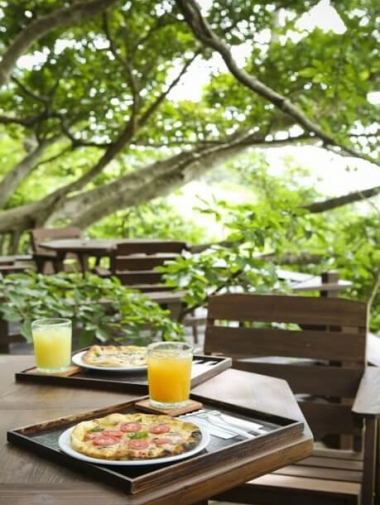 The mountain Tea House Rakumizu is located in the forest of Nanjo City. It has sister stores: "The sky teahouse" and "The beach teahouse". This space has the feel of a sea café while being a forest café. You can have traditional Okinawan cuisine called "Okinawa Sachibaru meal" in addition to handmade bread and pizza baked in a stone oven. If you would enjoy a delicious meal in a forest setting this is definitely the place for you! Surrounded by greenery, with their own small garden on the premises, this shop has many highlights!

【Spot name】Mountain's tea house Rakumizu
【Street address】19-1 Tamagusukutamagusuku Nanjo City Okinawa
【business hours】11:00 a.m. to 6:00 p.m. (Last order at 5:00 p.m.) * Lunch time is 11:00 a.m. to 2:00 p.m.
【Regular holiday】Thursday
Enjoy the view of the Okinawan Southern sea and Italian gourmet!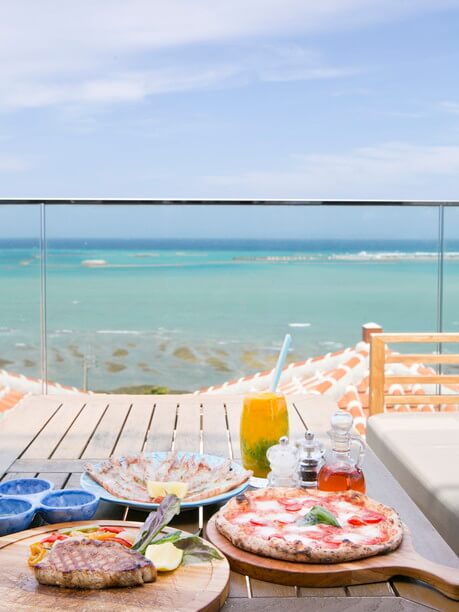 With all of the big windows at Posillipo, you can see the sea no matter where you sit. Located at the top of the hill of Setajima, they offer Naples' standard cuisine "Gambero Rosso" and Napoli Pizza baked in an authentic pizza oven ordered from Italy. You can enjoy a delicious lunch with a superb view of the southern part of Okinawa. If the weather is okay, we also recommend sitting in the deck seats where you can fully enjoy the open ocean view. "Buen appetite" as you enjoy authentic Italian gourmet on Seten Jima Island surrounded by the blue sea.

【Spot name】POSILLIPO
【Street address】174-5 Senaga Tomigusushi City Okinawa
【business hours】11:00 a.m. to midnight
【Regular holiday】None
The owner of this Nanjo City restaurant is a fish broker!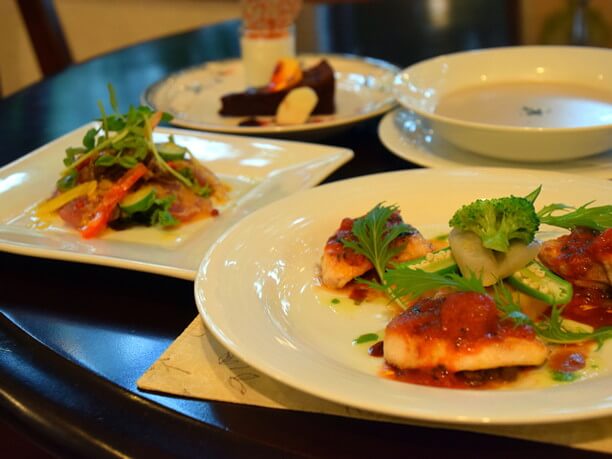 Bistro Bouquet is a trendy Western-style restaurant located in the middle of Okinawa's southern scenic drive! They have a lunch and dinner menu that is known for its high quality, especially their fish dishes. The owner, who acquired his broker's qualification, purchases fresh fish every morning at the fishing port. They don't use any chemical seasoning! Their gentle seasoning that enhances the natural flavor of the fish is very popular! They sell homemade baked goods in popular shapes like Nanjo City, and hearts that make great souvenirs

【Spot name】Bistro bouquet
【Street address】435-2 Chinenkuhara Nanjo City Okinawa
【business hours】11:30 a.m. 5:30 p.m.
【Regular holiday】Tuesday
This tangible cultural property with a red tile roof survived the War!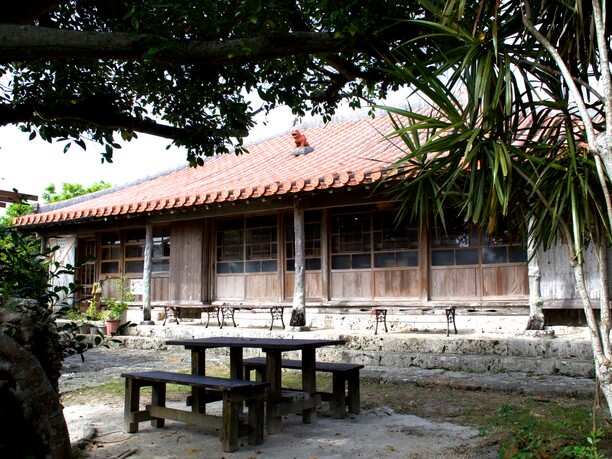 Makabe China is a red tile old private house cafe making use of a valuable Ryukyus house that survived the "battle of Okinawa." This is a red tile house typical of the period. In this house, designated as a tangible cultural property, you can have Okinawa soba, original dish soba, and Jushii. In addition, there are pig huts and wells that are also designated as tangible cultural properties. We recommended taking a stroll before or after your meal!

【Spot name】Makabe China
【Street address】223 Makabe Itoman-City Okinawa
【business hours】11:00 a.m. to 4:00 p.m.
【Regular holiday】Wednesday
Enjoy local condiments on your Okinawa soba!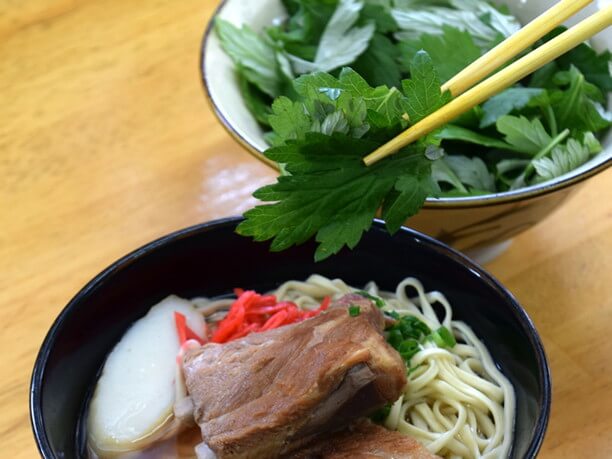 Tamanya is a popular Okinawa soba restaurant that is located on the first floor of a Karate Dojo in Nanjo City. It is a good example of Okinawa soba. They won the soba king prize in the 2nd Okinawa soba king event. Their popular soba features grease free noodles and softly cooked meat. For a more spicy soba we recommend topping it with local condiments like Ryukyu mugwort, along with red ginger and chile sauce!

【Spot name】Tamanya
【Street address】913-1 Ohzatofurugen Nanjo-City Okinawa
【business hours】10:45 a.m. to 6:00 p.m.
【Regular holiday】None