Professionally selected lunch spots in Motobu town and Nago City!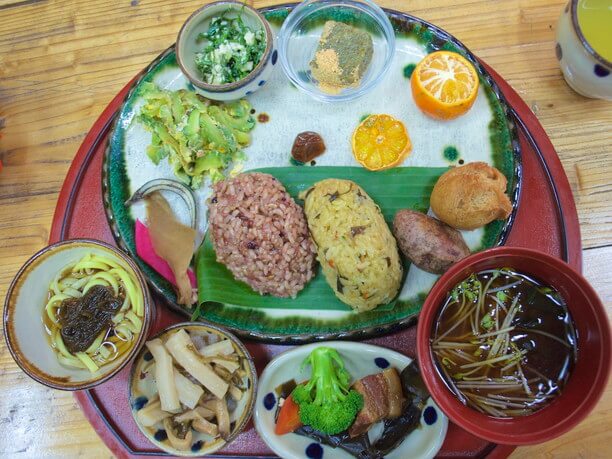 If you are interested in having lunch in northern Okinawa, let me introduce to you some extraordinary lunch spots that that are worth stopping at if you are in the northern part of Okinawa. Introducing selected shops in Motobu town (本部町) that you can visit when you go to the Okinawa Churaumi Aquarium (沖縄美ら海水族館). Also lunch spots that can be visited when you are in Nago City (the most popular tourist spot in Okinawa main island).

Their 6-inch-high burgers are the most popular hamburgers in Nago City!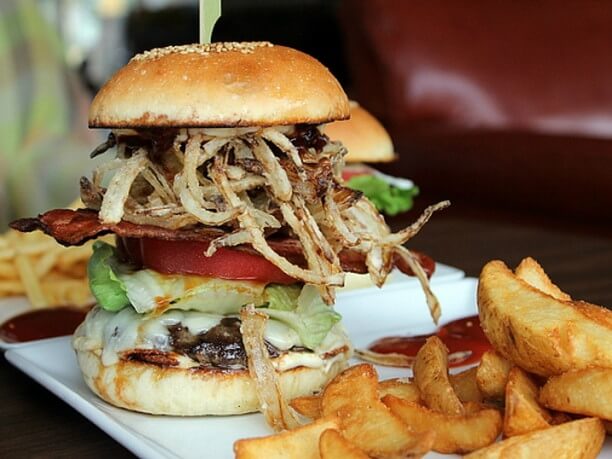 Captain Kangaroo in Nago City is a burger shop where lines are a constant occurrence.
Inside the shop is decorated with miscellaneous goods related to the sea and surfing. Their big windows overlook Nago Bay. The size of their famous Sparky Burger is a surprising 6 inches high! It is made of a delicious hand-formed patty and homemade sauce on an original bun. Why not drop in before and after Northern Sightseeing? Enjoy taking out one of their burgers and eat at the beach!

【Spot name】Captain Kangaroo
【Street address】183 Umusa Nago-City Okinawa
【business hours】11:00 a.m. to 8:00 p.m. (Last Order at 7:30, or as soon as it is sold out)
【Regular holiday】Wednesday
This Northern dining hall is a source of local stamina.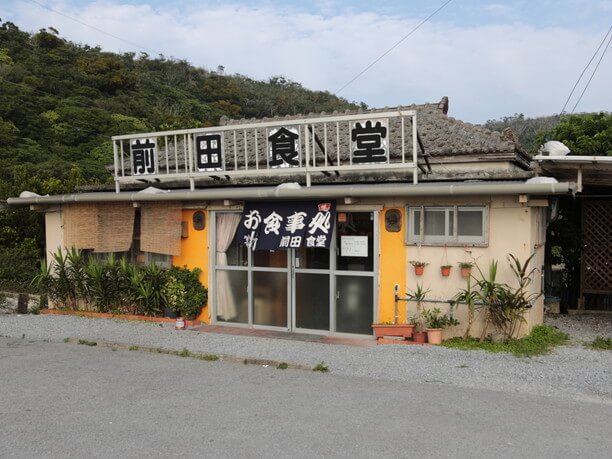 Maeda Shokuda dining hall was opened in the year Okinawa was returned from America to Japan. It is located in the Ohgimison village in the northern part of the main island. The town is known for the longevity of its residents and many consider Maeda Shokuda a local stamina source. The Beef soba on their signboard menu is full of sprouts and stir-fried beef on top of Okinawa soba. For those who are not confident they can eat the whole thing, they can adjust a number of noodles. There are plenty of other menu items ranging from Soki and Tebichi, to rice. It is crowded at lunchtime, so it is recommended to come at a different time.

【Spot name】Maeda Shokudo
【Street address】985 Tsuha Ohgimi-son Okinawa
【business hours】11:00 a.m. to 5:00 p.m.
【Regular holiday】Wednesday
Enjoy authentic Western food at this standard lunch spot for sightseeing in the North!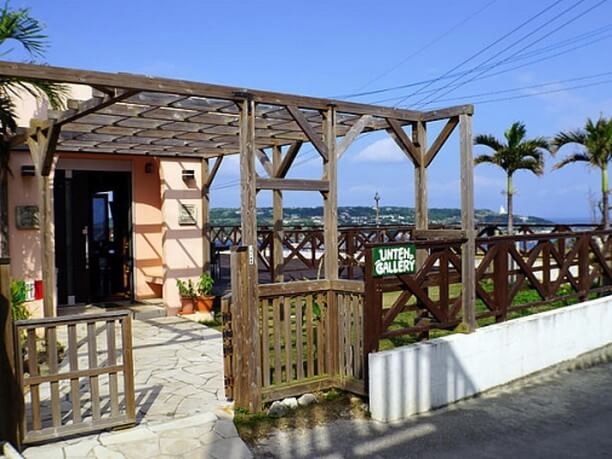 kitchen Terrace Coco Neel, is located on the hill of Nakijinson village. It is a Western-style restaurant that serves authentic Western and Italian cuisine cuisine. In addition to regular menus items such as hamburger steaks and pasta, seasonal omelet rice and mentisand are also prepared. From the wooden terrace seats facing the sea, you can see the beautiful ocean surrounding Kouri Island and Yanbaru. We recommend eating outside on sunny days with no wind. Between its location, great meals and excellent service, Coco Neel is the perfect spot for lunch after northern sightseeing. I like to drop by when I visit Nago City or Motobu Town.

【Spot name】Kitchen terrace Coco Neel
【Street address】408-9 Unten Nakijin-son Okinawa
【business hours】11:00 a.m. (Last order at 8:00 p.m.)
※ If you are visiting after 3:00 p.m., we recommend making reservations by phone.
【Regular holiday】Thursday (in the case of public holidays sales)
Enjoy the taste of locally produced food for lunch!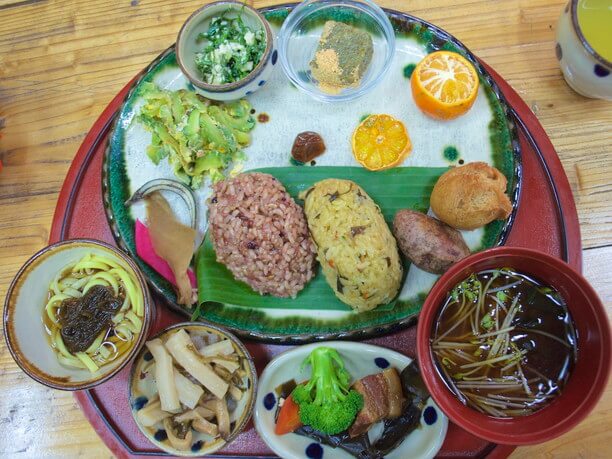 This shop has provided food culture rooted in the area before the time when "local production" was familiar. The "Makachikara "is the most popular menu. You can taste plenty of seasonal vegetables from the neighborhood. it is also very popular to order Sata Andagi and a rice ball rice for takeout. Everything that you can order at the table can also be delivered. Their noodles and seasonings are ideal for souvenirs.

【Spot name】Eminomise
【Street address】61 Kaneku Ohgimi-son
【business hours】11:30 a.m. to 5:00 p.m., Last order at 4:00 p.m.
【Regular holiday】Tuesday, Wednesday, Thursday
A great place to enjoy the exhilarating scenery and precious Agu pig!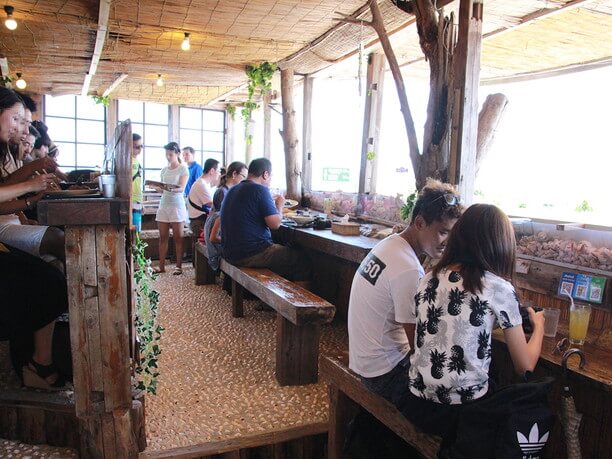 Uminoie Yoshika in the Nakijinson village of Okinawa has a mysterious appearance that makes you doubt for a moment the quality of the restaurant. There are no window panes in the café & restaurant on the second floor. From all the counter seats you can see the Koryu Ohashi bridge and the sea. We recommend having the "Kourishima bon old rice bowl" with old-fashioned agu pig on top For those who wish to have a large pork meal, there is the "Kuri shima bon rice bowl platinum". It is a great place to stop for lunch or at break time.

【Spot name】Uminoie Yoshika
【Street address】321 Kouri Nakijin-son Okinawa
【business hours】11:00 a.m. to 7:00 p.m.
【Regular holiday】None
Enjoy eating at this super sea cafe in Motobu town!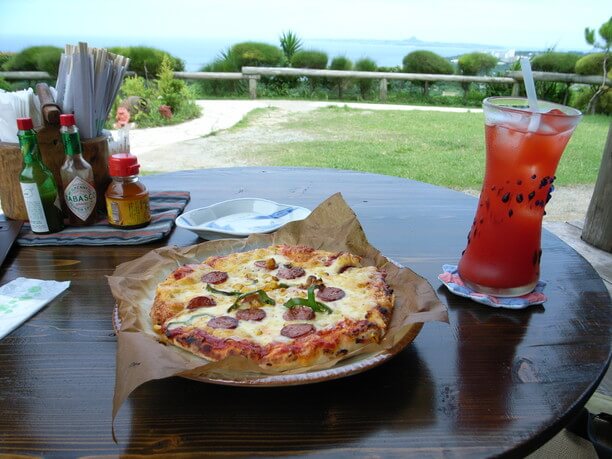 Hanami has attracted many tourists to their popular shop in Mobutu town. It is famous for its pizza and coffee shown on its signboard menu. They use the Okinawa's famous spring water from the great country forest road. Because you can choose their large pizza size, it is recommended that you share it with a date or group. You also don't want to miss out on the raw juice that they pour into Ryukyu glass or one of their dessert like their cut mangos. You will enjoy the view of Sesokojin, Minnashima, and Iejima islands while sitting on the edge seats. The scenery at dusk where you can see the setting sun on the East China Sea is one of the most beautiful sites in Okinawa.

【Spot name】Kajinhou
【Street address】1153-2 Yamasato Motobu-cho Okinawa
【business hours】11:30 a.m. to 7:00 p.m. (Last Order at 6:30 p,m,)
【Regular holiday】Tuesday Wednesday
Enjoy an elegant lunch at the stylish cafe in the motubu town!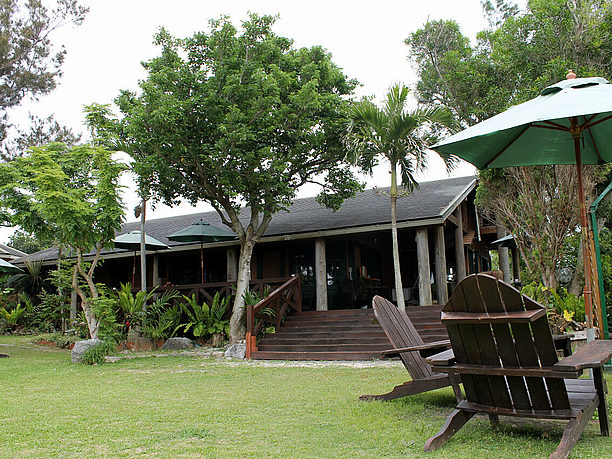 Fuu café is a garden cafe located in Sesokojima, a remote island connected by the Sengoku Bridge to Motobu town in the northern part of the main island of Okinawa. There are white swings and play equipment in the garden. The beautiful natural setting creates a very relaxing and refreshing atmosphere. In this log house style building, you can enjoy a menu that makes you feel a part of Okinawa. Their signboard promotes their "sea grape and agu" and their "Homemade smoked pig pizza." You can also spend a relaxing time enjoying roasted coffee and sweets.

【Spot name】Fuu café
【Street address】557 Sesoko Motobu-cho Okinawa
【business hours】11:00 a.m. to 5:00 p.m.
【Regular holiday】Wednesday Thursday
This cute forest cafe in the main part of town has all the comfort of home!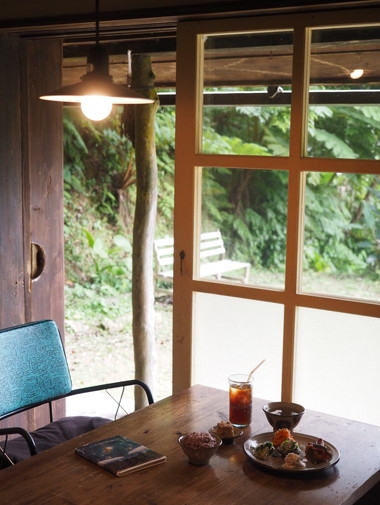 Hakoniwa, which is located in the forest of Izu-kan was one of the leaders in the "forest cafe" boom. They operate out of a renovated old house where you can enjoy a meal of plenty of island vegetables while viewing the natural green of the forest. Their meals are served on pottery that the owner's husband made. You can purchase his dishes and bowls inside the store. Hakoniwa is a place that you will want to return to often. It will feel like your coming home. Spending time in the forest will clear your mind and body.

【Spot name】Hakoniwa
【Street address】2566 Izumi Motobu-cho Okinawa
【business hours】11:30 a.m. to 5:30 p.m. (Last Order 5:00 p.m.)
【Regular holiday】Wednesday Thursday
The popular Okinawa soba restaurant is pride of Nago City!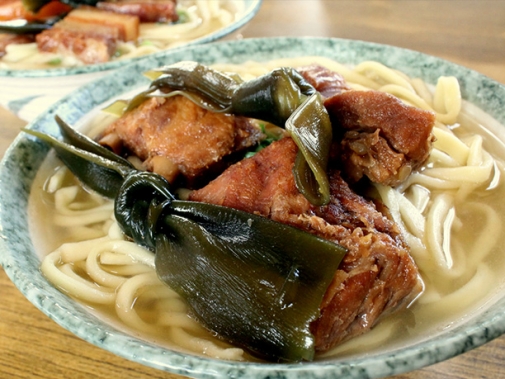 Miyazato soba, located in Nago City, is the most popular soba store in Okinawa. It is a famous shop that has a great reputation in the northern area where Nago citizens as well as fans inside and outside the prefecture love. The shop has a retro atmosphere and is often quite crowded. It is recommended for families because their small raised cushion seats and table seats can fir the whole family comfortably. You start by purchasing a ticket from ticket vending machines. The regular pattern of this Okinawa dining room is to buy a ticket → serve yourself some tea → be seated. Besides Okinawa soba, they also have curry and rice, and toast and spaghetti!

【Spot name】Miyazato soba
【Street address】1-27-2 Miyazato Nago-city Okinawa
【business hours】From 10:00 a.m. until sold out
【Regular holiday】Wednesday