Eat, buy, fish and have fun at the Hakodate morning farmers' market!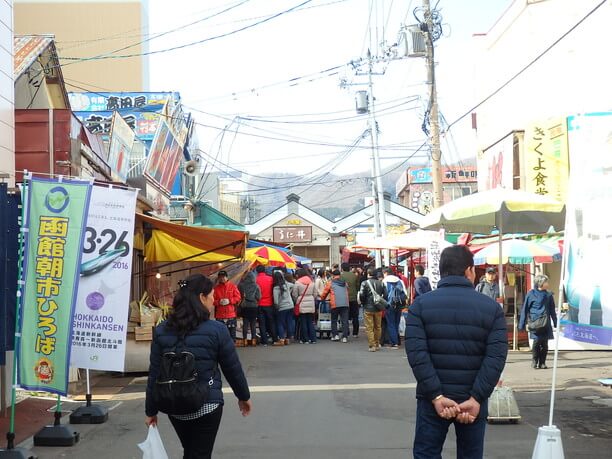 Hakodate morning farmers' market is located in a good location in front of JR Hakodate station. It is the Hokkaido southernmost market where about 250 fruit shops, dry goods shops, restaurants are gathered around fresh fish shops. It is a popular tourist attraction that is a big part of visiting Hakodate, and 1.8 million people visit each year.

Seafood and fresh vegetables landing in the early morning are lined up on the narrow streets. From early in the morning people are eating squid or seafood bowl, buying souvenirs, fishing for squid, and having fun like their at an amusement park. Some eating and drinking establishments are open until the end of the lunch time, but most shops are closed around noon. Its best to get up early to fully enjoy the morning market.

This market has grown from being a post-war black market to a major sightseeing spot!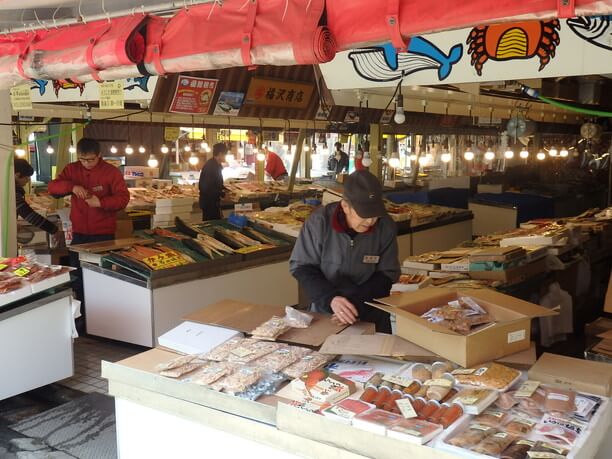 The history of Hakodate Morning Market began soon after the war when farmers form around Hakodate started selling vegetables behind the city hall. Stalls became stores, and the stores in various industries ranging from fish and shellfish, dry matter and clothing items increased, and moved to the present place in 1956. It has become very popular and is known as "the kitchen of Hakodate citizens."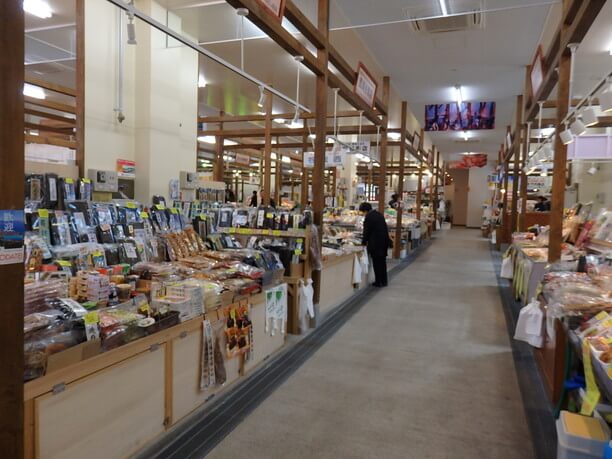 In recent years it has been renovated, It is divided into four facilities including a dining area centering on seafood bowls, "Donburi Yokocho Market", "Ekini Market" where you can fish for special squid, "Hakodate farmers market Hiroba" that has a nostalgic feeling, offering mainly dried and processed items, and the "Enkan Market", that has dried and prepared foods and has become a sightseeing spot crowded with a large number of tourists throughout the year.
You can enjoy fresh squid and seafood bowl, at the"Donburi Yokochi Market"!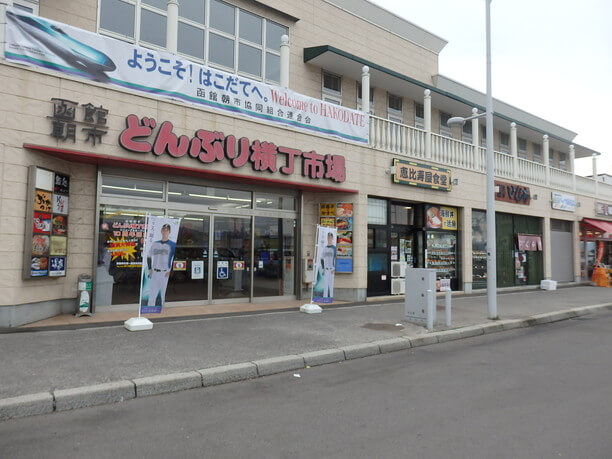 If you are going to the Hakodate morning market, please get up early and have a breakfast of fresh squid or fresh seafood. Eating and drinking establishments are everywhere in the market, but 15 dining halls centered on seafood bowls are gathered in "Donburi Yokocho Market."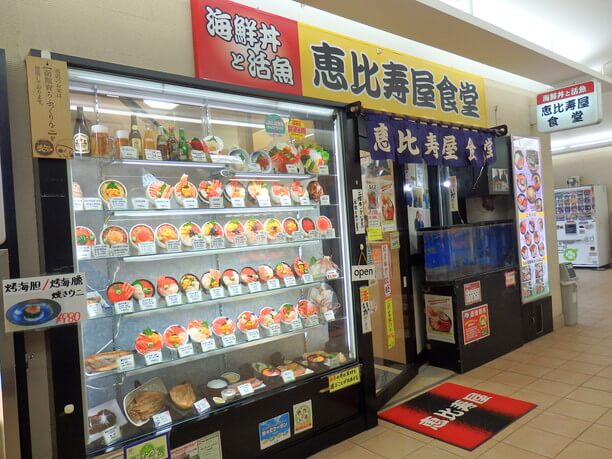 Among them "Ebisuya dining hall," which was founded in 1948. It is the most well-known restaurant in Hakodate market. Multicolored bowls fill the showcase! Everything looks delicious, but the store owner Toshihiro Inoue's (井上敏廣)recommendation is "Ebisu Bowl (2,880 yen)".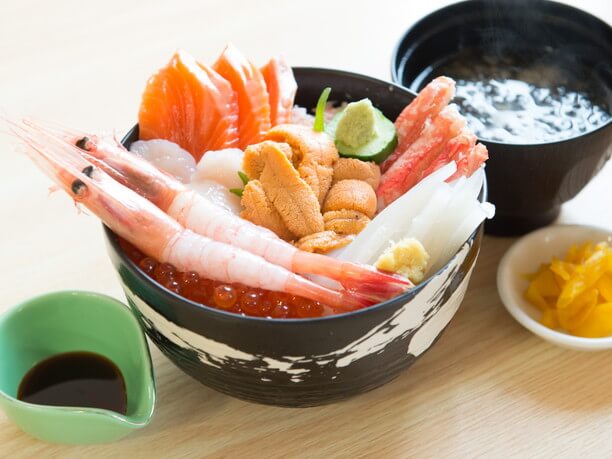 Seven to eight kinds of gorgeous seafood including fresh sea urchin, sea urchin, prawn shrimp and other shrimps are served carefully arranged by Inoue. Miso soup and pickled items are also added. There are 50 other bowls, and all can be ordered in a small, medium, large size selection.
Fishing and having fun, take the challenge and enjoy "squid fishing!"
The main feature of the "Ekini Market" is "Squid Fishing." You can fish for active squid in a ship shaped tank. It is said that only in Hakodate can you eat active squid throughout the year in Japan. You can catch Yariika squid from January to May and Surumeika squid from June to December.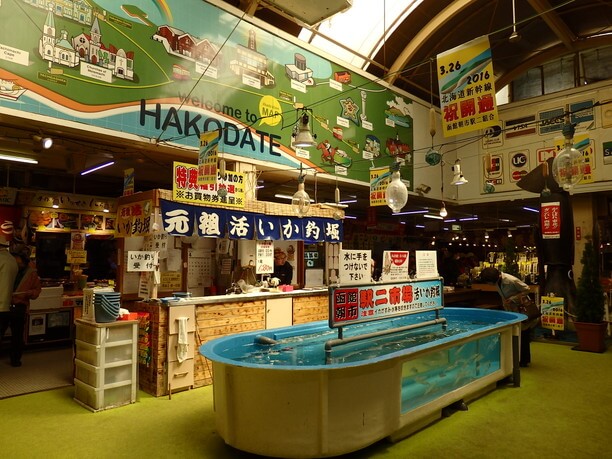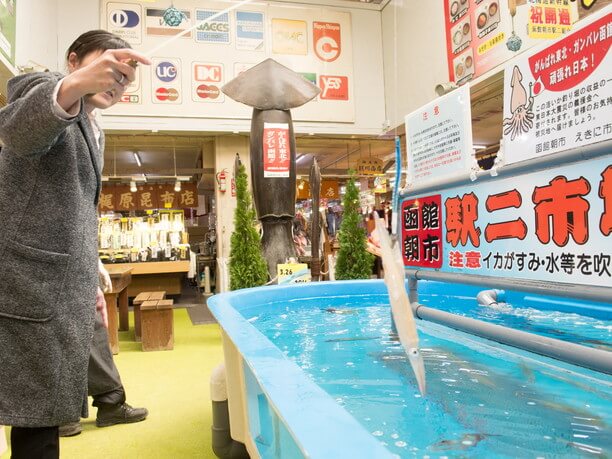 You use a rod with a hook at the end of your line and try to hook a squid. It sounds easy but is actually quite difficult. There are a few tricks to doing it so please ask the clerk if you want help. Please note that the squid may spray you with its ink when leaving the water.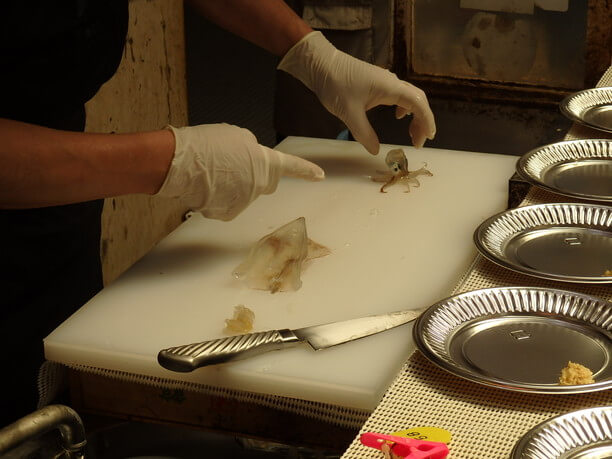 The squid you catch can be made into sashimi right in front of you by a clerk. The cuttlefish squid takes about 1 minute to prepare and still moves while you dip it. It is crunchy and slightly sweet! The price of squid fishing in the market is typically around 1,000 yen. It is popular enough to attract more than 300 customers on many days.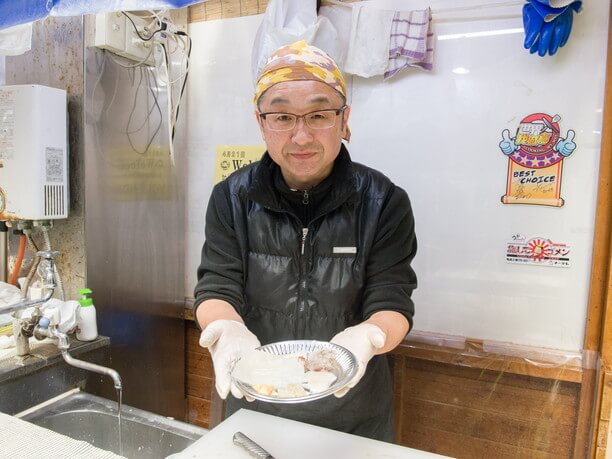 Enjoy the fun of shopping with many people!
There are many fresh ingredients lined up at the farmers' market. So you can buy whatever you like. You can have whatever you buy shipped regionally. Energetic voices can be heard from here and there shouting things like, "get your souvenirs here!" If you get lost, please consult with one of the store's staff.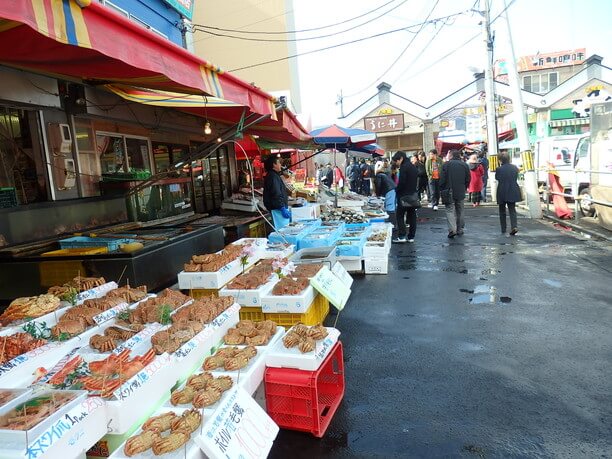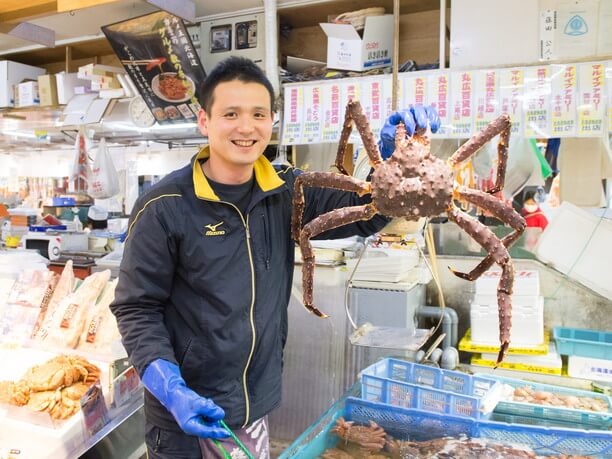 It is recommended to buy souvenirs and dried items that can be carried at room temperature. And the shop people can tell you the type of fish and the recipes suitable for it!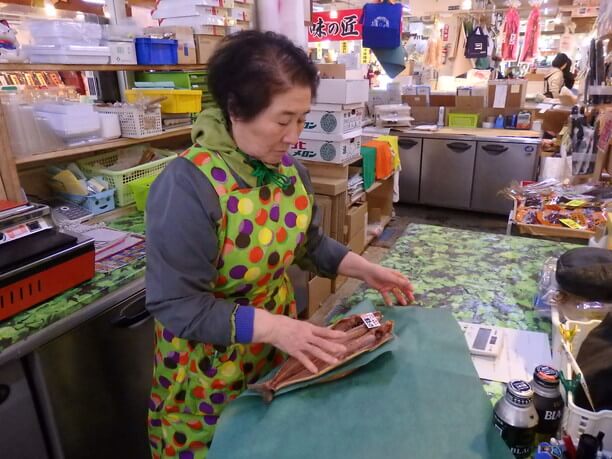 Sometimes you can get a little extra if you go to the shops near the closing time. It is a great place to shop while having fun talking with people at the store.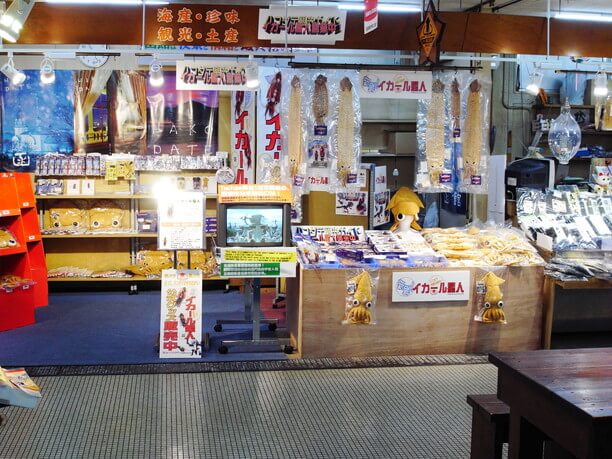 There are shrines and official shops for the Hakodate Tourism Character "Ikaru Seijin." It is a snowflake character that attacked from outer space. They have over 80 kinds of goods with this character on it! It is recommended as a unique souvenir.
It is also fun, walking around the morning market while eating!
When you are walking in the market, you will find gourmet which you can eat easily while walking, such as grilled crab, steamed abalone, octopus skewers. It is perfect for a reasonably priced snack when just a little hungry. It is fun to wander around in the market while eating!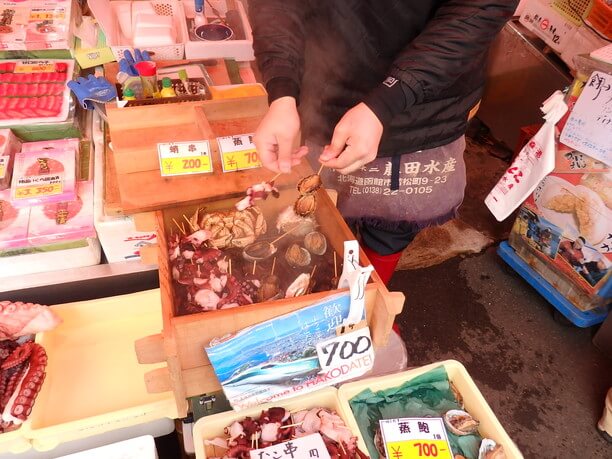 There is also a food court at "Hakodate Farmers' market Hiroba," where you can sit down and have a rest after walking. It is also recommended to eat here what you bought at the market!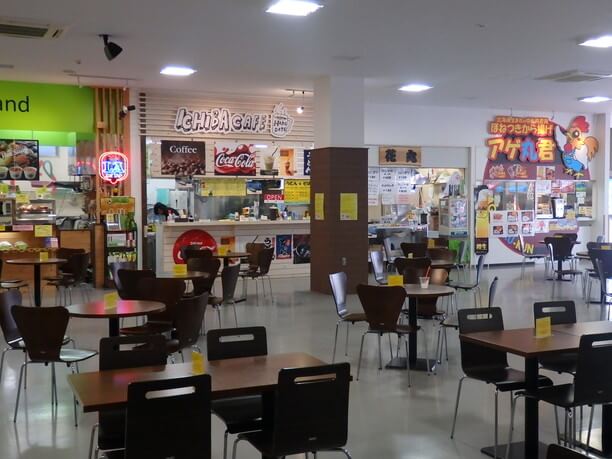 Although it is a charming morning market, many shops close at noon. Please enjoy shopping and meals while the morning lasts!
Smart tip
Most shops will open around 5 a.m. and get crowded from around 8 to 9. Get there early if you want to walk around slowly and shop.
Squid fishing is crowded on weekends and consecutive holidays and you may have to wait for over an hour. Go early in the morning if you want to avoid the crowds.
In addition to seafood rice bowl, there are also enriched sashimi set meals and grilled fish set meals. It is Hakodate style to put ginger soy sauce on the squid on and eat it on rice.
What's interesting
You can definitely have breakfast at Hakodate's morning market! The crispy live squid that they fly up in the morning is a different thing from the squid you normally eat. It is recommended that you go as soon as the shops open.
Hakodate morning market
Spot name(Ja)

函館朝市
Address

9-19 Wakamatsu-cho Hakodate-city Hokkaido
Address(Ja)

北海道函館市若松町9-19
Telephone

0138-22-7981 (Federation of Hakodate morning market cooperative association)
Open

January - April: 6:00 a.m. to noon (some stores until around 2:00 p.m.), May - December: 5:00 a.m. to noon (some stores until around 3:00 p.m.)
Close

Different stores
Parking lot

There