Tsukiji outside fish market is an exciting place to be!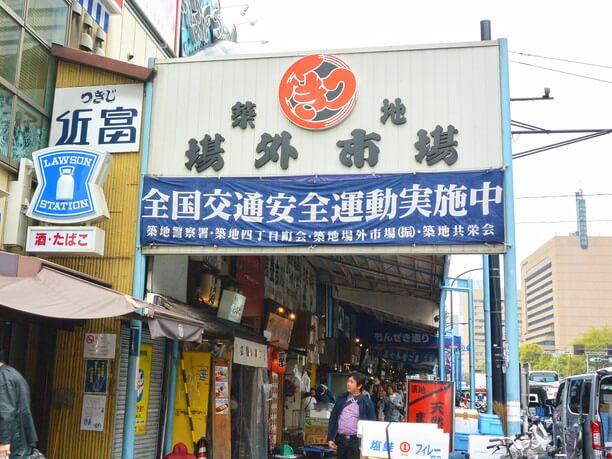 Take the Hibiya line to the Tsukiji station (築地駅) depart exit 1 or 2 and it is only a 2- minute walk to the "Tsukiji fish market". It is located just beyond the Tsukiji hongan-JI temple (築地本願寺) at the intersection of Shin Ohashi Dori and Harumi-Dori. Go down the alley at this intersection and you will be greeted an assortment of seafood restaurants and fish shops. As you continue down the road you will come to the market just beyond Tsukiji 4-chome. "Tsukiji fish market" offers dining and tourist services. Opening hours are erratic. But the public is invited from 9:00 a.m. until 2:00 p.m. If it is your first time visiting here it is a good idea to stop first at the information center "puratto -Tsukiji",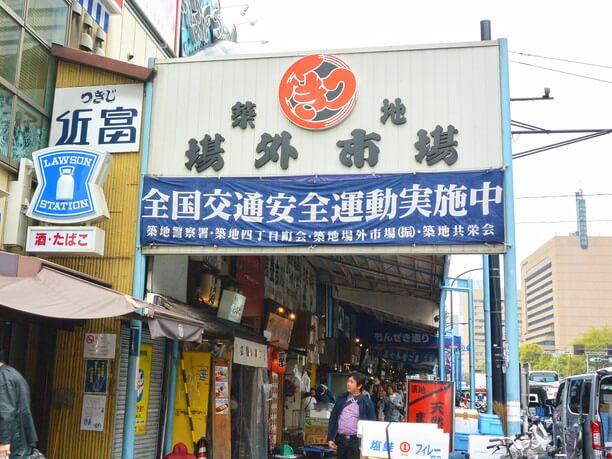 Enjoy a good lunch!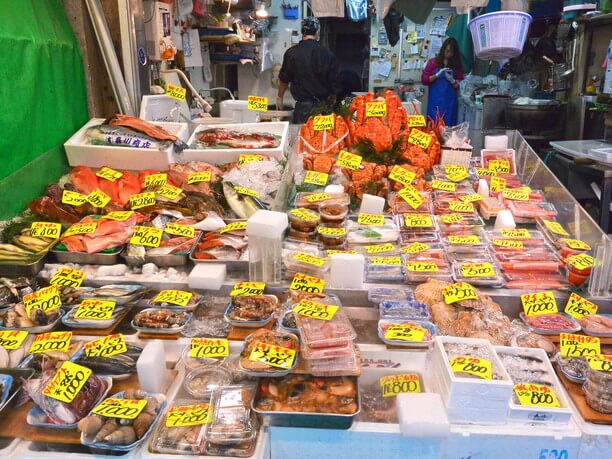 When visiting the Tsukiji fish market there are some long-established shops that you may want to check out. "Kinoshiga Tsukiji" main branch store has been around since the Edo period. There is also the "Tsukiji sushi Kiyo" main branch founded in 1889. It serves traditional edomae-style sushi dishes. A typical lunch is about 2500 yen. If you are in the mood for Italian there is "Trattoria, Tsukiji Paradiso" based on restaurants in the Campagne region of Italy. they utilize the fresh local seafood. It is a popular restaurant and frequently has a line to get in.
Enjoy eating out and are looking for souvenirs at the "Tsukiji fish market.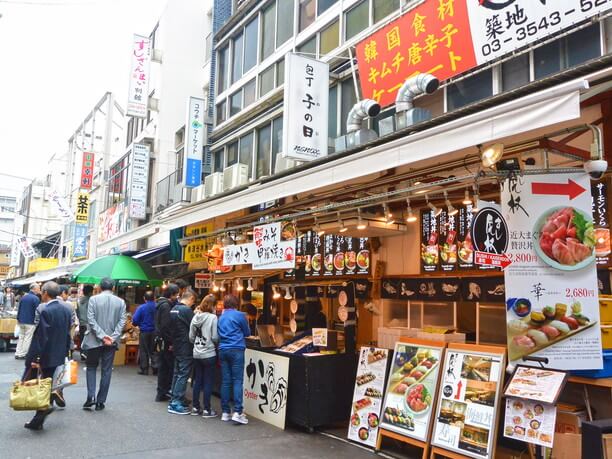 It is easy to enjoy eating at the Tsukiji fish market. It is a good place to eat well at a cheap price. Some of the more popular meals include: Tsukugon's famous onions wrapped with Bacon, Daisada's fresh eggs, Aji no hamatou's steam seafood dumpling. and shigesuke dango's fried corn and dumplings on a stick. These items can be enjoyed at the restaurants or be taken home as a souvenir.
The"Tsukiji Japan fishing market" is a very convenient place to shop!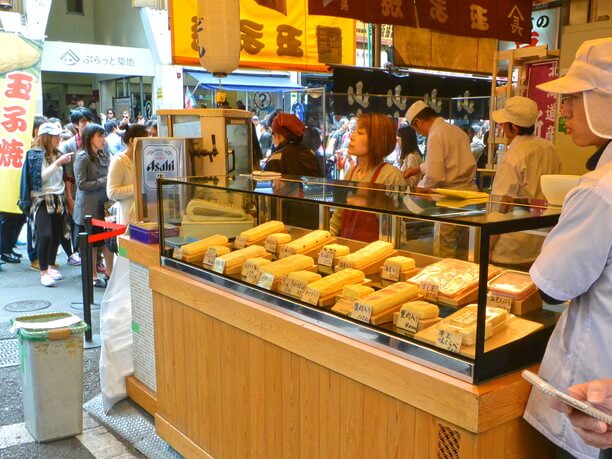 Visit the Tsukiji fish market's famous Akiyama Shoten shop. It sells fish cakes that make an excellent souvenir from the "Tsukiji Japanese fish market." Another famous spot is the Nippon Gyokou restaurant which is often referred to as "Japan's fishing dining room." You can have cooked the fresh fish you bought in the market. It is recommended for either breakfast or lunch. These restaurants, like most in the market serve fresh fish that have been brought in from all over Japan. The facility information center is conveniently located and is equipped with lockers for the tourists.
Tsukiji outside fish market
Spot name(Ja)

築地場外市場
Address

4-16-2 Tsukiji Chuo-ku TokyoC
Telephone

03-3541-9444
Community Development Council Secretariat Tsukiji fish food
Open

Store hours may vary.
Close

Store hours may vary.
Parking lot

Is
Tsukiji 1 parking
200 yen (30 minutes)
Note

HP : http://www.tsukiji.or.jp/

[In the case of public transportation using]
・A 2-minute walk from Toei Oedo Line, Tsukiji market Station Exit A1 (by taxi it is approximately a 10-minute ride at a cost of 660 to 730 yen).
・A 2-minute walk from Tokyo Metro Hibiya line, Tsukiji station exit 1 or 2 (by taxi it is approximately a 10-minute ride at a cost of 660 to 730 yen).
・A 5-minute walk from the Tokyo Metro Hibiya line and the Toei Asakusa line, Higashi Ginza station exit 5 or 6 (by taxi it is approximately a 10-minute ride at a cost of 660 to 730 yen).