Tsukiji market is highly recommended spot for lunch in the gourmet city of Tokyo!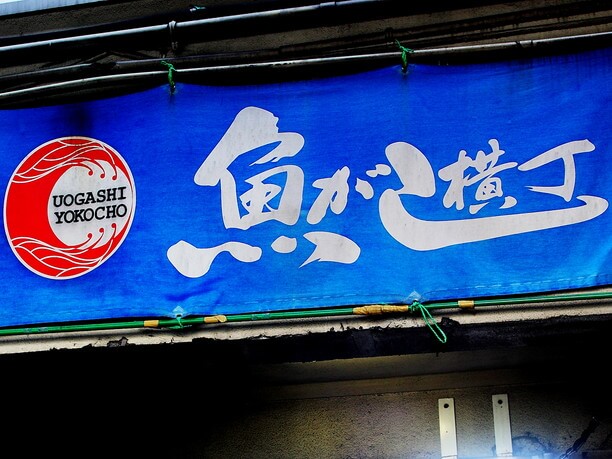 A good place to fill up on good food in Tokyo is the Tsukiji wholesale market!
In the morning step inside and you will see trucks coming and going bringing fresh food. There is excitement in the air with all that is going on at the bustling Tsukiji. Market. In fact, at "the fish alley" of Tsukiji market, every day the lines are ​​unending.
This is a well-established lunch spot. You can get fresh seafood that you purchase from the market, that you can't get anywhere else.
They will be moving in November of 2016, so I want to visit it again before then!

When speaking of Tsukiji market you surely will speak of the well-established store "Sushi Dai."
This well-established store also popular with both tourists from abroad and Japanese residents for its enormous sushi. People start lining up from the early morning.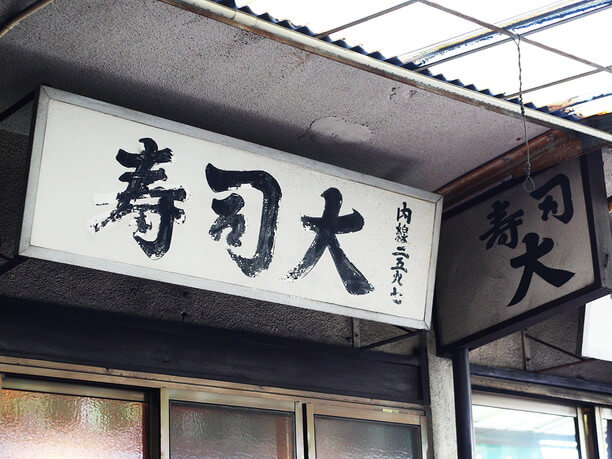 I Recommended buying the Omakase set for 4,000 yen. It includes 9 Nigiri, 1 Makimono and 1 more selection of your choice. It also includes Miso soup.
You can also add to the set for an additional cost or start from the beginning and just select what you want Whichever you do you are sure to enjoy here.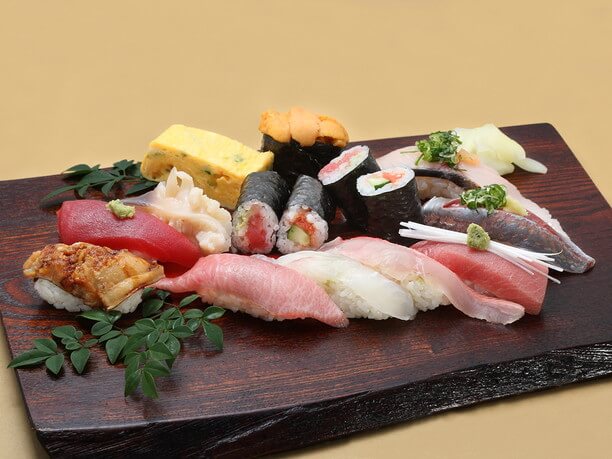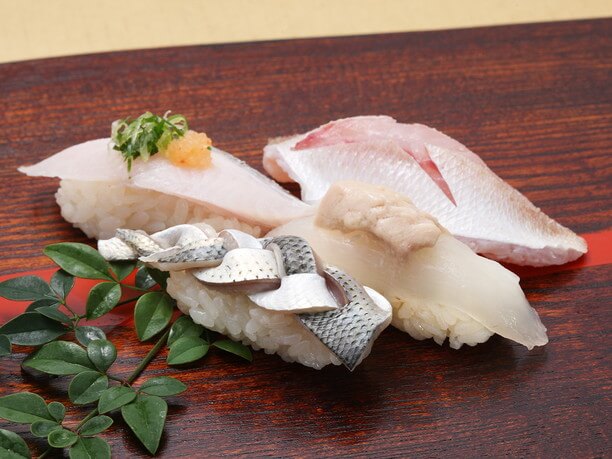 You can also enjoy am a la carte selection with Sake.
I ordered squid with squid eggs in sweet sauce. It melts in your mouth. It was so delicious. If you like Sake, this makes a good combination with your sake.
"Sushi Dai" makes Edo-style sushi, which is shari with a little more vinegar then usual and fresh neta. It is so good. It definitely is one of the reasons that the long lines form to enjoy the sushi at Tsukiji.
Please go to visit this well-established store for lunch.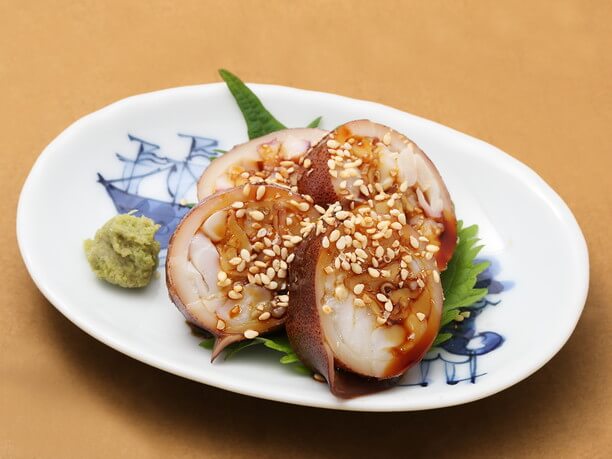 Not to be missed at the Tsukiji market is the sushi shop " Daiwa Sushi"
The lines are also never ending at the well-established store "Daiwa Sushi". Some people will make the trip to Tsukiji just to visit this restaurant. The seating capacity is only 10 people, but there are 2 Shops side by side.
So get up early to eat here!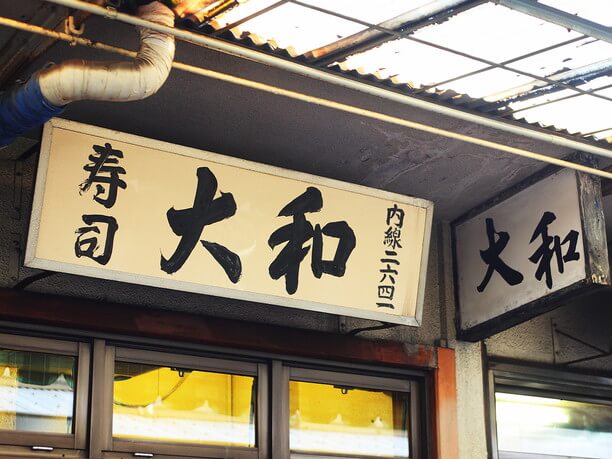 Big fresh neta is very good!
Neta is raw fish on sushi rice. One of the more popular ways to get it is, Omakase Nigiri for 3,780 yen. The tuna from Tsukiji is so fresh. The eel is also excellent. The sea urchins are so sweet they will melt in your mouth. The less vinegar rice is a wonderful compliment to the neta.
The freshness, size of the portions and price are all very satisfying.
Featured this day was tuna from Kozushima Island. When visiting ask for the recommendations of the day. It may be early, but having this for lunch is also recommended!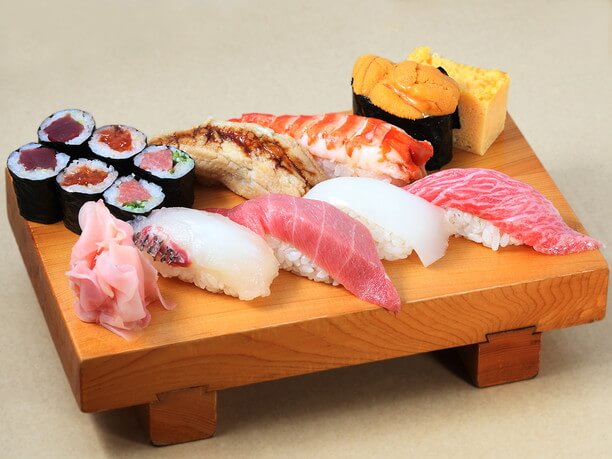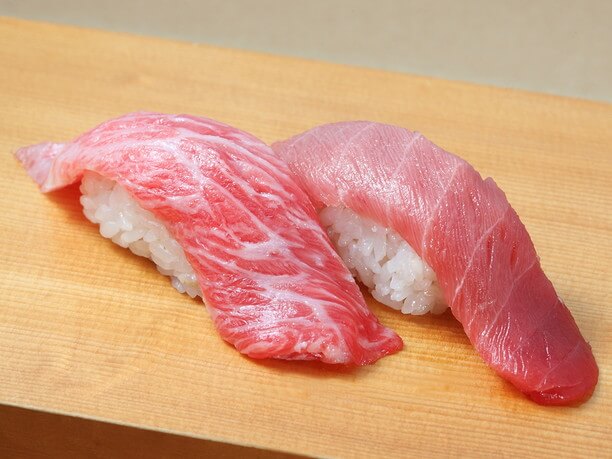 Not just sushi, at the Tsukiji market!
Tempura is available at Tenfusa" This shop is located in Building No. 6 of the Tsukiji market. They use fresh Tsukiji seafood fried in sesame oil. It has been drifting elegant fragrance.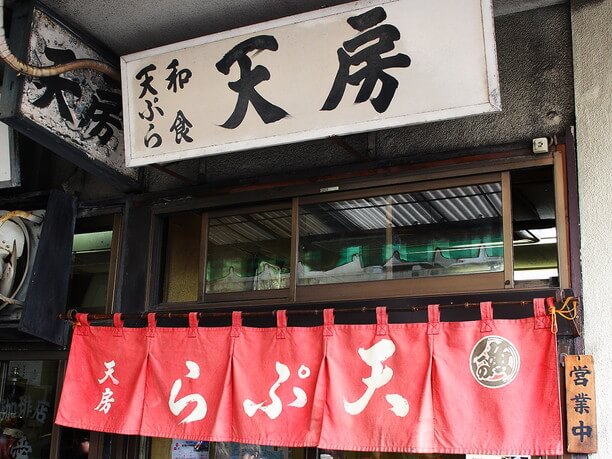 Neta precisely because it fresh! Delicious lightly fried tempura
Position Press 1,200 yen tendon. Also attached clam juice plus 100 yen. Story of the day shrimp, grass shrimp, a kiss, squid, eyes light, was a green pepper.
Shrimp, of course, the eyes light is also a rarity! Fluffy white meat is, it will melt in the mouth. Tempura of fresh story of Tsukiji unique, coupled with modestly chili sauce, is a lunch menu that taste of sushi or different from the seafood can enjoy.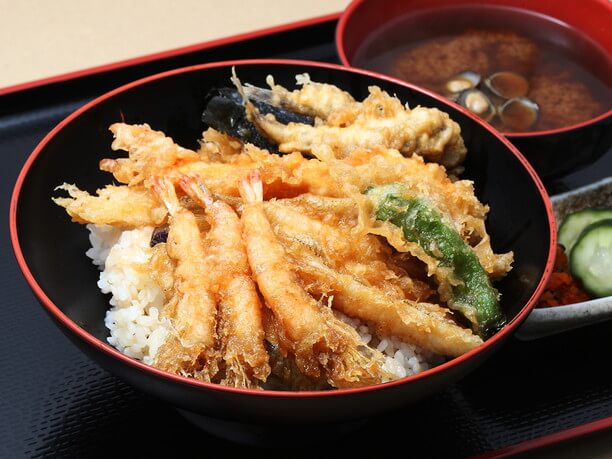 Tsukiji market in the main check also lunch other than seafood!
Menu of "Torifuji" in the Building No. 8, the parent-child curry and Tsukiji stadium shop limited of bird rice Introduction oyakodon and curry specialties oyakodon was riding, such as Singapore chicken rice and qeema of Asian, attractive lunch menu lots! Matrix of lunchtime No wonder.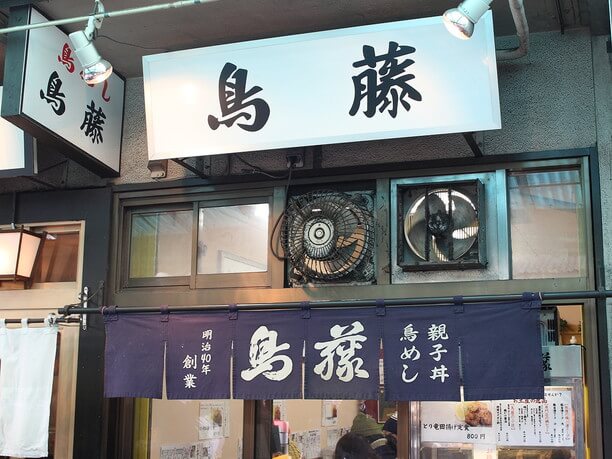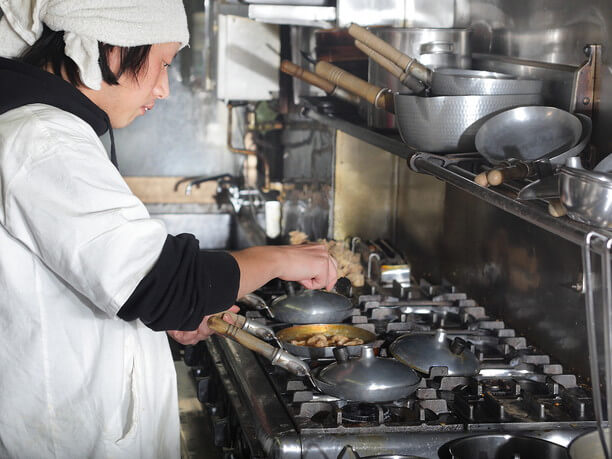 Tsukiji long-established! Parent-child bowl of chicken specialty store with more than 100 years of history
Order a billboard menu oyakodon 800 yen this time. Bowl of rice topped with chicken and eggs is also salty other than soy sauce. Chicken of the day Oyama chicken. Parent-child bowl to finish with a special lid to exit the steam is fluffy. Finally, once again, be turned over the beaten egg, is the completion of the soft-boiled like ass oyakodon. If you eat mixed with rice with broth with a moderately sweet, umami and Fuwatoro eggs of free-range chicken is combined, it was the exquisite taste.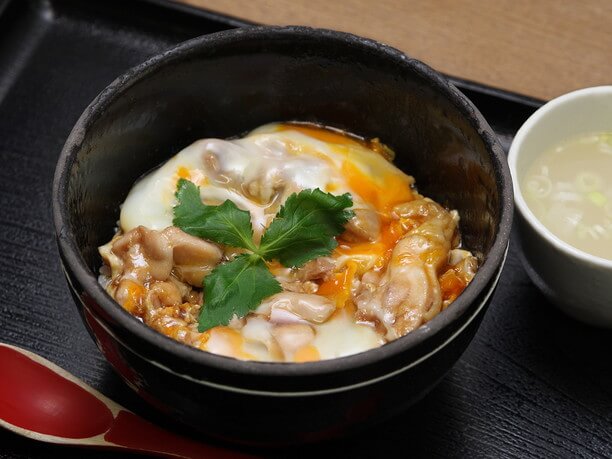 Smart tip
Sushi large that some people lined up from a whopping midnight 2 o'clock position. Expected to enter the store until 3:00 pm, you have to adjust the number of columns. Organizations also be a enters and at 6 am the current day end. So you tell me the status of the column, when subtle Let's phone.
Will hesitate likely to think the table of the matrix, but do not hesitate at lunch time, please try to order a drink. It is good wine goes well for delicious sushi. In cup wine to sushi, is try to enjoy Why?
The Torifuji, there is a "gem of souvenir" in addition to the take-away products such as over-the-counter of teriyaki. Thick mizutaki set Reservations are required until the day before, but it is a gem that want to go with a souvenir by all means.
What's interesting
In the Tsukiji Fish Market also said the gourmet city of Tokyo of symbolism. So who set up the restaurant we really chic, it was wonderful. No matter how crowded, unchanging smile and cheerful service. It is, perhaps to the audience in mind "enters want! Even side by side." In the Tsukiji market matrix shop-lined, was the place to come to carry any number of times the foot.
Tenfusa
Spot name(Ja)

天房(てんふさ)
Address

Tsukiji Market Building No. 6 5-2-1 Tsukiji, Chuo-ku, Tokyo
Address(Ja)

東京都中央区築地5-2-1 築地市場 6号館
Telephone

03-3547-6766
Price

Tendon 1,200 yen -
Open

6 pm to 14 pm
Close

Sunday and Wednesday Irregular (according to the Tsukiji market)
Note

Access: Toei Oedo Line "Tsukiji market station" A1 4-minute walk from Exit Toei Oedo Line / Tokyo Metro Hibiya Line "Tsukiji Station" No. 1, a 7-minute walk from Exit 2
HP : Http://www.tsukijigourmet.or.jp/24_tenfusa/index.htm
Torimeshi at Torifuji hall shop
Spot name(Ja)

鳥めし 鳥藤場内店
Address

Tsukiji Market Building No. 8 5-2-1 Tsukiji, Chuo-ku, Tokyo
Address(Ja)

東京都中央区築地5-2-1 築地市場 8号館
Telephone

03-3542-7016
Price

Parent-child bowl 800 yen
Open

6 pm to 14 pm
Close

Sundays and public holidays and non-regular holiday (according to the Tsukiji market)
Parking lot
Note

Access: Toei Oedo Line "Tsukiji market station" A1 4-minute walk from Exit Toei Oedo Line / Tokyo Metro Hibiya Line "Tsukiji Station" No. 1, a 7-minute walk from Exit 2
HP : Http://Www.Toritoh.Com/