Souvenirs, gourmet foods, raccoon hunt? Exploring in the Tanukikoji Shopping Arcade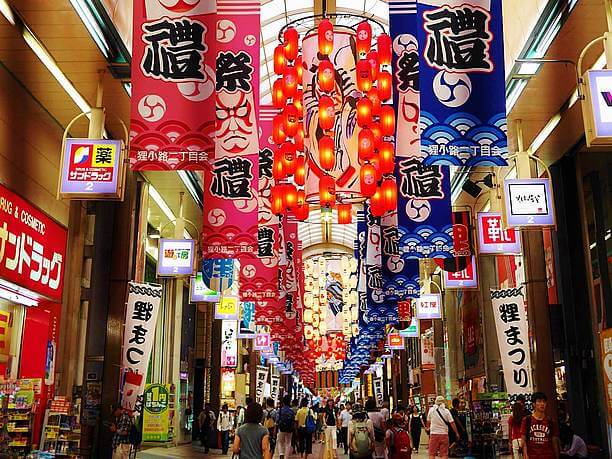 Right in the center of Sapporo, " a one-kilometer (about 0.63 miles) long shopping street called "the Tanukikoji (raccoon alley) Shopping Arcade" runs through from east to west and has been making its way through the Hokkaido's development history with people of Sapporo. The street has an ambiance of the good old days, but there are a wide variety of shops from long-established stores to places of the latest trends. You always have fun visiting the Tanukikoji Shopping Arcade.
Souvenirs? Gourmet foods? You name it.
Specialties, something interesting and unique….anything you wish! You can find what you want for sure. Let's explore the long-standing shopping street that is the hallmark of Sapporo.
As the name "Tanukikoji (raccoon alley)" goes, you might find raccoons hiding here and there in this quaint shopping street. Try to find one!

Nijo Market in the east, friendly downtown areas in the west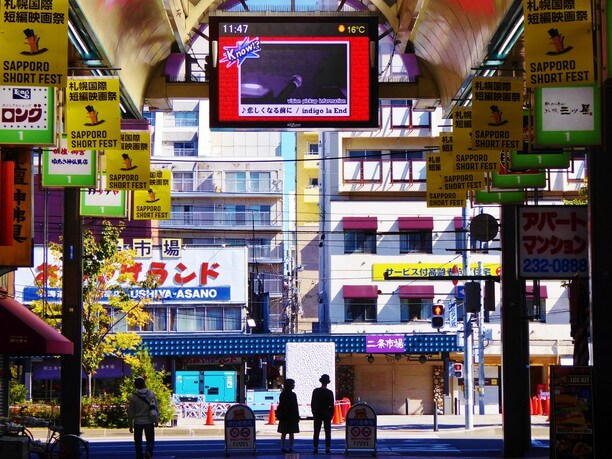 The starting point of the Tanukikoji Shopping Arcade is just around the corner of "the Nijo Market." It is called Sapporo people's kitchen that provides all sorts of foods and very popular among tourists, too.
The Arcade continues from 1-chome (block) to 10-chome, going to the west on the alley between Minami-2 and Minami-3.
It is covered up to 7-chome so that the weather conditions won't bother your shopping and sightseeing.
You are free from strong direct sunlight, rain, and snow. Isn 't it great!?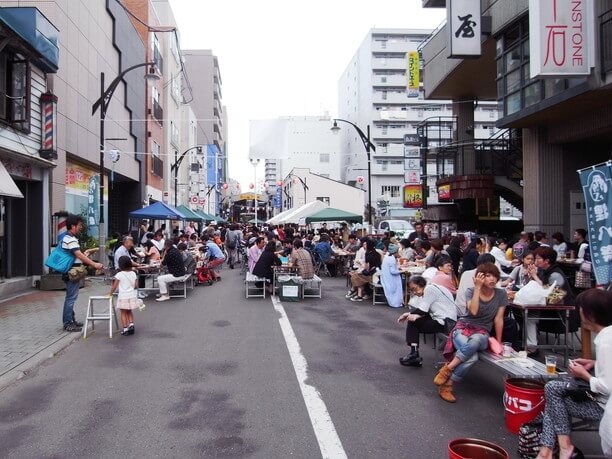 After 8-chome where the Arcade ends, there appears a best-kept area where you can enjoy the friendly downtown atmosphere. There are a lot of interesting shops, for example, a shoe shop where a shoe craftsperson works and a kimono shop with a long history and a secondhand bookstore. A retro-flavored side street with bars and restaurants "Hyotan Alley" has Japanese style taverns called Izakaya. Eating and drinking at an izakaya somewhat bring back old memories to you, too.
There are about two hundred stores in the shopping arcade. Besides restaurants and gift shops, there are hotels, entertainment facilities, and spas. It is perfect for your sightseeing hub.
Enjoy a different atmosphere that each block presents and walk around the one-hundred-forty-year-old shopping arcade
Worship a raccoon as a god at this shrine!? Touch "Mizukake-tanuki-jizo" and your prayers are answered.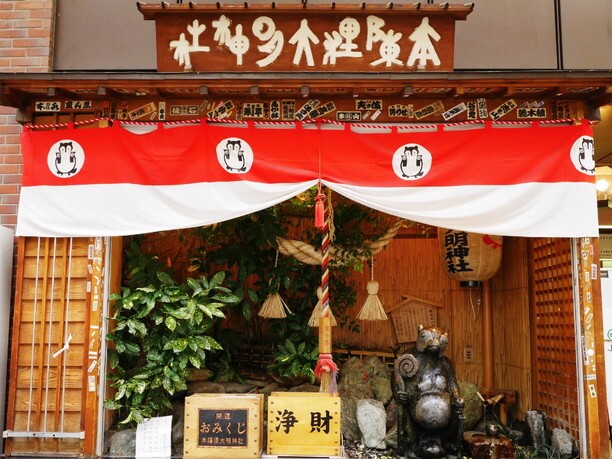 On Tanukikoji 5 chome, there is a shrine that worships a raccoon as a god. The name is "Honjin-tanuki-daimyo-jinja (the headquarters raccoon shrine)" and commonly called "Tanuki-jinja (raccoon shrine)" and this shrine was built in 1973 to commemorate the 100th anniversary of the shopping arcade.
A raccoon jizo (a guardian deity of children) that is said to have eight virtues is enshrined here. If you touch the head of the raccoon, you will have an academic progress. If you touch from its shoulder to the chest, you will succeed in love and/or find a good match. Touching different places invokes different divine help.
There is a sign at the shrine to give you more details, you will not make mistakes.
You can draw a fortunetelling slip, too. How about trying your luck there along with sightseeing?
Perfect souvenirs from Hokkaido -"HUG Mart" Hokkaido's fresh produce market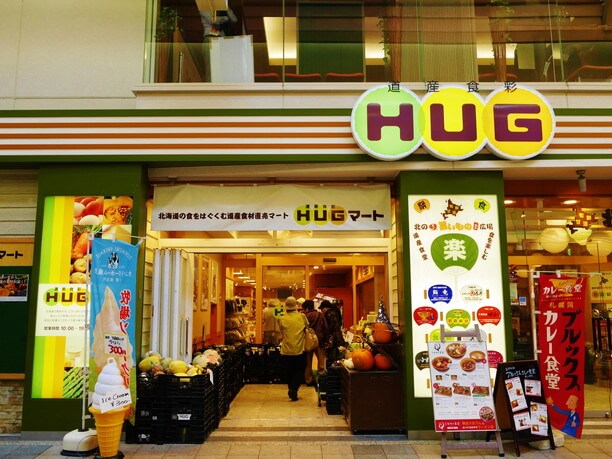 The Tanukikoji Shopping Arcade has, of course, gift shops where you can buy popular and standard souvenirs but there are some shops where they have an extensive selection of Hokkaido's fresh and delicious produce.
The name of the store is "HUG Mart" on 5 chome close to the Tanuki Shrine.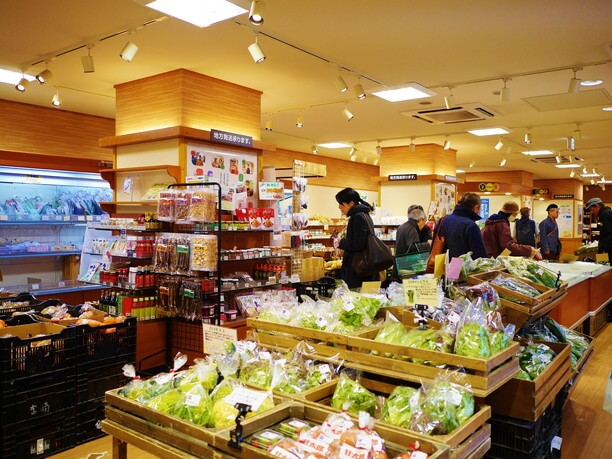 In the store, there are all kinds of fresh produce and processed products that are delivered every day. It is just like Michi-no-Eki (roadside station: very popular local government-designated re st area along roads and highways, where they sell local's special foods, produce, and gifts).
You can find "the delicious" of Hokkaido here.Most of the products here have the name and photo of the producer on them. You can relate to the person who grew and made the product and you feel you can trust the quality.
Hokkaido produces many different kinds of vegetables that are unique to the northern island.
There are ten different kinds of potatoes and rare kinds of vegetables such as phantom onions called "Sapporo Ki (Sapporo Yellow)". This kind of onion is called "phantom" because of its distinguished taste and unavailability. They will make perfect souvenirs.
Domestic shipment is available and you can send the fresh produce directly to someone special.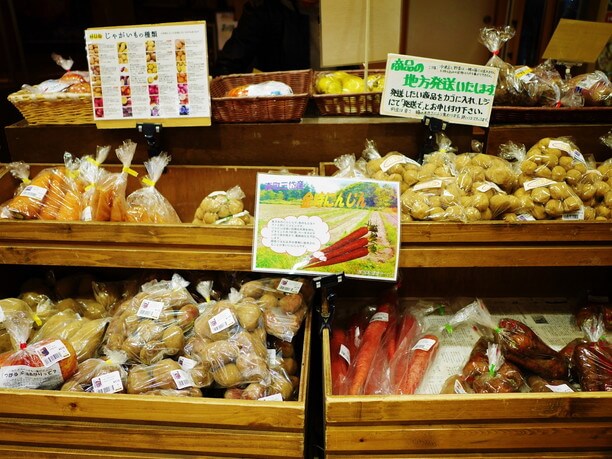 HUG Eat next to HUG Mart serves delicious foods that use Hokkaido-grown ingredients generously. You can eat the special curry with the phantom onions!
Sapporo's most-talked-about ramen noodle shop! It was also a location for THAT movie.
Among various interesting restaurants of the Tanukikoji Shopping Arcade, you notice ramen shops most.The shopping arcade is a ramen battleground on the par of Ganso (originator)-Sapporo-ramen-alley!
I would like to recommend one ramen shop among them.
That ramen shop was a filming location for a popular Japanese movie "Tantei wa Bar ni iru (The detective is in the bar)." The name of the ramen shop is "Sankakuyama-goemon-ramen" and it is on 9-chome after you come out of the arcade.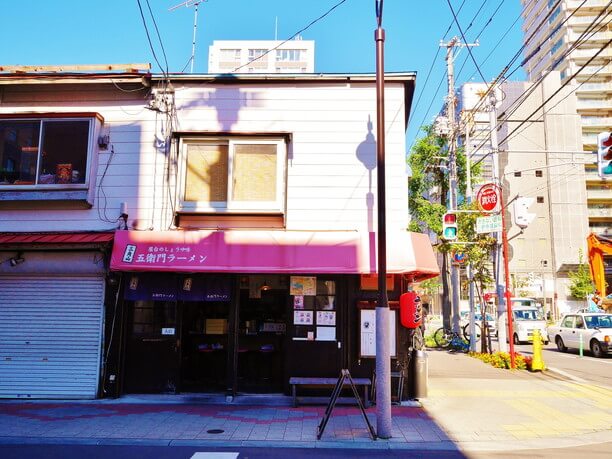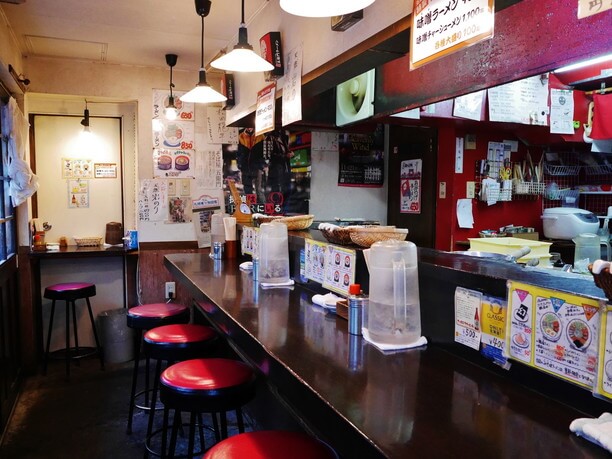 At the first glance, the shop looks like a street stall and it is a small ramen shop with seven chairs. However, don't be fooled by its appearance. They make their own noodles using Hokkaido-grown wheat Harukoyoi 100%, and they use vegetables, animal-related ingredients and dried salmon flakes for the soup stock.
Their ramen soup is light and Japanese-flavored.
Shungiku (crown daisy) is uniquely used as one of the toppings and surprisingly , it goes well with the ramen very much.
They are well known for shoyu ramen but they have salt flavored, too.
In summer, they serve Bukkake-ramen ( the broth for pouring over the noodles) with udon broth that is delicately flavored by a citron. In winter, they serve miso flavor, too.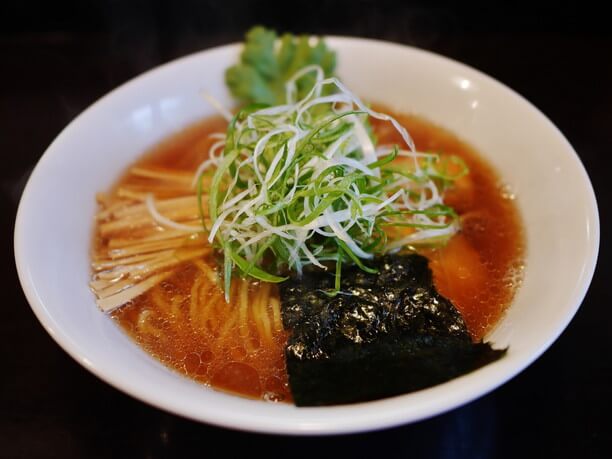 Raccoon-hide-and-seek in the Tanukikoji Shopping Arcade!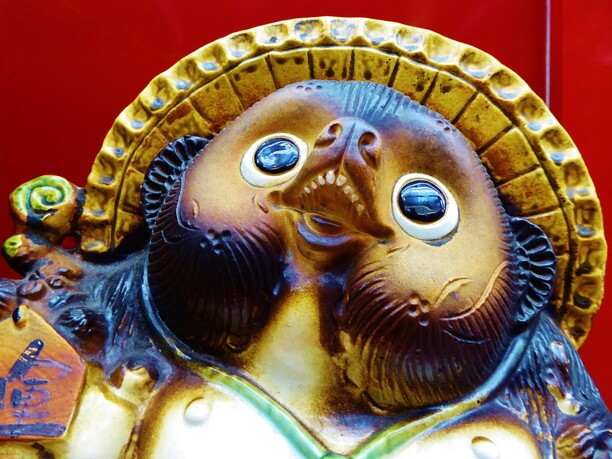 As the name "Tanukikoji Shopping Arcade" goes, raccoons are hiding in many different places at the storefront, signs and in the names of the stores.
("Tanuki" means a raccoon and "koji" means a small alley.)
Look and see how many raccoons you can find!
There is even a special raccoon big enough for you to take a photo with!
If you find one, click the shutter of your camera as a memory of the sightseeing.
It is going to a great photo to remember your visit.
Check out a mascot character "Dakko-pon" who is the promotion section manager for the shopping arcade.
When an event is happening, you might see this cute character busy walking around to promote the arcade.
There is a drugstore "Sapporo Drugstore" whose popular name among the people in Sapporo is "Satsu-dora." Won't you stop by for their wide selection of items? They have almost everything you need for your travel.
Especially the 5-chome store is a large one and the total floor space is 628 ㎡ (about 6800 square feet). You'll have fun just browsing the store.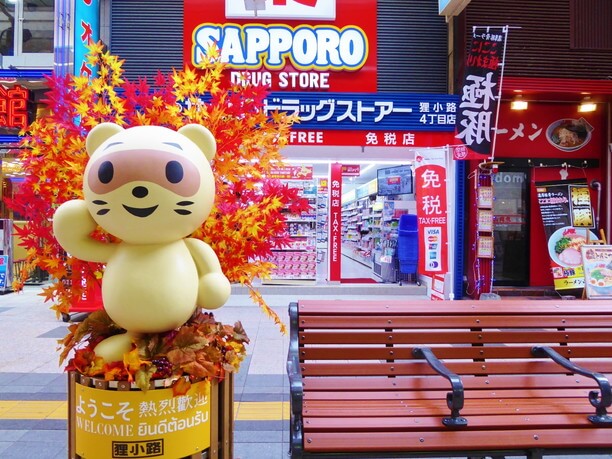 Let's walk east and walk west in the Tanukikoji Shopping Arcade! This is the shopping street with a long history, where literally everything from shopping, sightseeing, gourmet foods, interesting souvenirs, entertainment, and accommodation is here! You will find something very special for you.
Smart tip
After you enjoy sightseeing up to the 10th block, walk up to the wide street (Route 230), turn right and walk for another ten minutes. The closet subway station "Nishi 11-chome" is right there. It is convenient to remember that.
"HUG mart" + "HUG eat" = "Dosan Shokusai HUG (a wide variety of Hokkaido local foods HUG)." You can buy Hokkaido local foods as well as you can enjoy eating Hokkaido gourmet foods!
"HUG mart" + "HUG eat" = "Dosan Shokusai HUG (a wide variety of Hokkaido local foods HUG)." You can buy Hokkaido local foods as well as you can enjoy eating Hokkaido gourmet foods!
What's interesting
It is a fun place to shop, but of course, it is fun just walking around! It has somewhat a nostalgic ambiance but new at the same time, so please enjoy the contrast. You might find "treasures" for you in the wonderful places ♪
HUGマート
Address

Sapporo Plaza 2・5 BLDG. 1F Minami-2 Nishi-5 (Tanukikoji-5) Chuo-ku Sapporo-City Hokkaido
Address(Ja)

北海道札幌市中央区南2条西5丁目(狸小路5丁目) 札幌プラザ2・5ビル 1F
Telephone

011-242-8989
Price

500yen ~ 3000yen
Open

10:00a.m. ~ 7:00p.m.
Close

none (except New Year holidays)
Parking lot

none (Tanukikoji designated parking is available.)
Note

HP : http://www.s-hug.jp/