First time to Sapporo?? Must-go places for you!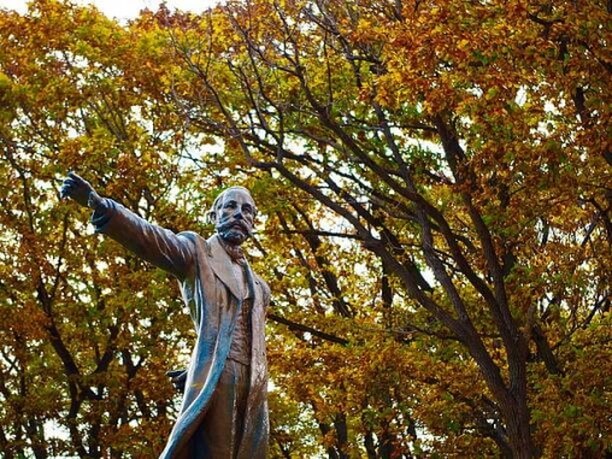 We selected the must-go places in Sapporo for you!
These places are full of "want to see; want to go; want to eat; want to drink; want to play and want to relax…."
Don't just settle in one place, get up early and stay late at night. Get set, Go!

The Sapporo Snow Festival that everyone knows; Odori Park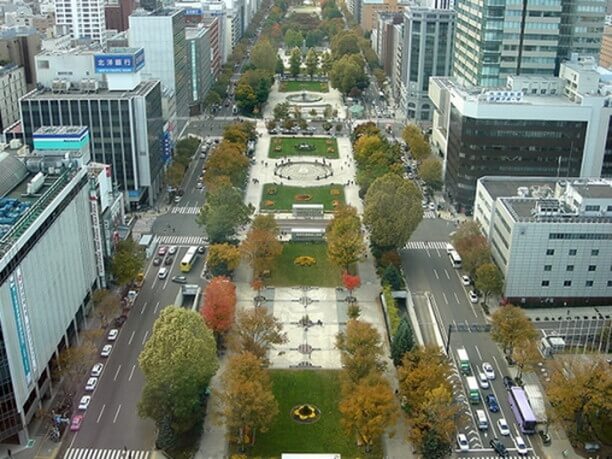 The Odori Park stretches from west to east in the middle of Sapporo.
This is the place loved by a lot of people as an oasis in the city and one of the most popular tourist destinations in Hokkaido. This park is about one mile long and has many things to enjoy such as the park-special corn-on-the-cub wagons, sculptures and splendid fountains. The park is also used as an event site. The Snow Festival that attracts over two million people every year and the Autumn Festa that presents Hokkaido's special local foods are those examples and the park provides various entertainments. Check out what the park offers and enjoy it as much as you can!

【Spot name】Odori Park
【Address】Odori nishi 1 ~12, Chuo-Ku, Sapporo-City, Hokkaido
Clear and gentle sounds of the Sapporo Clock Tower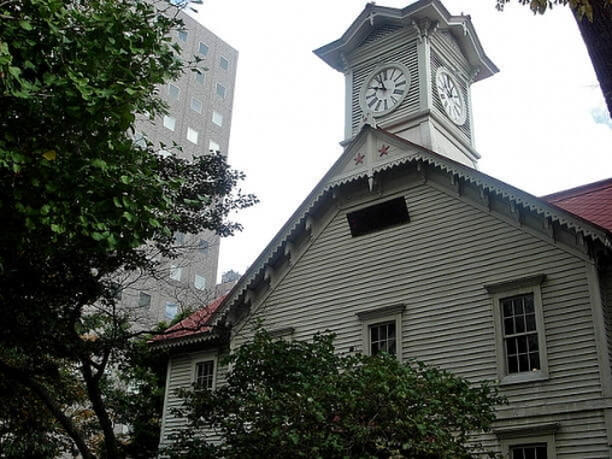 The Sapporo Clock Tower is a wooden structure built during the Meiji era (1868 ~ 1912). The tower might be frail-looking now because it is surrounded by tall office buildings. However, when you step in the building and learn about its history and the mechanical structure of the clock, you will soon realize the tower was walking through the pioneering history of Sapporo and Hokkaido with the people of Hokkaido. Even now, the Clock Tower rings a bell every hour and that clear and the same gentle sounds were the sounds to tell the beginning of the modernization of Hokkaido and Japan.

【Spot name】The Sapporo Clock Tower
【Address】Kita-1 Nishi-2, Chuo-Ku, Sapporo-City, Hokkaido
【Business hour】8:45 am ~ 5:10 pm (admission by 5:00 pm)
Want some scary experience?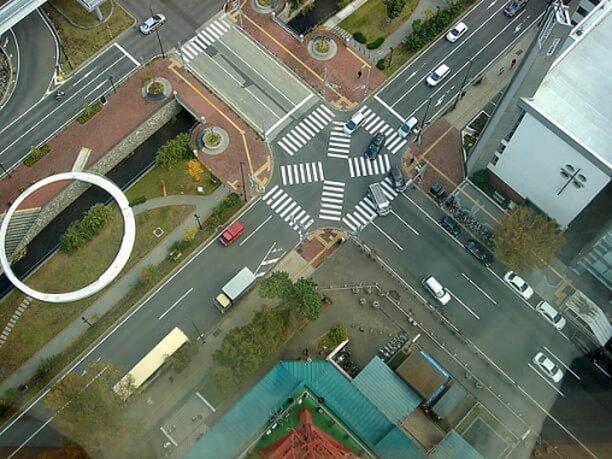 The Sapporo TV Tower is a very popular spot among tourists because the Tower has a breathtaking panoramic view of downtown Sapporo. The best thing about the Tower is the 360° view from the observatory. You see the bottom of the TV Tower right under your feet and realize how high you are looking down from! If you love something thrilling, this is definitely for you! Visit the Tower at a different time or in a different season, you enjoy a different view from the Tower and the Tower itself looks so different depending on the angle and time. You want to visit the Tower again and again because it is packed with so many things you'll love about.

【Spot name】The Sapporo TV Tower
【business hour】summer time (end of April ~ middle of October) 9 am ~ 10 pm
【winter time】 (middle of October ~ end of April) 9:30 am ~ 9:30 pm
        *White Illumination & Snow Festival; possible time change
A popular spot to take your travel photos!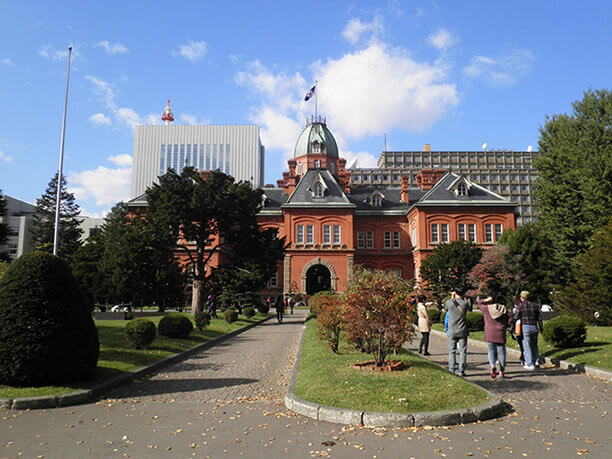 The Former Hokkaido Government Building is a historical building that is loved by many. It is called the "Red Brick," because of its beautiful appearance. The marvelous red brick structure that has an atmosphere that may reminds you of the Meiji Era (1868 – 1912); it is a very popular spot for travel photos. If you have time, please walk around the garden in front of the Former Hokkaido Government Building. The 22,000 square meters (about 240,000 square feet) ground has a lot of different plants and trees that are neatly planted. In spring cherry blossoms whirl in the wind, in summer water lilies give you a cool feeling, in autumn the color of ginkgo trees turn very bright and in winter the whole place is covered with pure white snow. You'll enjoy different views season by season.

【spot name】The Former Hokkaido Government Building
【address】Kita-3, Nishi-6, Chuo-Ku, Sapporo-City, Hokkaido
【business hour】8:45 a.m. ~ 6:00 p.m.
         * closed upon an event schedule
【holidays】the year-end and New Year's holidays (Dec. 29th ~ Jan. 3rd)
Standard souvenir from Hokkaido! Shiroi Koibito!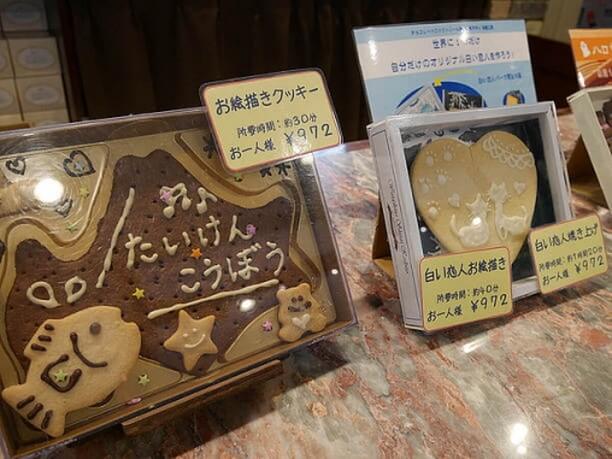 The "Shiroi Koibito Park" is a popular place to visit in Hokkaido. How about making your original Shiroi Koibito cookie at "Cookiecraft Studio" in the Park? You write your message and draw pictures on the cookie. It is going to be a great souvenir of your Hokkaido trip or a perfect gift for your friends and families. This is a place that people of all ages can enjoy! After you make your own cookies, try their exclusive menu item the "Shiroi Koibito parfait," and their original sweets, too!

【Spot name】Shiroi Koibito Park
【Address】11-36, Miyanosawa 2-2, Nishi-Ku, Sapporo-City, JAPAN
【Business hour】9 a.m. ~ 6 p.m. (admission by 5 p.m., shops open till 7 p.m.)
Stroll on in! Night in Susukino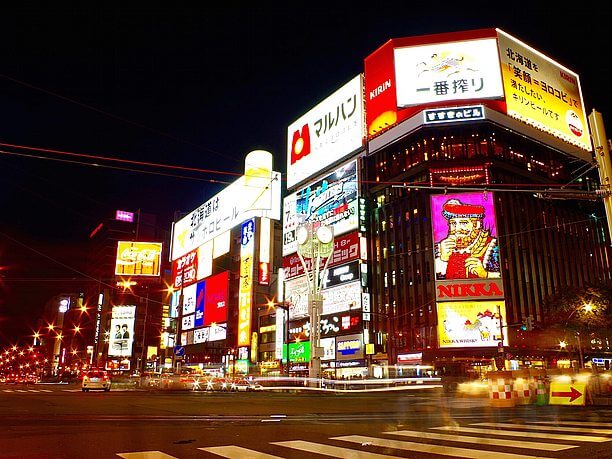 The huge advertising board of the Nikka Whiskey is a familiar sight of "Susukino." Susukino is one of the three most known nightlife sections in Japan. There are so many different places to go from so-called nightspots to bars and restaurants in one building, and a hotel right next to it. It is a safe nightlife district and even a group of only girls can walk around without problems. When you visit Sapporo, go for a drink and have fun in Susukino!

【Spot name】Susukino
【Address】Chuo-Ku, Sapporo-City, Hokkaido
【Business hours】changes in each place
【Holidays】changes in each place
Take a photo with Dr. Clark and hold a high ambition!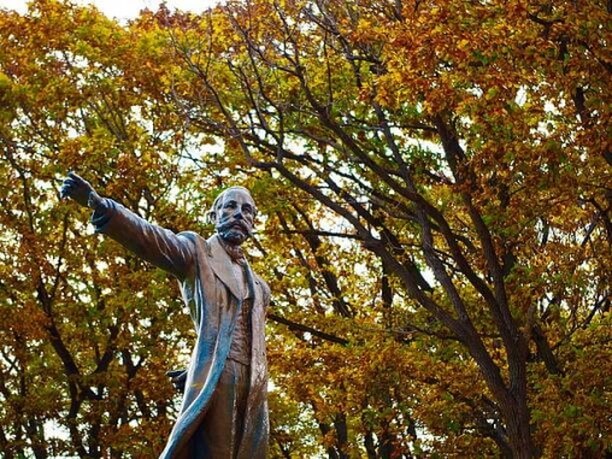 The Hitsujigaoka Observation Hill is in the middle of a big city but at the same time it is in a vast pasture that extends as far as you can see.
The Observation Hill overlooking the city of Sapporo and the Ishikari plain is a "very Hokkaido like" place with a countryside atmosphere where sheep enjoy grazing in the grass.
The statue of Dr. Clark on the hill is the best place for photo taking. The photo-taking protocol is that you pose exactly the same way as the statue. In the summer lavender flowers are in full bloom and in the winter the Snow Park is open.
At the Snow Park, you pay only for the admission and can play in the snow, cross country skiing and sliding down the hill on the tube called "Snow Tube."

【Spot name】Sapporo Hitsujigaoka Observation Hill
【Address】Hitsujigaoka-1, Toyohira-Ku, Sapporo, Hokkaido
【Business hours】May ~ June / 8:30 am ~ 6 pm
          July ~ Sept. / 8:30 am ~ 7 pm
          Oct. ~ April / 9 am ~ 5 pm
Spectacular view and feeling free! Okurayama Ski Jump Stadium
The "Okurayama Ski Jump Stadium" is a twenty-minute drive from downtown of Sapporo. The Viewing Lounge is at 300 meters (984 feet) elevation and the panoramic view from the Lounge is spectacular! Below your eyes, there is an approach of the Large Hill ski jump platform. From here, you have exactly the same view as the jumpers, so use your imagination. You'll have a taste of the jumper's tension and experience what they experience. There is a restaurant that serves "Genghis Kahn BBQ." In another building, there is the Sapporo Winter Sports Museum that teaches you the history of winter sports and gives you the virtual experience of winter sports. You can enjoy Sapporo's view, Hokkaido's foods and cultures here.

【Spot name】Okurayama Ski Jump Stadium
【Address】Miyanomori-1274, Chuo-ku, Sapporo, Hokkaido
【Business hours】Summer (May ~ Oct.) 8:30 am ~ 6 pm
          Winter (Nov. ~ April) 9 am ~ 5 pm
          *Chair lift 30 minutes before the closing time
          * Jump Tournaments and official practice days are closed.
Healing spot to enjoy all year round! Jozaikei Hot Spring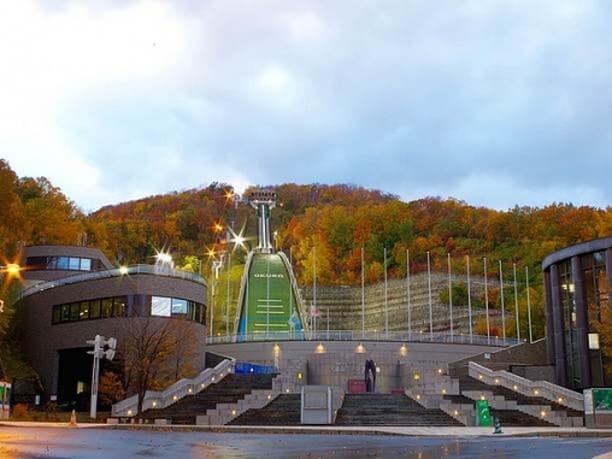 "Sapporo's back parlor" is another name for the Jozankei Hot Spring.
It takes about sixty minutes by car from the center of the city and is easily accessible. It is a popular healing spot where many people from tourists to Sapporo's locals, and day trip visitors to overnight guests visit. The hot spring district is surrounded by mountains and the upper part of the Toyohira River runs through it. You wouldn't believe that you are in Sapporo because the forest around the hot spring is so deep and the valleys are so beautiful. The Jozankei Hot Spring heals your heart and soul. Taking a bath while enjoying the hot spring's different expressions that change each season is exceptional.

【Spot name】Jozankei hot spring
【Address】 Higashi-3, Jozankei onsen, Minami-Ku, Sapporo-City Hokkaido
A landmark of Sapporo! JR Tower Observatory T38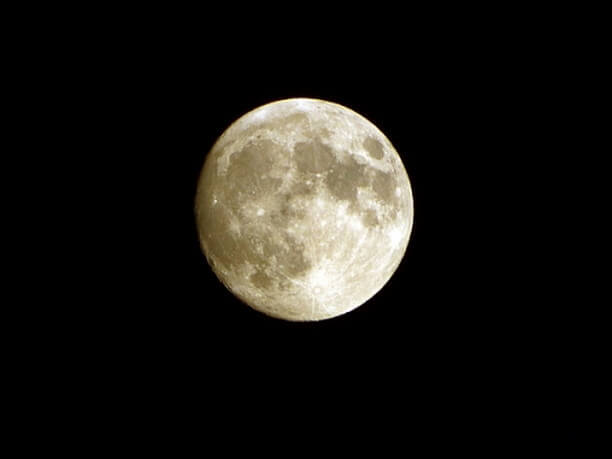 The JR Tower Observatory T38 also known as the landmark of Sapporo is a very popular spot. The best time to visit the tower is the night-time!
The full moon looks so close as if you could touch the moon. Relaxed at the café; excited at the shops. Or try to find the art that is hiding somewhere. There are more ways to enjoy the Observatory beside the great view. Why not find your own way to enjoy!

【Spot Name】JR Tower Observatory T38
【Address】Nishi-2-5, Kita-5, Chuo-ku, Sapporo
【Business Hours】10 am ~ 11 pm (admission by 10:30pm)
Mixture of unique shops and great to stroll around! The Tanukikoji (raccoon alley) Shopping Arcade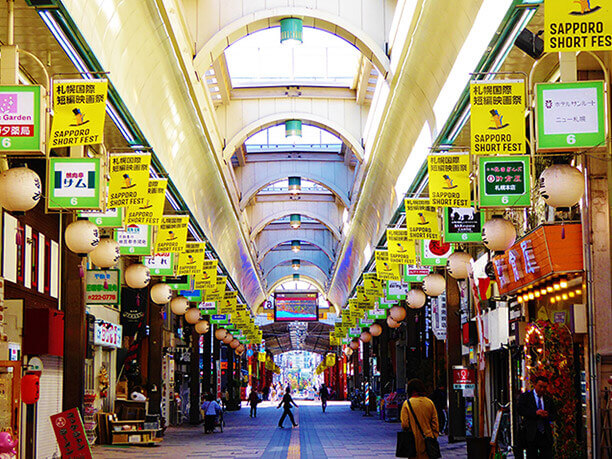 The "Tanukikoji (raccoon alley) Shopping Arcade" is the long-standing shopping street that is the hallmark of Sapporo. There are a wide variety of shops from long-established stores to places of the latest trends.
There are Hokkaido's specialty restaurants and souvenir shops, hotels, spas, amusement arcades and pubs where only the locals gather. This shopping arcade is an ideal sightseeing hub that has accommodation and entertainment facilities. There are many things to enjoy, surely there will be something for everyone. Whenever you visit and whoever you visit with, there is always a fun time waiting for you!

【Spot name】The Tanukikoji (raccoon alley) Shopping Arcade
【Address】Nishi 1 ~ 7 Minami-2 Chuo-Ku Sapporo-City Hokkaido
【Business hours】changes in each shop
【Holidays】changes in each shop
Genghis Khan BBQ and draft beer! Must-try food in Hokkaido!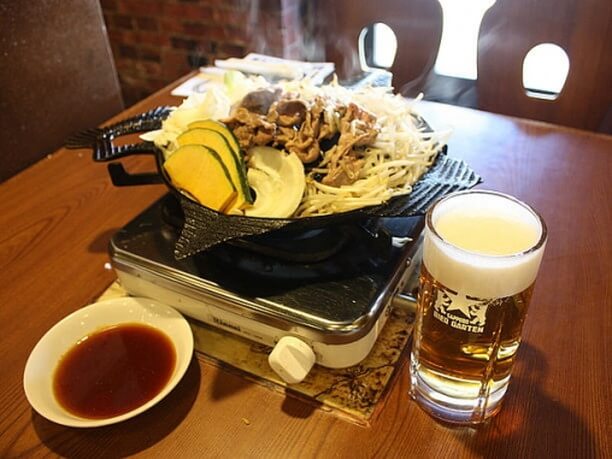 On the same site, there are the Sapporo Beer Garden Genghis Kahn Hall, the annex Lilac Hall, the Garden Grill, a shopping mall, and an indoor practicing facility of the Hokkaido Nippon-Ham Fighters professional baseball team. This is an amusement park for the grown-ups who want to feel Hokkaido! No admission needed to walk around in the museum. They also offer a guided tour (500yen).
The restaurant offers a set menu of all-you-can-eat Genghis Kahn Lamb BBQ + several kinds of Sapporo draft beer all-you-can-drink. This combination is the absolute winner on the menu.

【Spot name】Sapporo Beer Museum
【Address】2-10 Higashi-9 Kita-7 Higashi-Ku Sapporo-City
【Business hour】11:30a.m. ~ 10:00p.m.
Array of shops makes your shopping fun; Sapporo's underground spaces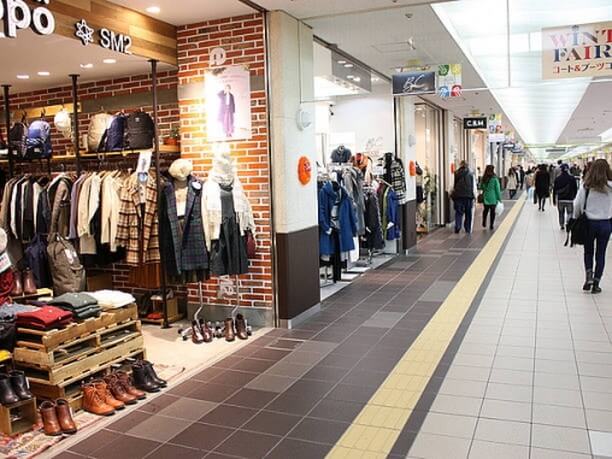 The Sapporo underground spaces are the Sapporo Ekimae-dori underground walkway (Chi-Ka-Ho) and the Sapporo Underground Shopping Malls that have Pole Town and Aurora Town. These spaces are not only walkways but also something fun and enjoyable of a city. Everyday there is something going on –an event or merchandise promotion. You can browse, buy and eat. An array of great shops makes your shopping fun.

【Spot name】Sapporo's underground spaces
【Address】Kita-3 ~ Odori (Chi-Ka-Ho) Chuo-Ku Sapporo-City Hokkaido
【Business hours】hours you can walk through 5:45a.m. ~ 12:30a.m.
Sapporo's tourist spot popular among locals who really know, providing fresh Hokkaido food from the ocean and the mountain directly to you from the Market at greatly reasonable prices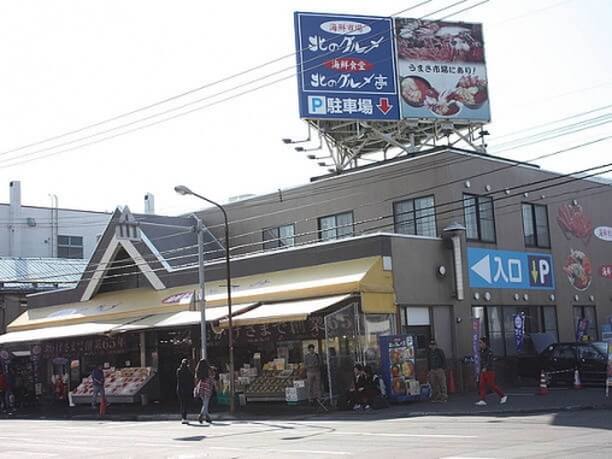 The Sapporo's Central Wholesale Market Curb Market has over 60 shops standing side by side. Everyday the freshest fishes and produce arrive from the Sapporo Central Wholesale Market next to the Curb Market. The Kaisen-Ichiba Kitano Gourmet has Hokkaido's fresh foods in season selected by professionals. There is a very popular restaurant in the market called "Kitano Gourmet-tei" that will cook and serve your food that you buy on the spot. You can visit to sightsee or just to eat. The market is filled with things from Hokkaido. Their fresh produce and seafood are ready to be packed and shipped to and from Hokkaido on that day.
Why not send it as a gift and souvenir to someone special or yourself?

【Spot name】Central Wholesale Market Curb Market
【Address】2-3 Nishi-21 Kita-11 Chuo-Ku Sapporo-City
【Business hours】6:00a.m. ~ 5:00p.m.