Hokkaido featured popular souvenirs recommended by professionals.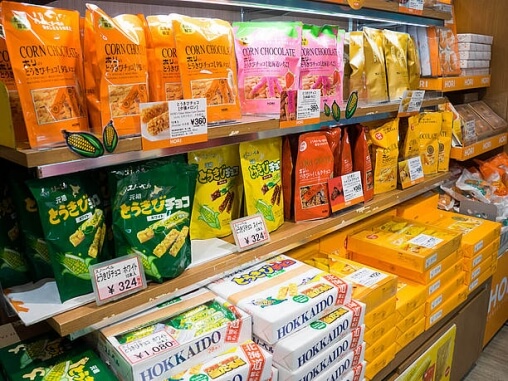 Hokkaido (北海道) is a treasure trove of souvenirs!
Seafood, sweets, and gourmet food abound on Japans Northern Island.
Let me introduce to you some of the best places to get souvenirs and what to buy for your friends, your family, and yourself!
You may be tempted to buy too much!

You can buy super fresh Hokkaido seafood and food from the mountain as a souvenir.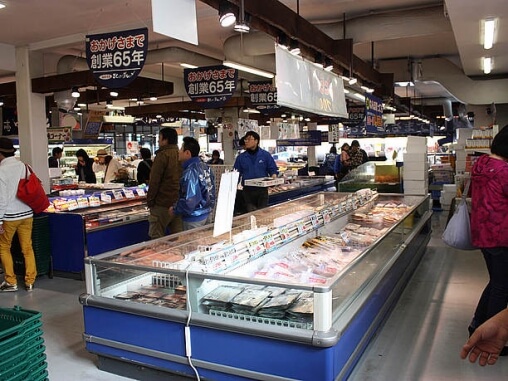 Sapporo Central Wholesale Market (中央卸売札幌場外市場) is about 60 stores crammed with boutiques, offering cheap daily items such as super fresh Hokkaido seafood and riches from the mountains.
Inside the market, you can find the popular seafood restaurant (Shinsen-ichiba-kitanogurume).
When you purchase gourmet seafood and other items you can have them shipped to you the same day anywhere in the province. You can have them sent to your home outside the province as souvenirs and gifts.

【Spot name】Sapporo Central wholesale market
【Address】2-3 North 11 Jou West 21 Chuo-Ku Sapporo-City
【Hours of operation】6:00a.m. to 5:00p.m.
Let me introduce BLUE SKY's 5 best souvenirs.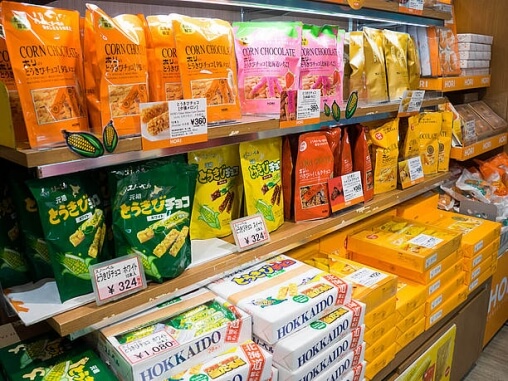 One of Hokkaido's best souvenir shops ("BLUE SKY") is located at the Shinchitose Airport (新千歳空港) on the JAL side of the terminal.
The 5 best souvenirs are 1. Jagapokkuru Ohotsukuno-yakishioaji, 2. Marusei-batasando, 3. Shiroi koibito, 4. White black Thunder mini, and 5. Sapporo Okaki Oh-yakitokibi
I also recommend the "Sapporo Curry Crispy Crackers," Kikanasha-sabure, and the Natural Cheese Cake selection box.

【Spot name】BLUE SKY departure lobby branch
【Address】Opposite the departures C Shinchitose Airport 2F Bibi Chitose-City Hokkaido
【Hours of operation】7:00a.m. to 8:30p.m.
An all Hokkaido souvenir shop with about 2000 items!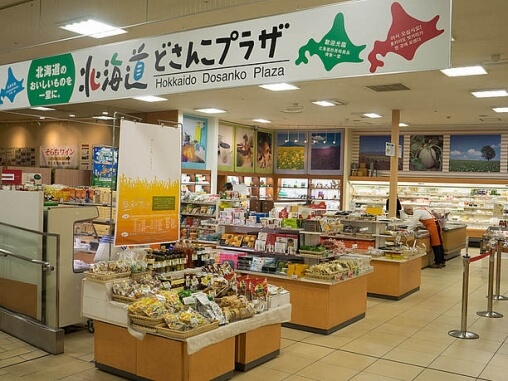 Dosanko Plaza is located in Hokkaido Sapporo building just outside of the Sapporo Stations North exit.
This place has about 2000 items so you can find just about everything you want.
They have quality food from up all over the Island!
They also have food supporters to help you choose the best items. Food supporters are mostly popular local chefs from Hokkaido who want to help with Hokkaido food reputation.
The food they recommend will make good souvenirs!

【Spot name】Hokkaido dosanko Plaza Sapporo
【Address】JR Sapporo station Nishi-Dori Kita exit Kita 6 Jou 4-Chome Kita-Ku Sapporo-City
【Hours of operation】8:30a.m.to 8:00p.m.
A great Hokkaido souvenir spot for drinks.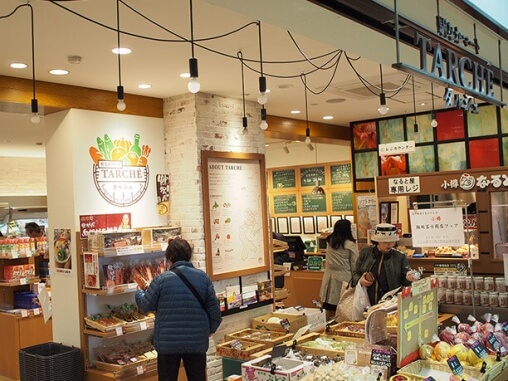 Hokkaido limited edition products are featured here.
If you are looking for souvenirs with alcohol, I recommend Ekinaka Mart Tarche in the JR Otaru station.
Food samples are available to help you choose the best alcohol to go with that particular food.
Even if you aren't a big drinker they still have a lot of unique souvenirs for you to buy.
But if you are tired of just regular souvenirs and you have a craving for alcohol this is definitely the place to shop.

【Spot name】Ekinaka Mart "Tarche"
【Address】JR Otaru station 2 Inaho Otaru-City Hokkaido
【Hours of operation】At 9:00a.m.to 8:00p.m.
From the long established to the recently created shops, they are all here at Tanukikouji-shotengai!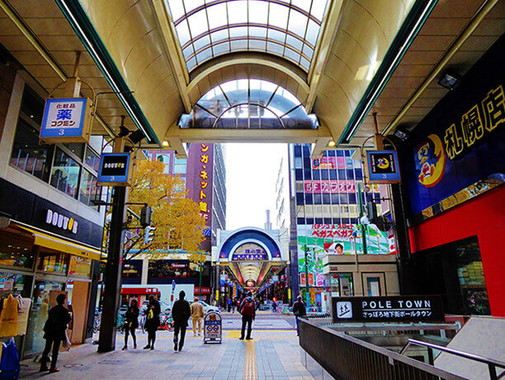 "Tanuki-Koji shotengai" is a shopping arcade, where you can enjoy shopping without worrying about the weather, not even rain or snow.
You can feel the special atmosphere of this old space lined with the long-established shops combined with the newly created ones.
There are about 200 stores offering a wide variety of products in this arcade located far off the beaten path.
There are many excellent souvenir shops including the century-old souvenir shop Tanuki-Koji shotengai and the Hug Mart, where you can enjoy some food and a beverage.
On your next visit to Sapporo enjoy sightseeing, gourmet food, and souvenir shopping, as you walk through this historic shopping district?

【Spot name】Tanuki-Koji shotengai
【Address】Minami 2 Jou Nishi 1-7-Chome Chuo-Ku Sapporo-City Hokkaido
【Hours of operation】Depends on the store.
【Closed on Mondays】Depends on the store.
A very popular place for cheese tart souvenirs!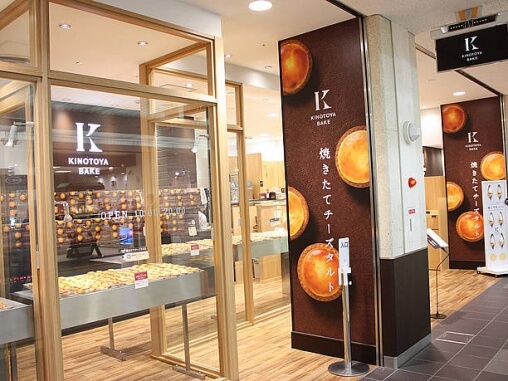 In the Sapporo Under Ground Shopping Center, it is divided into Aurora town and Pole Town.
Kita Kitchen is the most popular part of Aura town. In the Kita kitchen, the most popular souvenir are the Yubari City cinnamon donuts.
In the Pole Town, they have the Kintoya Bakery. It is a very popular sweet shop for women. They have their popular cheese tarts with a strong cheese filling and crunchy shell.
So if you are looking for a delicious souvenir, the Sapporo Under Ground Shopping Center is the place to go!

【Spot name】Sapporo Underground Shopping Center
【Address】(chi・ka・ho), Kita 3-Jou-Odori Chuo-Ku Sapporo-City Hokkaido
【Hours of operation】Access hours: 5:45a.m. to ~ 8:30p.m.