Rusutsu Resort ski area is #1 in Hokkaido!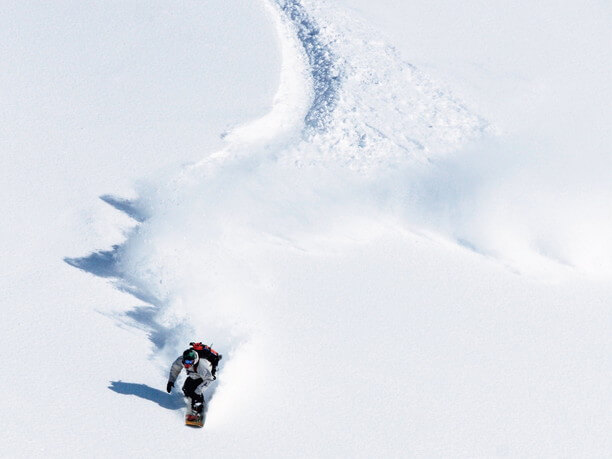 Rusutsu resort ski area (ルスツリゾートスキー場) is a 90-minute drive from Sapporo and New Chitose Airport.
It is a vast resort consisting of three mountains and plenty of powder snow! There are 18 lifts and a gondola. It has an amazing 37 runs, with a total distance of about 2 ½ miles. It is considered Hokkaido's no.1 ski area. It is a highly ranked, award winning resort known throughout Japan as well as overseas.
It is a charming place to be in the winter, not only for its excellent ski conditions but for the shear beauty of its winter landscape. You can explore this winter wonderland on snowshoes, by dog sleds and on horseback. You can also enjoy a delicious gourmet meal and relax in the spa or hot springs.
The people of Rusutsu spend much of the winter here at this beautiful resort!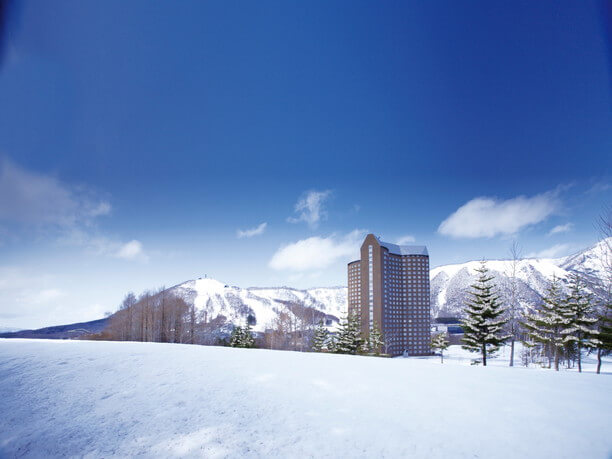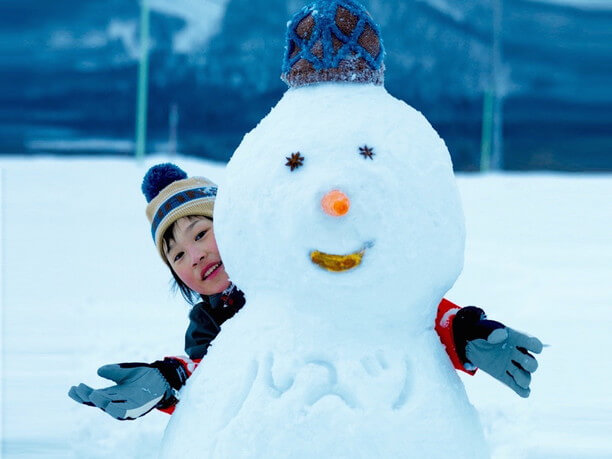 Try skiing all three mountains!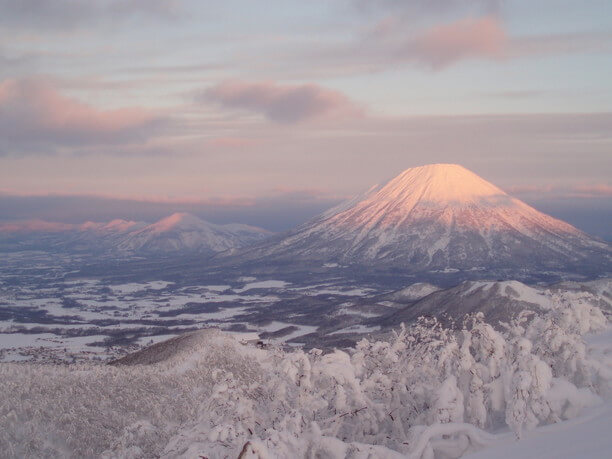 The ski area is so big it is hard to ski it all in one day. "Isola", "East" and "West" are the names of the three mountains. All three mountains have a rich variety of runs.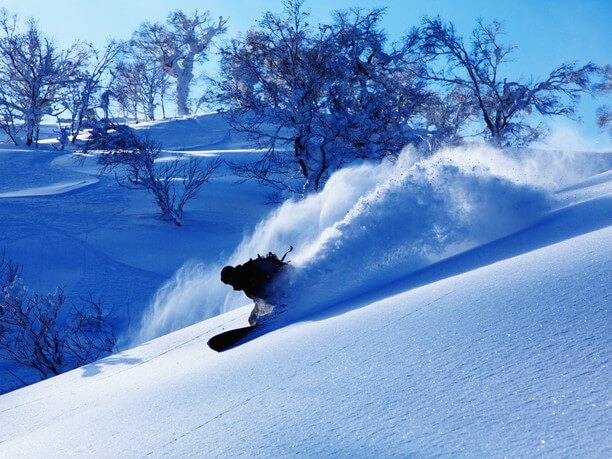 Izola is 3000 feet above sea level and overlooks lake Touya and mount Youtei. Its powder rich runs provide an exquisite ambiance. The powder runs provide a floating, weightless feeling. Turns create a "big spray" that is awesome.
East mountain is connected to Isola. You go over the top of East mountain to reach Isola. Parking is located at the base of the mountain along with the lifts, and gondola and a hotel.
If you enjoy long runs "East" and "Isola" are for you!. The longest run distance is about 2 miles long.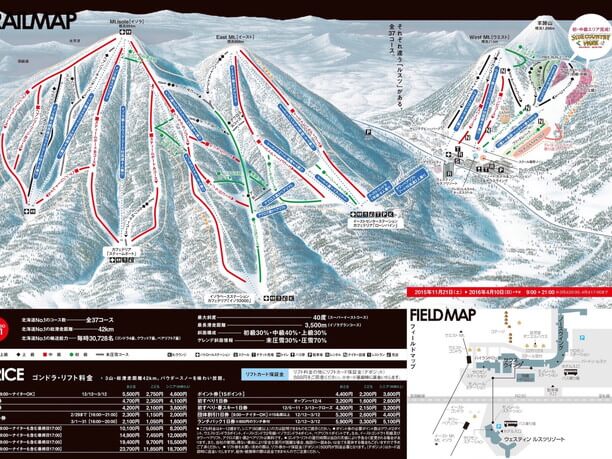 In addition to Skiing you can enjoy their playground and illumination at night!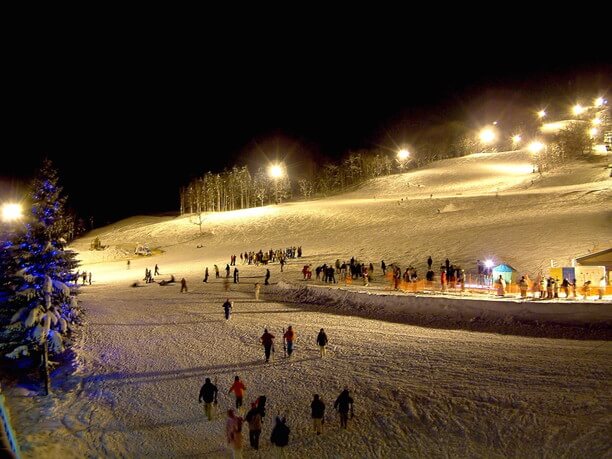 Across the road on the other side of "East" and "Isola" there is the "West" mountain. Here you can enjoy cruising while watching the ferris wheel which is a landmark of Rusutsu. This area is open at night with night lighting and
offers a very romantic atmosphere that is quite different than the daytime atmosphere.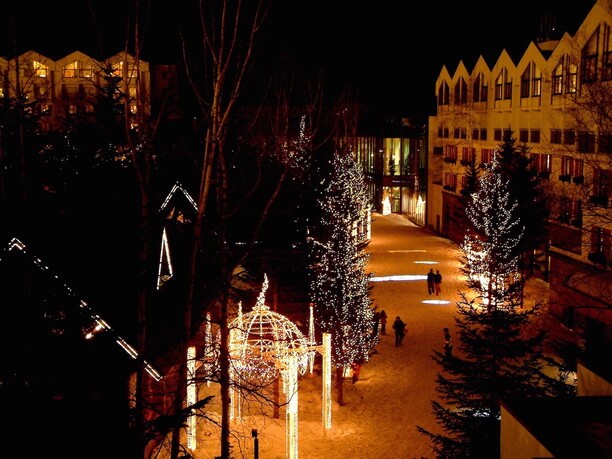 If Isola and East Mountain are considered the serious ski areas, the West is more like the "resort!"
Back-country park skiing at Rusutsu!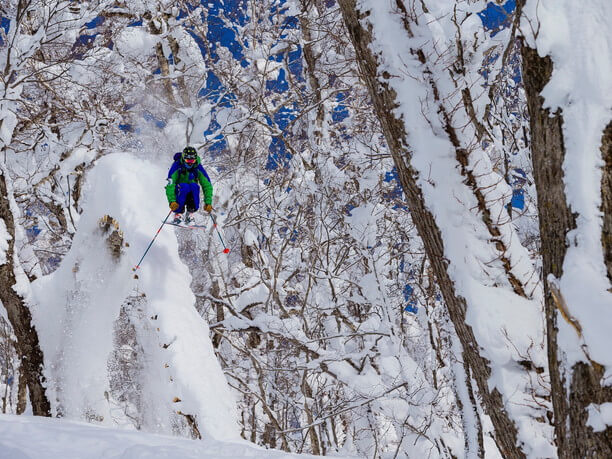 The West has a popular advanced skiing, tree run area, "side country park." It is covered with snow, trees and jumps. It is an idea course for advanced skiers who enjoy challenging skiing in nature!
The West has a children's area and a play park that is enjoyed by children and adults. As well as runs for beginners to advanced. They also have ski-in accommodations just around the corner.
There are several women-only services!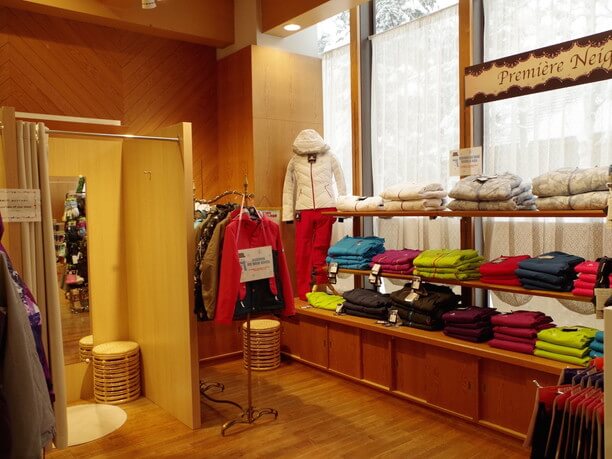 There are some women only services in the Rusutsu resort ski area. For example in the rental wear area, rental of normal wear (1, 4400 yen), is like shopping at a woman's boutique. It is on the first floor of the north wing. The Neju creates a "shopping feeling" where you can pick your favorite clothing. Though rental rates are somewhat higher compared to regular rental prices, their selections are fashionable and cute!
There is also a spa for women only. You can have a facial treatment with "AVELLA." (40 minutes for 6480 yen ). It is on the second floor of the high tower. Enjoying the feeling of being immersed and surrounded by pleasant smells.
Summer's panorama terrace brings you to the clouds!
Winter in Rusutsu is charming, but summer is also overflowing with charms of its own.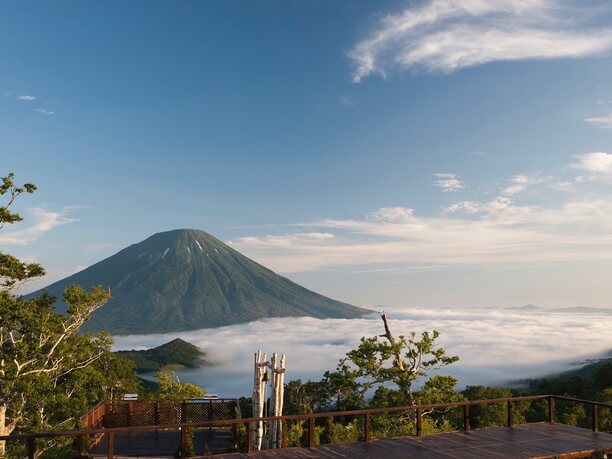 The pure dark green of view of summer as well as the amusement parks and outdoor activities, makes Rutusu one of Hokkaido's leading summer scenic spots! As the Spring snow melts Yotei panoramic terrace opens near the summit of the West area. You can enjoy the view of the cloud covered Mt Lead and 360-degree panoramic views of natural phenomena. Whether you come in the winter or the summer, I'm sure the charm of Hokkaido's popular scenic spot will impress you!
Smart tip
There is a free shuttle bus that runs daily during the season from Sapporo station to Rusutsu. Reservations are required. There is also a bus from New Chitose Airport (charges apply). Reservations 7 days in advance are essential.
Hands-free visits are recommended. Available as a WEBsite exclusive, these limited edition one-day "at ski Pack ' offer one-day tickets and rental full set for 17,750 yen. Download your request from the WEB-only form, fill out and bring with you.
Located close to the ski area and on the way from the Sapporo district is "Mushroom Kingdom." It is a spot you will want to take a detour to enjoy their mushroom soup for only 108 Yen! It's cheap, delicious and hot!
What's interesting
Rusutsu and Niseko and approximately 30 minutes by car, Positioned on opposite side, they are both world class resorts. Rusutsu is not as crowded as Niseko!
Rusutsu resort ski area
Spot name(Ja)

ルスツリゾートスキー場
Address

13th Street Izumikawa Rusutsu-Mura Abuta-gun HokkaidoClick
Address(Ja)

北海道虻田郡留寿都村字泉川13番地
Telephone

0136-46-3111
Price

Lift 1, 5800 Yen ~
Open

9:00 a.m. to 9:00 p.m. (from 3/1 until the end of March 8:00 p.m.)
Close

During the season without (and when absolutely necessary due to weather).
Parking lot

Is
Note

HP : http://rusutsu.co.jp
* Price varies according to the season. For more information, please check the official website.