Enjoy a quiet time in the "Yue" Surrounded by the smell of coffee beans.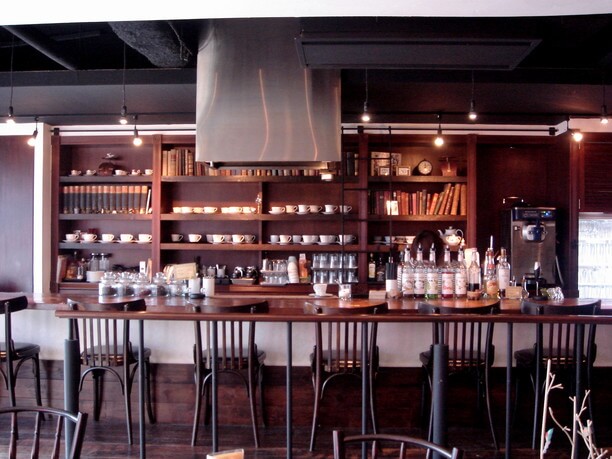 Café et craft Yue (Yue) has a quiet, adult atmosphere serving coffee and sweets. Time will slip by and you may forget you are right in front of the Sapporo station (札幌駅) as you enjoy a coffee in this pleasant atmosphere.

Enjoy the pleasant atmosphere at "Yue!"
You can forget the hustle and bustle of Otaru outside and climb to the 9-floor of the Sapporo Center building located on the corner between Susukino, and Main street.
Café et craft Yue basically offers a collection of shopkeeper, Ms. Asami Wakatsuki favorite things.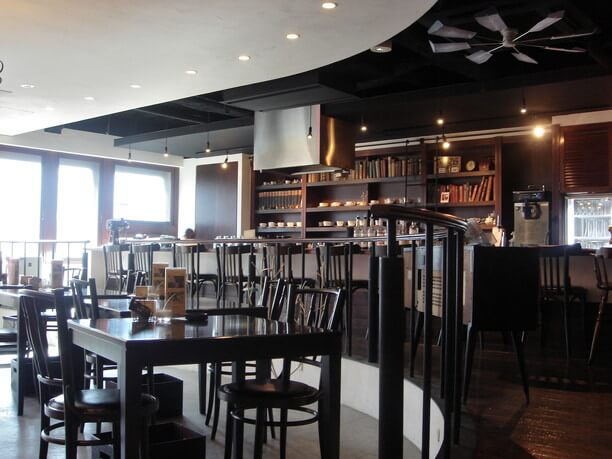 The interior of shades of deep wood create a sophisticated adult relaxed atmosphere.
Behind the counter and along the walls there are lots of books such as journals, and chunky books products.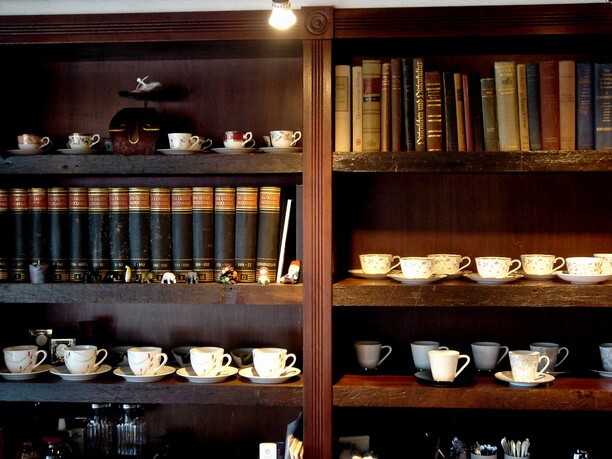 Goods are sold in a corner of the cafe's that Ms Wakatsuki's bought in Thailand and Viet Nam. The items are a collection of distinctive elegance that include retro ornaments and accessories.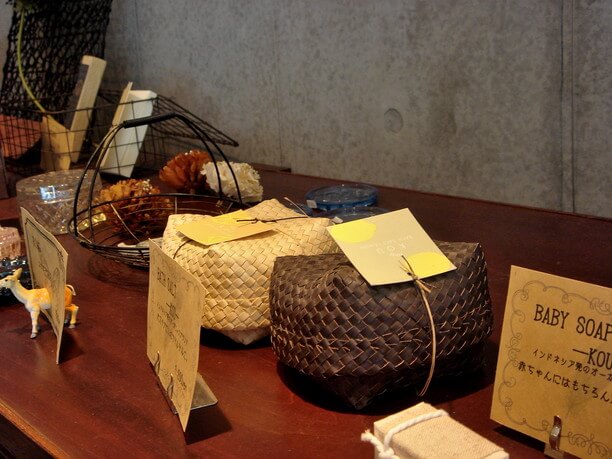 Ms Wakatsuki's says with a smile "If you collect what you like, you will want to make your own place." She made the space comfortable for herself while being sympathetic to customers preferences.
The menu has a variety of thoughtfully selected items.
The menu is filled with Ms Wakatsuki's preferences. She is especially confident of her "Centennial vegetables" meals. All the vegetables she uses are pesticide free. Featured is the salad set with hand-baked biscuits (1000 yen). You can really taste the flavor of the fresh vegetables.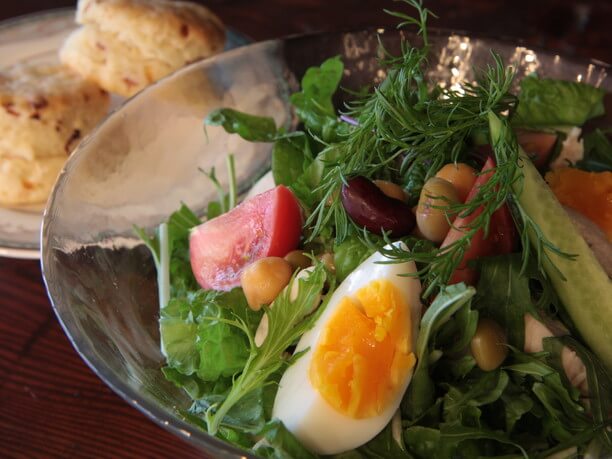 In addition to the selection of vegetables the Yue" has an impressive selection of sweets to go with their delicious coffee. They have 3 to 4 sweets available to include in a sweet and coffee set. Today's cake set sells for 980 yen. All sweets are made without additives.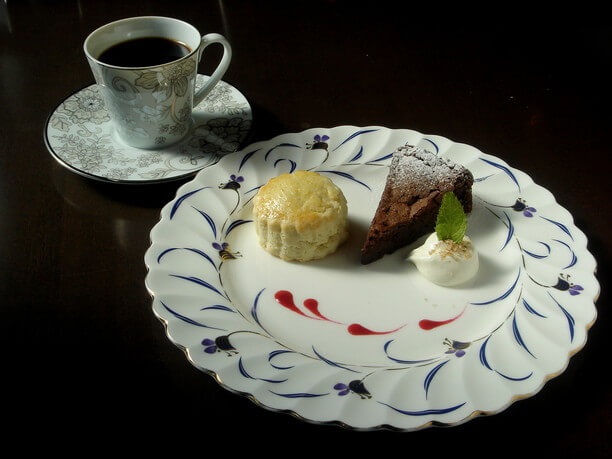 The menu is designed to complement the coffee beans that are selected from infinity coffee of Sapporo. The Beans are roasted in a way that creates a rich balance of bitter and sour, that guests can enjoy in a carefully drip brewed cup of coffee.
Yue boasts a selection of ice cream, including a parfait that has a unique and popular taste.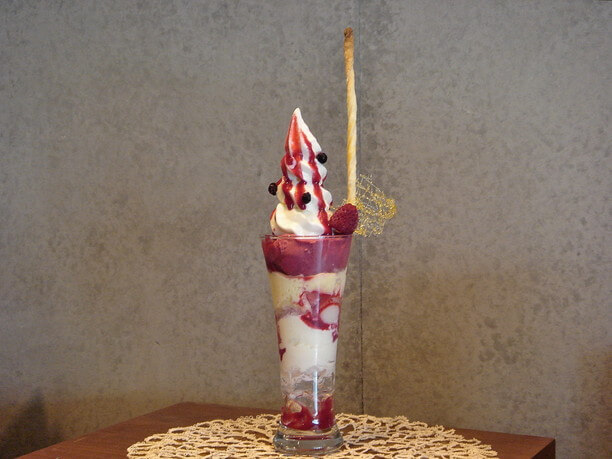 Their original parfait was one of their most popular menu items. (Berry Parfait 980 yen) "you won't get bored with the flavor" says Ms. Wakatsuki. The special ingredient is the soft serve ice cream. It has a simple yet supple full-bodied aftertaste. As each bite melts in your mouth you will experience the rich aroma and taste of milk. Adding even more to the flavor is their delicious homemade sauce. A not too sweet pudding with a unique taste. It is accompanied by a strip of homemade pie.
After a parfait during the day you can stay into the night and enjoy a more adult atmosphere.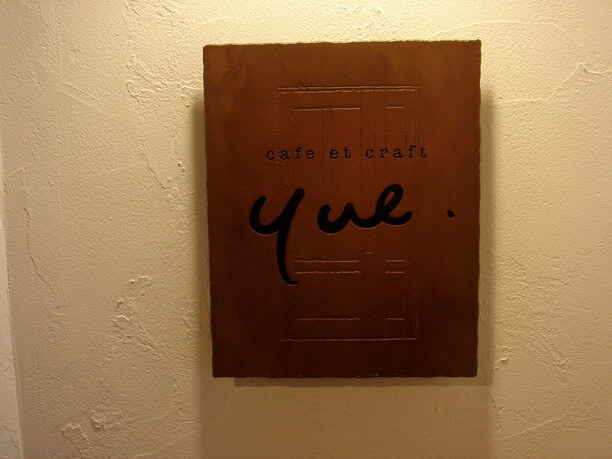 Yue is a leisurely daytime cafe that transforms into a more adult atmosphere with its alcohol menu from 6:00 p.m. By 9:00 p.m. the place is filled by people who want to taste the "sweeter" drinks after dinner. There special "Night Parfait" contains alcohol and is a very popular night time drink (1620 yen). In Chinese Yue means moon. It is a fitting name for this café that changes appearance at night and has a little mysterious feeling about it.
Smart tip
You can book private rooms that are great for families with children.
It can get a little crowded around noon and 5:00 p.m. So if you would like to avoid the crowds visiting between 5:00 p.m. and 9:00 p.m. is especially recommended.
The store is open to 11:00 p.m. it is a good place to come after a night of drinking or to continue drinking with some different "sweeter" drinks.
What's interesting
Events are sometimes held in store. You can find unique accessories and gadgets to buy as souvenirs.
Cafe et craft yue.(Café et craft Yue)
Spot name(Ja)

cafe et craft yue.(カフェ エ クラフト ユエ)
Address

Wakatskiskerr 9F Nishi 4-Chome Minami 3-Jo Chuo-ku Sapporo-city Hokkaido Click th
Address(Ja)

北海道札幌市中央区南3条西4丁目 ワカツキスクエアー9階
Telephone

011-206-7761
Price

¥ 1000 ~ 2000 yen
Open

Week11:30 a.m to 11:00 p.m.
days Sundays-7:00 PM
Close

Wednesday
Parking lot

Without
Note

HP : http://yue-info.com/