A cold out of the way location is what makes the Youbari Film Festival so much fun!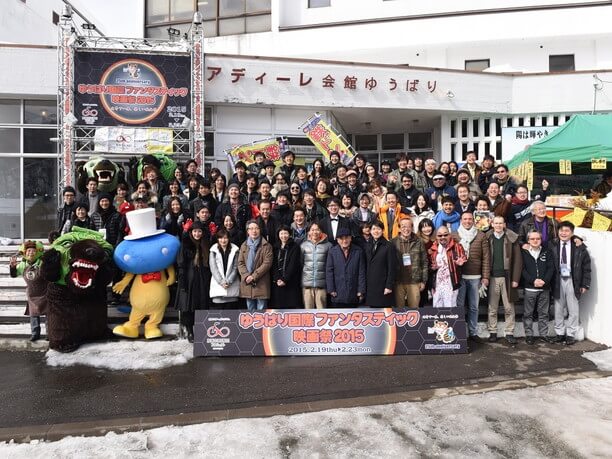 Hokkaido's winters are white and full of snow and ice. It is definitely a cold time in the small town of Yubari. But special events like the Yubari International Fantastic Film Festival (ゆうばり国際ファンタスティック映画祭) make it a great place to be in the winter.
Commonly known as "Youbari Fanta", this event offers screenings of movie blockbusters, classics and rare works. The movie screenings received an unexpected welcome from the locals and guests from around the world who gather and interact.
If you chose to attend, don't forget cold weather wear. At this time of year, the city's average temperature is minus 6 degrees Celsius. From New Chitose Airport, Yubari is 55 km away. It is located 60 km away from Sapporo. Be careful if driving though, snow cover can exceed 3 feet. There is also a limited number of buses from Sapporo, on the JR. line.
It may be cold and inconvenient but that is part of the fun responsible for the festive mood.

In addition to blockbusters there is an attractive and versatile lineup of films.
The Yubari Fanta has a luxurious and diverse atmosphere!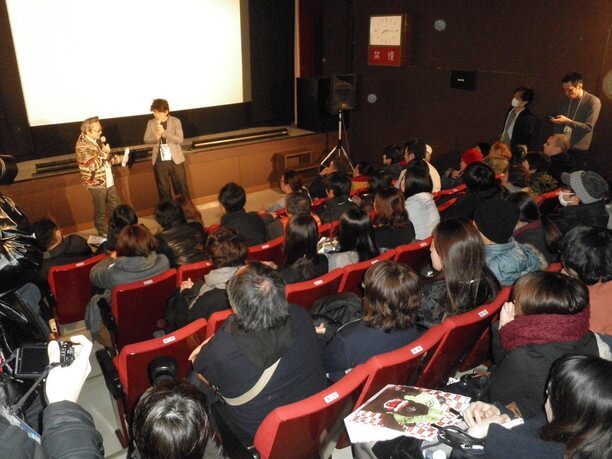 Participants can watch Hollywood blockbusters in Japan before they are released to the general public. The program changes every year, but the list of local public facilities and hotels that show domestic and international short films and features is quite impressive.
The movies include a variety of genres such as Sci-Fi, horror, fantasy, adventure, and action thriller.
This has become a precious place to enjoy blockbusters as well as a place to discover theatrical release that may never achieve a large following.
The festival provides the opportunity to meet your favorite director and actors!
The Yubari International Fantastic Film Festival is a great place for watching movies as well as a great place to get to know the staff, cast members and directors. The festival community is "cold" and "small," which creates the opportunity for specialty outdoor "stove parties."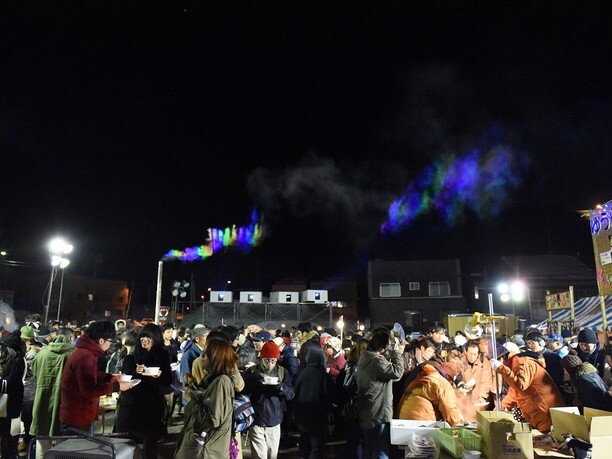 During cold weather, the participants huddled together to enjoy grilled fish and meat!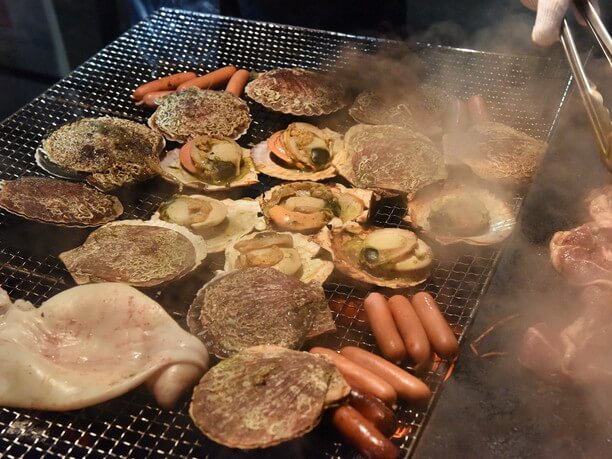 If you join in one of the circles around the outdoor stoves you may notice famous actors or directors standing nearby. You can share drinks, food and stories with important movie people. In addition, there are a limited number of nearby restaurants and accommodations.
If you see a film you like, your praise and encouragement shown to the directors and actors may lead to the creation of another film from them. For first-time directors and actors from this country success at this festival may lead to their work spreading around the world.
Yubari offers a hospitality that will warm your body and heart!
"Welcome home! "" Is not only a phrase that is spoken to the visitors to the International Fantastic Film Festival, it is actually the towns slogan.
Visitors are welcomed with a yellow handkerchief. An idea that was taken from the film masterpiece "the happy yellow handkerchief." It represents the "Yubari flow" of hospitality.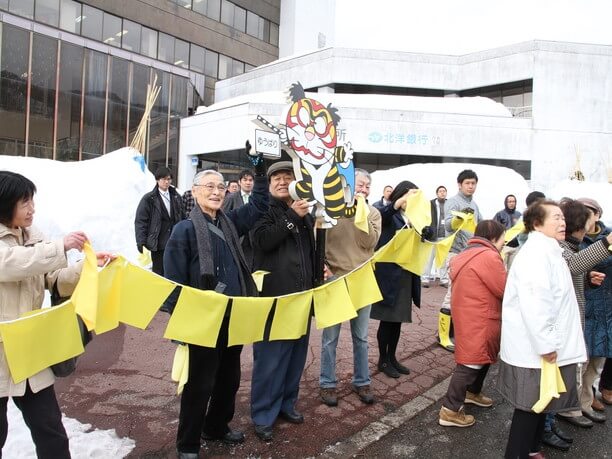 Food booth operated by local residents decorated with the yellow handkerchief line the street. They offer ramen, curry, and other local delicacies that warm both body and soul. While enjoying the food and conversation you will soon begin to feel that Yubari is like a "second home.".
"Film city" Yubari, has been home to the film festival for 26 years!!
Yubari International Fantastic Film Festival celebrated its 26th year in 2016. It has grown steadily due to the fact that they made a lot of movie theaters throughout the town and developed a community firmly rooted in the love of movies.
The main of Yubari near the venues is called "cinema trail." There are many movie billboards marking these very popular spots.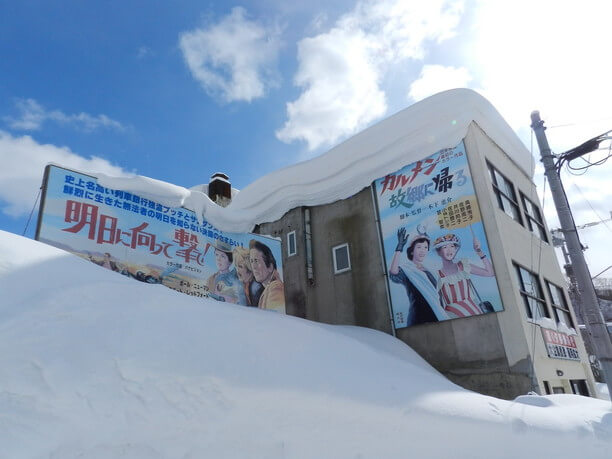 So when walking between screenings, please enjoy the atmosphere of the town.
In 2006, Yubari experienced a "fiscal reconstruction" The Film Festival began receiving assistance from the Japanese government and a non-profit company "Yubari Fanta" was launched to revive the event.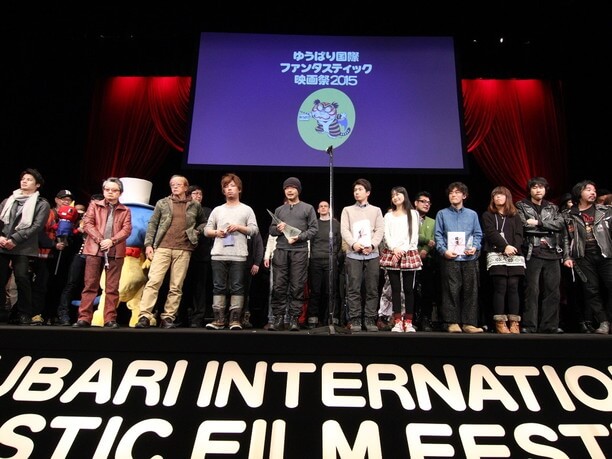 Yubari became known as "film city" and adopted many symbols of the film festival. When you visit, nostalgic smiles and movie excitement will welcome you.
See you on Facebook!
Smart tip
Because the time and place movies will be shown sometime changes during the festival, it is wise to check the website for any updates.
You can buy movie tickets on the day of the show but the accommodations are mostly sold out in advance. It is best to book early!
You can make a donation for the specialty and stove parties and eat and drink for free!
What's interesting
True "movie lovers" feel quite at home at the festival. Instinctively strangers sit next to one another and encounter quite interesting "movie masterpieces."
Yubari International Fantastic Film Festival 2016
Spot name(Ja)

ゆうばり国際ファンタスティック映画祭2016
Address

Hon-Machi 2-Chome 216 (Yubari hotelschoopalo) more Yubari-city Hokkaido
Address(Ja)

北海道夕張市本町2丁目216(ゆうばりホテルシューパロ) ほか
Telephone

0123-57 - 7,652 (Yubari Fanta)
Open

3/2/2017 (Thursday)-3/6 (Monday)
※The year varies date. For more information, please check the official website.
Parking lot

Is
Note