Magic Spice "Sapporo main branch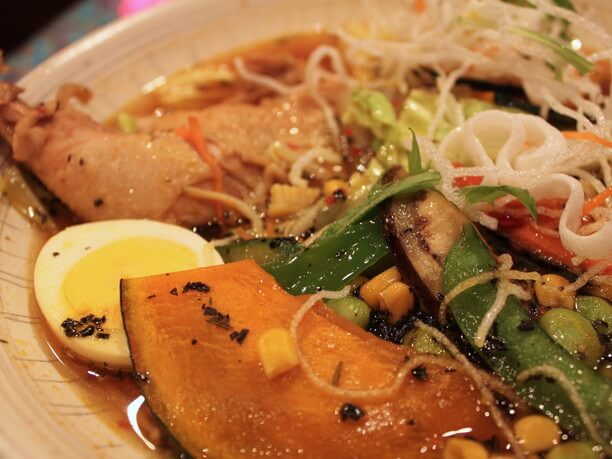 In Hokkaido, Japan in 1993, soup curry wasn't well known. What the people of Sapporo (札幌) did know about was a restaurant called "Magic Spice." Magic Spice had on its menu a chicken soup that had a wide variety of spices,herbs and vegetables.

It has a flavor full of power, and full of beans. It is similar, yet very different from other dishes. It was modeled after an Indonesia cuisine called "Bali style" Soto Ayam Curry. It was named by Sasuyama Shimomura (下村泰山) (the Magic Spice shop owner) "curry."
More than 20 years have passed and now soup curry is well established as a food culture of Sapporo, with countless soup curry shops in Central Sapporo.
Magic Spice claims to have the original soup curry and is frequented by many fans who love the unique taste.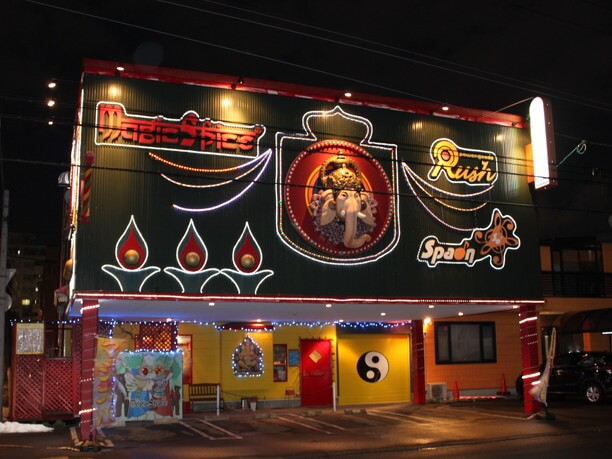 A very popular soup curry!
Their soup curry was very popular at the Hokkaido food fairs, then became a staple at their North Grace Street shop.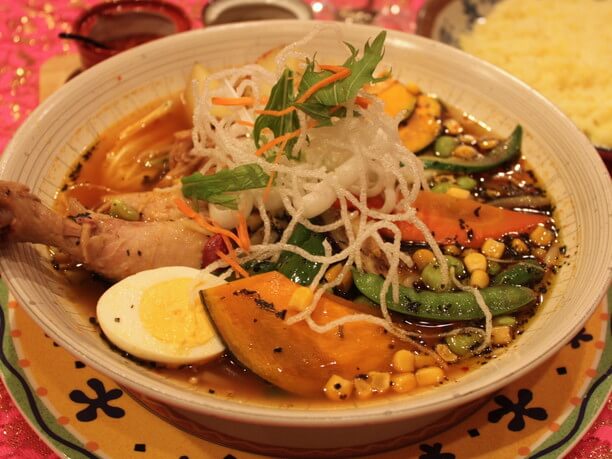 Featured exclusively at their Sapporo head office is a special curry soup that hasbeans, pumpkins, corn, broccoli, cabbage, potatoes, carrots, bell peppers, eggplant, and so much juicy chicken, eggs, and vegetables.
The vegetables are sourced from Shimomura's relatives.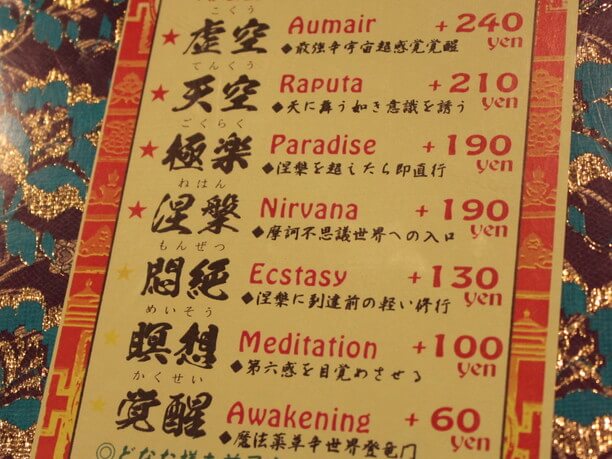 The curry soup comes in 7 stages of hotness. The levels have unique names, such as "Awakening" and "Meditation." If it is your first time trying the soup we recommend trying the "Nirvana." You can further adjust the hotness of your soup with spices that are provided at the table.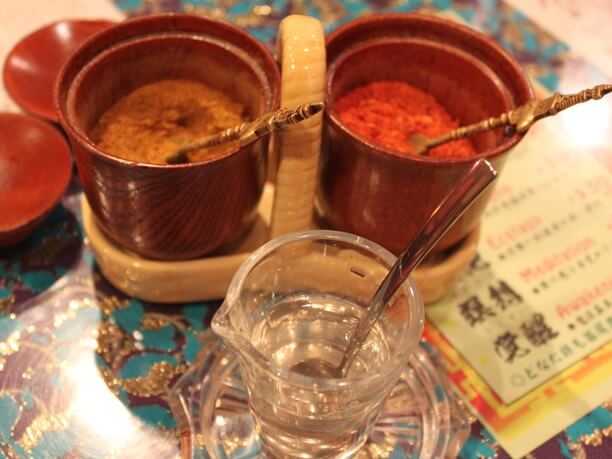 In addition to the spices there is lemon and lime juice available if you wish to create a more sour taste.
Become healthy by eating curry!
Owner Shimomura Taishan's and his wife Keiko continue today as in the past believe their soup to be a source of medicine that can get you healthy by eating the food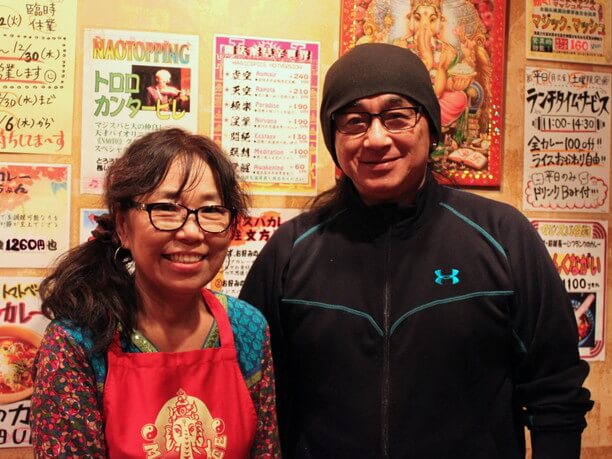 Shimomura's choice of ingredients of spices and herbs was influenced by his interests in curry from around the world, especially curry from Southeast Asia, India and European-style curries. But when Shimomura traveled to Indonesia and ate "Soto Ayam," he knew "this is it! " He patterned his soup curry after it. His exact recipe is kept a secret but you can buy packets of ingredients and take it home and make your own curry soup.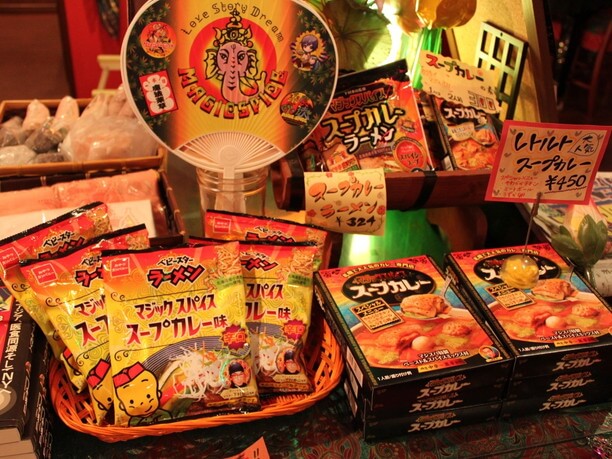 Wow, baby star ramen and curry ramen!
A "holy place" of curry!
As you eat the curry soup it warms your body from the inside out!
If you haven't eaten curry for a while you may be tempted to over eat when you taste this delicious curry. Many fans come to this shop. One of the attractions is the unique atmosphere.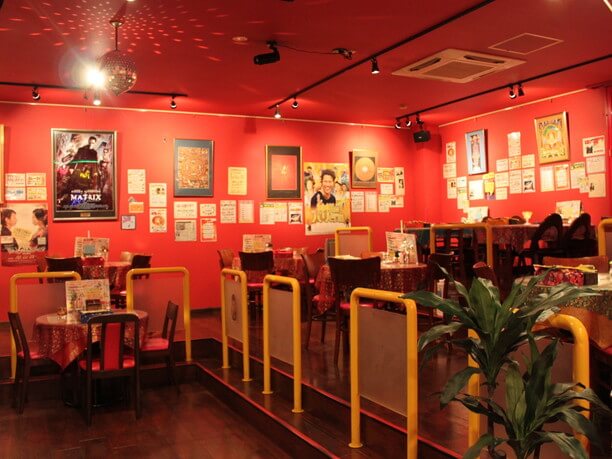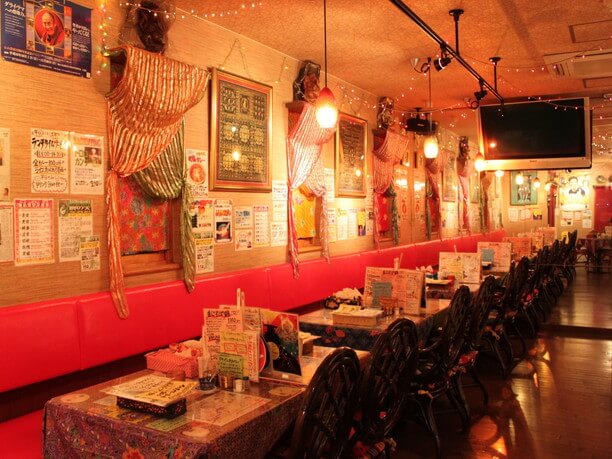 The shop is big enough to accomadate108 people. They run a unique promotion. If a guest comes in wearing one of their t-shirts they can receive an extra topping in their curry soup. By the way the 2015 t-shirt design is pretty cool!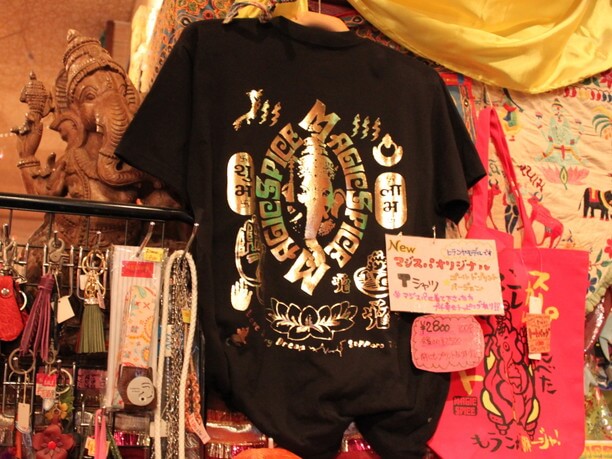 At the entrance there is a cut out for a special photo shoot. It makes for a good commemoration of your visit.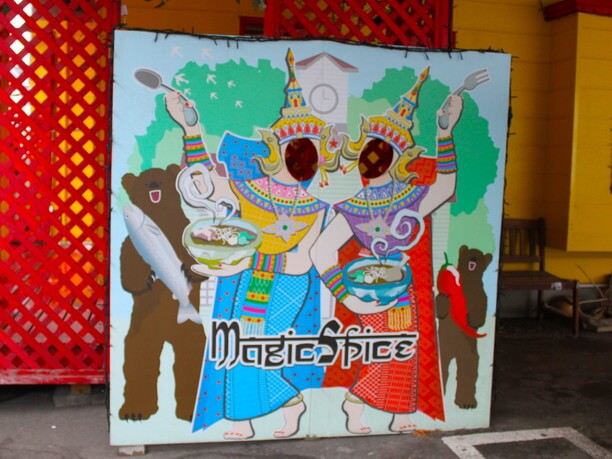 Magic spice is known as a curry soup historical spot. We recommend making a visit to this holy land of curry!
Smart tip
At lunchtime on weekdays (11:00a.m. to 2:30p.m.) the curry soup is 100 yen off the price with free drinks and all you can eat rice.
This Sapporo shop has a limited-edition menu with plenty of vegetables and "long Frank Curry" reputation. The frankfurter is a yard in length.
They also have a Tokyo Shimokitazawa branch, a Osaka-Naniwa branch, and a Nagoya-branch.
What's interesting
You can change the flavor of the rice by adding a little lemon and lime juice. You can eat half of the curry with one type of flavor and the other half with a different flavor.
Magic spice Sapporo branch
Spot name(Ja)

マジックスパイス札幌本店
Address

Minami 6-2 8-Chome Hongo-Dori Shiroishi-Ku Sapporo-city HokkaidoClick the Show
Address(Ja)

北海道札幌市白石区本郷通8丁目南6-2
Telephone

011-864-8800
Price

1000-2000 yen average budget
Open

Lunch-11:00a.m. to 3:00p.m., dinner 5:30p.m. to 10:00p.m. (Monday, Tuesday and Friday)
11:00a.m. to 10:00p.m. (Saturday, eve of public holidays and public holidays).
Close

Water & Thursdays
Parking lot

20 VH (free)
Note