Sapporo Genghis Khan Main Store uses soft hand – cut lamb!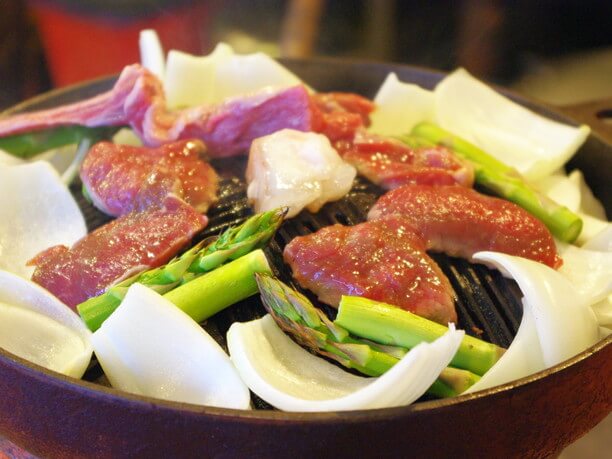 There are several Genghis Khan shops in Susukino (the downtown area of Hokkaido's business district) and "Sapporo Genghis Khan main store" is one of the best!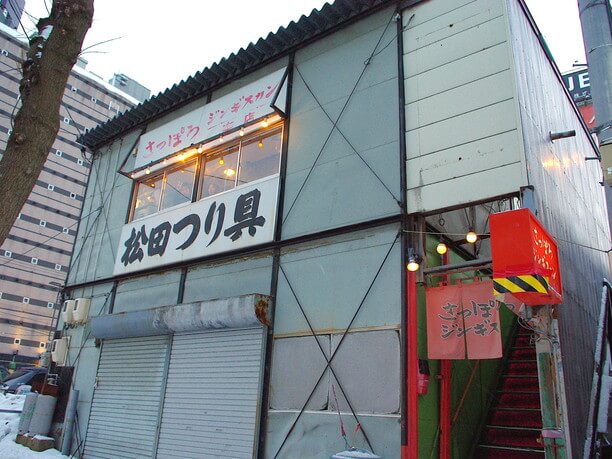 It is 5 minutes on foot from the Susukino Subway Station. It is located above a fishing gear shop. At first glance the shop looks a little rough. But be brave and make your way up the stairs! Then you can enjoy the taste of a well-established store that opened in 1987 and continues to offer a soft raw lamb Genghis Khan.

The menu only offers raw lamb Genghis Khan!
There are only 18 counter seats in the shop. It has an open kitchen where you can see the busy staff working.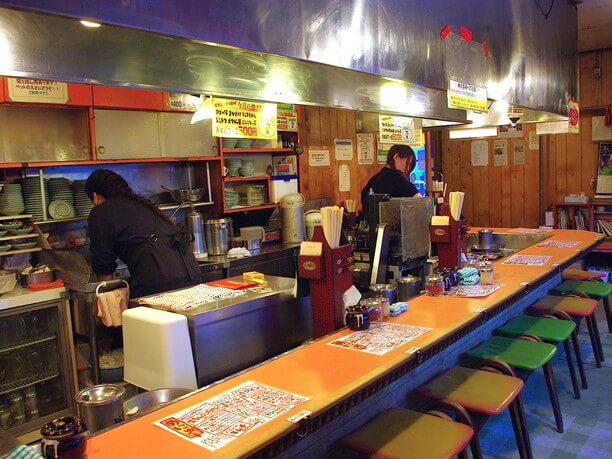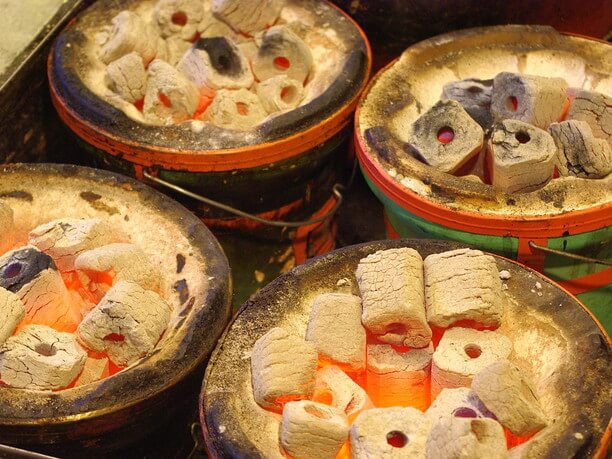 Under the counter there are charcoal grills ready with burning charcoal fires. As soon as you sit at the counter, even before ordering, they place a grill in front of you with a Genghis Khan iron pot on top of it.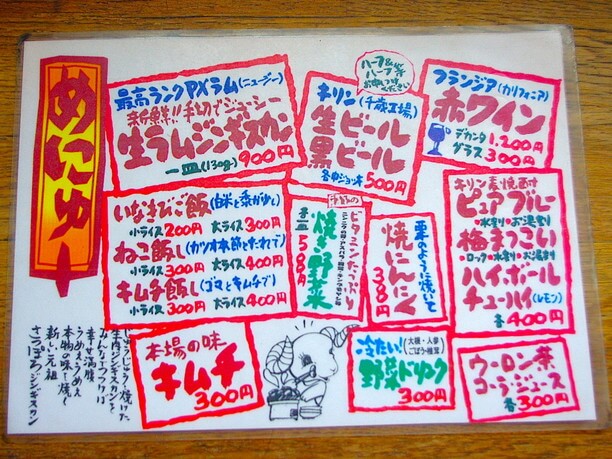 The menu here has only 1 item, raw lamb Genghis Khan (single dish 130 g 900 yen). Although there are some side menus such as grilled vegetables and kimchi, rice.
They offer various parts of the lamb in one dish!
When you order "one raw lamb," the pink lamb meat served in a dish comes out right away. Its bright pink color is proof of the freshness of the meat!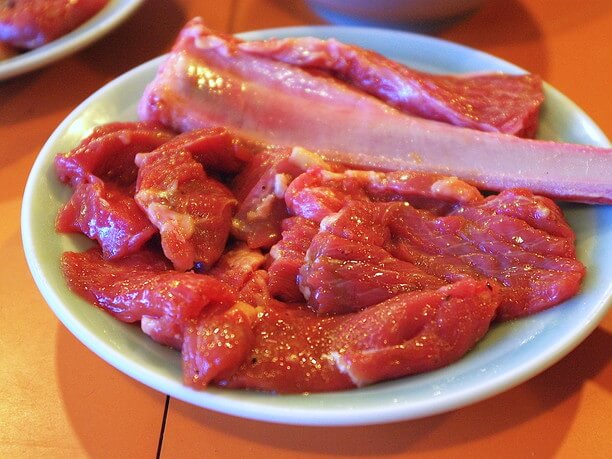 Various parts of the lamb such as lean red meat, roast, and lamb chops are assorted in one dish. It is a real pleasure to enjoy the difference. Mr. Takeo Kobayashi (the owner) (小林武央) says, "for first-time lamb eaters I offer various kinds of meat for them to try."
Grill it with charcoal fire and eat it with theirspecial sauce!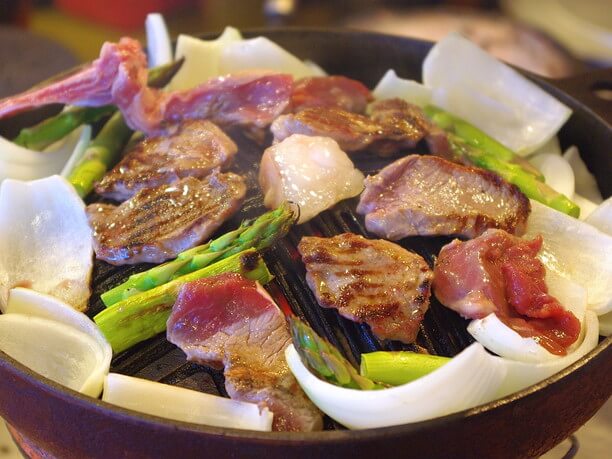 You first put the meat in the middle of the pot in a mountain shape. The theory is to cook the vegetables in the groove below and bake the meat in the center. The iron pot heated with charcoal fire prepares the food quickly. You just grill the meat, put on the special sauce, and eat!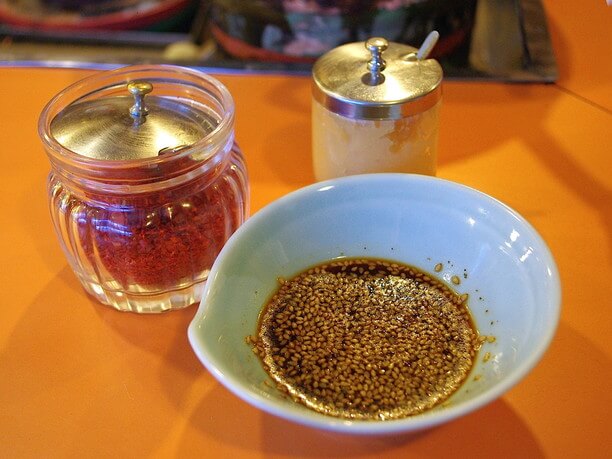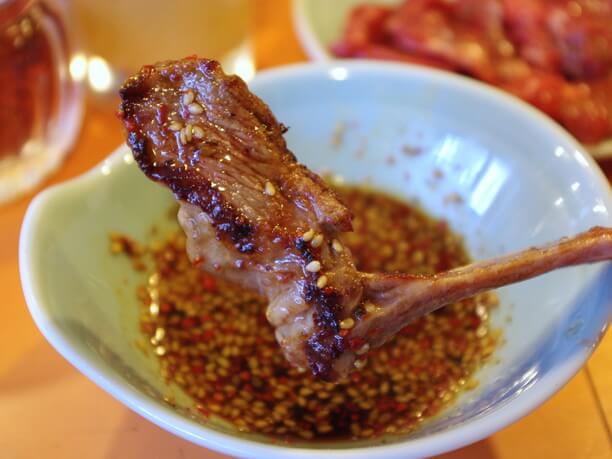 Their homemade sauce contains plenty of soy sauce and sesame and creates a complicated and deep taste with seaweed, fish powder, ginger, dried shrimp and dried shiitake mushrooms, and spices such as basil and cloves. It is recommended to put Korean chili and grated garlic in for an even more spicy flavor!
All their soft lamb is hand cut!
Sapporo Genghis Khan is offering the highest ranked lamb from New Zealand. Mr. Kobayashi says, "What makes the lamb so deliciousness is that it is soft and it does not have a bad smell. That is because he serves it fresh and hand cuts the lamb and removes the excess fat.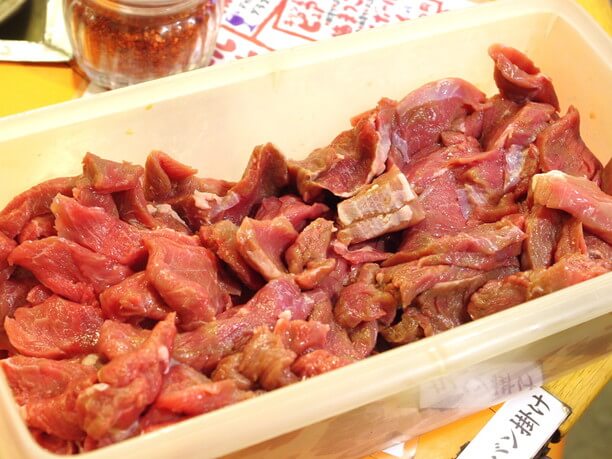 All meat is hand cut. Because the owner knows how to cut it, the meat he serves is soft, juicy and not bad smelling!
Enjoy eating meat and rice with alcohol!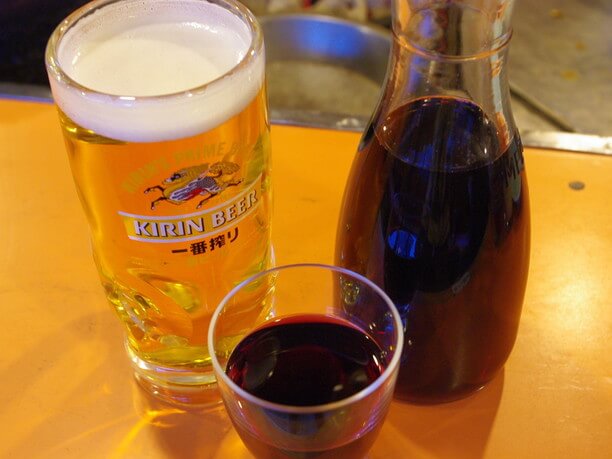 It is best to enjoy the meat with rice and alcohol. Of course, there is beer to drink, but red wine also goes well with the lamb!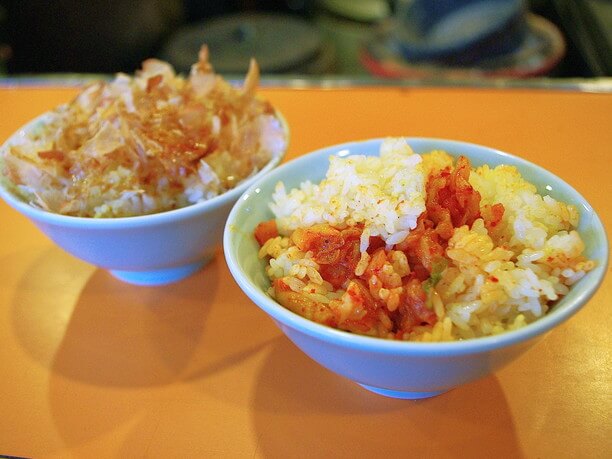 For those who want rice, they have Neko rice and kimchi rice (small 300 yen, large 400 yen). Neko rice with dried fish powder and grilled meat sauce has a slightly sweet taste. The kimchi rice is flavored with authentic kimchee and sesame seeds. Also, you can add Jasmine tea to the remaining sauce after you eat all the meat and make a delicious soup you can enjoy.
Smart tip
If there is a part of the meat that you like best you can request more of that particular type when you order.
Meat is cut only for that day's use, so it may be sold out before the business hours are complete. So when you plan on visiting late, call ahead to make sure they are still serving!
The smell of the cooking meat can get on your clothes and in your hair. You may want to bring a portable spray to cover up the smell!
What's interesting
Do not bake too much, do not burn, eat it before it cools, are the Genghis Khan's iron rules. At Susukino's crowded popular Genghis Khan shops, it is polite not to take a long time eating or stay long afterwards.
Sapporo Genghis Khan Main Store
Spot name(Ja)

さっぽろジンギスカン本店
Address

Nishi 6-chome Minami 5-JoChuo-ku Sapporo-city
Address(Ja)

札幌市中央区南5条西6丁目
Telephone

011-512-2940
Price

Average budget 2,500 yen
Open

5:00 p.m. - Last order 9:30 p.m. (closed as soon as the meat is sold out)
Close

Irregular holiday
Parking lot

None