Matsuo Genghis Khan's Matsujin Sapporo station branch serves an amazing Genghis Khan!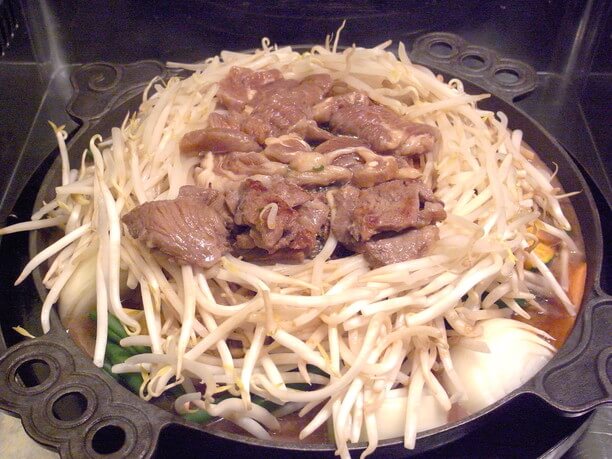 In 1956, Mr. Matsuo opened a sheep meat specialty store in Takigawa City(滝川市). This long-established store originally gained tremendous popularity in the Sorachi area and gradually spread, serving Genghis Khan throughout Hokkaido.

Mr. Matsuo saw an opportunity to sale his Genghis Khan in the Chikaho (underground walking space) that goes from Sapporo station to Odori station. He put his shop in the Sapporo Ekimae shop in the center of Sapporo. There are many female customers in this stylish store.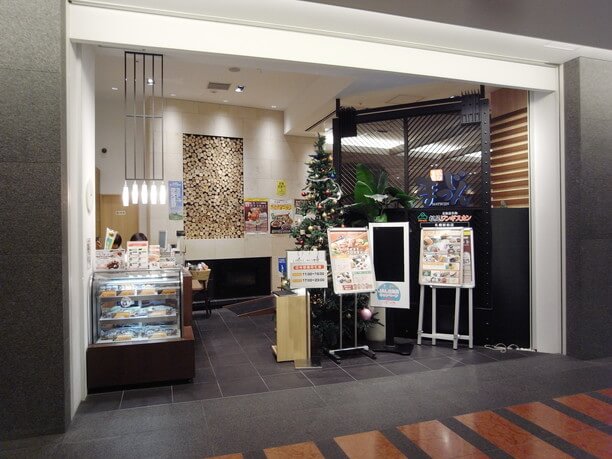 It has both easy access and reasonable prices. You can eat Genghis Khan as a sperate serving or as an all you can eat and drink special!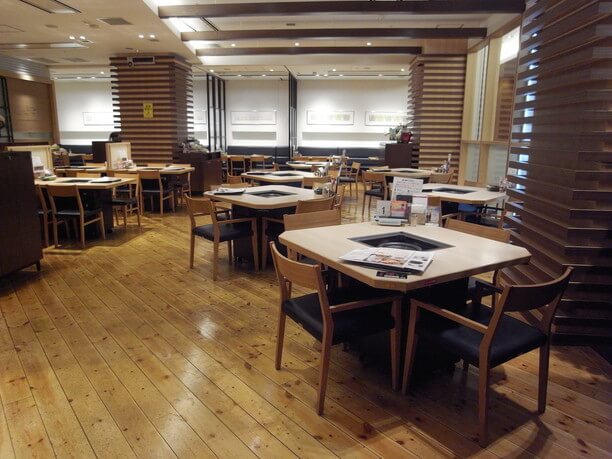 Whether for lunch or as a dinner time, all you can eat special, you will feel this "Hokkaido!" experience.

Don't overcook your Genghis Khan! medium rare is very popular!
Matsuo Genghis Khan soaks its sheep meat in a special sauce. The soy sauce based sauce was created to cover up the flavor of the lamb with the flavor of vegetables and fruits. Over the years the flavor of lamb and mutton has changed to a more sweet meat without any bad smell.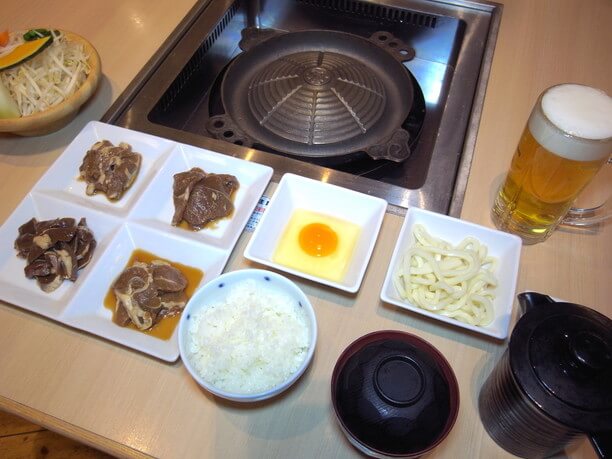 We recommend the Nikuyaku (2989 yen) It is Genghis Khan with 4 kinds of meat in one set. It has high-quality lamb, regular lamb, lamb heart, and mutton. Also in the set are rice, miso soup, udon, and a drink! It also goes well with alcohol such as draft beer.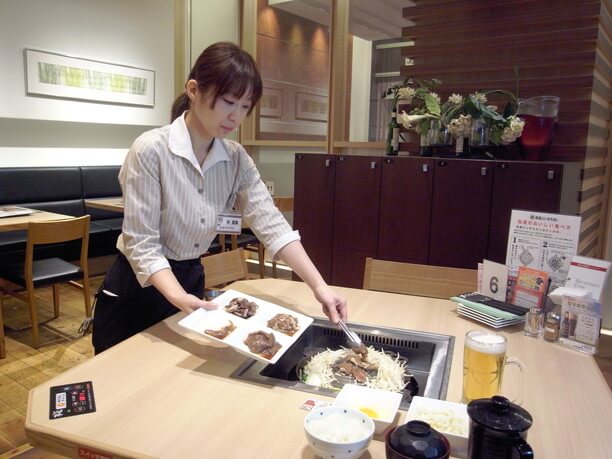 When the pot warms, place the vegetables on the meat, and put the meat in the warm pot. Then wait while it cooks. If you are a beginner ask a staff member for assistance!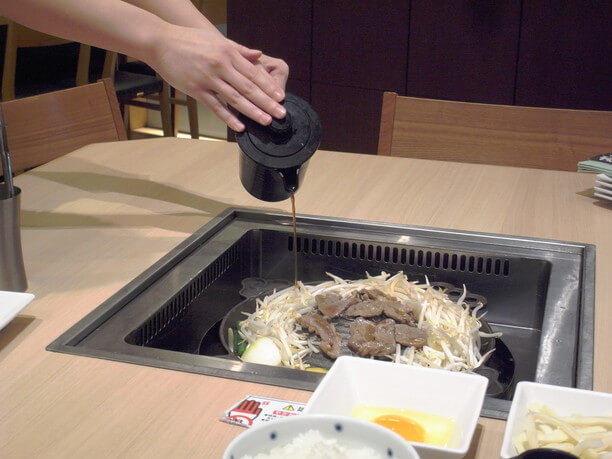 When the color of the edge of the meat changes, turn it over quickly. Do not bake it too much longer after turning it over. Medium rare is the best way to prepare this meat.
Their side menu dishes are also very satisfying!
When you come to Matsuo Genghis Khan you may be tempted to only eat Genghis Khan. But you should definitely try other things on the menu. It is all so delicious. A highly recommended side menu item is lamb carpaccio. It is a lamb topped with palmigianese cheese.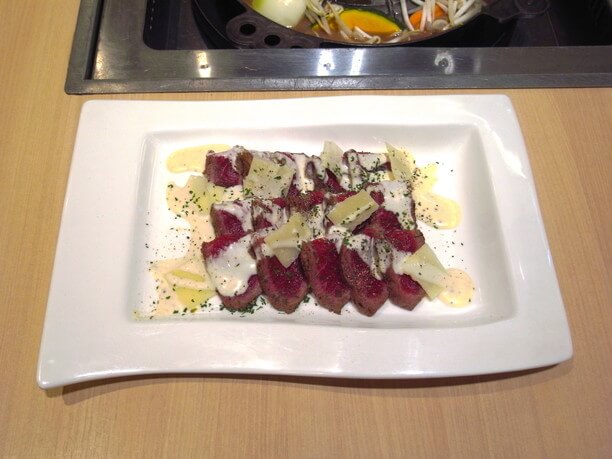 For meat lovers there is lamb steak with lamb chops! The strong taste of the lamb goes well with wine and beer.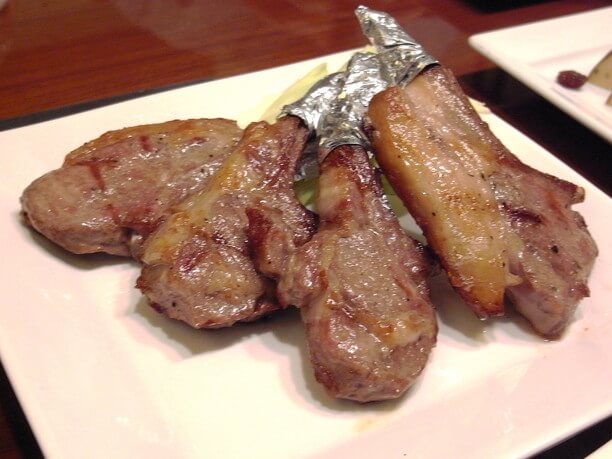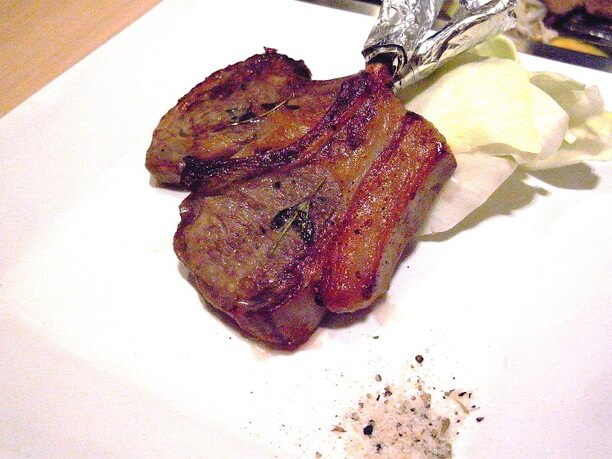 The bottom picture is of the salted lamb steak. This item is exclusive to the Minami 1-jo branch and the Sapporo station branch only. But you can order the regular and salted steak and compare the taste!
You can order udon (noodles) with your Genghis Khan!
For lunch we recommend Nikuyaku (2,989 yen) It has 4 kinds of Genghis Khan served in one set. For dinner we recommend you enjoy the all-you-can-eat special! The-all-you can-eat menu at Matsujin Sapporo store has 3 types.
1, Muton Genghis Khan All-you-can-drink 4,000 yen (100 minutes)
2, All-you-can-eat lamb Ghengis Khan All-you-can-drink 4,500 yen (100 minutes)
3, Lamb rib Roast Genghis Khan All-you-can-drink 5,000 yen (100 minutes)
If you order set #2 you get food from set 1 and 2. If you order set#3 you get food from set 1,2 and 3.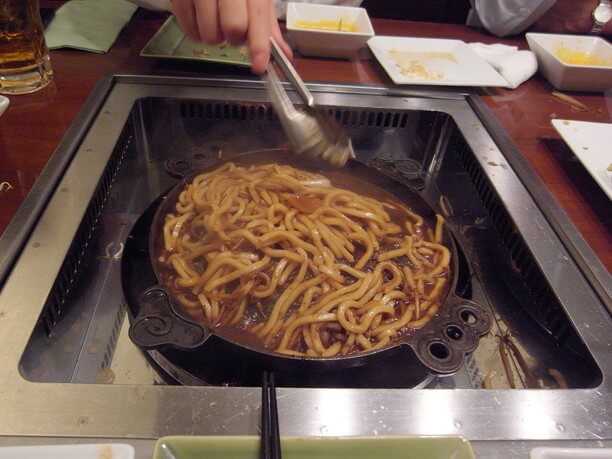 If you are interested in the Genghis Khan, but you want to eat more carbohydrates, you can get yours with rice and noodles. The all-you-can-eat menu includes udon, baked lamb and mutton! The lamb and mutton 's meat juice gets soaked up by the noodles and tastes delicious!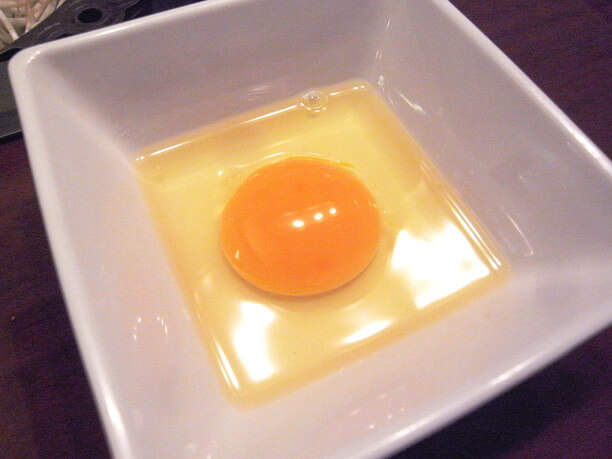 When eating meat or udon, you can eat it with raw eggs and it tastes like sukiyaki, which makes it even more delicious. Even when you eat Genghis Khan, it is delicious when you put egg on it. So be sure to try eating sukiyaki style!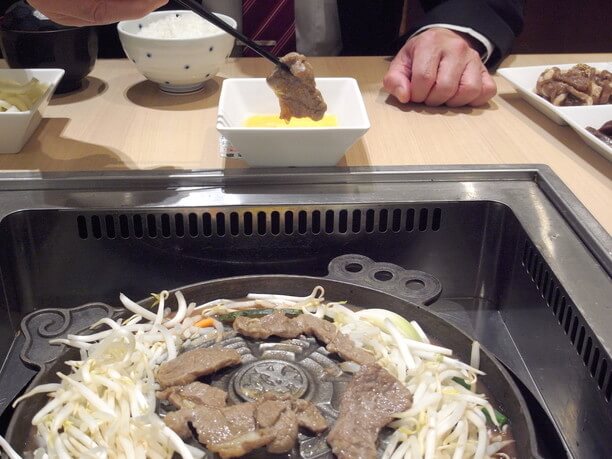 You can buy a souvenir pot and take it home!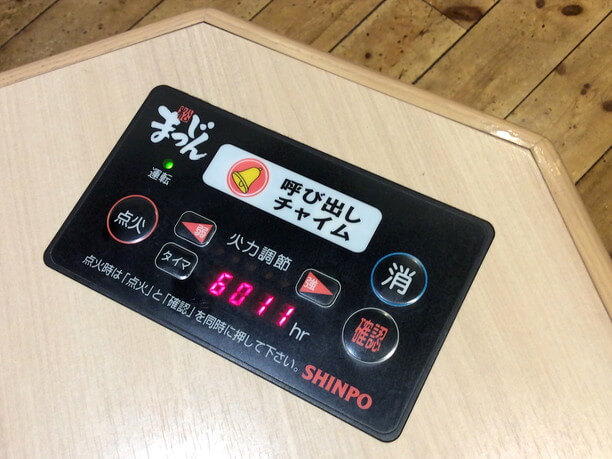 In the past, Genghis Khan was cooked in the Toriwa and later in a gas stove.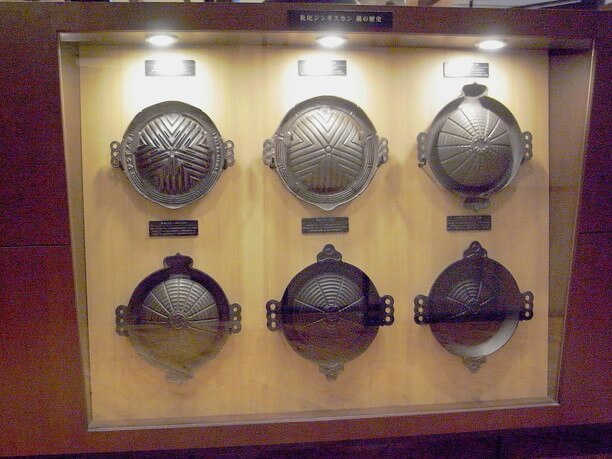 Numerous pots from different ages decorate the store. You can see how the pots have changed over time. You can see the ingenuity used to bake delicious Genghis Khan in different eras.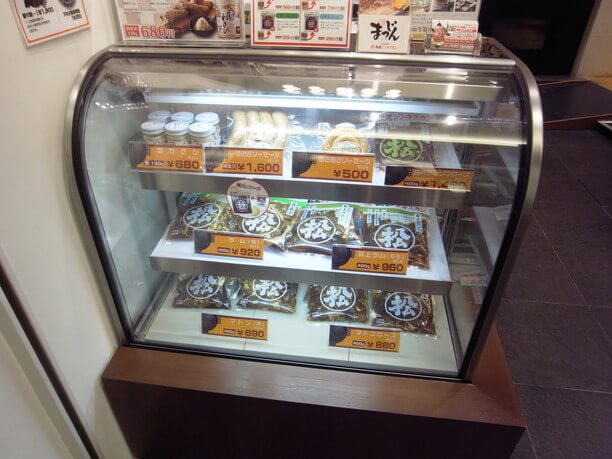 Genghis Khan is sold in packages for souvenirs at the New Chitose Airport. But Matsuo Genghis Khan also sells mutton so we recommend buying your souvenirs from the store.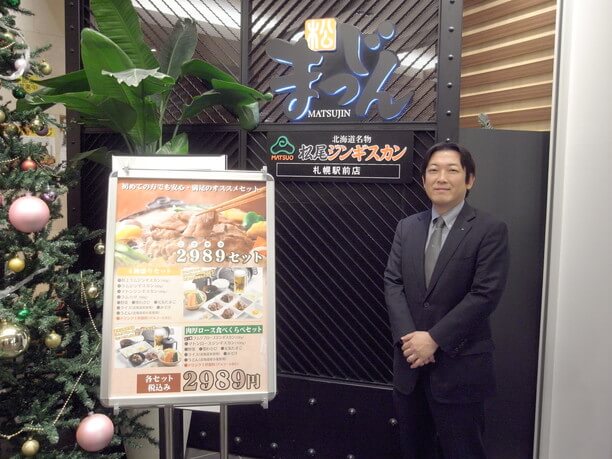 Now Matsujin Genghis Khan also appears in the local school lunches in Takigawa. Yoshihiro Matsuo(松尾吉洋), shown smiling in front of the signboard, will continue to keep the traditional taste available. In December of 2015 he opened a new store at the New Chitose Airport food court, so that many tourists can enjoy his Genghis Khan.
Smart tip
In addition to the all-you-can-eat, 4 types of Genghis Khan can be enjoyed as the Nikuyaku (2989 yen) This reasonable price 4 Genghis Khan set is unique to the Matsujin store.
The store opens at 11:00 a.m. Get in early because it gets crowded near noon. It is best to make reservations for dinner.
Salted lamb steak is only available the Minami 1-jo branch and the Sapporo station branch.
What's interesting
The fine lamb is soaked in a soy sauce base made with secret ingredients that include apple and onion. I think that Genghis Khan fans would also like the taste of mutton (meat of one or more old sheep).
Matsuo Genghis Khan Matsumi Sapporo Ekimae Store
Spot name(Ja)

松尾ジンギスカン まつじん札幌駅前店
Address

B 1 Nippon Life Sapporo Building 1-1 Nishi 4 chome Kita 3 Jo Chuo-ku Sapporo-city
Address(Ja)

札幌市中央区北3条西4丁目1-1 日本生命札幌ビルB1
Telephone

011-200-2989
Price

2.500 to 4,000 yen
Open

Lunch · 11:00 a.m. to 3:00 p.m. (Last order 2:30 p.m.)
Dinner 5:00 p.m. to 11:00 p.m. (Last order 10:30 p.m.)
Note
Matsuo Genghis Khan Matsujin Sapporo Minami 1 Jo branch
Spot name(Ja)

松尾ジンギスカン まつじん 札幌南1条店
Address

Minamikan Building 1F 16-1Nishi-4 chome Minami1 Jo Chuo-ku Sapporo-city
Address(Ja)

札幌市中央区南1条西4丁目16-1南舘ビル1階
Telephone

011-219-2989
Open

Lunch · 11:00 a.m. 3:00 p.m. (Last order 2:30 p.m.)
Dinner 5:00 p.m. to 11:30 p.m. Last order 11:00 p.m.)
Note