10 exquisite Genghis Khan restaurants in Sapporo from the famous to the not well known!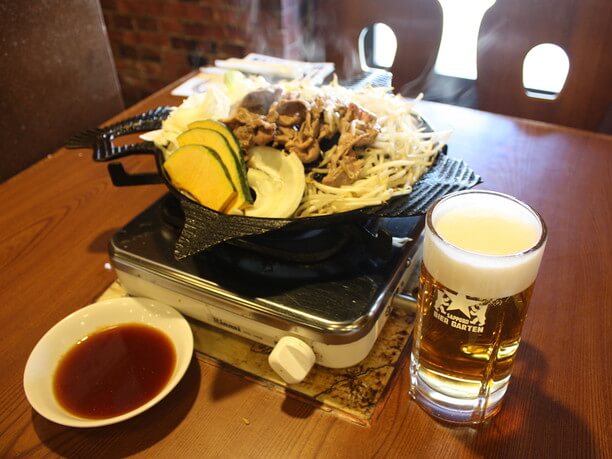 One of the foods Hokkaido is best known for is Genghis Khan. Even though the Genghis Khan's, ingredients, taste, and concepts vary with each store, they all are delicious! We will introduce Sapporo's 10 best Genghis Khan's stores for couples as well as families. You will surely find a shop that suits your needs!

This famous Genghis Khan shop roasts in extra flavor!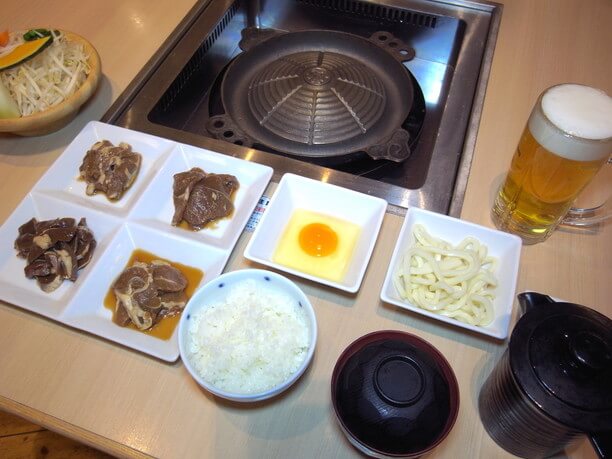 Many female customers come to the fashionable stores at the Sapporo station and many come to Matsujin to enjoy their delicious Genghis Khan at a reasonable price. Recommended are their 4 kinds of Genghis Khan prime set. The set includes Genghis Khan of high-quality lamb, regular lamb, lamb heart and mutton. Included in the set are rice, miso soup, udon, and even a drink. All for only 2,989 yen! Their seasoned Genghis Khan classic is a pot filled with baked lamb or mutton, and noodles! Lamb and mutton 's meat juice and fat are soaked in the noodles. Their classic Genghis Khan is popular, but you can also try eating it sukiyaki style (with eggs)!

【Spot name】Matsujin Sapporo Station Store
【Street address】Nippon Life Sapporo Building B 1 1-1 Nishi 4-chome Kita 3-Jo Chuo-ku Sapporo-city
【business hours】Lunch · 11:00 am – 3:00 pm (LO 2:30 pm)
Dinner 5:00 pm – 11:00 pm LO 10:30 pm)
This shop's owner created a ranch for his Genghis Khan!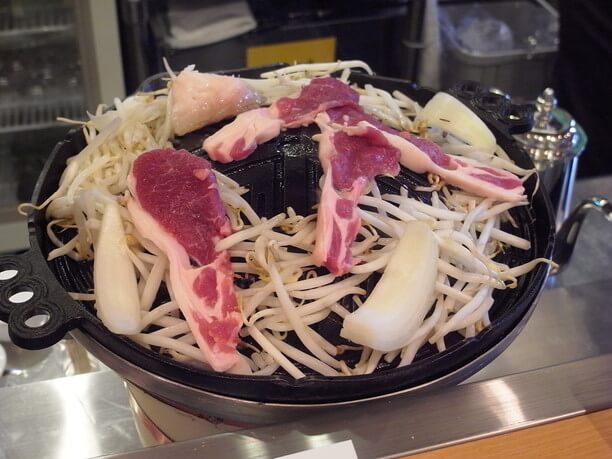 The owner said he has been wanting to open a Genghis Khan store since he was 25 years old. He spent 18 years doing research. Then 10 years ago he started raising Suffolk (black head) sheep. He opened his shop in the center of Susukino, a downtown area of Sapporo, It specialty is delicious sheep meat! He raises his sheep on a quiet mountain rangeland pastureland. They are fed a self-compound feed. They process their meat at their own store, paying close attention to the sauces and pots that they use. Most lamb doesn't have a "nice scent" but his lamb have no strange scent at all. It smells so good cooking, and looks delicious.

【Spot name】Itadakimasu
【Street address】Nishi 5-1-6 Minami 5-Jo Chuo-ku Sapporo-city
【business hours】11:30 a.m. to 3:00 a.m. (LO late night at 2:30)
Sunday, holidays, last day of consecutive holidays 11:30 a.m. to 11:00 p.m. (LO 10:30 p.m.)
Enjoy this Sapporo Genghis Khan with its original sauce and salt!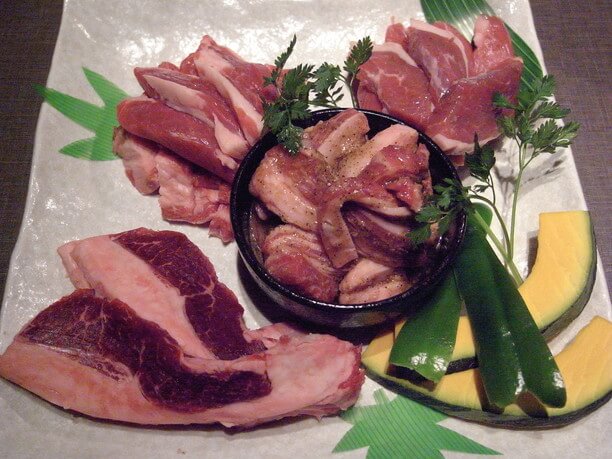 Inside the shop there is soft lighting allowing you to have a beautiful night view of Susukino. It creates a soothing, healing space. They use carefully selected meat and bring out the meat's delicious taste with hand-cut pieces. There are four recommended types of meat in their "Yozojin set:" Australian produced mutton, Australian-made lamb, raw lamb produced by contract farmers in Shibetsu city in Hokkaido, and Genghis Khan with salt. The lamb used for the Genghis Khan with salt is seasoned with their secret sauce that creates a tasty, firm piece of lamb. Even though it is a thick cut, it is still soft, and perfect for rice! It is served with vegetables and onions, which are condensed and soaked in with the meat.

【Spot name】Yozora No Genghis Khan
【Street address】 Keiai Building 5F Nishi 4 chome Minami 5-Jo Chuo-ku Sapporo-city
【business hours】5:00 p.m. to 1:00 a.m. (LO late night 12:30 a.m.)
All-you-can-eat and drink beer and Genghis Khan at this famous sightseeing spot in Sapporo!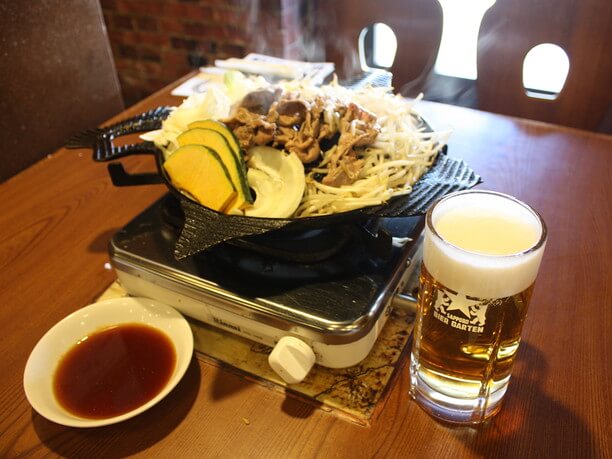 At Sapporo Beer Garden Genghis Khan Hall, they have an all you can eat and drink plan. The all-you-can-eat and drink plan includes several Sapporo draft beers and is overwhelmingly popular. At their lilac pavilion you can choose from 3 different all you can eat plans: 1) Choose from 3 different ways to have the meat prepared: with salt, soy sauce, or pickled vegetables. 2) Choose 6 of the 8 different flavors from: soy sauce · salt · pickles · herb · garlic salt · spicy miso · seasoning of this month · Genghis Khan pork 3) You get all 8 flavors. You can also get all kinds of a la carte dishes such as grilled vegetables, salads, octopus, lam munchi cutlets and pickles, as well as other types of meat. Women can relax and eat lilac palms with plenty of vegetables. The shop is 10 minutes by bus from Sapporo station and has good access!

【Spot name】Sapporo Beer Garden
【Street address】2-10 Higashi 9 – chome Kita 7-Jo Higashi-ku Sapporo-city
【business hours】11:30 a.m. to 10:00 p.m.
This exquisite Sapporo Genghis Khan shop has been using the same sauce recipe since 1956!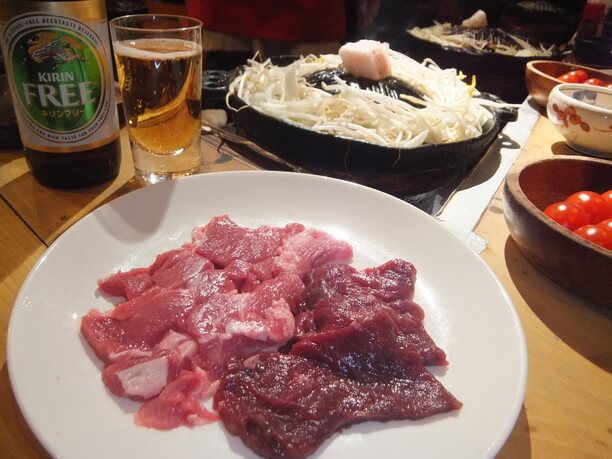 Quality lamb and deer meat are popular menu items at this Sapporo shop! Yamagoya has a long-established old sauce that can be tasted with their Genghis Khan. They serve their Genghis Khan with all you can eat bean sprouts and onions! If you rub the grease into the charcoal-grill you will smell very pleasant aromas that will peak your appetite. Their deer meat is from Hokkaido. It is a bright red, healthy meat with less fat. Their lamb is juicy, soft and deliciously made with their special sauce. Their deer meat also has a soft texture and served with a sauce that enhances the meat's taste.

【Spot name】Yamagoya
【Street address】Green Building 1st Floor Nishi 4-chome Minami 4-Jo Chuo-ku Sapporo-city
【business hours】5:00 p.m. to 11:00 p.m. (LO 10:30 p.m.)
Enjoy this Genghis Khan while experiencing the nature in Sapporo!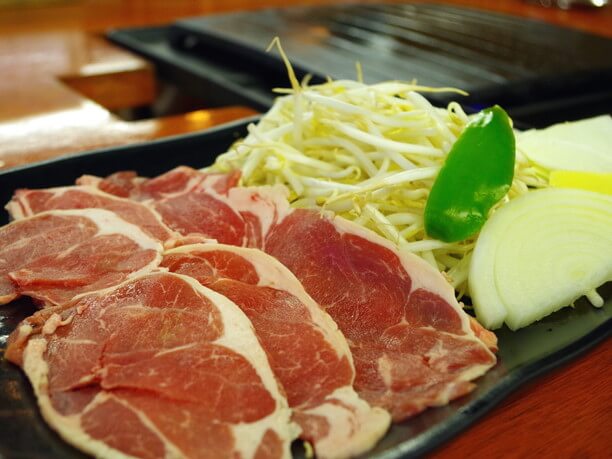 This sightseeing spot in Hokkaido spreads out over a vast pasture in the big city of Sapporo. It is where the "Hitsujigaoka Observatory"is located. You can have Genghis Khan at the "Hikigaoka Rest House". They have lamb Genghis Khan, deer and Hokkaido pork. There is also an all-you-can-eat menu (2,830 yen) for lamb Genghis Khan, for those who want to get filled up! The most popular menu item for lunch is their "Special lamb meat," Genghis Khan set meal (1,980 yen)." The staff will tell you how to prepare and eat it! By steaming vegetables on the meat, the meat will remain tender and have additional flavor. So, come enjoy some of the best tasting Genghis Khan in one of Sapporo's beautiful nature spots!

【Spot name】Sapporo Hitsujigaoka Tenboudai
【Street address】1 Hitsujigaoka Toyohira-ku Sapporo-City
【business hours】April – October 9:00 a.m. to 5:00 p.m.
May June September 8:30 a.m. to 6:00 p.m.
July August 8:30 a.m. to 7:00 p.m.
Enjoy this elegant Genghis Khan grilled with a charcoal fire and served with a special sauce!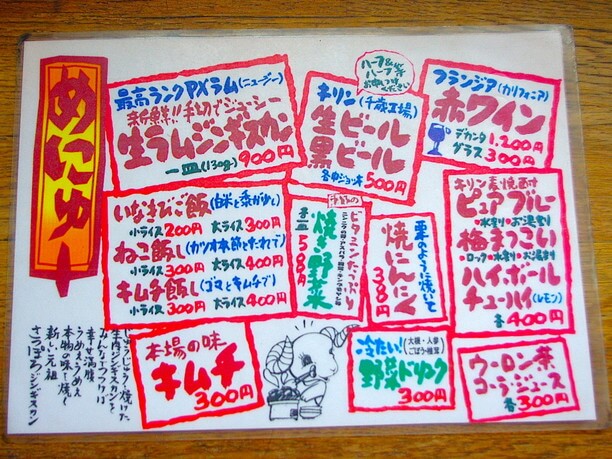 This shop is one of the best in Sapporo! You can enjoy the taste at this well-established store that continues to offer a soft raw lamb Genghis Khan. They serve a healthy portion of meat! (1 dish 130 g 900 yen). They offer various cuts of meat, such as red lean meat, roast lamb, and lamb chops. They are served as an assortment in one dish. So, it is a real pleasure to enjoy the difference. Their homemade sauce, containing plenty of soy sauce base with sesame is recommended. You can also add more flavor with Korean chili and grated garlic! Their meat is of the highest quality lamb from New Zealand. Every part is soft, juicy and delicious!

【Spot name】Sapporo Genghis Khan Main Store
【Street address】Nishi 6 chome Minami 5-Jo Chuo-ku Sapporo-city
【business hours】5:00 p.m. – Last order 9:30 p.m. (closed as soon as the meat is sold out)
Enjoy their juicy, raw lamb and beer in Sapporo!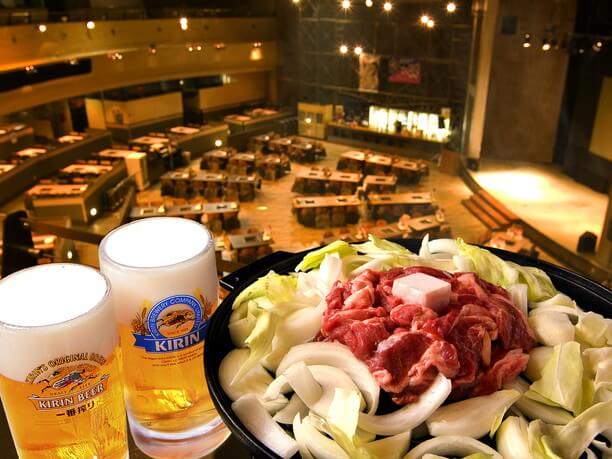 At the Kirin Beer Garden Main Building you can taste their fresh raw lamb Genghis Khan and barreled draft beer directly from the factory. Their juicy and soft lamb is recommended for people who are not used to lamb. Their meat is delivered directly from Australian. The meat is delivered fresh, not frozen and is soft and moist. Their most popular Genghis Khan is served with their specially made sauce (993 yen). It has thickly cut meat that is soaked in the original sauce. The savory taste is soaked in. They also have a shoulder roast (1,080 yen) that is very popular. Their meat is a good balance of lean and fat meat.

【Spot name】Kirin Brewery Main Building
【Street address】1-1-60 Nishi Minami 10-Jo Chuo-ku Sapporo-city
【business hours】11:30 a.m. to 10:00 p.m. (LO 9:30 p.m.)
Their former French chef makes delicious Genghis Khan!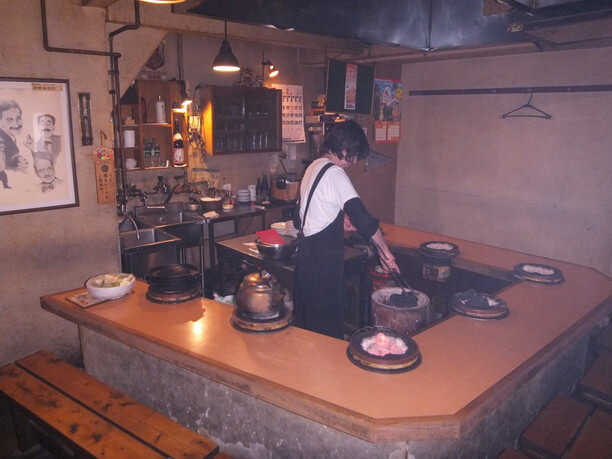 Their Genghis Khan is made with mutton. It is cooked with a wonderful match of simple soy-based sauce with Korean chili, kimchi and grated garlic. Just by placing a small amount of this sauce, causes a deep richness and aroma to spread. Their New Zealand Genghis Khan is rather thick. Yet when trimmed carefully it is surprisingly soft and juicy! An elegant sweet fat brings out the meat's taste. It is recommended for those who do not usually like sheep meat and are not used to the Genghis Khan's smell. Try the deliciousness of mutton that is different from lamb!

【Spot name】Arco
【Street address】 Tanukikoji 7 7-7-3Nishi Minami 3-Jo Chuo-ku Sapporo-city
【business hours】5:00 p.m. to 10:00 p.m. (LO 9:30 p.m.) Sunday closed at 9:00 p.m.
Enjoy this Sapporo gourmet store where you can get Genghis Khan with fried noodles!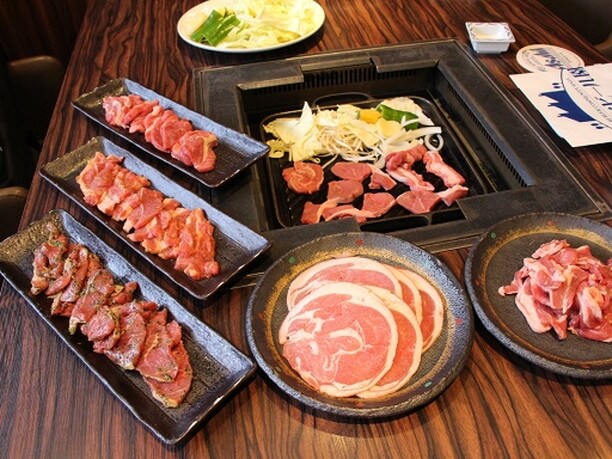 Asahi Beer Garden Shiroishi has three restaurants. The most popular is "Lamb & Grill Pilsen". They offer a choice of fresh lamb and lamb shoulder, old Genghis Khan with sauce, Genghis Khan salt, and round Genghis Khan. It is a place you will want to have a lot of Genghis Khan and beer! People say, The "Hamanasu" restaurant is also very popular. They feature an all-you-can-eat lamb meat and drinks (adult 3,810 yen + tax), you can also add lamb roll Genghis Khan with round sliced meat for an additional charge (100 yen + tax). It is a gourmet treat you will want to eat every time you go to Sapporo.

【Spot name】Asahi Beer Garden Shiraishi
【Street address】1-1 Minami Minamigou dori 4-chome Shiraishi-ku Sapporo-city
【business hours】Plzen 11:30 am to 10:00 pm (LO 9:30 p.m.)
Hamanasu Museum Weekdays from 4:00 p.m. to 9:30 p.m. (LO 9:00 p.m.),
Saturdays-and-Sundays public holiday 11:30 am to 9:30 p.m. (LO 9:00 p.m.)
Loinite 11:30 a.m. to 3:30 p.m., weekday from 5:00 p.m. to 10:00 p.m.
Saturdays, Sundays, and holidays from 4:00 p.m. to 10:00 p.m. (LO 30 minutes in advance)