Donburi Chaya hidden in the Nijo Market area is famous for seafood!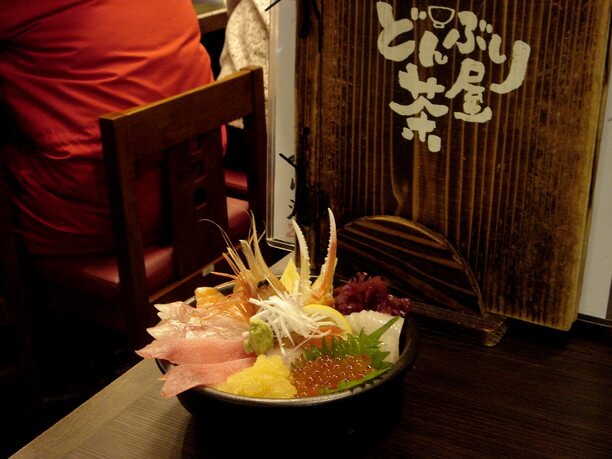 The Nijo market (二条市場) is in the center of Sapporo. It is a longtime popular market where all the best souvenirs of Hokkaido, such as crabs, salmon, scallops, etc., are readily available.

Donburi Chaya is a store located on a narrow street in the market. It is a thriving shop where various seafood bowls popular in Hokkaido are served at an affordable price. Their seafood rice bowls are filled with plenty of fresh ingredients that have attracted many guests to the restaurant. It a great place to enjoy a delicious rice bowl in a unique, vibrant atmosphere at the market!

This seafood rice bowl shop's popularity grew by word of mouth!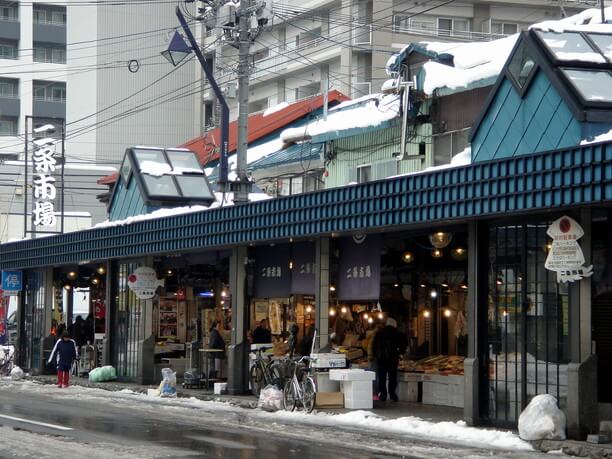 Hockey, crabs and other seafood unique to the northern part of the country are lined up in shops all along the market's streets. This historic market was born in the early Meiji era and is loved by the local citizens and tourists alike!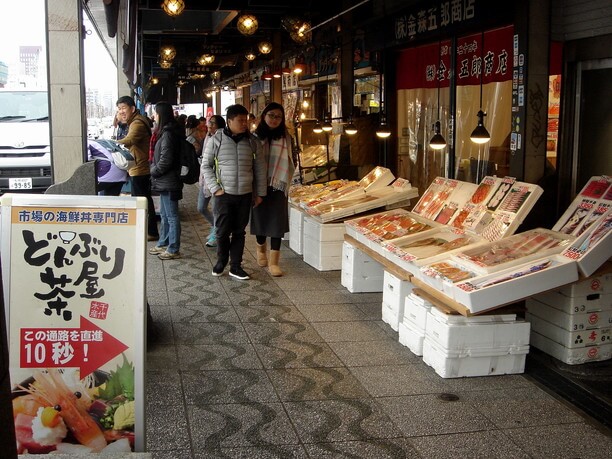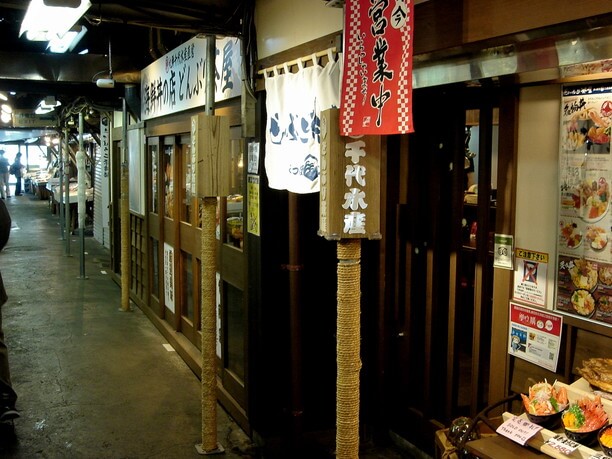 The new Nijo market area is a series of narrow streets with a festival-like atmosphere where processed foods, cooked dishes, and fresh produce are available. Donburi Chai has a store in the corner of the market. Although there is a signboard, it is not a prominent place and can't be clearly seen on the narrow path. Despite being in such a hidden place, many tourists learn of it from word-of-mouth recommendations and visit. The interior of the shop is amazingly crowded. The customer's aim is to get to a seafood bowl full of seafood that makes Hokkaido famous. It has an atmosphere reminiscent of a harbor tavern in a port town.
There are about 30 kinds of seafood rice bowls to choose from!
One of the charms of their menu is the large selection of seafood bowls. In addition to the standard selections of fish they also have "irregular" selections of fish that are not as frequently caught. They also have a seasonal menu incorporating seasonal fish they currently have.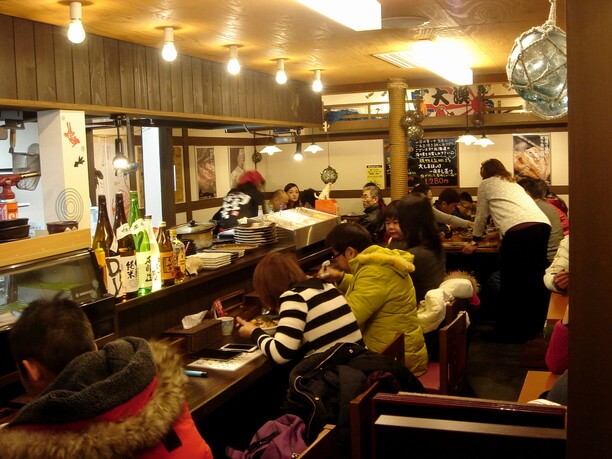 It quickly gets busy at lunchtime. Every customer with a bowl of delicious seafood in front of them has a full smile.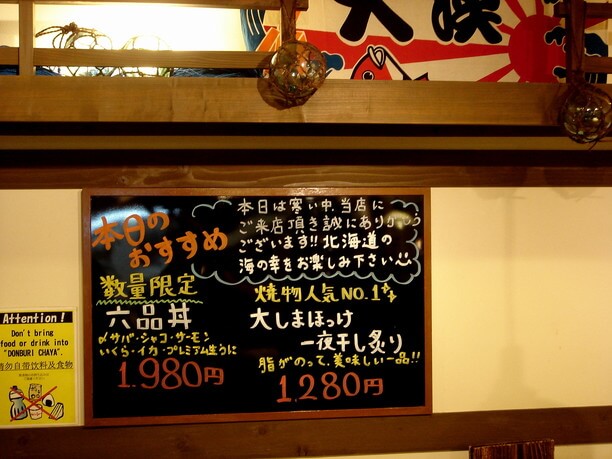 The recommended item changes according to the purchase of the day. They will offer these daily specials until they are sold out.
The various kinds of seafood are beautifully prepared and served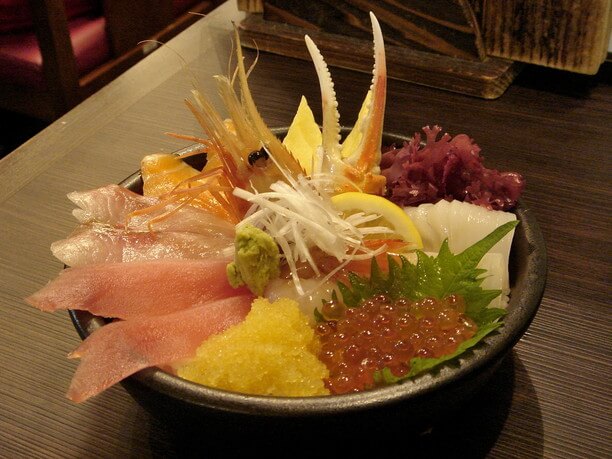 There is a particular bowl that lets you enjoy a variety of rich seafood. It is called the "tairyo bowl." It is a recommended menu item that is always very popular. It has nine kinds of seafood such as button shrimp with a capped head and crab's claw. This restaurant started as a fish shop and still gets fresh fish for the restaurant directly sent to the market. A real treat is their elegant seasoned eggplant with salmon. Regardless of the fact this is an extremely delicious meal, the sheer volume of this alone, makes the affordable price of 1,980 yen surprising.
You can choose 2 mini bowls so you can try more selections from their menu!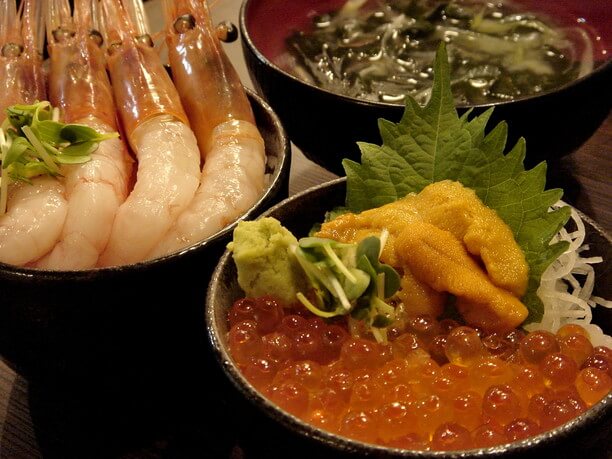 "Choose 2 mini-seafood rice" for1,780 yen (with soup of the day change). You can choose one of your favorite bowls from seven in the A group and 7 in the B group. After choosing which bowls to get, the next challenge is to decide if you should finish one bowl then start on the other or eat a little bit at a time from both bowls.
The secret of their popularity is good taste, low cost, and great service!
Despite its hard to find location, it has many visitors from the local area and abroad. Many are repeat visitors. Their popularity is not just because of their foods great taste and reasonable prices. It is also the enthusiasm of the staff who care for customers that is creating the appeal of the store. Two things the staff are always thinking about is, "How can I make a more enjoyable menu that will make you more pleased?" "I would like visitors to like Hokkaido and Sapporo more"
So if you are looking for a rice bowl with plenty of seafood choices along with outstanding freshness. Donburi Chaya is the place for you!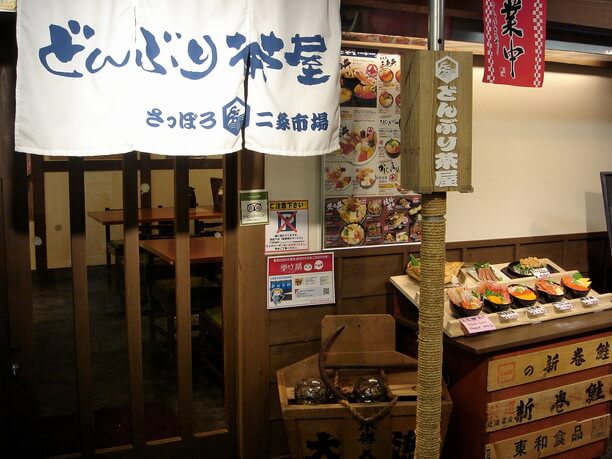 In addition to the Nijo market shop, they have a store in the New Chitose Airport, and since January 2016 a branch in Sakae-cho, Otaru. You can enjoy the fresh taste that you are used to from the market at their other easy to access locations.
Smart tip
The variety of seafood rice bowls is plentiful. Since the daily menu depends on the purchase of the day, ask the staff for recommendations.
The shop can get pretty crowded, with not many empty seats. So you might have to stand in line during the busy times. If you want to keep from waiting, it is best not to go at lunchtime.
They not only have seafood, but also such menu items as potato butter and Genghis Khan.
What's interesting
Even though the shop gets crowded, their customer service is fine and comfortable, so I do not mind being kept waiting a bit.
Donburi Chaya Nijo Market Store
Spot name(Ja)

どんぶり茶屋 二条市場店
Address

Shin 2 Jo market Higashi 1 cho-me 7 Minami 3 Jo Chuo-ku Sapporo-city
Address(Ja)

北海道札幌市中央区南3条東1丁目7 新二条市場内
Telephone

011-558-1012
Price

1,500 yen to 3,000 yen
Open

7:30 a.m. to 5:30 p.m.
Close

7 days a week
Parking lot

None * There is a pay parking lot nearby
Note