So fresh! Indulge in great seafood of Hokkaido Six most delicious seafood bowls!!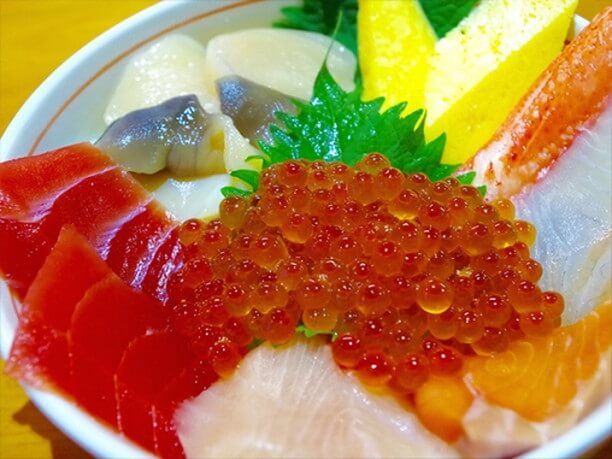 Speaking of the gourmet foods of Hokkaido, it is definitely fresh seafood! We have selected the best seafood restaurants that you must go to eat in Sapporo and Otaru! Please enjoy the best seafood that Hokkaido's nature present to you.


Delicious seafood bowl at a fish market restaurant " Ajidokoro Takeda"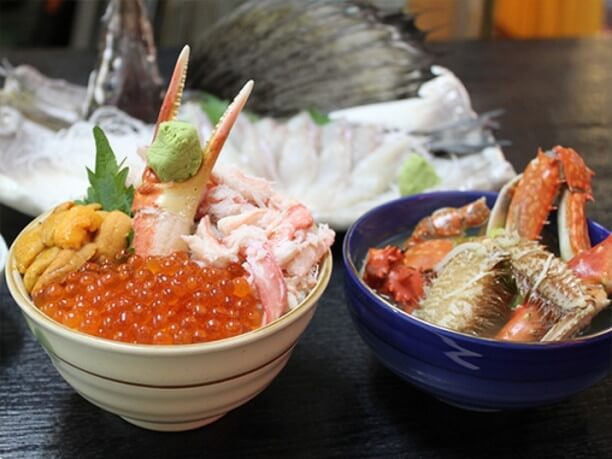 There is a fish market called "Sankaku (Triangle) Fish Market" in Otaru, Hokkaido. The land and roof are triangle shaped. This popular market has restaurants and stores to sell fresh fish, seafood, fruits and vegetables. "Ajidokoro Takeda" is one of the first restaurants that started to serve fresh fish bowls and is directly managed by the Takeda fish store! You can choose fresh fish at the store and eat it right there in the restaurant. It is a lot of fun checking out many different kinds of fish you can see only in Hokkaido.
The popular item is the three-colored bowl with sea urchin, crabs and ikura salmon raw! They also have sashimi raw fish in season and grilled fish set meals. They open at seven o'clock in the morning and you can have your breakfast there!!

【Spot name】Ajidokoro Takeda
【Address】Sankaku Fish Market 10-16 Inaho-3 Otaru-City Hokkaido
【Business hours】7:00a.m. ~ 4:00p.m. (last order: 3:30p.m.)
Lip-smacking fresh seafood bowls at "Donburi Jaya" in Sapporo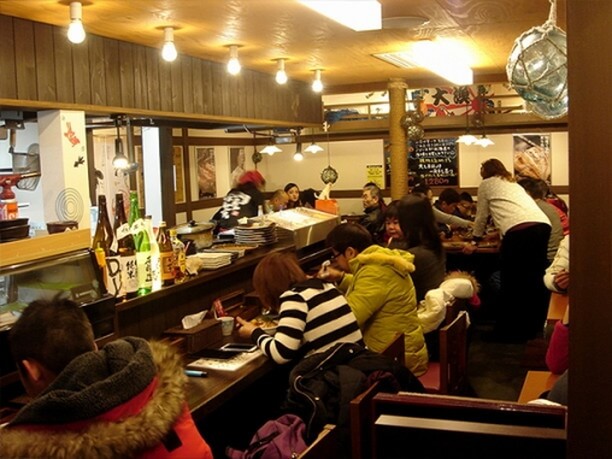 Reasonably priced and generously portioned fresh seafood bowls are served at "Donburi Jaya" restaurant in the Nijo Fish Market in Sapporo downtown.
The fish they serve is so fresh and they have over thirty different kinds of seafood bowls on the menu! The popular one is called "Tai-ryo don (Good catch of fish bowl)" and this gorgeous item has nine different seafoods such as spot shrimp with head and crab claws. They also has " mini seafood bowl of your choice" and you can choose one item each from group A and B, and this is ideal for big eaters. From looking at the menu, you can see and feel the hard work and high spirits of the staff that they put into the food.

【Spot name】Donburi Jaya
【Address】New Nijo Fish Market Minami-3 Higashi-1-7 Chuo-Ku Sapporo-City Hokkaido
【Business hours】7:30a.m. ~ 5:30p.m.
Specialty seafood bowl at Sapporo's Crab Market of Sapporo Central Wholesale Market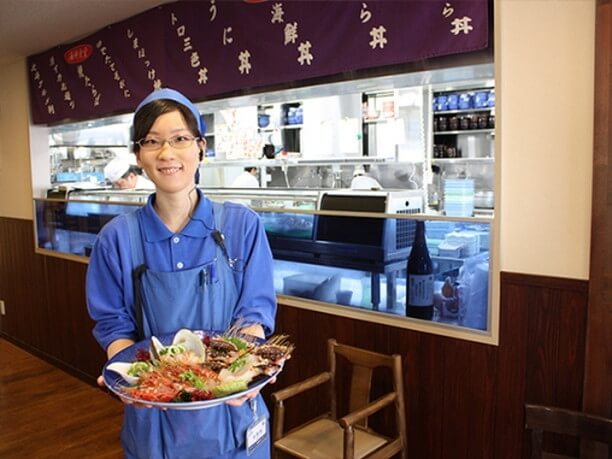 The Sapporo Crab Market of the Central Wholesale Market has a big and noticeable sign saying "Jogai-shijo (outside market)." There are about sixty shops and restaurants lining up and they serve you the freshest food from Hokkaido's ocean and mountains from the Sapporo Central Wholesale Market. Everything you buy here will be packed and shipped domestically on that day, and will make a great gift. At a restaurant called "Kaisen Shokudo Kitano Gourmet-tei," they cook and serve you the delicious and fresh seafood you purchase on the spot. They are open seven days a week! A free shuttle bus runs from the north exit of the Sapporo station! You've got to go there!!

【Spot name】 Central Wholesale Market Sapporo Crab Market
【Address】 2-3 Nishi-21 Kita-11 Chuo-ku Sapporo-City
【Business hours】 6:00a.m. ~5:00p.m.
【Holidays】 open 7 days a week
Fully enjoy Yoichi's seafood at "Kakizaki Honten Kaisen Kobo"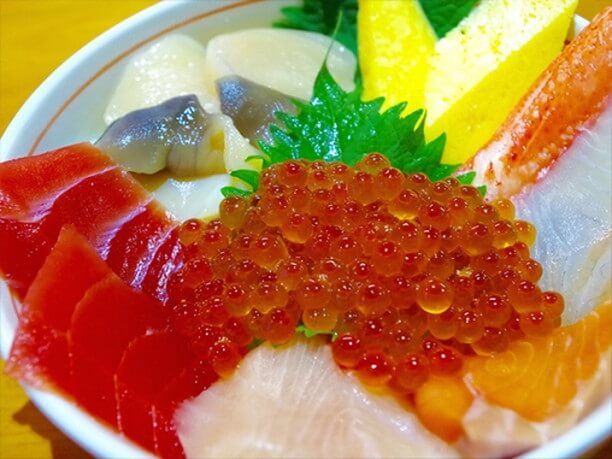 "Kakizaki Honten Kaisen Kobo" is in Yoichi-Cho next to Otaru-City. It takes thirty minutes from Otaru, and one hour & a half from Sapporo by car. It might sound a little far, but it is a well-known seafood restaurant loved by motorists and backpackers.
The restaurant's special "Kaisen-don (seafood bowl)" has about 10 different kinds of seafood on rice and it has so much seafood that you can not see the rice! You should try side menus such as "grilled hokke" and "tsubu sashi." The fish shop on the first floor takes delivery orders and you could "share" of Yoichi's fresh seafood in season with your loved ones.

【Spot name】Kakizaki Honten Kaisen Kobo
【Address"】Kakizaki Store 2F Kurokawa-Cho?? 7-25 Yoichi-Cho
      Yoichi-Gun Hokkaido
【Business hours】10a.m. ~ 7:00p.m.
Freshest seafood in Shakotan "Shinya Sushi"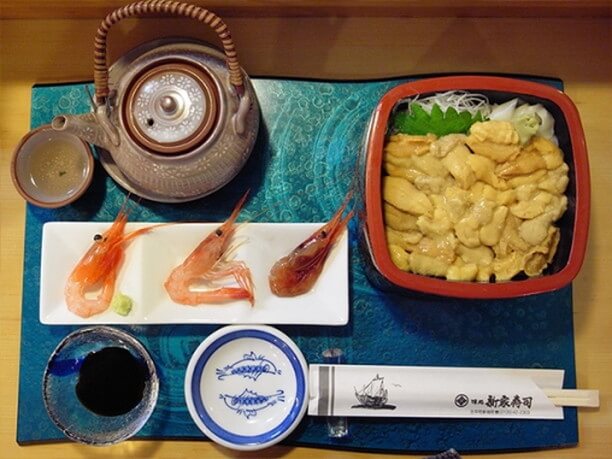 "Shinya Sushi" is in Furubira, Shakotan Peninsula. This sushi restaurant is well-known for fresh seafood and a lot of locals from Sapporo and Otaru come and eat sushi here. "Shiro Chirashi (white sushi bowl –Northern sea urchin is spread over sushi rice) is one of the most popular items on the menu! "Nama Chirashi" is great too and you feel like you are eating the real sushi. They also serve shrimps in three different ways (live shrimp, shrimp sashimi, shoyu shrimp) and you feel so happy and "welcomed!" Generous "Hama-nabe" has rockfish, white-edged rockfish, sea urchin, abalones and sweet shrimps. You'll enjoy every seafood in Hokkaido and it is highly recommended.

【Spot name】 Shinya Sushi
【Address】 Shinchi-Machi 13 Furubira-Cho Fububira-Gun Hokkaido
【Business hours】 11:00a.m. ~ 8:00p.m.
Famous in Otaru! Seafood bowl proudly produced by fishing company!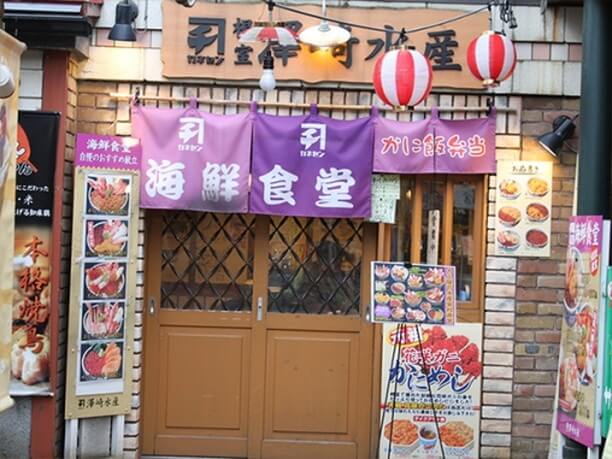 "Kasen Shokudo Sawazaki Suisan" is well known for seafood bowls and popular among locals. It is in the Otaru Denuki-Koji and you can see Otau-City from there. The restaurant is directly operated by a fishing company that processes and sells local seafood. They have fans from all over Japan. The most popular item is "Tokusen Chirashi Don (special seafood rice bowl) and they have many other seafood bowls.
If you happen to have any seafood you can't eat, ask the friendly restaurant owner. They'll create a bowl that fits your preference, but all the seafood is so fresh that you may find yourself eating everything.

【Spot name】 Sawazaki Suisan
【Address】 Otaru-Denuki-Koji Ironai-1 Otaru-City Hokkaido
【Business hours】 11a.m. ~ 8:00p.m.