Operating for more than 40 years the Seafood canteen Sawasaki Fisheries boasts delicious, fresh seafood.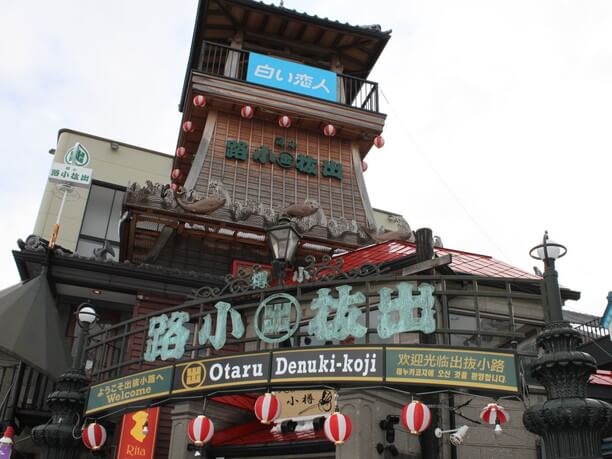 You will find them near the canal, on a busy street corner of Otaru by the Denuki Koji area(小樽出抜小路).
The restaurant is located in the old firehouse tower. The symbol of the building is a sign that imitates the fire truck used long ago. If you go up the tower, you can see the harbor and the canal. In the tower building there are about 15 shops including seafood, Genghis Khan restaurants and sweet shops. Among them, there is a popular seafood restaurant Seafood Canteen Sawazaki Fisheries. It is a shop that gets repeat visitors from all over the country, due to their fresh ingredients, homemade Ikura (fish egg) and other seafood processed at their own factory.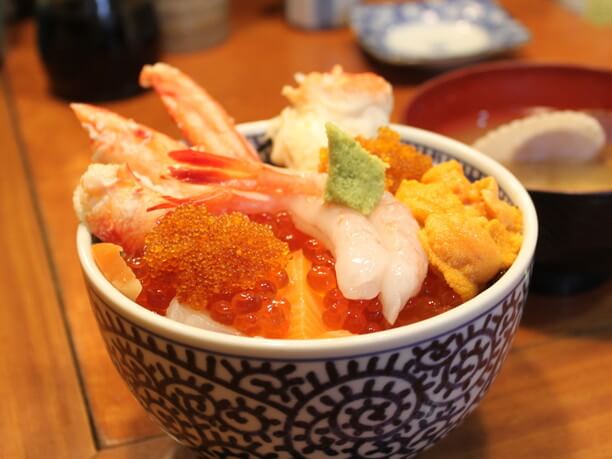 Seafood canten Sawasaki Fisheries is a fishery company that was founded in Nemuro about 40 years ago. They purchase Hokkaido crab and ikura, scallops, and sea urchin directly from the local fisherman and process it and sell it nationwide. They relocated their restaurant and factory to Otaru.

"I want you to eat our delicious seafood."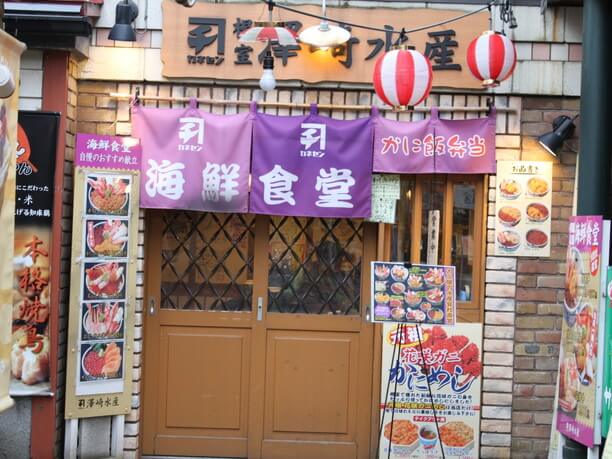 They have three shops in the firehouse tower. They have dining rooms on the first and the third floors with a production facility on the second floor.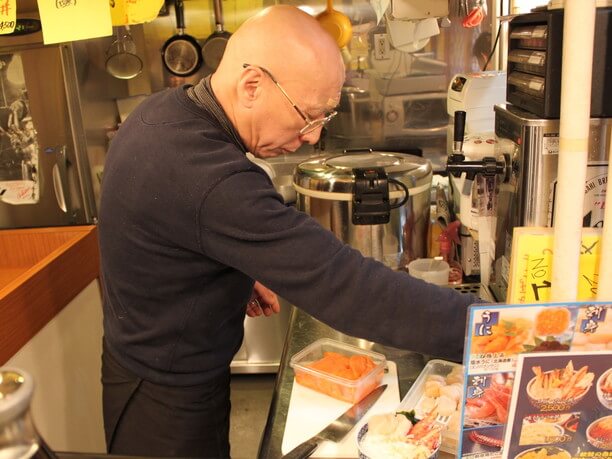 The owner, Mr. Chiharu Sawasaki (澤崎千春) is from Kunashiri Island, one of the Northern Territories. His father was a fisherman and so he grew up surrounded by seafood fortune from a young age. I asked why he decided to start the cafeteria. He said, "Because there was no cafeteria in Hokkaido that you could eat top quality seafood like the seafood we produce." "Since the main business is a fishery company, the cafeteria was a bonus." Twenty years have already passed since the opening of the dining room, and fans still come from all over the country.
Their seafood bowls are filled from top to bottom with delicious, fresh ingredients!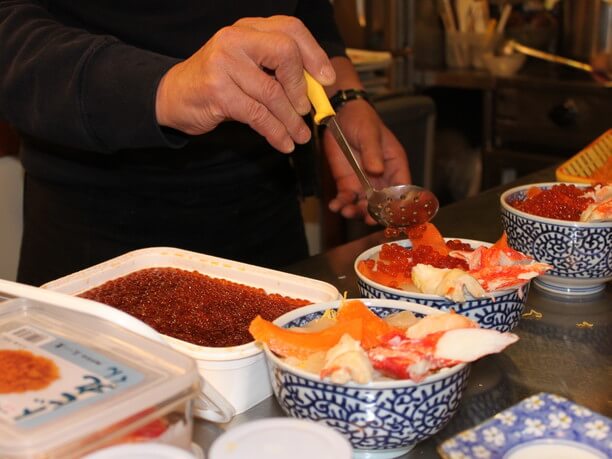 The most popular menu item is their special rice bowl.
Mr. Sawazaki puts a handful of fish eggs in each bowl.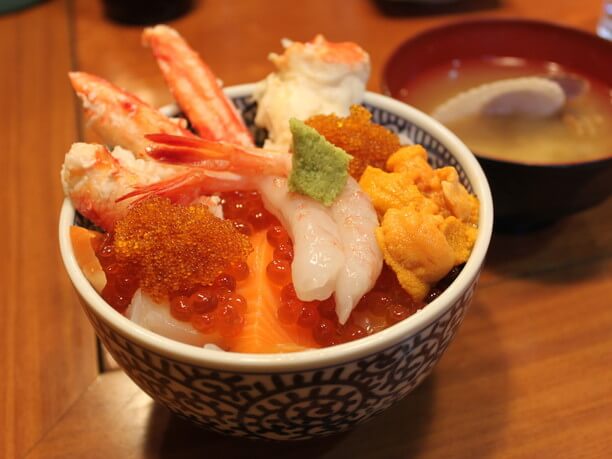 In these delicious bowls you will find crab, sea urchin, sweet shrimp, tobicko, salmon, and scallops. It costs 2,800 yen and comes with Miso soup. The photo is of an order of scallops and jellyfish with miso soup. For an additional 300 yen, you can add uni.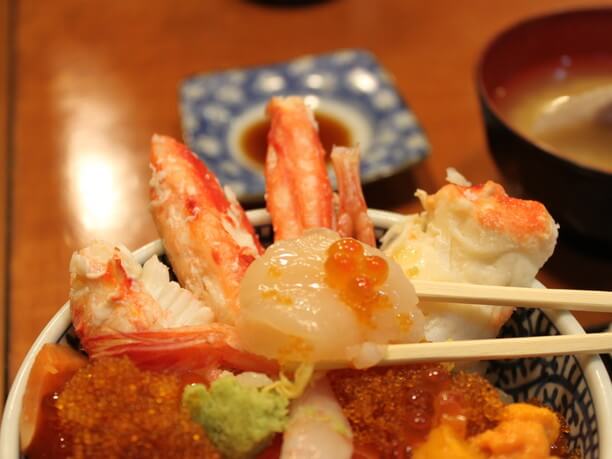 As you reach the bottom of the bowl you will be happy to see there are still plenty of scallops. When you bite into one of the scallops you will truly appreciate their freshness. "It is a rare treat to find seafood bowls with so many good ingredients stacked on top," says Mr. Sawasaki. Even though the bowls are not so big, it is filled with plenty of fresh seafood!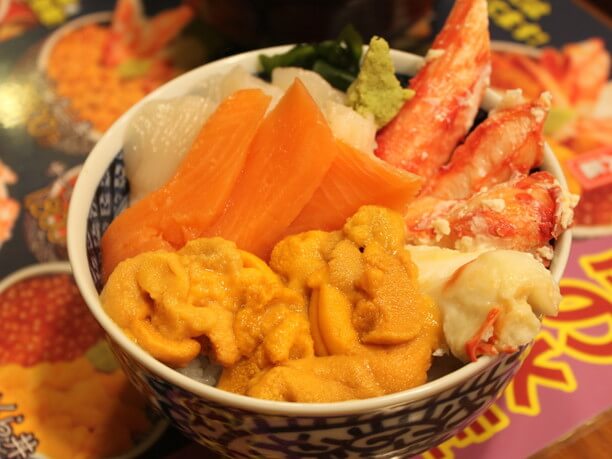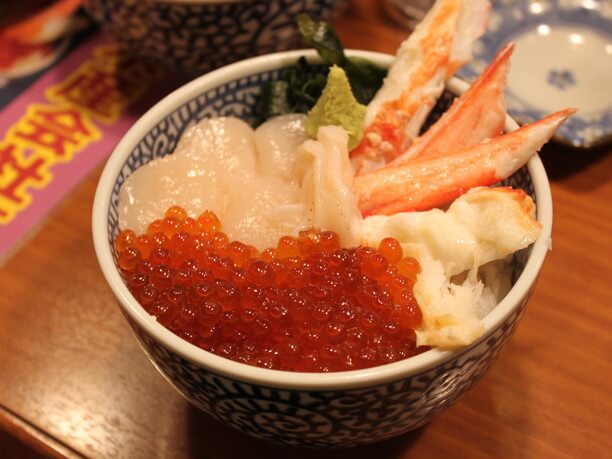 They also have other seafood bowls that are delicious. You can customize your bowl, choosing from a variety of ingredients.
There are many comments on the wall of the shop written by the guests.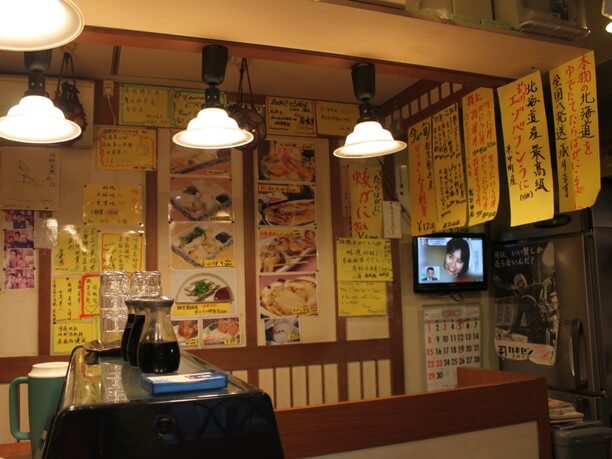 The walls are covered with comments from previous customers.
Mr. Sawasaki says that most people can enjoy just about anything on their menu unless they have an allergy to fresh seafood. Often if customers are not in the mood for sea urchin they can enjoy other menu items like the fresh Ezoba produced in Hamanaka. Some say Mr. Sawasaki has a slightly scary appearance, but he is actually a fun conversationalist and is happy to speak with people who sit at the counter.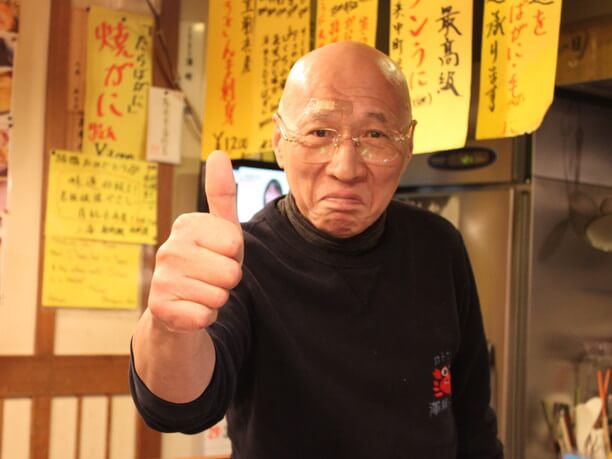 He is also happy to let you take his picture. If you are not sure what type of seafood you would like please consult with Mr. Sawazaki. He may assist you in making a pleasant discovery!
Smart tip
If you do not have time to eat at the shop, there is also a takeout seafood box lunch available. It seems that there are many customers who eat these meals on the express bus going to Sapporo.
There is also a Sawasaki Fishery in Sapporo at Tanukadoji 4 – chome. It is operated by Mr Sawasaki's son. It is a place where you can enjoy a seafood bowl with the same fresh ingredients as in Otaru.
All products handled by Sawasaki Marine Products can be shipped nationwide. Since they don't sell on the internet. You can order whatever you like in the store to be sent where ever you want.
What's interesting
Those who normally can't eat salmon, sea urchins, or shellfish find that they can eat these items at Sawasaki's due to quality and freshness of their seafood.
Seafood canteen Sawasaki Fisheries
Spot name(Ja)

海鮮食堂澤崎水産
Address

Otaru Denuki Koji 1-1-chome Ironai Otaru-city Hokkaido
Address(Ja)

北海道小樽市色内1丁目1小樽出抜小路
Telephone

0134-23-2112
Price

2,000 yen ~ 3,000 yen
Open

11:00 a.m. to 8:00 p.m.
Close

It is open every day in summer (May to October), Winter (November to April) Thursday
Parking lot

None