Eat fresh seafood in the Shin minami taru market at the Kitchen ensemble Fukasawa restaurant.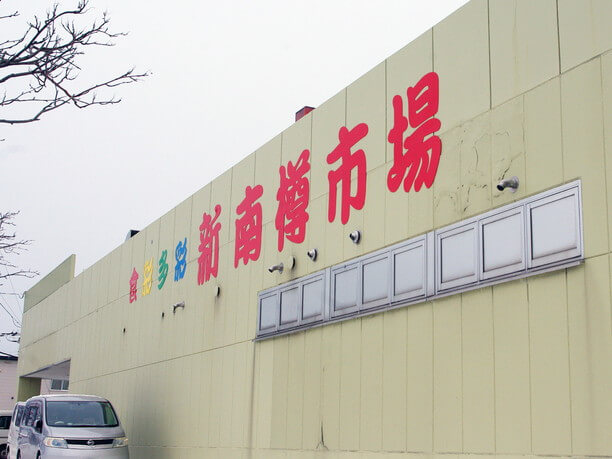 The kitchen ensemble Fukasawa is the only restaurant in the Shin minami market and it is a place that is crowded with locals. People come for a wide range of menu items. They offer sushi, seafood rice bowls, tempura rice bowels, fried pork set meals. The restaurant is set up in the corner of the market, and uses fresh ingredients purchased by a master of sushi craftsmen.

It is 15 minutes on foot from Otaru-kenko Station. If you pass through the shopping mall "Wing Bay Otaru" that is directly connected to the station, it will take about 5 minutes to walk outside. There are also busses from Otaru station that will take you to the market.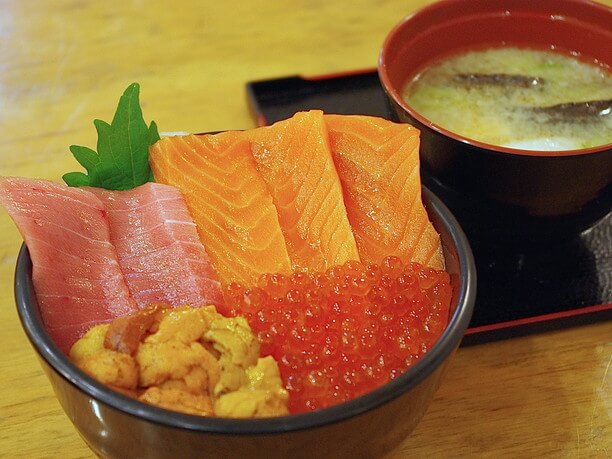 Enjoy Sashimi and sushi reasonably priced set meals!
When entering the Shin minami taru market the green sign of the kitchen ensemble Fukasawa restaurant appears immediately. Recommended menu items are advertised in front of the shop. The restaurant appears clean and organized so it is easy to enter!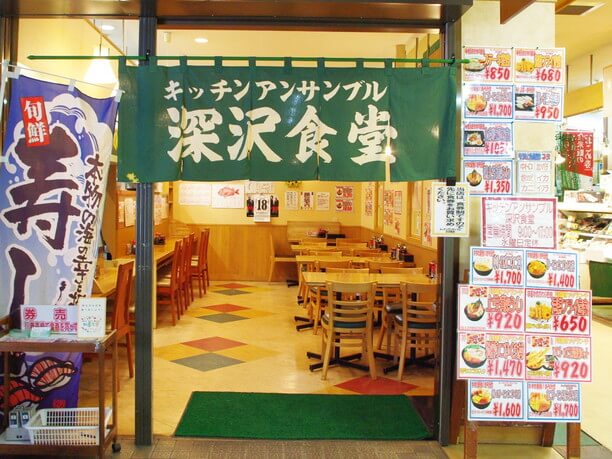 More than half the customers at any given time are locals! Most of the menu items are less than a 1,000 yen. Before entering the shop, you can tell at a glance the suggested meal for that day.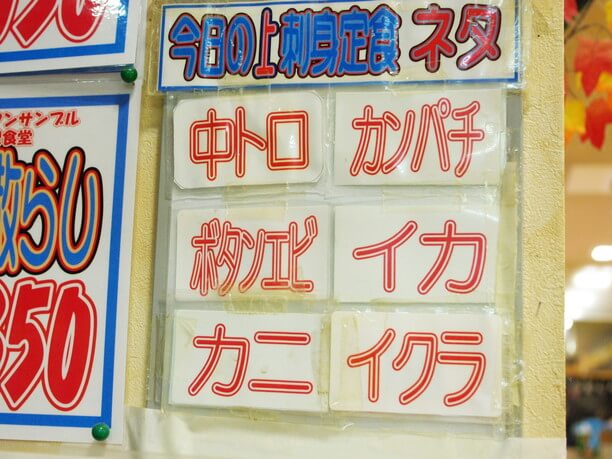 Their menu has more than 40 items of rice bowls and set meals in Western style and Japanese style dishes, including sashimi, tempura, curries and fried cutlets.
They offer some of the best seafood Hokkaido cheaply!
Their seafood is some of the best and most reasonable priced in Hokkaido! Rice bowls and sushi as well as sashimi set meals are reasonably priced at around 800 to 1,500 yen. Among them, the owner recommends the top sashimi set meal (1,100 yen).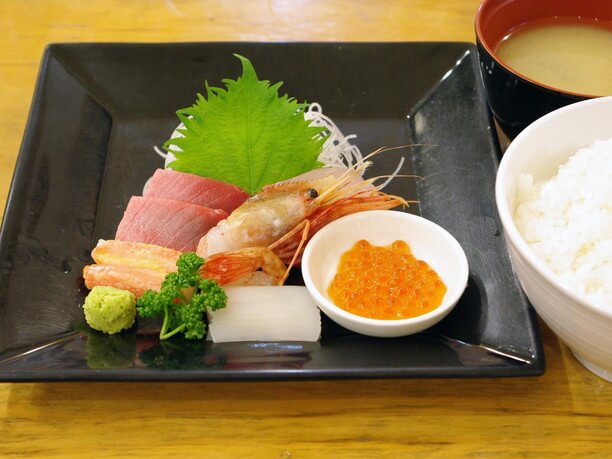 The seafood offered in this set will change due to the purchase of the day, but will typically include 6 kinds of seafood from the Hokkaido pacific waters such as herring, button shrimp, crab, and fish egg. and is accompanied by real wasabi.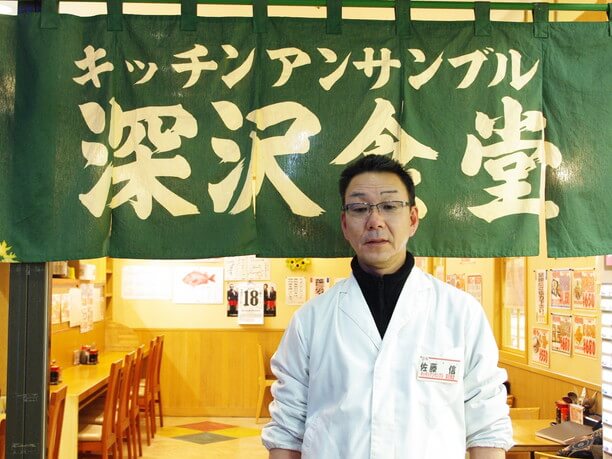 Above is pictured the owner Mr. Nobu Sato(佐藤信), a sushi craftworker who had been running a sushi shop for 22 years. He was Born and grew up with Otaru. A genuine Otaru person who made use of his personal connections, and is able to buy cheap and fresh quality seafood at the wholesale markets.
Their tempura rice bowl and sashimi set is a great meal!
The chef's Japanese style cultivated over many years is utilized for each set meal. One of the more popular among them is the shrimp and anago tempura sashimi set (1,100 yen). In this set meal you will find two shrimp tempura and anago tempura, along with some delicious sashimi.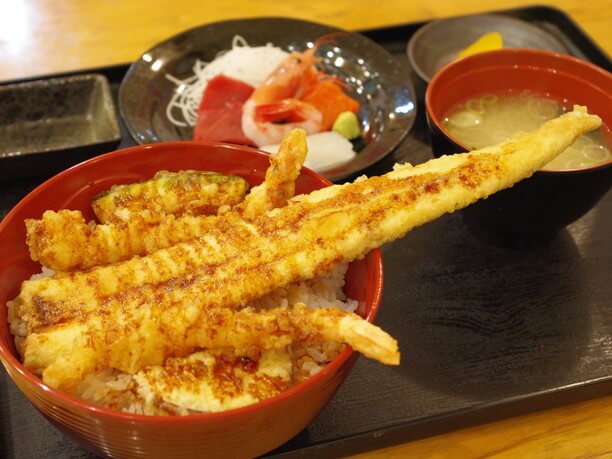 The tempura is lightly fried with true craftsmanship. Though it is sweet, the sauce goes very well with the tender shrimp and fluffy anago! The set is balanced out with the vegetable tempura which is also exquisite. It is a set meal with a high degree of satisfaction!
Their menu is always improving!
People in Otaru know about seafood so you can not get away with serving bad food. The owner always listens to the customers and is constantly up grading the menu. "Because there are a lot of local customers, we need to constantly recreate ourselves," Mr. Sato said. By responding to his customer requests, he stays active in creating new menu items while remaining loyal to existing ones.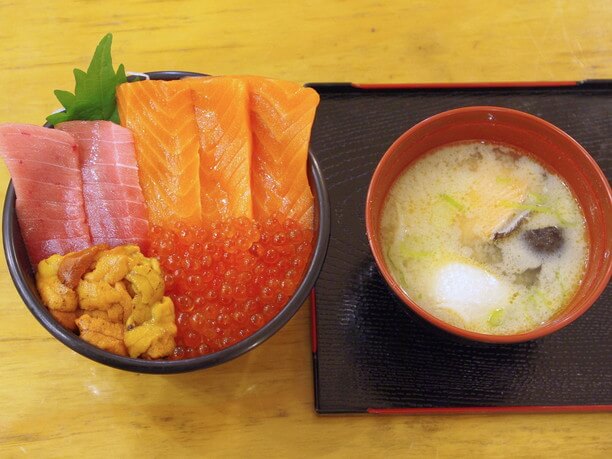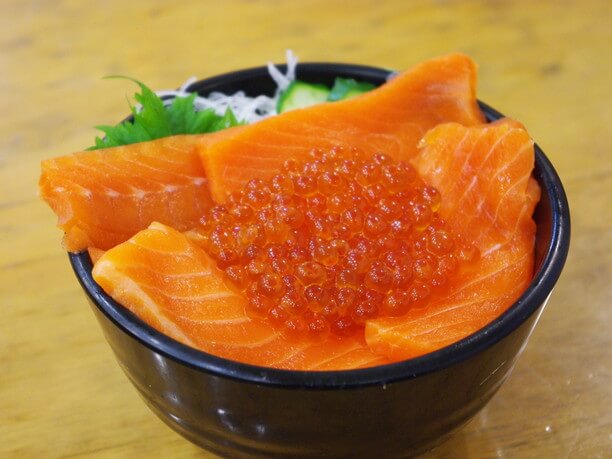 One of his special menu items is his middle salmon, sea urchin and fish egg set (2,000 yen). It was created due to a request to eat more delicious seafood! Another is his salmon and oyako rice bowl set (1,400 yen), which is salmon and fish egg in soy sauce!
They have lot of local customer repeaters!
People who work in the Shin minami market as well as other Otaru locals come often to the kitchen ensemble Fukasawa restaurant due to its delicious quality seafood and reasonable prices! The owner tells the fisherman that he wants his customers to appreciate the fresh fish selections that he makes. The kitchen ensemble Fukasawa restaurant Is a place where customers appreciate their "cheap and well-served menu-rich dining hall!"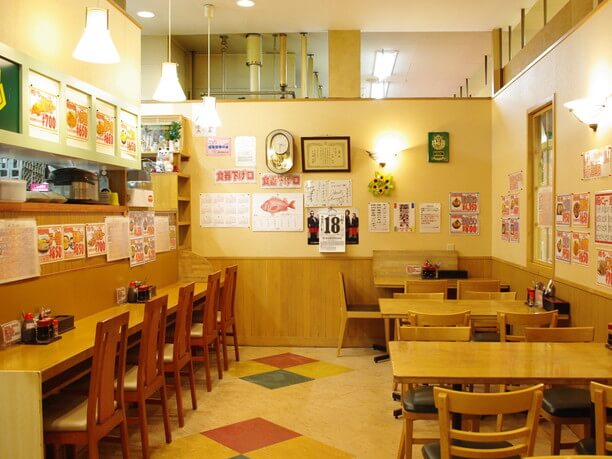 Food is sold by a ticket vending machine in advance. At lunch time, all 22 seats may be full, but the motto is "not to stay too long." So, please come and enjoy the seafood at this popular restaurant in this locally loved market.
Smart tip
Accounting is completed with ticket vending machines in advance.
The owner is full-fledged sushi craftsmen. Sushi with fresh ingredients starts at 800 yen.
Because Otaru sea urchin fishing runs from May to August, you definitely want to target your raw urchin rice bowl experience then!
What's interesting
The assorted seafood set meal is their most popular item. It includes sashimi and sushi, tempura shrimp, anago tempura, fried shrimp, fried oysters and other raw and fried fish This set meal is around 1,000 yen and is a great bargain!
Kitchen ensemble Fukasawa dining hall
Spot name(Ja)

キッチンアンサンブル深沢食堂
Address

Shinminami Otaru Jonai 8 -11 Chikukou Otaru City
Address(Ja)

小樽市築港8の11 新南樽市場内
Telephone

0134-31-3677
Price

800 ~ 1,500 yen
Open

9:00 a.m. to 5:00 p.m.
Close

Wednesday
Parking lot

120 units (Market parking lot use)