Madoka is a"Japanese restaurant that buys ingredients from local producers!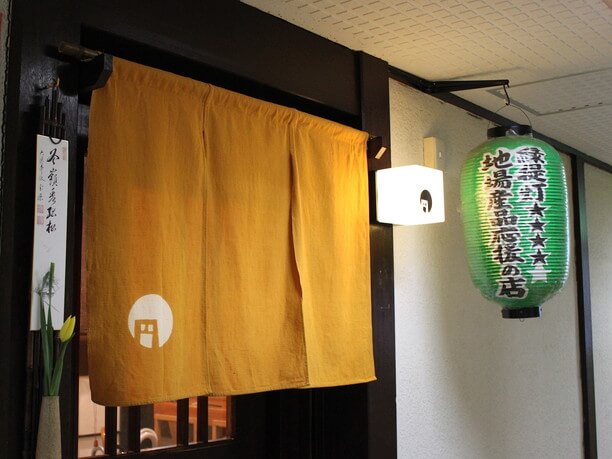 Madoka is located on the 3rd floor of the building between the Odori and Susukino subway stations. It is a shop where you can enjoy Japanese cuisine made from the ingredients of Hokkaido.

The owner, Mr. Kaname Takeshita goes to the production area, and meets with producers to confirm the quality of ingredients.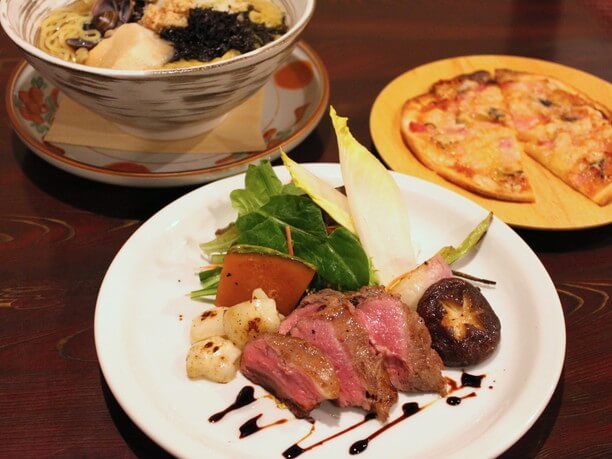 "That way I can explain to the customer properly," says Mr. Takeshita. That spirit of care is transmitted into every aspect of the preparation of the food!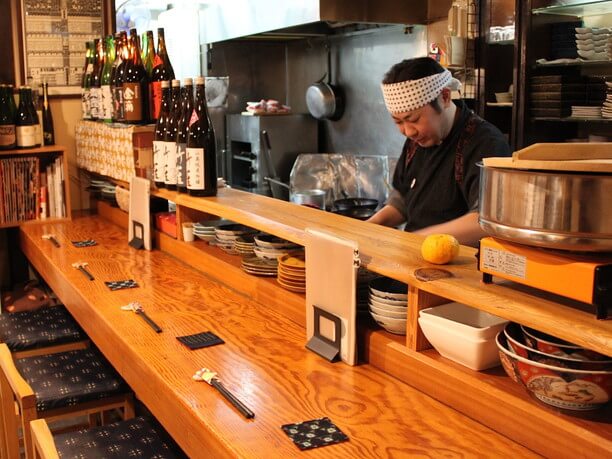 The warm atmosphere of the store allows you to relax without having to feel crowded. For those who can not drink sake there is a set menu. In addition, it is open from noon on Sunday, so it is okay to have a drink earlier in the day. This shop appeals to a wide range of customers.

Enjoy their pizza made with local blue cheese and miso!
Madoka has many menu items that utilize seasonal ingredients, but there are also many popular dishes that are available all year round. One of them is their "Blue Cheese Miso Pizza" (1,000 yen).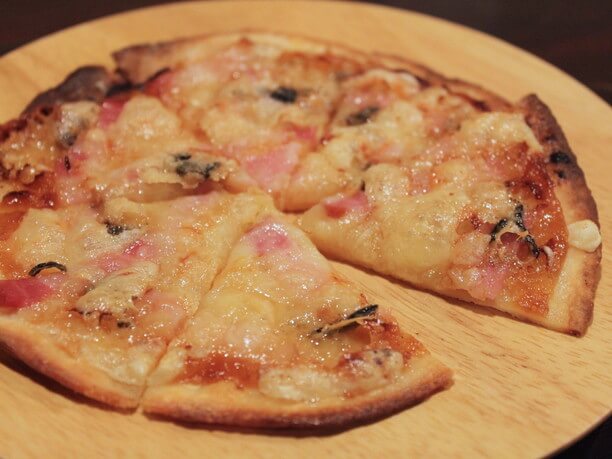 They put cheese and bacon on a thinly stretched crust, and bake in a hidden taste by applying a matching miso. The flavor of blue cheese and sweet miso go well together. You can further enhance the flavor by adding your choice of seasoning.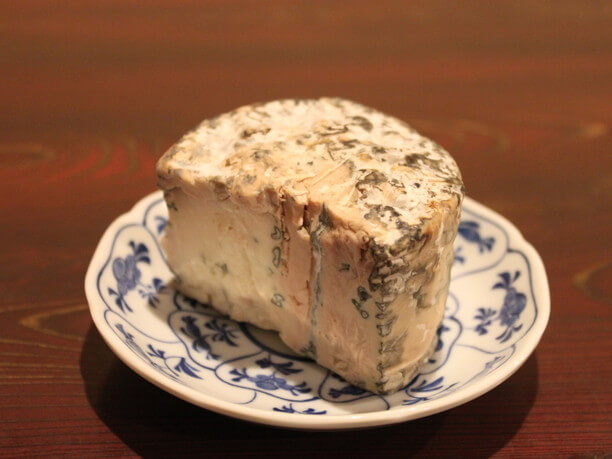 They currently are using Blue Cheese from Kuro Matsunai. It has a rich taste which comes from its advanced aging. It will create slightly tangy, delicious pizza.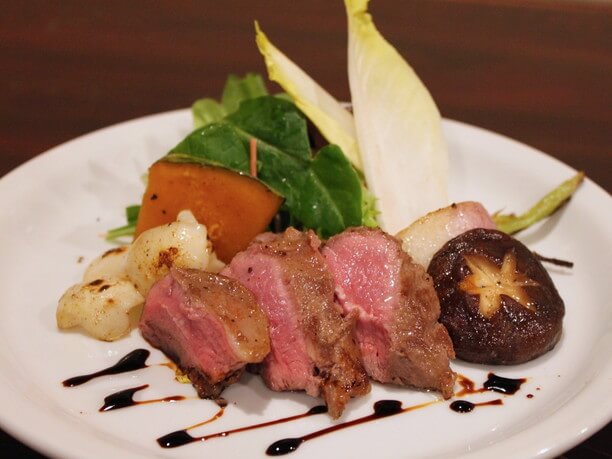 Another popular dish is the "Bibai asparagus sheep grilled meat" (1,650 yen). It is one dish with many fans. Mr. Takeshita (竹下さん) says that the popularity is due to the fact that he uses "Asparagus sheep" (which are sheep raised by eating the root of asparagus plants). The meat is characterized by a strong sweetness and is not very greasy. It is recommended for novice sheep meat eaters!
Shijimi ramen is created for the health of customers!
"Shijimi ramen" (700 yen) is something that a lot of people are ordering after drinking. Hokkaido has many rivers and lakes where you can catch shijimi, mainly from Lake Abashiri in Okhotsk and Teshio River in Northeast Hokkaido. The soup that they create with the shijimi does not use any fat and oil at all, so it goes smoothly and gently into the stomach.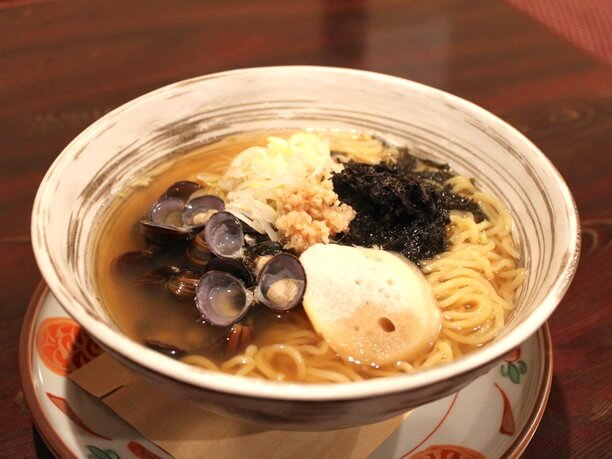 Mr. Takeshita feels that this ramen may "work for the liver of the customer." "It has become more popular than I thought," Mr. Takeshita said.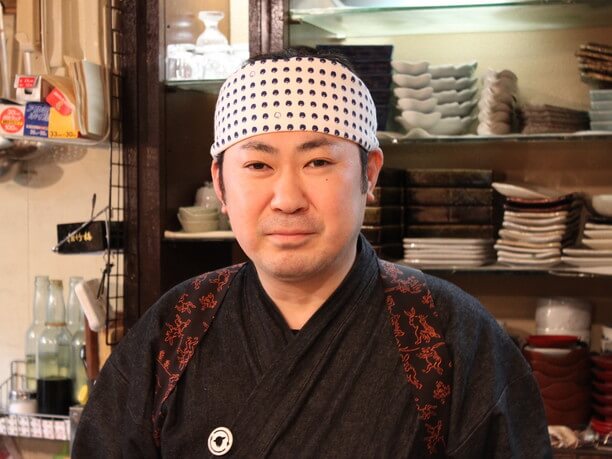 In addition, they also serve a 'Night set meal' (1,600 yen) devised for those who do not drink. You can choose from a piece of sashimi, grilled fish, or meat dish from the day, with rice and miso soup, pickles, and a small side dish. It is a good amount of food for dinner.
This is a place where everyone can be satisfied!
There is also homemade sprinkle furikake for accompanying rice. It is made of dried ground salmon and special seasoning.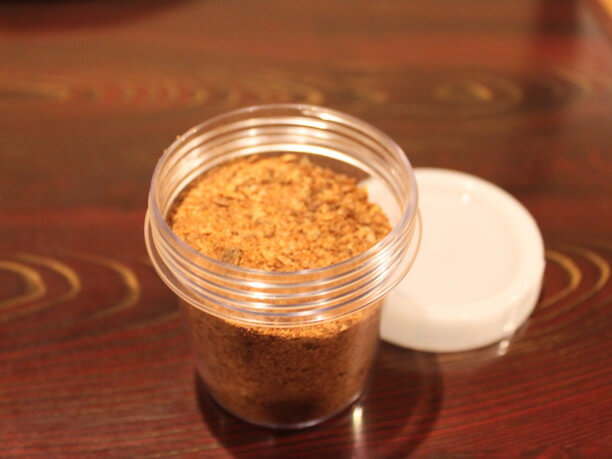 It is perfect to buy as a souvenir (250 yen including vials).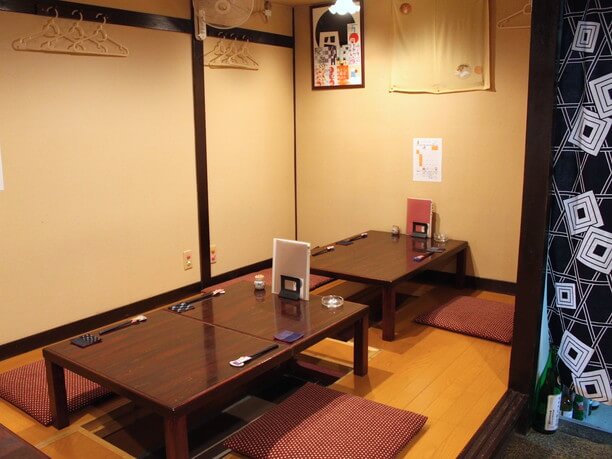 In addition to the counter, there are three small risers. It is a space where you feel calm as you eat. The shop name "Madoka was taken from a Zen book. It means "circle." Like a circle written with a stroke, that wishes are put in place so that everyone is satisfied. As its name suggests, it is a shop where you can feel satisfied by the food that is produced from various places.
Smart tip
Since it is opened on Sunday from 2 pm, it is a convenient place to come when you want to drink lightly after lunch or for an early banquet.
The daily "Night set meal" (1,600 yen) is useful when you do not drink or you are eating alone. It gives you the option of experiencing Madoka as a pub or a set meal shop.
The owner is a big fan of rakugo. Once a year he invites rakugo performers to the shop and holds vaudeville. It becomes a dinner party surrounded by the rakugo family. If you like rakugo, check the information on facebook etc.!
Madoka
Spot name(Ja)

和食や円
Address

Playtown Fujii Building 3F Nishi 3-chome Minami 3-Jo Chuo-ku Sapporo-city Hokkaido
Address(Ja)

北海道札幌市中央区南3条西3丁目プレイタウン藤井ビル3階
Telephone

011-211-4837
Price

Average budget 3,000 yen - 4,000 yen
Open

Tuesday - Saturday from 5:00 p.m. to 10:00 p.m., Sunday from 2:00 p.m. to 10:00 p.m.
Close

Monday
Parking lot

None
Note