Enjoy raw pasta and Ezo deer at Hokkaido's Italian restaurant, "Ilipino!"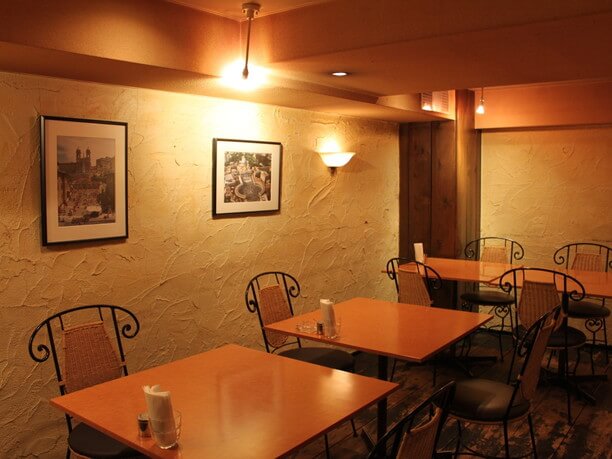 Ilipino is located only a few minutes on foot from Sapporo City Clock Tower. It occupies the first and second floors of the building's basement. This Italian restaurant makes use of seasonal ingredients. With "use of local products" as a motto, it is loved by many as a great place for a business lunch, and as a place for fun conversation at night.

The inside of the shop is more spacious than it seems from the outside. The tables are arranged in a way as to create a spacious and relaxing atmosphere. Most of the ingredients essential to Italian cuisines, such as flour used for raw pasta, meat, fish, vegetables, cheese, and wine are all produced locally!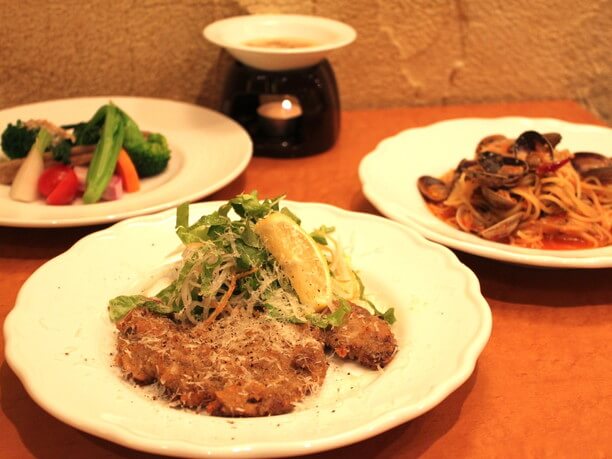 It is a great place to enjoy sushi, ramen, Genghis Khan, as well as Italian cuisine that is unique to Hokkaido.

The vegetables, wheat flour, and ezo meat are produced inside the province!
Many of the ingredients used in the store are purchased directly from producers in various areas of the province. They devised a menu that allows you to eat the "most delicious" of every ingredient.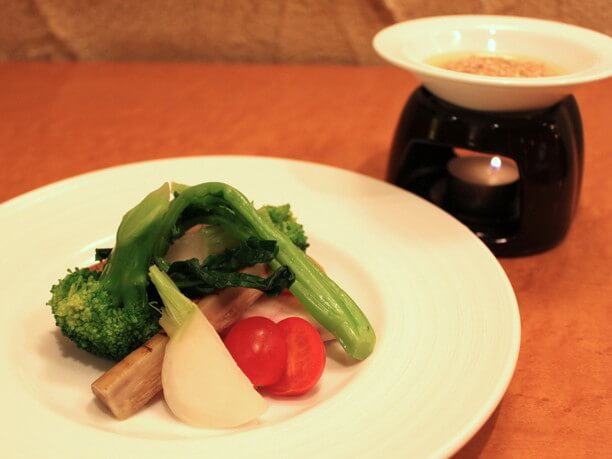 Bagna cauda (900 yen) is a dish of seasonal vegetables that are most popular among women. The type of vegetables will change according to the season. Making you look forward to seeing what comes out next!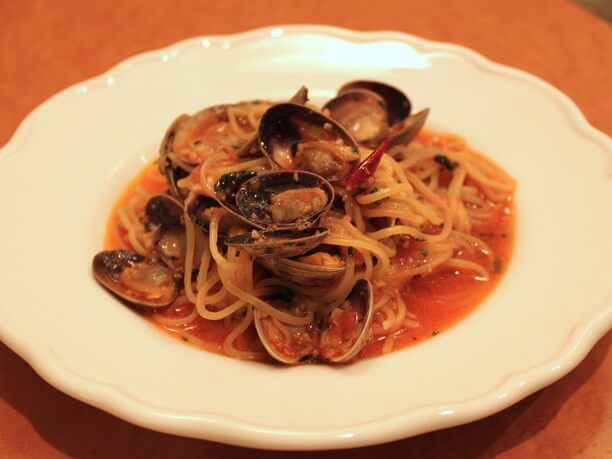 Their homemade pasta is made of 100% whole wheat. It comes in two types, fine noodles and flat beats. We recommend the thin noodles for pasta with clams of Akkeshi (1,080 yen).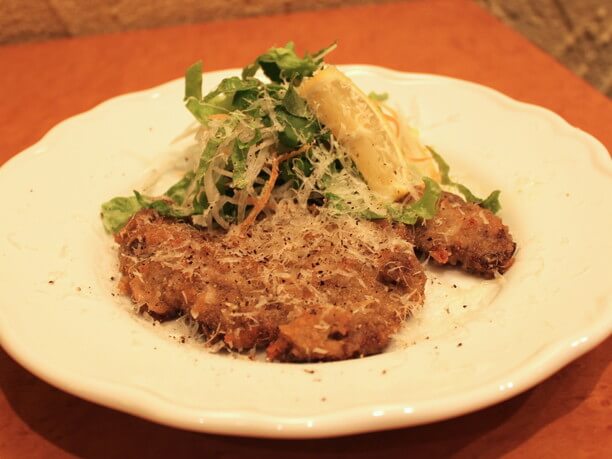 Also popular are their cutlets of Ezo deer meat (1,480 yen) that are made with fried egg, herbs and soft cheese.
Hokkaido ingredients are perfect for Italian cuisine!
"If you come to Hokkaido often, I'd like you to enjoy a variety of ingredients," said Mrs. Mie Kawabata. (川端美枝)
(the owner of the restaurant).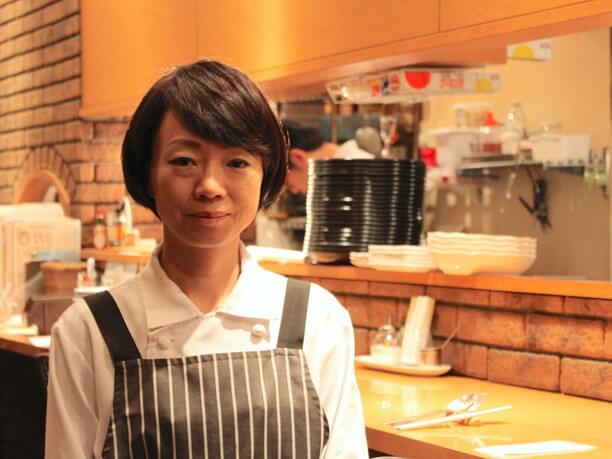 She learned cooking in Italy then opened this shop in 2002. Originally, she ordered a lot of ingredients from Italy, but she changed her policy dramatically and decided to use locally produced ingredients. As a result, the number of customers increased sharply.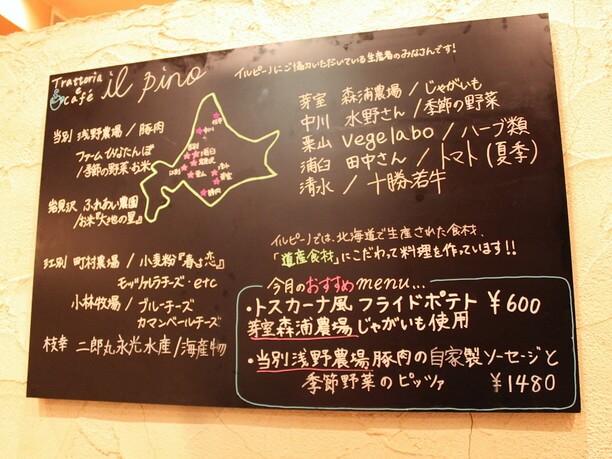 Since switching to local ingredients, they have established networks with reliable producers around the world, and continue to produce local products. Currently she is also active as a coordinator for making special products in various parts of the province. "Hokkaido is a wonderful place with lots of really nice ingredients. The material is good quality so it is perfect for simple Italian cuisine. There are many similarities between Italy and Hokkaido, most notable is that they are both small islands surrounded by the sea," says Mrs. Kawabata.
They also sell souvenirs and offer cooking classes!
The pasta and pizza you eat here can be purchased as a souvenir. There also sell rare things such as carrot dressing, short horn cow, bean ragout, and ezo deer meat sauce.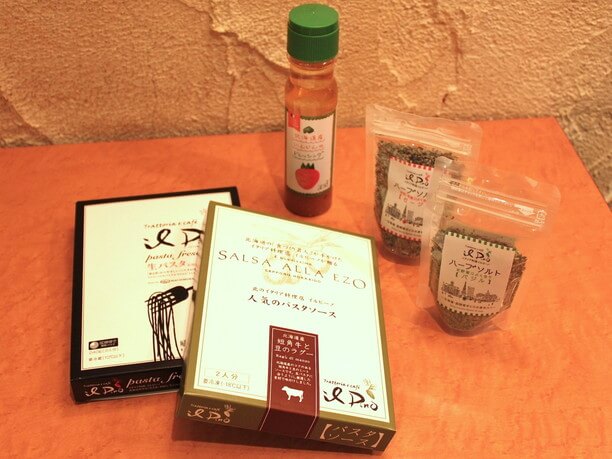 In addition, Mrs. Kawabata also regularly holds a cooking class that teaches recipes using seasonal ingredients that are not on the menu. She demonstrates her cooking techniques as she prepares the recipe in front of you. After preparing about 3 recipes, participants can enjoy the time to sample what was cooked and enjoy it with a glass of wine.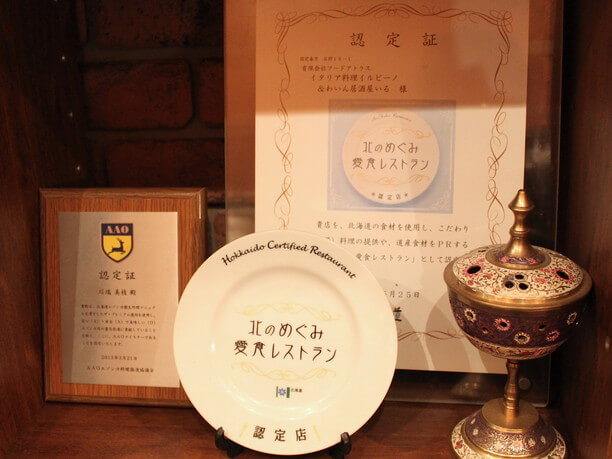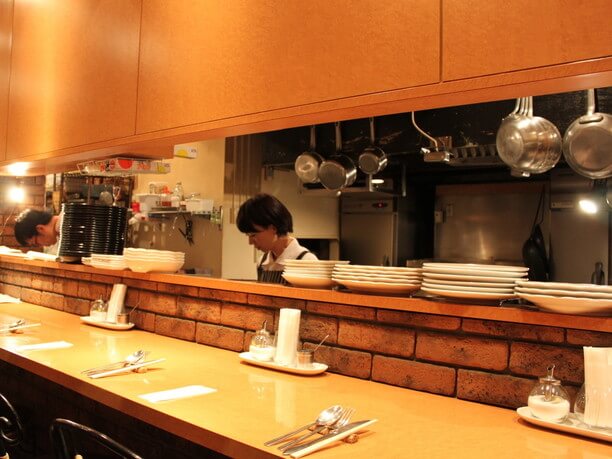 Ilipino has been certified as "a love restaurant in the north" from the Hokkaido county Agency as a shop that makes use of local ingredients. Dining here will definitely create delicious memories of your trip!
Smart tip
Cooking classes are held monthly using food products produced locally. There are usually spaces available even just before the class begins! In addition, private cooking lessons can be held for more than 6 people. For details, please call!
Cafe time is (1 pm - 4 pm). Because of Mrs. Kawabata commitment to good taste she went to New York to study.
You can print out and bring coupons posted on the shop's website. There are discounts for soft drinks (or dolce) for lunchtime and glass wine (or beer) for dinner time.
What's interesting
In addition to cutlets, Ezo deer cuisine also has meat sauce and steaks (limited amount). Ezo deer meat is rich in fat and less iron is also attracting attention as a healthy food ingredient!
Ilipino
Spot name(Ja)

イルピーノ
Address

Aramaki Clock Tower Front Building B1 Floor 3 - 3 - 25 Nishi 3 - Chome Kita 1-Jo Chuo-ku Sapporo-city Hokkaido
Address(Ja)

北海道札幌市中央区北1条西3丁目3-3-25荒巻時計台前ビル地下1階
Telephone

011-280-7557
Price

Lunch 880 yen ~, dinner average budget 3,000 yen ~ 4,000 yen
Open

11:30 a.m. to 11:00 p.m. (Last order at 10:30 p.m.)
Close

Sunday
Parking lot

None
Note