Kyoto Prefectural Botanical Garden is the place you could enjoy throughout the year! Cherry blossoms in spring, autumn leaves in fall, and illuminations in winter.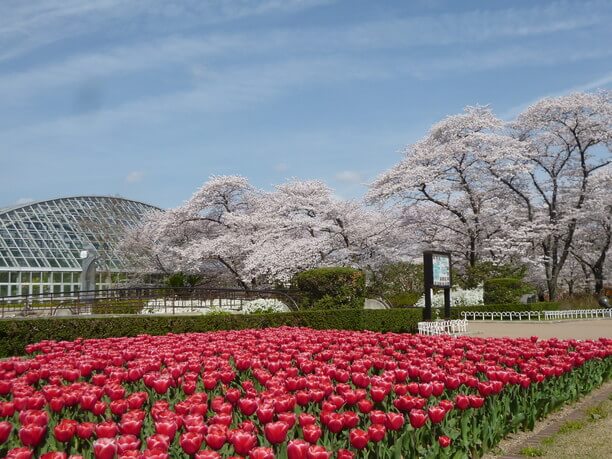 Kyoto Prefectural Botanical Garden (京都府立植物園) is public botanical garden found in 1924. It is the oldest botanical garden in Japan. There are 12,000 kinds of plants and flowers in a huge field large as about 60 acre (24 hectare), so you could enjoy various plants and flowers season by season. It is a popular tourist spot; many guests come to view various cherry blossoms in spring and various colored autumn leaves in autumn.
There are colorful tropical flowers and trees in one of the biggest greenhouses in Japan. You might find some rare plant here. "Cafe of the forest" (森のカフェ) is inside the botanical garden and pizzeria "In the green" is established next to the Kitayama-gate (北山門横). You could taste Napoli pizza baked in a wood-fired kiln and homemade sweets at " In the green ".
I recommend you to spend a relaxed time in nature.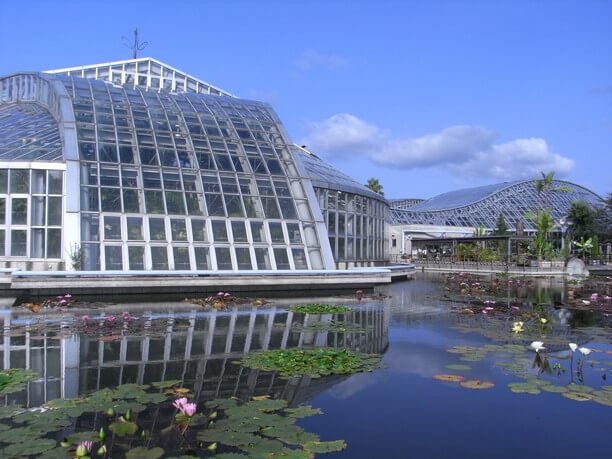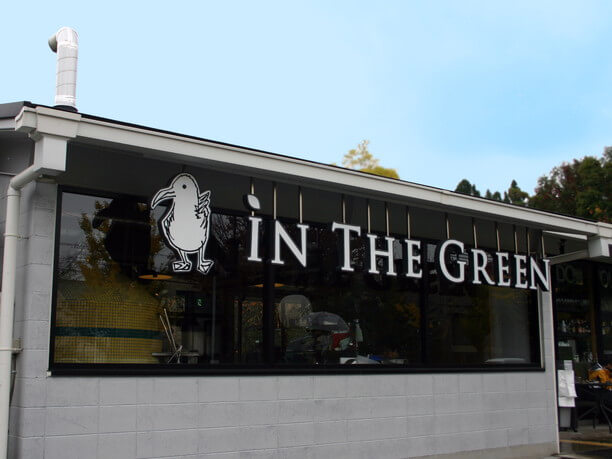 You could enjoy viewing various cherry blossoms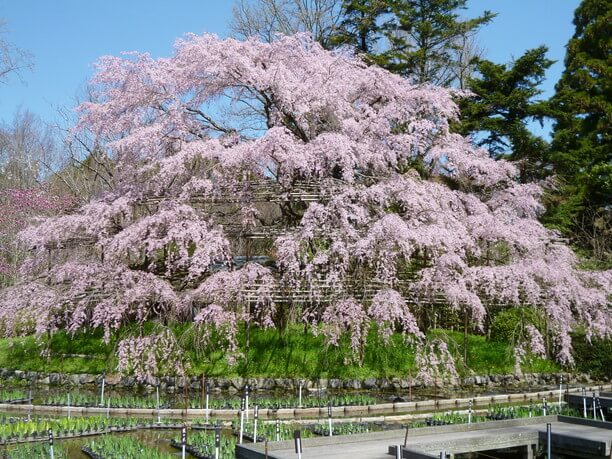 There are 450 Cherry trees in Kyoto Prefectural Botanical Garden. In Spring, 130 kinds of cherry blossom such as Prunus yedoensis (ソメイヨシノ), Prunus pendula 'Pleno-rosea' (ヤエベニシダレ) and Prunus lannesiana (サトザクラ) will bloom. Many guests come to view the beautiful cherry blossoms. Guest could enjoy from middle of March to end of April since there are early-bloom and late-bloom cherry blossoms.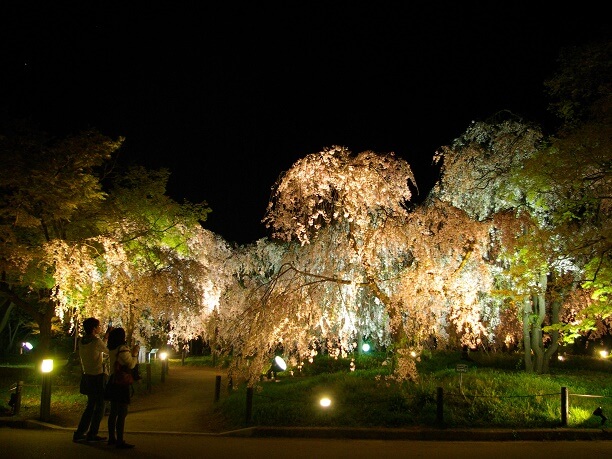 During this period, you could view the fantastic illuminated cherry blossom at night. Also the promenade next to Kamo-river known as "Nakaragi-street" is also a spot to view the weeping cherry tree. You will be satisfied to view the wonderful scenery of river and cherry blossom.
You could meet with the seasonal flower such as hydrangea, lotus and rose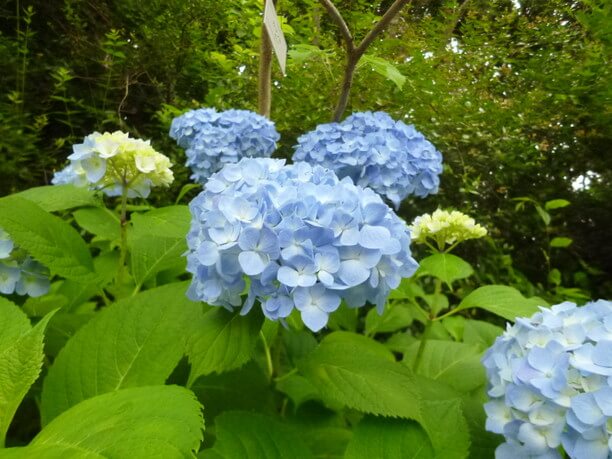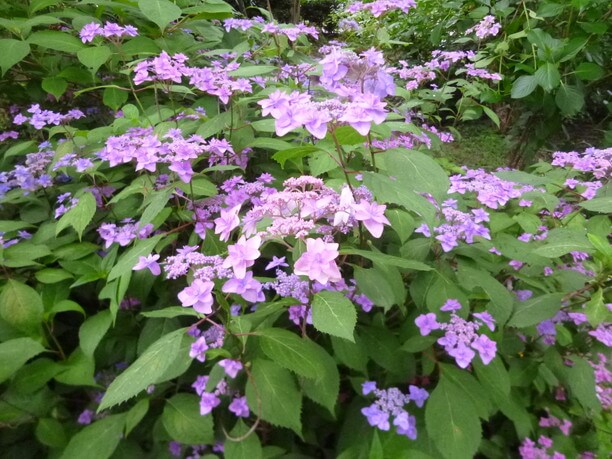 Please come to hydrangea garden during the rainy season. You could meet with colorful hydrangea. There is white, purple, pink hydrangea and also rare red hydrangea exists here. In the early summer, lotus starts to bloom so you could enjoy both hydrangea and lotus at the same time.
There are about 250 kinds of rose and 2000 roots in the rose garden.
You could feel as if you are in the garden of Great Britain.
Viewing beautiful rose with Mt.Hiei for a background is also attractive.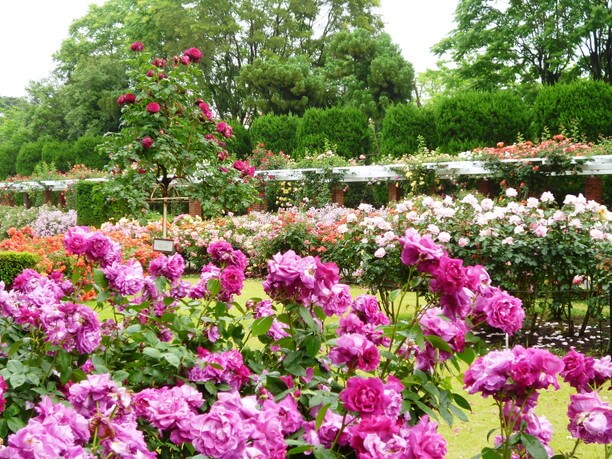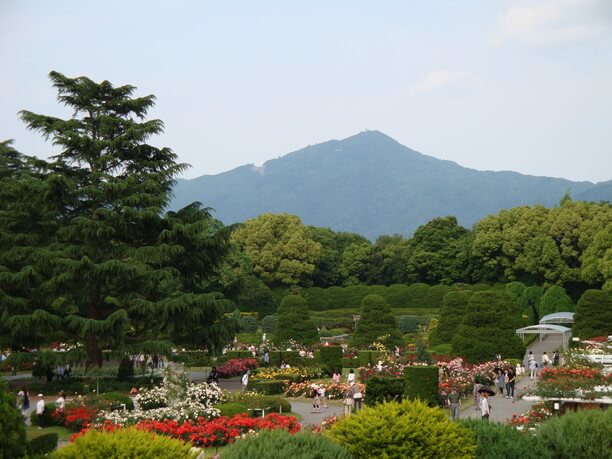 Suitable to spend a holiday with your family and for a date with your partner.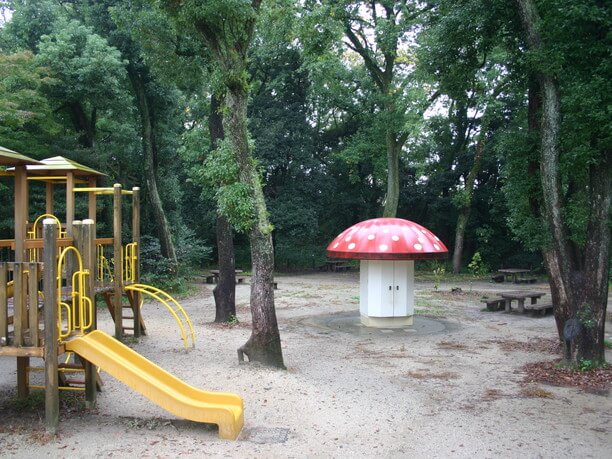 Children can enjoy their time with playground equipment at "Mirai-kun plaza" (未来くん広場) in the garden. Parent and child could spend a nice time with picture books at "Kinoko library" (きのこ文庫). The family could also enjoy the picnic here.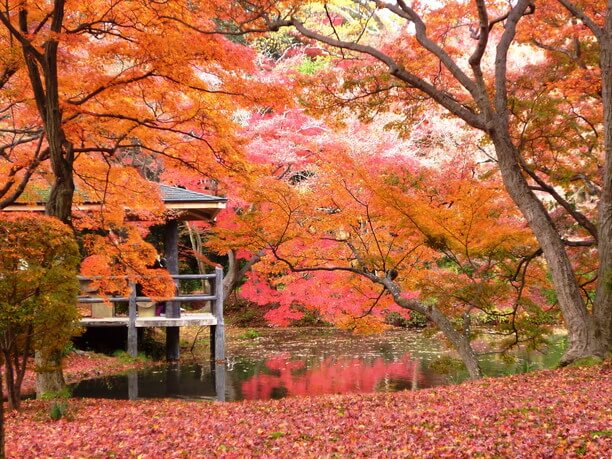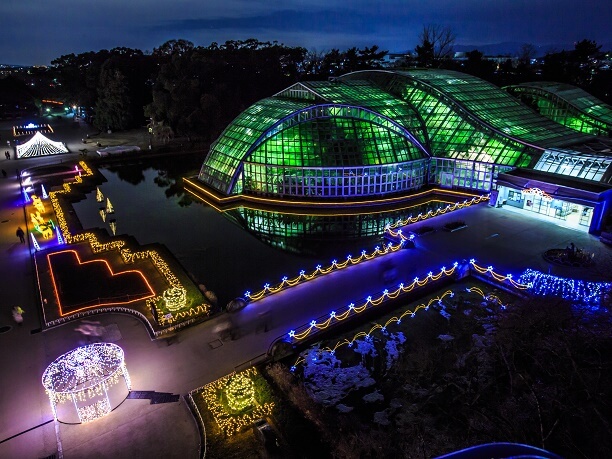 Japanese maple(イロハモミジ) and liquidamber (フウ) starts to change colors and you will find emotional scenery at elsewhere. There will be illumination during Christmas season and calm date at this place is recommended for couples.
Smart tip
Actually, there is "Nakaragi-jinja shrine"(半木神社) in the garden. It is said that sacred tree has drifted to "Forest of Nakaragi-jinja shrine" (流木(ながれぎ)神社の森) and became a botanical garden. At last, it corrupted to "Nakaragi"(半木)Why not pray at this traditional shrine while you walk the garden.
You need to pay additional 200yen to enter but is better to enter. You could enjoy the exotic mood as you see cactus, desert savannah room with many baobabs, jungle room with many tropical flowers and trees.
Kyoto Prefectural Botanical Garden is huge. It is ideal to go to this place when you have enough time because you need at least 1 hour to walk around the garden. You will feel relieved to spend a time walking through the botanical garden.
What's interesting
Pizzeria named "In the green" (In the green) right next to the "Kitayama-gate"(北山門) is the best place to enjoy the food and nature. You could enjoy BBQ at table outside! There is sample garden of various kind of cherry blossoms in front of "In the green", so you could enjoy cherry blossom in Spring and fresh green leaves in early summer.
Kyoto Prefectural Botanical Garden
Spot name(Ja)

京都府立植物園
Address

Nakaragi-cho Shimogamo Sakyo-ku Kyoto-shi Kyoto
Address(Ja)

京都府京都市左京区下鴨半木町
Telephone

075-701-0141
Price

Adult: 200yen
High school student: 150yen
※under middle school student: free
※over 70years old(need formal documents)、person with disability: free
Open

9:00 to 16:00
※Close at 17:00
Close

12/28~1/4
Parking lot

Has Parking
Note