The Kuromon Ichiba market, renowned for its gourmet food has been loved by locals for many years.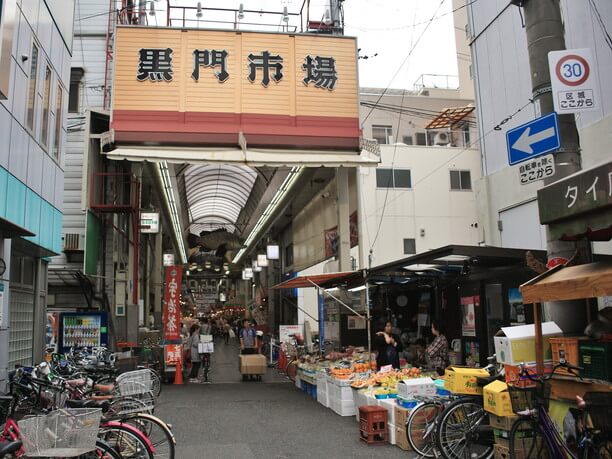 You can easily walk to the Kuromon Ichiba market (黒門市場) from Namba's premier shopping and entertainment district on city's historic Kuidaore street. It was originally a fish market so there are many fish, pickle, and fruit shops here that were founded more than 120 years ago. Close to 200 stores line the market streets. In recent years the area has been getting more and more attention from overseas tourists while continuing to be loved by the locals.

Enjoy the fluffy egg sandwiches
Located on the north side of the market on Sennichima dori road is the Oide coffee and sandwich shop.
It is owned by a husband and wife team and though it is a small coffee shop, every day it serves many sandwiches, breakfast and afternoon snacks.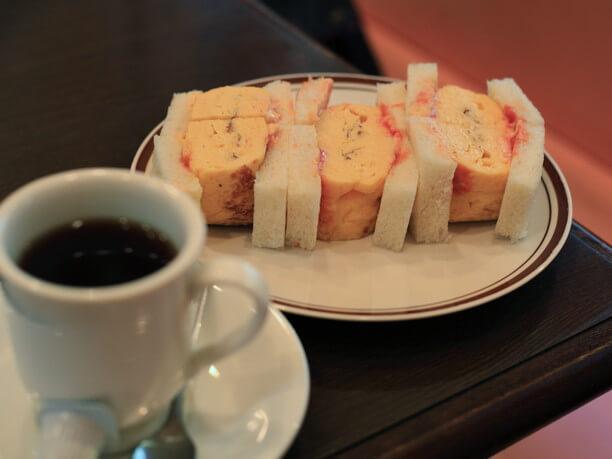 The thickness of the egg is thicker than the bread. Its flavor is enhanced with a little mayonnaise and ketchup. The sandwiches come in a coffee set for 750 yen.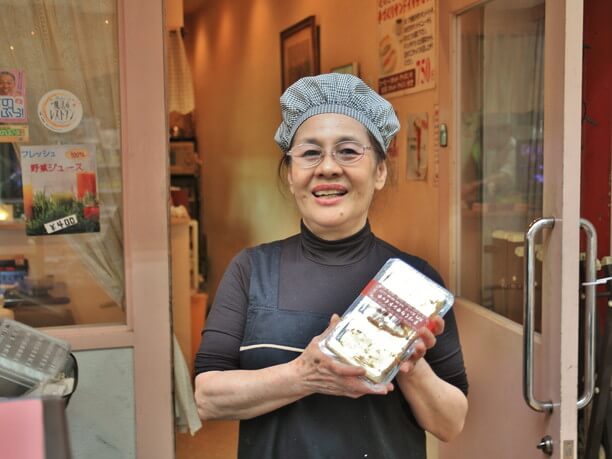 Enjoy Kuromon Sakamotot special fried cutlet!
Kuromon Sakamotot is a butcher shop that carefully selects its meat from supplioers all over Japan. Your menu selections are made to order and arrive freshly cooked and delicious. They specialize in fried croquette or minced meat cutlet that are served crispy and hot (1 for 64 yen). They have a faint curry flavor and a mouth-watering taste.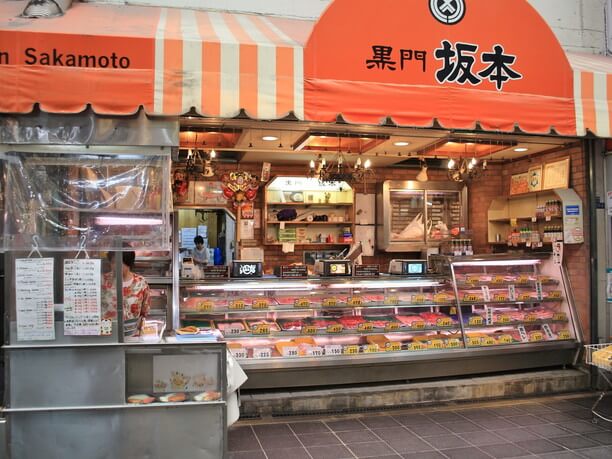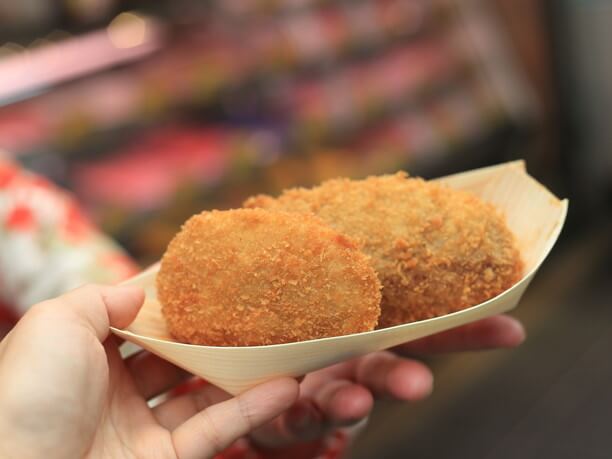 The Kuromon fish market specializes in tuna and fugu.
You can find plenty of fresh seafood at the market! Stores prepare the food for you to eat right away or you can take it out with you. The tourists really enjoy the large selection of fish to choose from, including shellfish and other variety of small and large fish.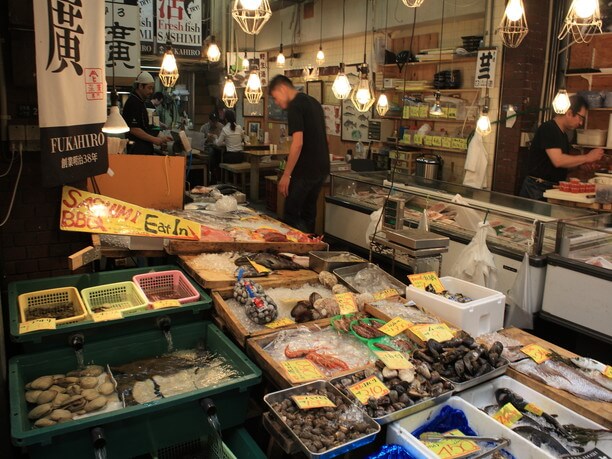 One shop In particular, the "Minami" specializes in Osaka's excellent fugu (Blowfish).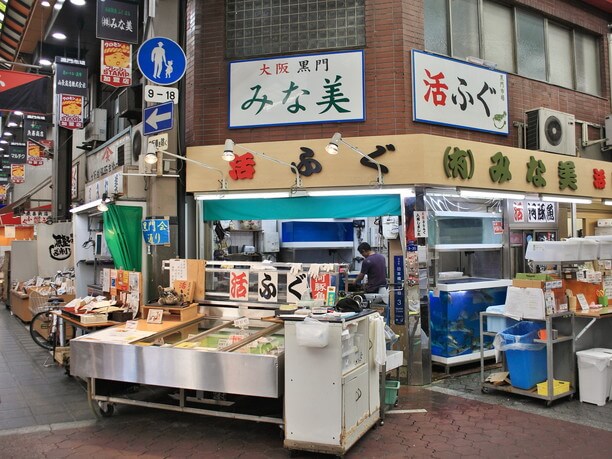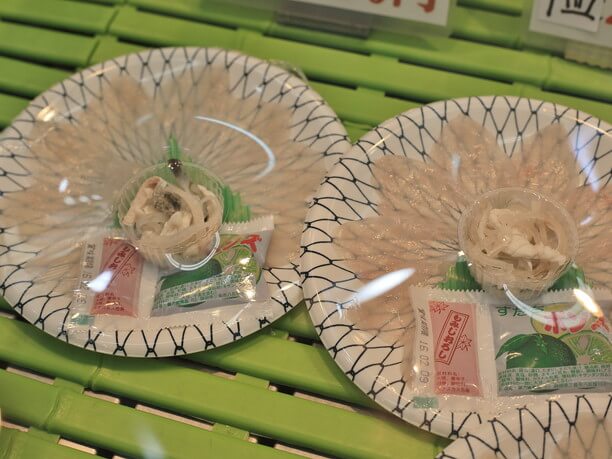 Enjoy hand-made hot Oden at Ishiguro Shokuhin.
Ishiguro Shokuhin offers a variety of dishes including the very popular boiled rice marinated in spicy sauce. It tastes like mom's home cooking! It has been open for more than 40 years. Each lunch dish with rice sells in sets for around 500 yen.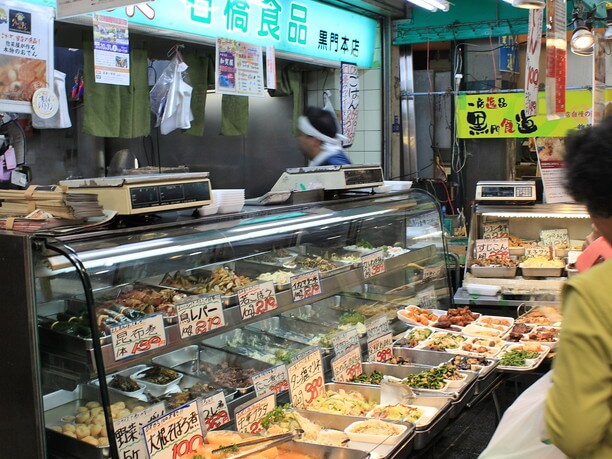 Another popular dish served here is the oden flavored chilled radish and egg. This oden is spicy hot and is popular all year round except in the summertime when it is too hot for this spicy dish.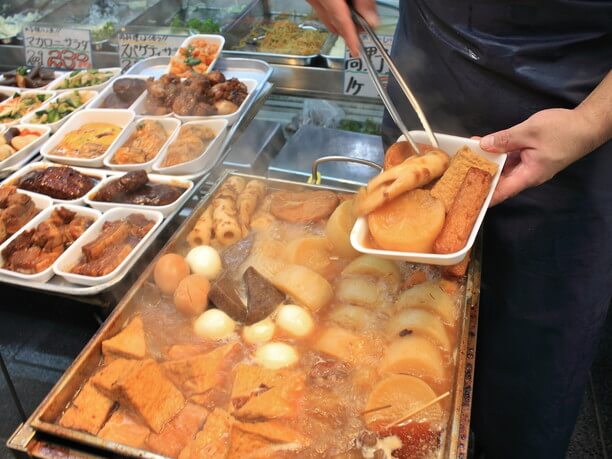 Enjoy the taste of pickled vegetables at the long-established Iseya main shop!
This popular pickle store is Iseya's flagship store. It was founded in 1897. The shelves are lined with a variety of pickles and seasonal vegetables made from recipes that were handed down from generation to generation.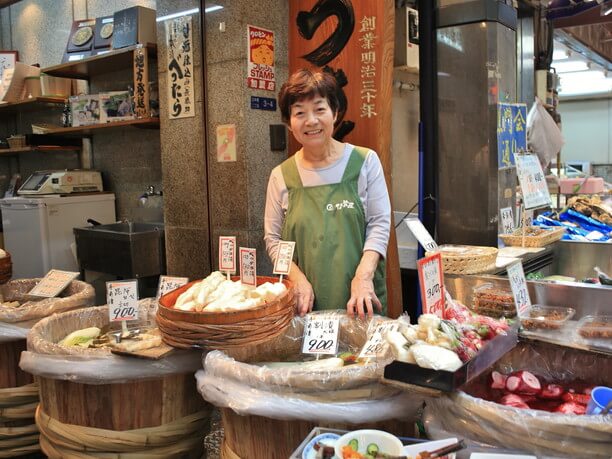 In the summertime fresh eggplant and other local vegetables are pickled by a traditional process that marinates them in their natural flavor with kelp. Take advantage of their pickling experience and enjoy the taste.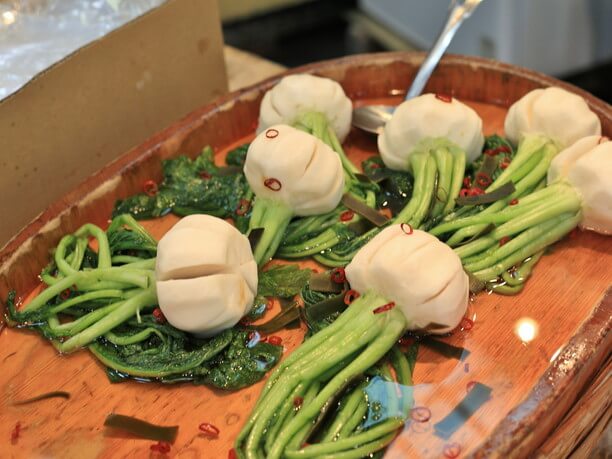 Nabeji in the Kurimon Ichibon market is the place for natural fruit Juice and sweets.
Several grocery stores in the market have a variety of fresh fruit to serve. One of the most popular is the "Nabeji." They choose fresh fruit and vegetables from around the country, such as the luxury Crown melon. The popularity of this place is mostly due to the fresh juice they make from ripe fruit. The fresh fruits can also be prepared for you to be eaten on the spot.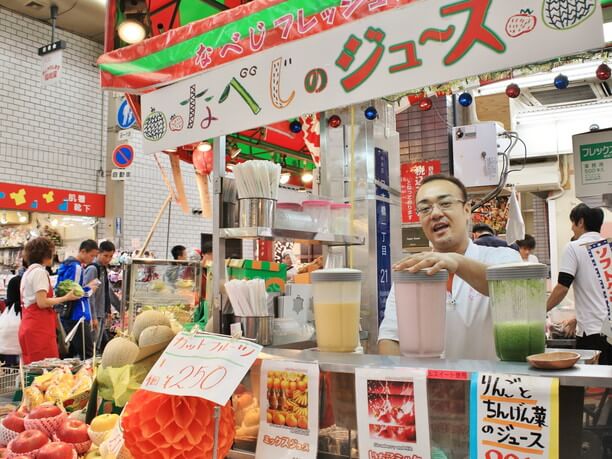 Mitoya store is a Japanese sweet shop specializing in kuromon dango. It is made with rice, soy powder, and sugar. This red rice mochi is a popular Japanese-style confection! It has a rustic flavor with plenty of soybean flour.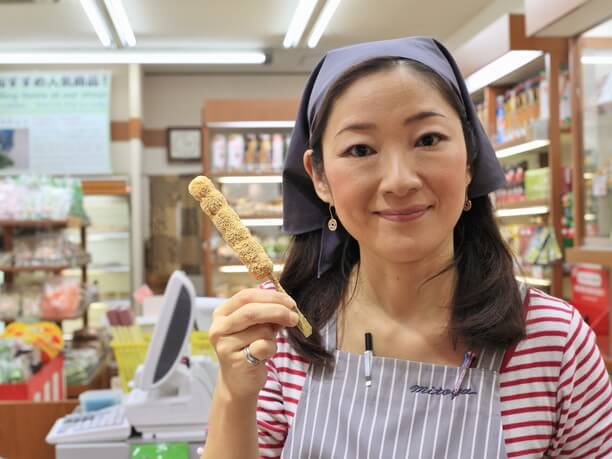 Kurimon Ichiba market also offers various gourmet tempura, curry, ramen noodles and many other tasty treats to enjoy. These stores are loved by the people of Osaka even with their discerning taste buds they say this food is some of the best in Japan!
Smart tip
There are two toilets in the corner of the market. There is also a resting place where you can eat the food that you purchase at the market.
The market is just a 5-minute walk from Namba. A nice stroll in the Minami area is recommended.
Many shops that were previously closed on Sunday, are now open both Saturday and Sunday to accommodate the large crowds. To avoid the crowds, it is best to come on weekdays after 2:00p.m.
What's interesting
A real treat is the fresh juice of Nabeji fruit shop. Especially good are the mixed juice flavor formulations, such as golden peach and pineapple. It is something you will enjoy regardless of your age.
Kuromon market
Spot name(Ja)

黒門市場
Address

2-4-1 Nihonbashi Osaka-city Osaka
Address(Ja)

大阪府大阪市 日本橋2丁目4-1
Telephone

06-6631-0007
Price

Depends on each store
Open

Depends on each store
Close

Depends on each store
Parking lot

Times Japan Bridge station
9:00a.m. to 2:00p.m. 200 yen (20 min.)
2:00a.m. to 9:00p.m.100 yen (60 minutes)
Note