Introducing lunch in the West Coast resort area featuring shops in the Onna village and Yomitan village.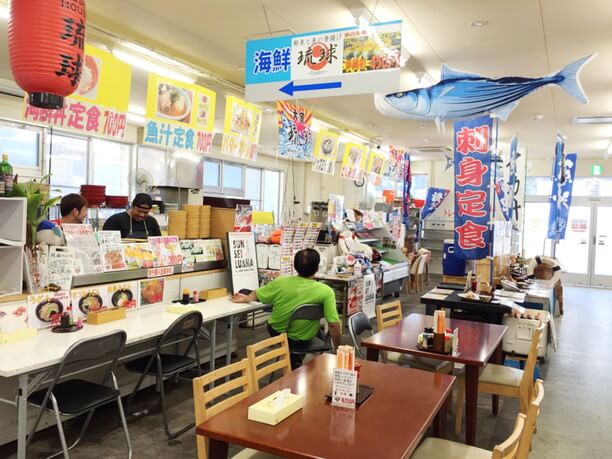 The West Coast, including Onna village and Yomitan village is the largest resort area in Okinawa. There are many famous sightseeing sites such as Muura Sakumura Experience Kingdom and the Blue Cave. After satisfying your heart with the beautiful west coast seas and sightseeing, you can enjoy delicious gourmet food to satisfy your stomach. Introducing West Coast lunch spots where you can eat between sightseeing spots.

Offering homemade sweets and Okinawa soba!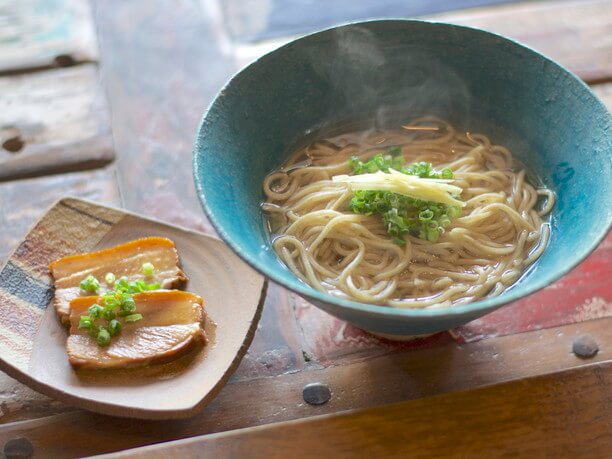 Kinchichi Soba is a popular Okinawa soba restaurant. It is famous in the Yomitan village which is known as the village with the largest population in Japan. We recommend having their "flour scented bonito soba." It has a slightly sweet, mild flavor. The noodles are made with wheat grown in Okinawa and you can feel plenty of regional taste in each bowl. For dessert try their thick and mellow cream brulee. This is the perfect place to enjoy Okinawa soba and handmade sweets. It is particularly crowded from noon to 1:00 p.m. so we recommend that you visit at other times.

【Spot name】Kinchichi-soba (Yomitani)
【Street address】201 Kina Yomitanson Okinawa
【business hours】11:00 a.m. to 4:00 p.m. (as soon as it is sold out)
【Regular holiday】Monday
Enjoy the taste of this jumbo gourmet burger while watching US Air Force aircraft!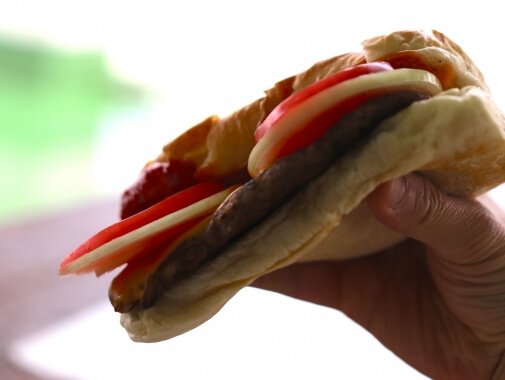 Rotary Drive Up Kitty' in Kadena-cho's Road Station, Kadana staple is its Jumbo Cheese Burger. It weighs nearly a pound and is 7" in length, 2 ½" in width, and 3" high. The patty is made with prefecture-produced cow & pig's Iviki meat intertwined with a thick slice of cheddar cheese. It also can come as a set with
French fries and drinks or soup. It is a great meal to enjoy while watching planes of the US Air Force at Kadena Airfield right in front of you.

【Spot name】Rotary drive in UP-KITTY
【Street address】Michinoeki Kadena 1026-3 Yara Kanadecho Okinawa
【business hours】9:00 a.m. to 11:00 p.m., Last order at 10:00 p.m.
【Regular holiday】None
Come and enjoy spending time at this special market!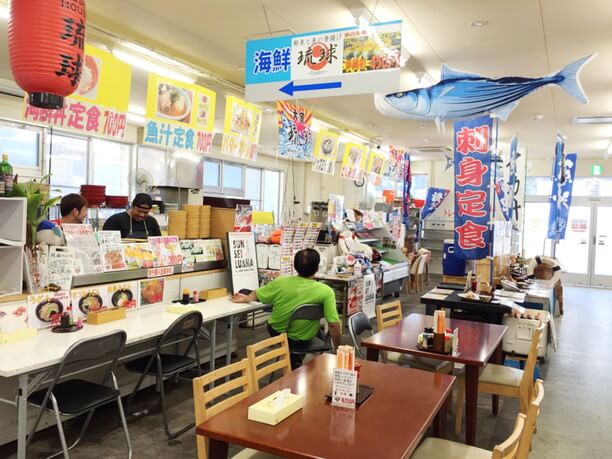 The Hagoromomon Market on the west coastline of Ginowan City is located in the Ginowan Yui Marche facility. Here you can purchase vegetables and fruits from the prefecture, as well as baked goods, sweets and drinks that are not available outside the prefecture. On Wednesday and Saturday, you will be able to see a pig dismantling at the counter. There are two shops you can eat at in the market. At one shop you can enjoy Okinawa's first Sea urchin on a baked roll' and the other shop offers Okinawa's version of 'Champa' with vegetable stir-fry with eggs cooked on white rice. It is located on a back street close to Ginowan Seaside Park. It is not easy to find so take care not to get lost.

【Spot name】Hagoromo market
【Street address】7-1350 Ohyama Ginowan-City Okinawa
【business hours】9:00 a.m. to 7:00 p.m.
【Regular holiday】7 days a week
Enjoy gourmet bread in nature.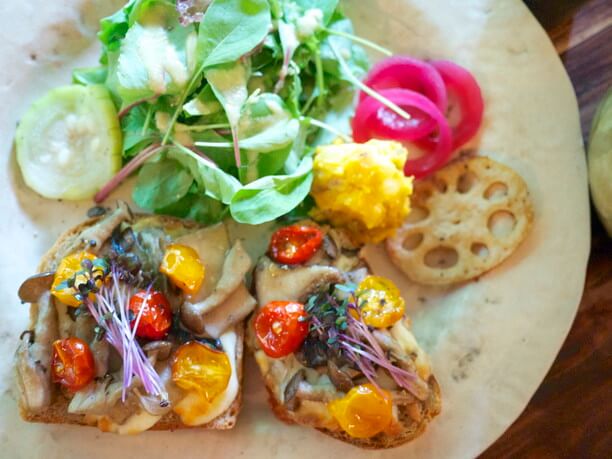 Suien is a bakery near the Zakimigusu castle in Yomitan village. It is a cute wooden shop that is nestled in the rich green of nature! There is a cafe space next to the sales floor where you can have sandwich plates and chai. You can also watch and listen to the birds from the wide open glass door. Take out is recommended so you can enjoy your meal while exploring the rich nature around the Yomitan village.

【Spot name】Suien
【Street address】367 Zakimi Yomitanson Okinawa
【business hours】10:30 a.m. to 7:00 p.m., Last order at 5:30 p.m. * The bread store closes as soon as the bread is sold out.
【Regular holiday】Monday Tuesday Wednesday
Enjoy a meal at an elegant West coast resort hotel!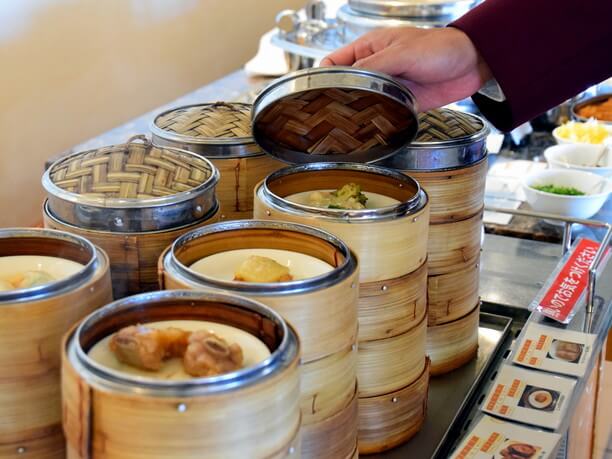 Located in Yomitan village on the west coast, Nikko Aribira is a popular resort hotel standing on beautiful Nirai Beach. It is here You can have delicious Chinese cuisine while watching the beach from the Kinshasa restaurant in the hotel. They have an all you can eat lunch buffet that is highly recommended. It is lined with Chinese appetizers and desserts, as well as Chinese tea. For the best assortment of food it is best to go eat immediately after the restaurant opens.
【Spot name】Nikko Aribila · Kinshasa
【Street address】600 Gima Yomitanson Okinawa
【business hours】Lunch: 11:30 a.m. to 2:00 p.m. (Saturdays and Sundays, public holidays 11:30 a.m. tp 3:00 p.m.)
Dinner: 6:00 p.m. to 9:30 p.m. (Last order 9:00 p.m.)
【Regular holiday】None
このスポットの詳細を見る See details of this spot
Enjoy Rice balls made with Love!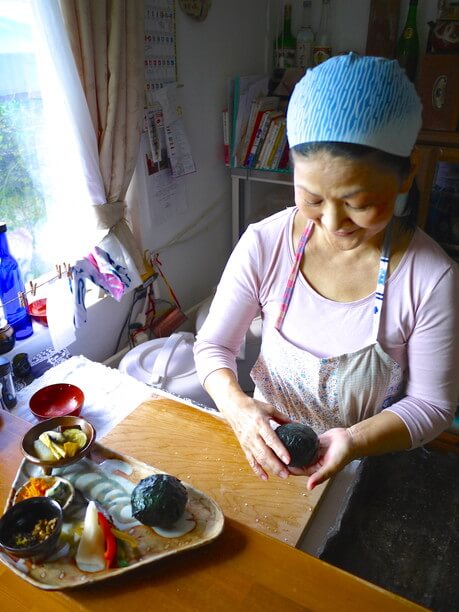 Visiting Mee Michi which located in a quiet residential area of Ginowan-bay, is like going to a friend's house to eat. Ms. Sato Hatsume's (佐藤初女) (the owner) was famous for presiding over the "Ischia in the forest" in the Aomori Prefecture. Generally musubi has a triangular or rectangular shape, but here musubi is round and wrapped in black seaweed. You can choose from around 10 kinds of musubi, such as goyamiso, niga, and glukun. it comes in a set with two rice balls and dessert. In the evening, you can enjoy western gourmet food!

【Spot name】Meemichi (Ginowan bay)
【Street address】6-5 Ohyama Ginowan-City Okinawa
【business hours】noon to 8:00 p.m. (Wednesday – Saturday), open until 4:00 p.m. on Sunday)
※ However, it closes as soon as the meal is all sold out.
【Regular holiday】Monday Tuesday
Enjoy the atmosphere inside this street style Thai restaurant!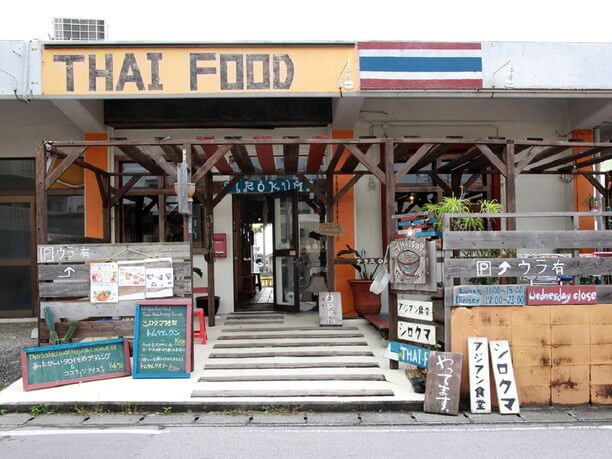 Shirokuma is located in the residential area of Yomitan village. This small fancy cafe is a Thai restaurant in the daytime that transforms into a trendy dining bar at night. The interior has a street style with a tin roof. Mural paintings drawn by the staff and handmade goods decorate the walls. You can enjoy a classic Thai cuisine lunch plate during the day and at night have a 1 item dish with alcohol. It has counter seating like any small bar, where you can drink the famous Awamori, Awamori "Zanpa" in addition to Thai alcohol. It is a great place to enjoy an ethnic dish if you want to try something other than Okinawan cuisine while traveling.

【Spot name】Shirokuma
【Street address】304 Toya Yomitanson Okinawa
【business hours】Lunch, 11:00 a.m. to 3:00 p.m. Dinner 5:00 p.m. to 11:00 p.m. (Last Order 10:30 p.m.)
【Regular holiday】Wednesday
This Pancake specialty store in Okinawa is popular with Americans!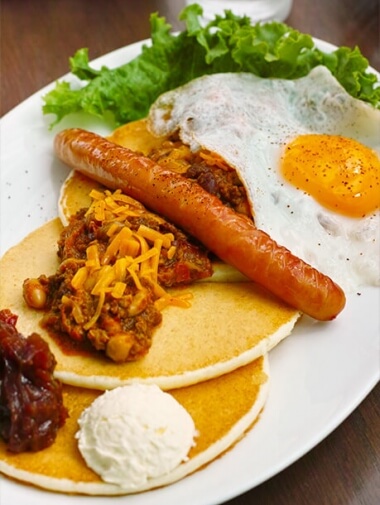 Yakke Booth pancake house is located in a renovated foreign residence in the Yomitan village. It is a pancake specialty shop where the American families and the US military groups come in camouflage clothing to eat breakfast first thing in the morning. It is a popular shop that serves among other things, sweet pancakes, pizza and chile Beans. They also have chocolate, banana, and strawberry, sweet bean paste and Matcha (green tea). If you like the taste of the pancakes, we recommend their plain classic pancakes. If you like your pancakes a little bit fancier they have plenty of toppings to choose from. So, if visiting Yomitan or Onna village stop in and enjoy the taste of these favorite American dishes.

【Spot name】Pancake house Yakke booth
【Street address】No.44 436 Toya Yomitanson Okinawa
【business hours】9:00 a.m. to 4:00 p.m. (Last order at 4:30 p.m., Monday, Thursday, Friday)
8:00 a.m. to 4:00 p.m. (Last order at 3:30 p.m.) Saturday and Sunday) –
【Regular holiday】Tuesday Wednesday