Shikina-en Garden World Heritage site has a surprising way to enjoy Ryukyuan culture and nature!
Food and drink prohibited. Shikina-en(識名園) Garden located in Naha city is a world heritage site(世界遺産) where there was a separate Palace of the Ryukyu dynasty.
Trees grow thick and dense at the entrance, opening up into beautiful courtyard ideal for photographs. Going to the hill you can see Naha city, Kankoudai and banana orchards.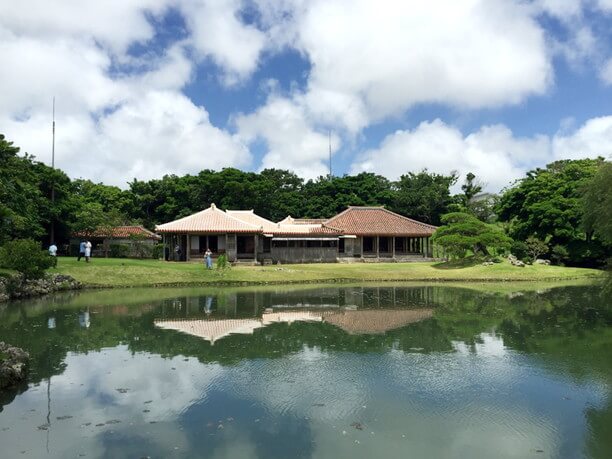 This visit I was listening to the guide of shikinaen. They had lots of information that wasn't in any guidebook. I am going to write about what I was told so I can share with the people of Okinawa the many attractions of shikinaen that they can and enjoy.

Near the entrance is a tropical jungle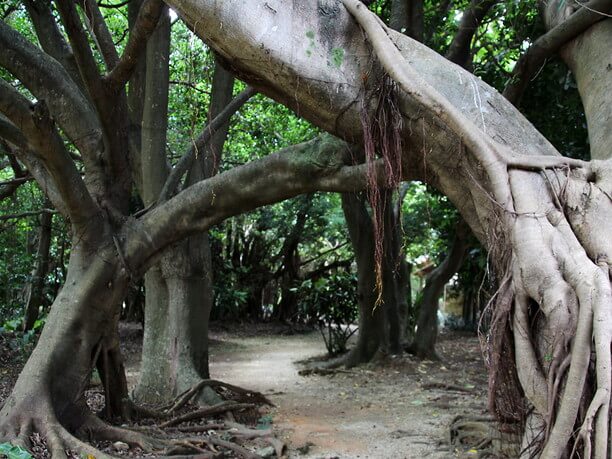 Near the entrance is where during World War II Japan Army ammunition depot was located. The wooded area was used to hide and protect the ammunition from US fighters flying over.
There are still the remnants of the depot there today.
The area around the entrance is filled with beautiful plant life.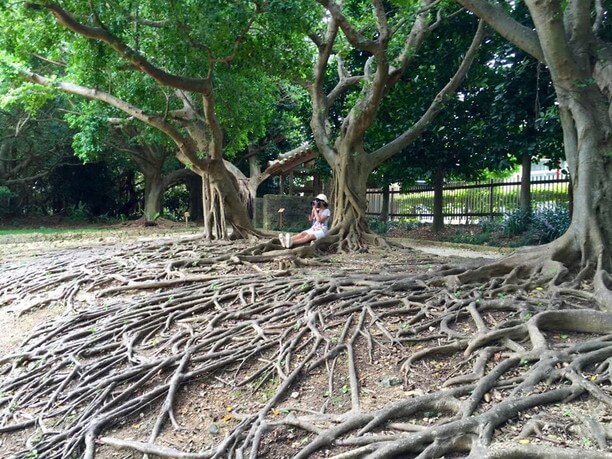 When you go to the Banyan Tree Park you will be nearly overwhelmed by the power of the Banyan trees. It is said that the roots are communicating with Spirit and the area overflows with the feeling of mana (life force).
With the current rate of growth in tens of thousands of years later Okinawa would be totally covered by banyan tree roots.
This is! Shikinaen "it is a world heritage site.
During World War II, a huge fire was started as a result of U.S. bombing and the stored ammunition and shikinaen burnt down.
Most of the Park is restored. This is an excellent place to experience still existing world heritage. This is a part of this. It is a where you can be truly touched by the presence of so much valuable history.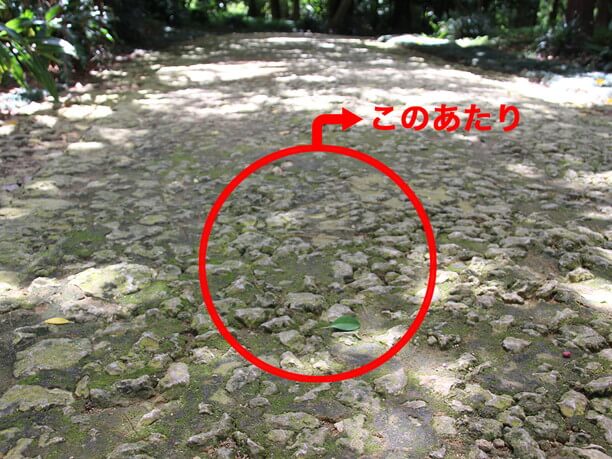 There are many small stones in this World Heritage park area and if you look closely you'll find older large pieces of
Cobblestones that were there before the war. The guides speak of all the limestone that is there that form stone walls that now give you a feel of history and antiquity.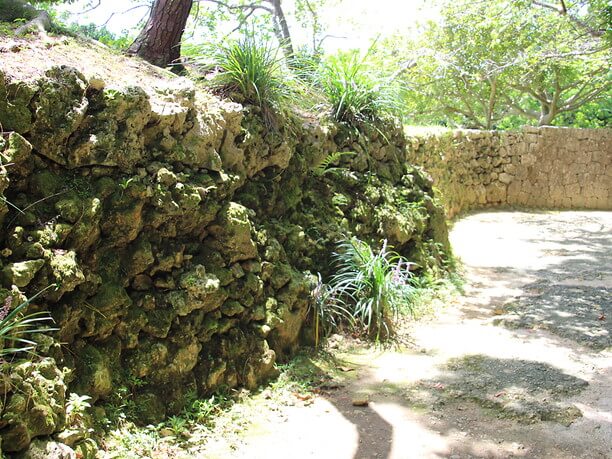 It is a wonderful place for photographs and considered a special place for Weddings and other events.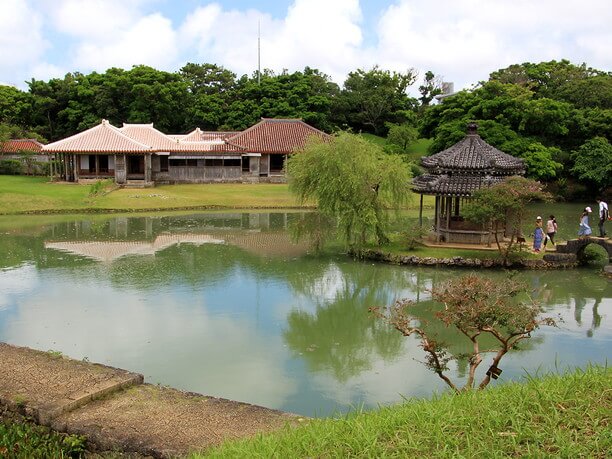 Often time it is used for Ryuku classical wedding ceremony and reception in the Palace.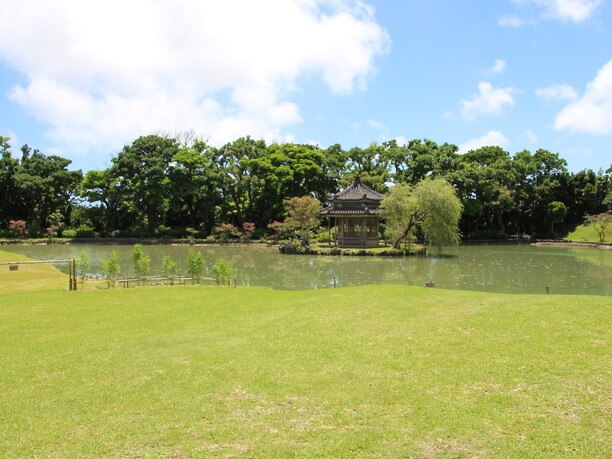 If you are lucky during your visit you may see a wedding.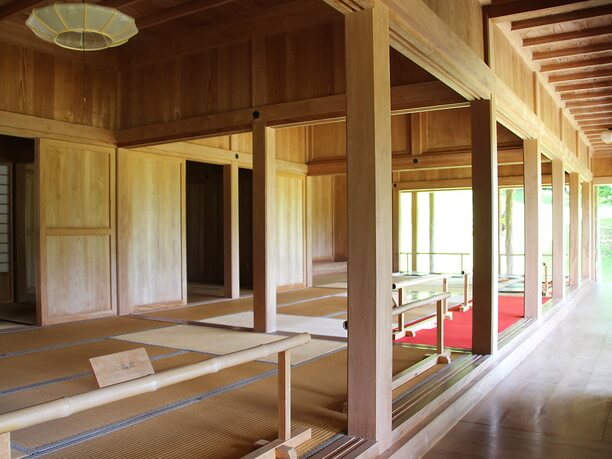 This is the pond in the middle of the garden Is this green?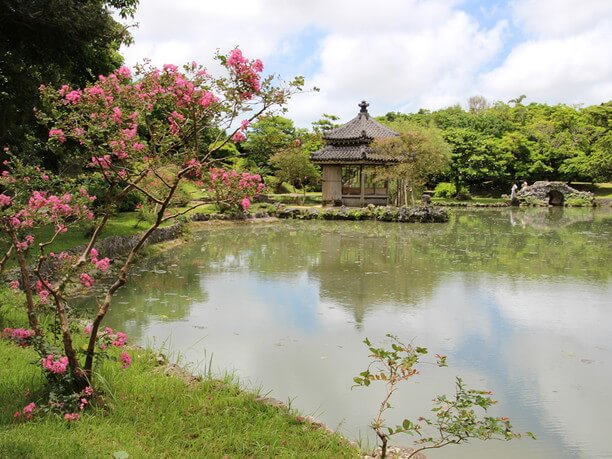 The tour guide said that many tourists ask "This pond is green. Are you cleaning it?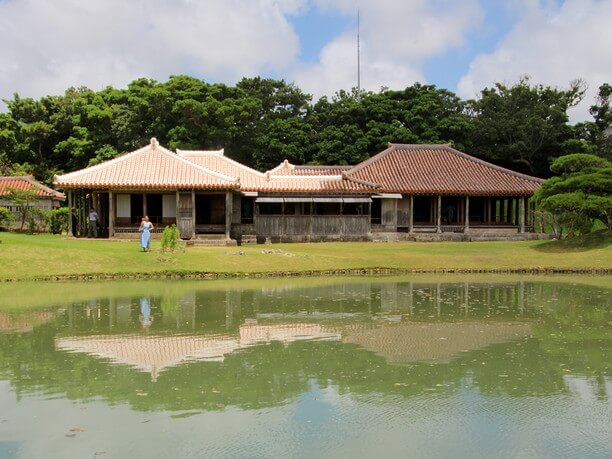 The guide answers"Yes we are cleaning it with regular maintenance but from the oil from the tallow trees goes through the ground and into the pond and floats as fat in the water." This is good though because it serves as food for the shot Koi and giant eel.
This is a Rich and natural phenomenon which happens only if the pond is green. From the pond, I see a lot of clean water coming out.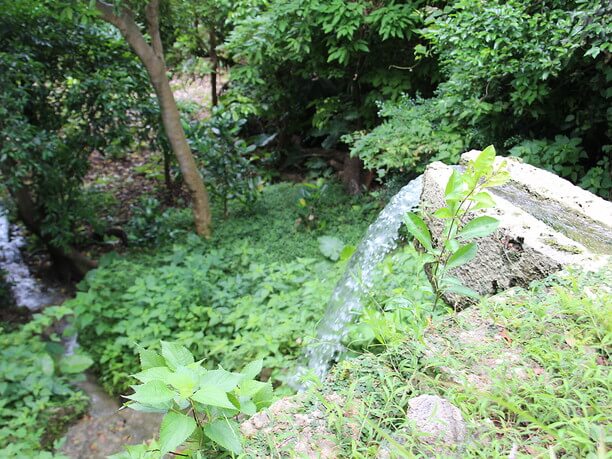 The four seasons flowers and strange sign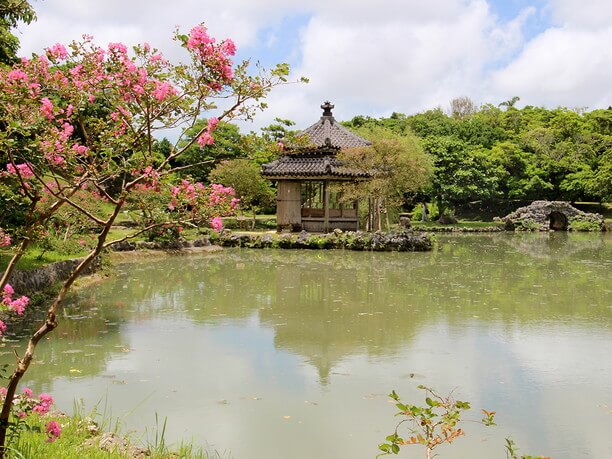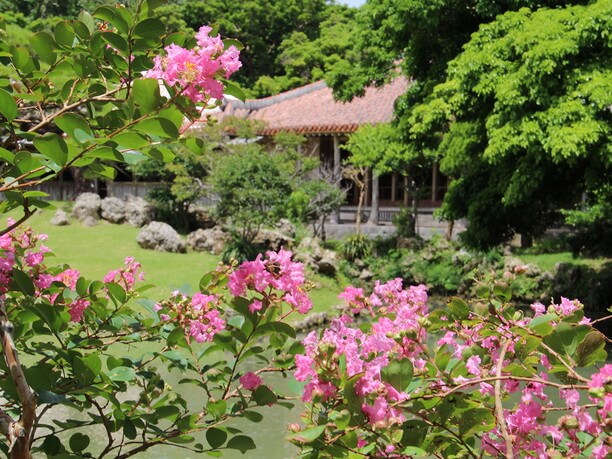 You can visit shikinaen any season and enjoy the beautiful seasonal flowers.
There is plenty to see and take pictures of this beautiful landscape including the Palace and Temple.
So be sure and schedule yourself, at least, an hour to give you time to see it all and enjoy taking pictures.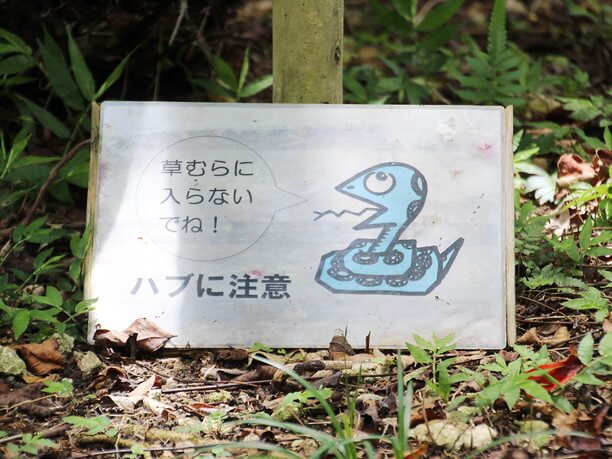 You will see a sign that says, "Beware of Hub" [poisonous snake}
People will ask. "Do you really have hub here?" The reason they put the sign is that they don't want people going into the roped off areas and the signs stop people from going in. The tour guide will tell people I have never seen one but I tell people they might see one so don't go behind the ropes.
I feel like a picnic at the observatory at Banana park.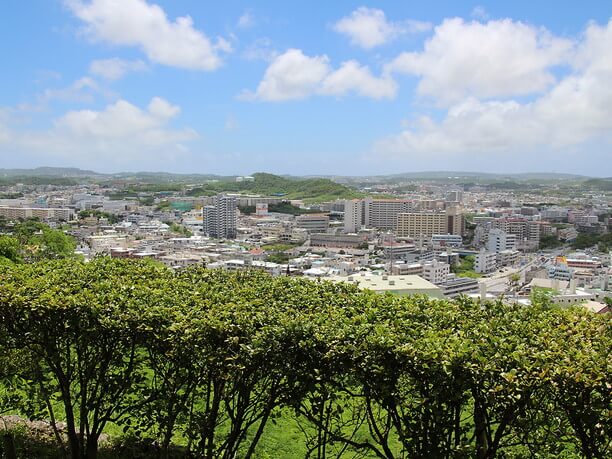 The food and beverage ban is enforced in the park.
You can understand why I said that because the covered gazebo observatory would make such a wonderful picnic site. The word observatory comes from the term observation deck. You can stand on the covered observation deck and get a good view of Naha city.
If Chairs and a table were available here I would love to open my lunch box.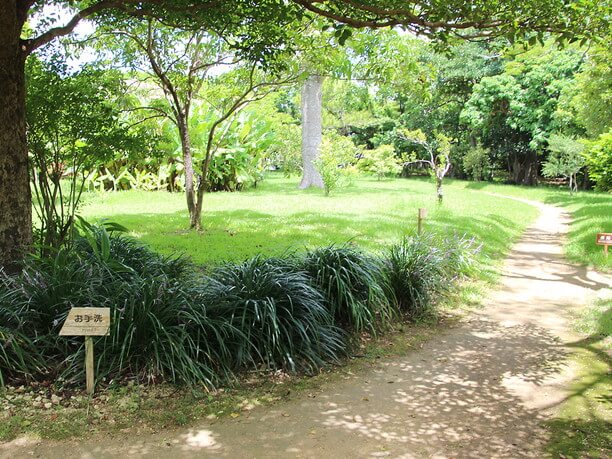 From the observatory, you can see banana plantations and orchards ahead. From the world heritage history site, it transforms into a "Tropical Botanical Garden".
Now, if I only had a picnic blanket and lunch in my bag,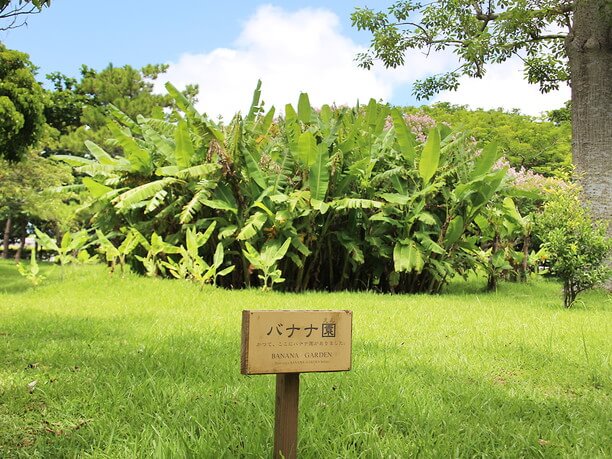 But once again, keep in mind, " eating or drinking are prohibited in the garden."
It is a world heritage site and management it is strict. They are protecting the green pond.
Why not come to world heritage sites in Okinawa and experience the natural history and the four seasons in shikina-en Garden.
Smart tip
It is difficult walking on the cobblestones. Wear comfortable flat footwear. When raining it is slippery, so walk carefully.
Mosquitoes abound in nature! So Insect repellent spray is recommended.
Eating and drinking in the Park is prohibited.
What's interesting
In order to restore history of the Ryukyu dynasty palace, as well as to preserve nature this garden was in January of 2003 specified a special place of scenic beauty and was registered on the World Heritage list in the same year.
Shikina-en Garden
Spot name(Ja)

識名園
Address

421-7 maaji, Naha-city, Okinawa
Address(Ja)

沖縄県那覇市字真地421-7
Telephone

098-855-5936
Price

Adults 400 Yen (junior high school students and younger) 200 yen
Open

4/1-9/30 9:00-18:00 10/1-3/31 9:00-17:30
Close

Wednesday
Parking lot

YES