Eat Okinawa soba noodles to your heart's content! Wooden construction, red-tiled roof, and a spacious tatami interior: Ryukyu Bukeyashiki Janatei
Originally built as an exterior set for Ryukyu no Kaze, 1993's Taiga television series (annual year-long historical drama) starring Noriyuki Higashiyama, Taiken Okoku Murasaki Mura now serves as a tourist attraction that primarily provides visitors with hands-on experiences.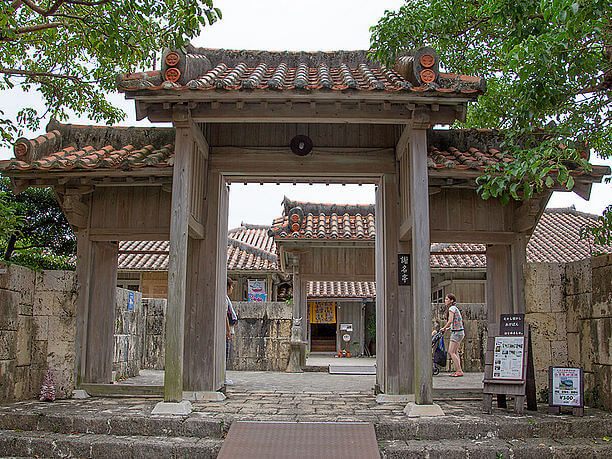 Located within this complex is the red-tiled wooden building Ryukyu Bukeyashiki Janatei. While today it serves as a Japanese restaurant, during filming of Ryukyu no Kaze it was used as the residence of the high-ranking samurai Jana Ueekata, from which it derives its name.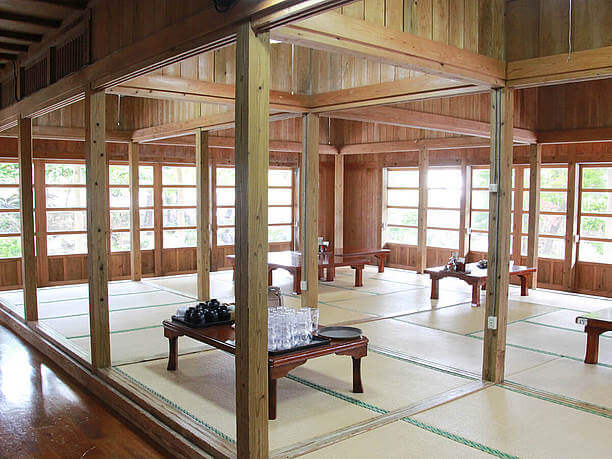 Relaxing in the spacious tatami room with Okinawa soba noodles and other Okinawan cuisine, you'll feel like you've traveled back to the days of the Ryukyu Kingdom! Well, I can't guarantee that you'll feel like you've time travelled, but you will get a glimpse of the old-fashioned living spaces of Okinawa.

At any rate, the tatami-floored interior is spacious! Both table and floor seating are available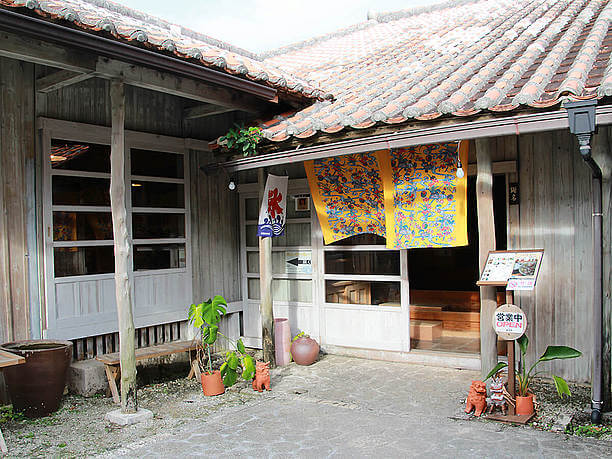 When entering the red-tiled wooden building, you'll be amazed at the spaciousness of its tatami-floored interior. Divided into two sections, the interior is designed with generously spaced seating to preserve its pleasing atmosphere and keep adjacent diners off your mind—even with a full house.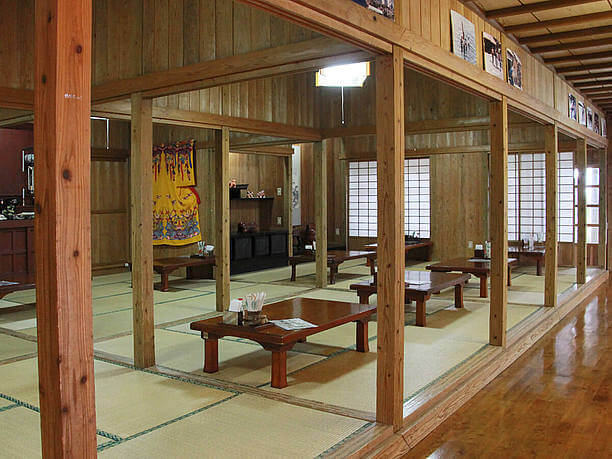 Today, the building's spaciousness—designed at the time of filming to be fitting of a commander of Jana Ueekata's high rank—has made it a successful space for wedding receptions and other events. At night, Ryukyuan dance and dinner shows and other events are held for the general public (fees apply).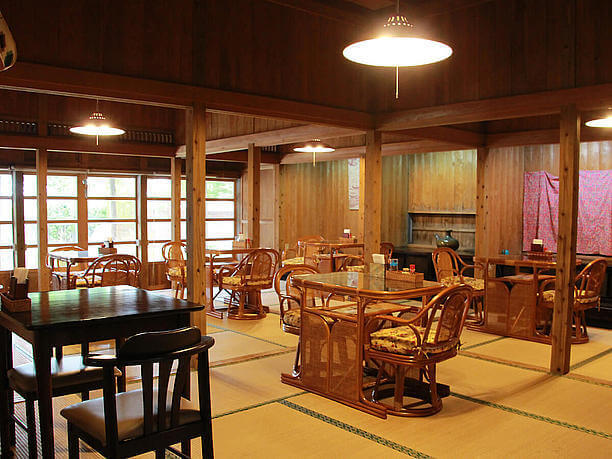 Besides floor seating, there is also table seating, with the chairs and tables placed directly onto the tatami floor. This somewhat Western, somewhat Japanese space utilizes the building's original layout as an exterior set.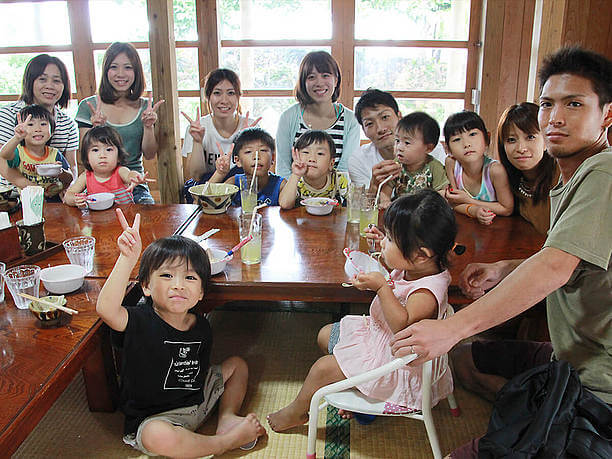 As this family of 15 from Tokyo explains, seating is no problem, even for large groups. We would like to thank the members of the family for letting us take their picture.
A noodle named after a restaurant? What are these "Janatei soba noodles!?"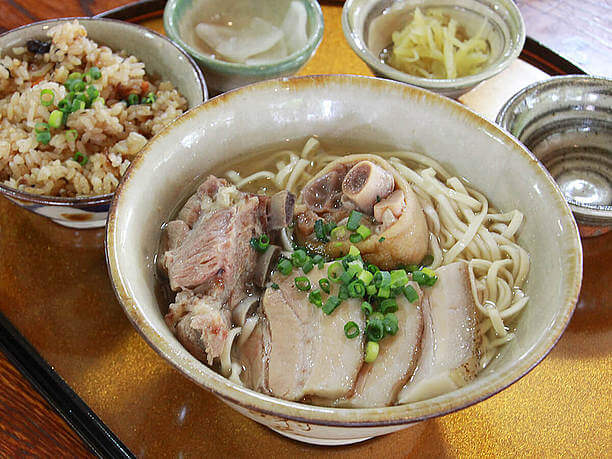 "Janatei soba noodles" are a type of Okinawa soba noodles. They use thin noodles made by the Kamehama Noodle Factory and come topped with boneless "three-layer" pork rib meat, bone-in pork spare rib, and pig's feet (¥980). With its pork bone and bonito fish base, the broth has a light, fishy taste and is blended with the savory umami flavor of onions, scallions, and shiitake mushrooms.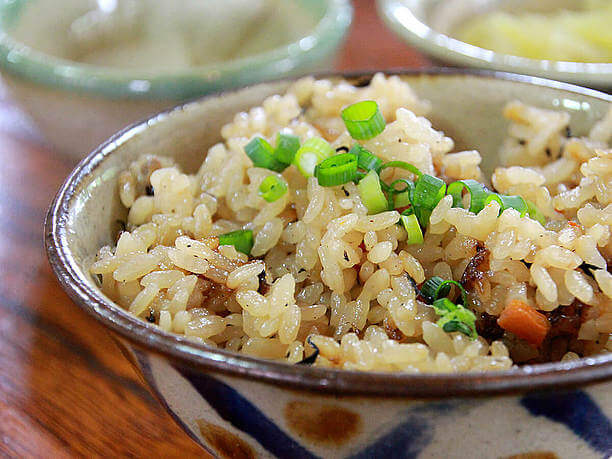 Jushi is an Okinawa-style mixed rice dish containing boneless "three-layer" pork rib meat, shiitake mushrooms, scallions, and hijiki (a sea vegetable). Originally priced at ¥200, order together with soba noodles for a ¥50 discount.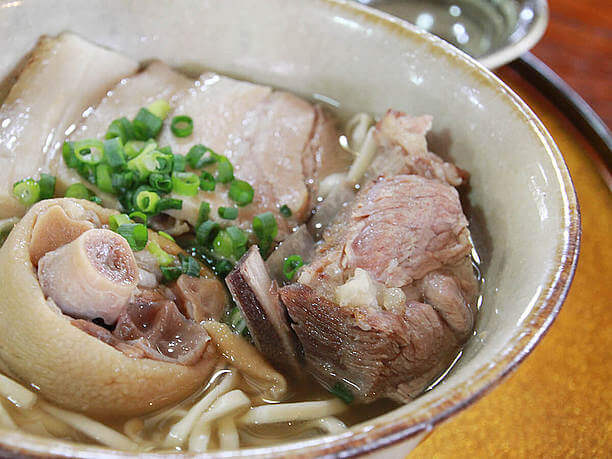 Top with Janatei's homemade vinegar-pickled ginger for a bold way to enjoy Okinawan cuisine.
In conclusion, a bit about Jana Ueekata and the restaurant's decor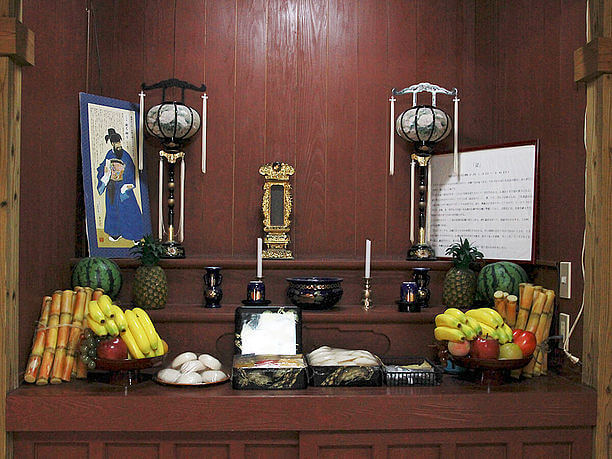 A replica of the room housing Jana Ueekata's family Buddhist altar, recreated in a modern style. Jana Ueekata, also known as Jana Rizan, was a member of the Ryukyu Kingdom's Sanshikan, or Council of Three.

Jana Ueekata has been described as "an unbreakable politician who resisted the Shimazu clan to the end." Indeed, when Satsuma's Shimazu clan sent its army to Ryukyu, Jana Ueekata led the kingdom's army against the invasion. For a time, the Ryukyu forces proved superior in battle, but ultimately Shuri Castle was surrounded and King Sho Nei surrendered.

Later, Jana Ueekata was taken to Satsuma, where he was beheaded upon continuous refusal to sign an oath of loyalty to the Shimazu clan. The politician stood his ground until the very end, refusing to bow to pressure and sacrificing his own life for the sovereignty of Ryukyu.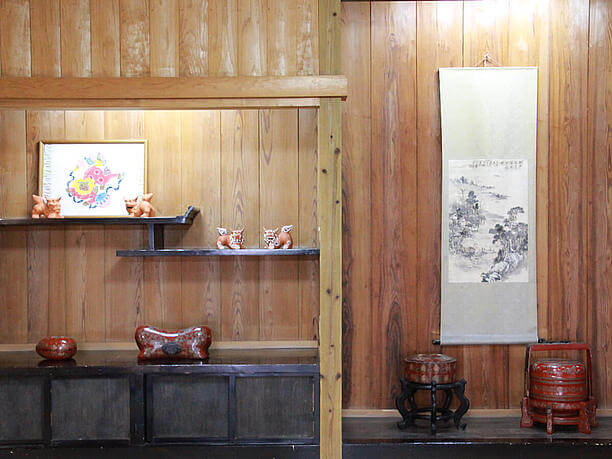 A shelf decorated with Ryukyuan lacquerware, yachimun (ceramics), glasswork, and other Okinawan artisanal handicrafts. Also on display is a gorgeous kimono dyed in the Bingata style.

Yomitan-son Village's Janatei (located within Taiken Okoku Murasaki Mura) is a Japanese restaurant where diners can enjoy their food with or without entertainment, and even large groups are easily accommodated. Step inside the red-tiled wooden building and you'll feel like you've travelled back to the days of the Ryukyu Kingdom! Well, I can't guarantee that you'll feel like you've time traveled, but if you're interested, I highly recommend you try dining at Janatei!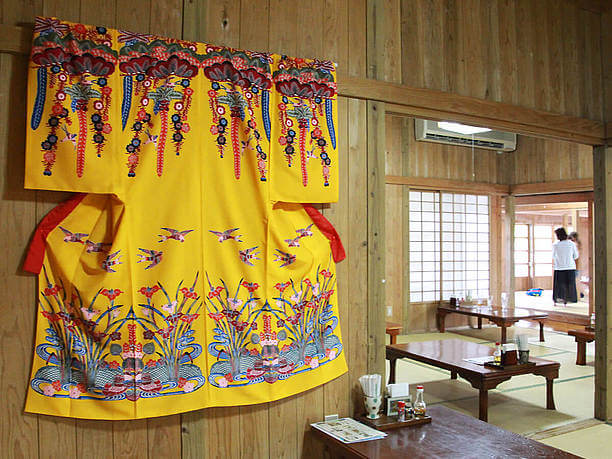 Smart tip
While focused primarily on Okinawa soba noodles, the menu includes Okinawan meal sets, stir-fried Okinawa soba noodles, western-style taco rice, and other offerings.
Janatei is located within the Taiken Okoku Murasaki Mura tourist attraction, which provides visitors with over 100 different hands-on experiences to choose from (some require advance reservations). Vivid vermillion buildings and shisa lion-dog ornaments are scattered throughout the attraction, and a natural sand beach is located within five minutes' walking distance.
Yomita-son Village's Cape Zanpa-misaki tourist spot is five minute drive away. Take a stroll along its paved walking trail for a stunning view of the cape's precipitous cliffs or its famous sunset.
What's interesting
The comfy and spacious tatami room will make you want to plop down and take a nap. During the summer, the cool, air-conditioned interior makes for a perfect rest stop during a walk. And with the adjacent private parking lot, it's easy to pop in for a visit.
Ryukyu Bukeyashiki Janatei
Spot name(Ja)

琉球武家屋敷 謝名亭
Address

1020-1 Takashiho, Yomitan-son, Okinawa-ken
Address(Ja)

沖縄県読谷村高志保1020-1
Telephone

098-958-1110
Price

¥1,000
Open

11 a.m.–7 p.m.
Close

None
Parking lot

Yes
Note