The attention to bread is high due to the high-quality bakers in Okinawa!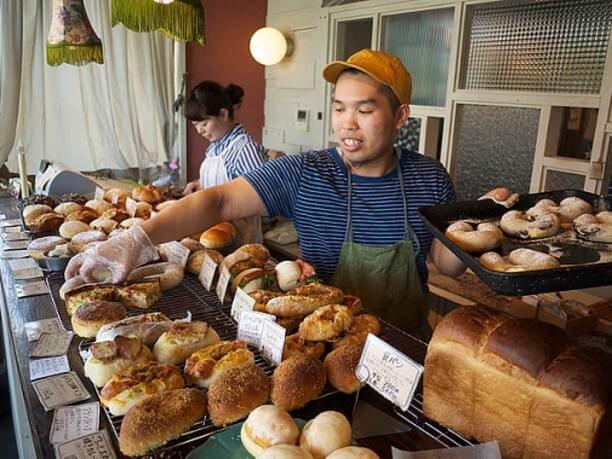 There are delicious bakeries all across Japan, but Okinawa has many of the highest quality bakeries. It is not as well known as soba or steak, but in Okinawa the culture is greatly influenced by its many bakeries. Okinawa is famous for its bread. As you open the door to one of these recommended bakeries in Okinawa, you will see it is a big deal!

Enjoy gourmet bread at this bakery surrounded by nature!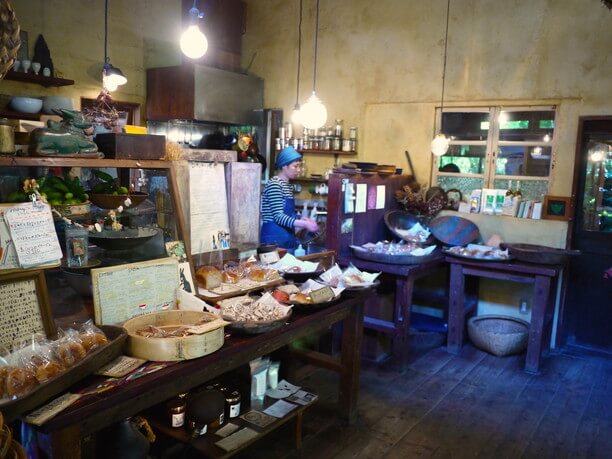 Siens is a bakery near the Zakimigusu castle in Yomitan village. It is a cute wooden shop that is nestled in the rich green of nature! There is a cafe space next to the sales floor where you can have sandwich plates and chai. You can also watch and listen to the birds from the wide open glass door. Take out is recommended so you can enjoy your meal while exploring the rich nature around the Yomitan village.

【Spot name】Suien(yomitan)
【Street address】367 Zakimi Yomitan-son Okinawa
【business hours】10:30 a.m. to 7:00 p.m., Last order at 5:30 p.m. * The bread store closes as soon as the bread is sold out.
【Regular holiday】Monday Tuesday Wednesday
Enjoy the whole grain bread of this bakery in the nature of Okinawa!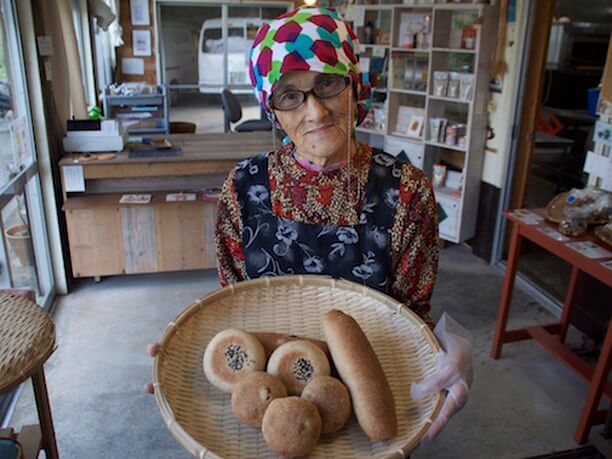 Yaedake bakery is royalty in the "bakery kingdom" of Okinawa. It is a shop that has been making whole grain bread for nearly 40 years. It is located in the Yaodake area of Motobu town, the place that the cherry tree blooms first in Japan (scarlet cold cherry tree). Recommended is the black bread that has been baked here since its founding. This bread containing 80% of whole grain flour rich in dietary fiber, minerals and vitamins and is popular among people who are conscious of health and the environment. The bakery has a great view of the hills, cherry blossoms, and deep green forest. Stop in and try their baked bread in nature.

【Spot name】Yaedake Bakery (Motobu)
【Street address】1254 Izumi Motobu-town Okinawa
【business hours】10:00 a.m. to-6:00 p.m.
【Regular holiday】Saturday
Enjoy an elegant tasting lunch in a cafe located in a remodeled foreign residence!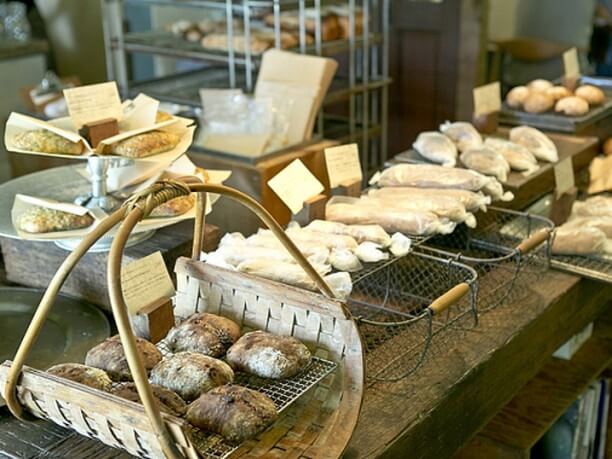 Plowman's Ranch Bakery is located in an old remodeled foreign residence. This cafe always has good music flowing through its inviting space. The bread they sell is created by the owner who is a self-taught baker. He started making his bread by copying what he learned from other shops. The key to his bread's success is the large amount of moisture in his dough and the fact that the fermentation time is considerably long. Items from the sandwich menu can be ordered at any time of the day. Every day at 8:00 a.m. and noon he makes available just 10 special sandwiches that he sells until they are gone! It is also recommended to get some bread for take-out and enjoy the view of the sea and nature of the East coast.

【Spot name】Plowman's Lunch Bakery
【Street address】927-2 Adaniya Kitanakagusu-son Okinawa
【business hours】8:00 a.m. to 4:00 p.m.
【Regular holiday】Sunday
This Popular bagel shop receives orders online from Hokkaido to Okinawa!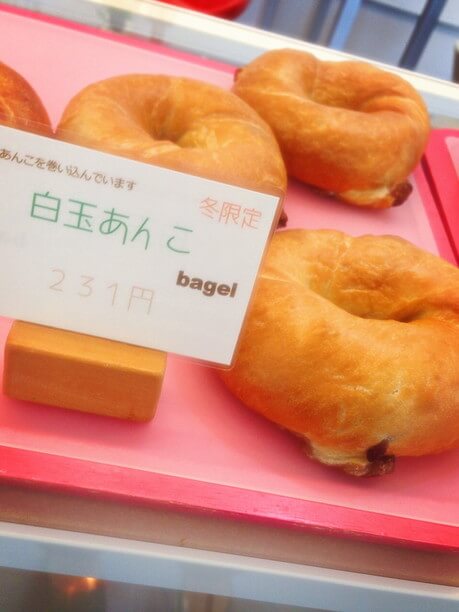 Coco Bagel in Urasoe city's Iso area is a popular bagel shop which receives online orders from Hokkaido to Okinawa. These bagels, which are made from raw materials are recommended for pregnant women and children. kinako chocolate which is popular all year round is used to make a delicious bagel which chocolate chip dough and kinako powder. Bagels are the best bread for eating in a car when going sightseeing or as a snack at the beach.

【Spot name】Coco bagel
【Street address】1F 2-22-10 Iso Urasoe City Okinawa
【business hours】11:30 a.m. to 5:00 p.m. (or as soon as it is sold out)
【Regular holiday】Sundays and public holidays
Enjoy baked bread for breakfast, 7 days a week!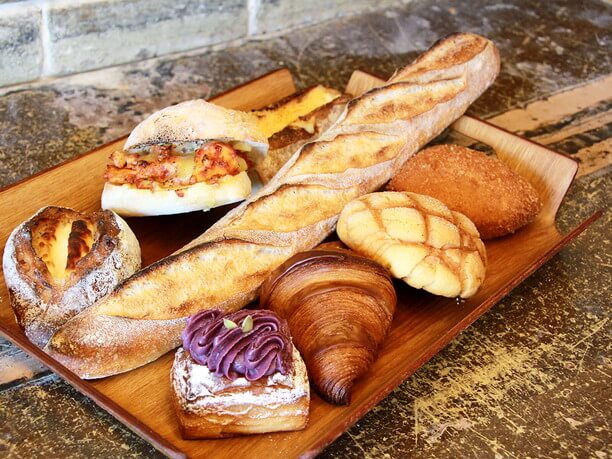 Pain de Kaito in Nago city is a popular bakery open 7 days a week from 8:00 a.m. to 7:00 p.m. They have Over 50 kinds of bread every day. Besides the most popular baguettes and baked bread, they have special bread to wean babies. Basically, they have bread for all, regardless of age and sex.
They offer free coffee and bread samples in the corner of the store. So you can try something before you buy it!

【Spot name】Pandokite
【Street address】4-2-11 Umusa no Mori Nago City Okinawa
【business hours】8:00 a.m. to 7:00 p.m.
【Regular holiday】None

Enjoy this delicious bread made with real attention to its combination of ingredients!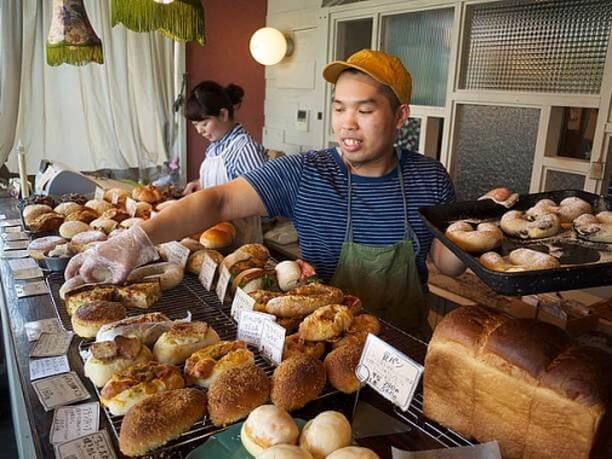 This cute bakery was named after the thought "I want to make delicious bread as much as a cheek falls". (To make cheeks fall is a Japanese expression for "really enjoying the taste")! This bread is characterized by a combination of ingredients that are not easy found in other shops. "Hoppe Pan," advertised on the signboard menu is a fluffy bread made with cream of white azuki beans and custard cream, condensed milk, and honey. The biggest variety of bread is available from around 1:00 to 2:00 in the afternoon, so aim for that time if you want the most to choose from!

【Spot name】Hoppe Pan bread
【Street address】3-3-7 Ohjiyana Ginowan City Okinawa
【business hours】10:00 a.m. to 7:00 p.m.
【Regular holiday】Thursday · First and third Friday