If it's your first time to fly you might have some anxiety about what you need to do.
If it's your first time to fly in a plane, you might feel a bit of anxiety about things you don't know.

So let me tell you about how to fly in a plane (domestic JAL • ANA)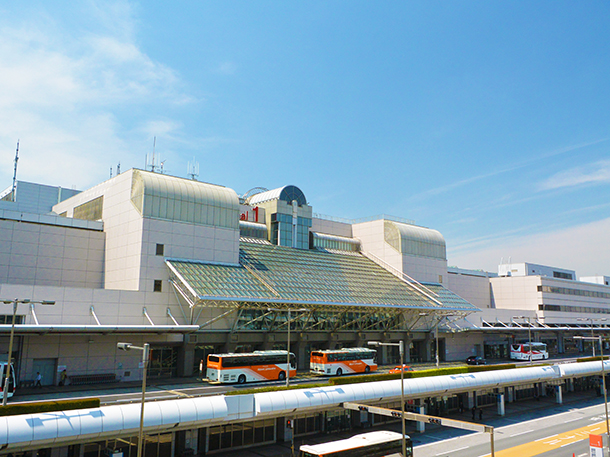 Things to do up to boarding.
Things to finish the day before.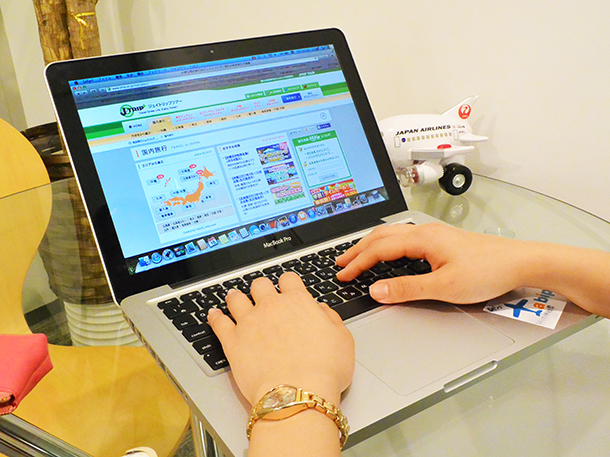 ① ticket reservation (purchase)
It not like the bullet train, sometimes you can't get on without a prior reservation.
Peace of mind begins knowing that you have a reservation.

② seat selection
If you select your seat the day before sometimes you don't have to check in at the ticket counter. JAL "Touch & Go," and ANA "skip service, provide that service.
Please refer to the second half of article if you would like more information on this.
There is also further information available on the process of seat selection.

Things to do the day of your flight.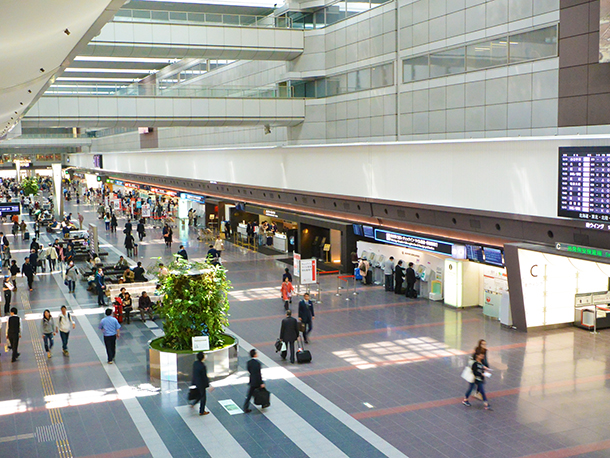 ③ Airport arrival
If it is crowded it can sometimes take up to 30 minutes to check your luggage.
So it is a good idea to arrive at the airport 60 to 90 minutes before your departure time.

④ Ticketing
Go the Check-in counter of the airline you made a reservation with (JAL • ANA etc.).
You will receive a ticket from the agent or at a check-in machine.

Check-in method at a check-in machine



● Check-in at the IC
FeliCa wallet money, JMB IC card, JAL IC service all allow you to check in with the IC card. You must have registered the JMB membership number on the Web site in advance. Upon check-in, there is a place to insert the card into check-in machine.

● Check-in at the bar code
There is a place to check using the bar code reading machine.

● Check-in with a credit card
If you want to check-in using the JMB card or another credit card, and you don't have JAL IC service you must have registered in advance with your JMB membership number.

● Check-in with the confirmation number
You can check-in using the confirmation number that was given to you at the time of your ticket purchase. See below for details.

Once you've checked in using one of these ways, you can confirm your reservation information on the confirmation screen.
Then, check the in-flight luggage rules and precautions.
Continue by pressing "Next". It will open to the seat selection screen. If you already have a seat assignment, you can proceed. If not, you can select a seat and then press the confirmation button.
Once you have checked in you will get a blue ticket with a barcode (QR code).

When you go through the security checkpoint you will need to show them your IC card or the blue ticket with the bar code Have it handy so you can present it at the security checkpoint and get through smoothly.
※ The photograph is JAL's check-in machine, but it is roughly the same as using ANA's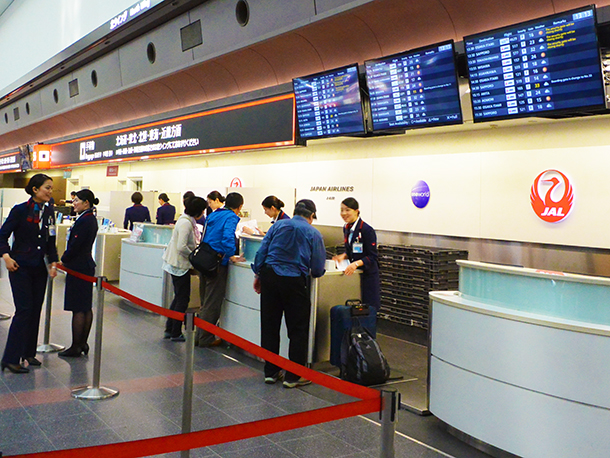 ⑤ Checking in luggage
You check in your luggage at the baggage counter of the airline (JAL • ANA) you are flying on.
Before you give them your bag to go through the X-ray machine check to make sure that your bag doesn't contain any prohibited items.
You are also allowed one carry-on bag.
After the X-ray inspection is completed, they will weigh your bag. It can weigh up to 44 lbs.
※ In the case of first-class reservations, you can have up to 99 lbs, with one bag weighing as much as 70 lbs.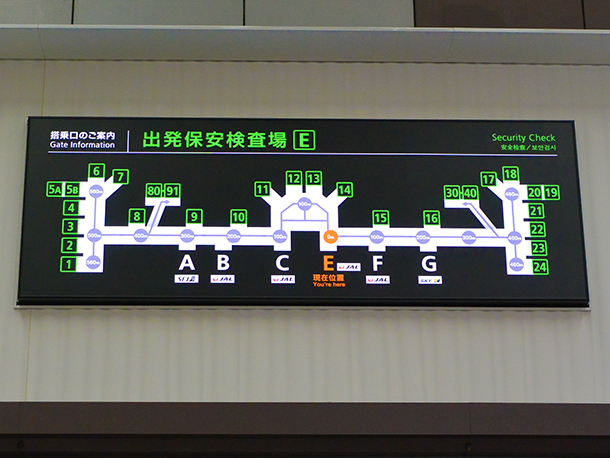 ⑥ Security Inspection
For a first time traveler, this might be the most stressful part of their ordeal.
You will be going through a metal detector. So first off, remove any metal accessories as well as any metal from your pockets.
You can place them in your carry-on bag or in one of the trays provided.
In addition, remove any electronic devices such as a PC from your bag and place them in a tray.
Before passing through the security gate also remove any belt with a large buckle or any other accessories made of metal that you are wearing. You can place them on a tray.
You need to pass through the security checkpoint at least 15 minutes before the take-off time of your flight. Come early to give yourself more time to get to your plane.
If you are even one minute past the end of your flight's boarding time you will not be allowed on.

Detailed notes on the security checkpoint.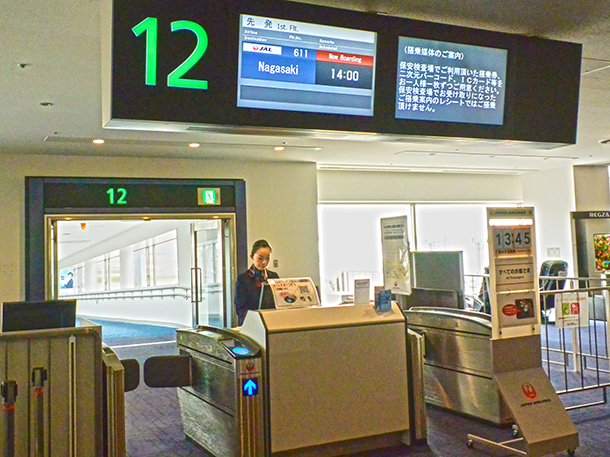 ⑦ Departure Lobby and boarding gate
After you get through the security checkpoint youwill go to the lobby for your departure gate. Go to the boarding gate that is written on the paper that came out at the security checkpoint,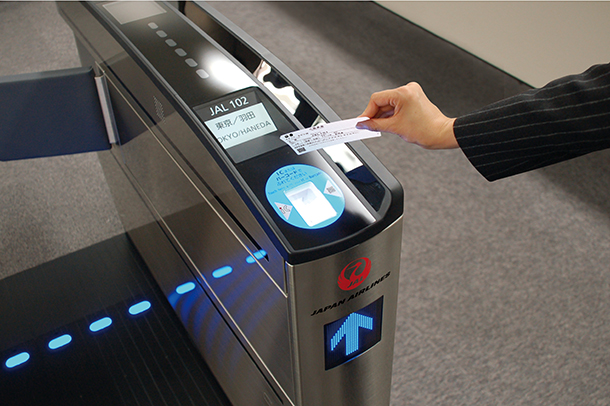 ⑧ Boarding
10 to 15 minutes before departure the boarding of the aircraft will be announced.
Here, you hold up your IC card or QR code to the check-in machine

For smooth boarding, they have an order for the boarding.
1. People with small children or baby, and pregnant women.
2. First-class passengers, JMB Diamond members, JGC Premier members, and Oneworld Emerald members.
3. People sitting in the rear of the plane (No. 30 or higher)
4. All other people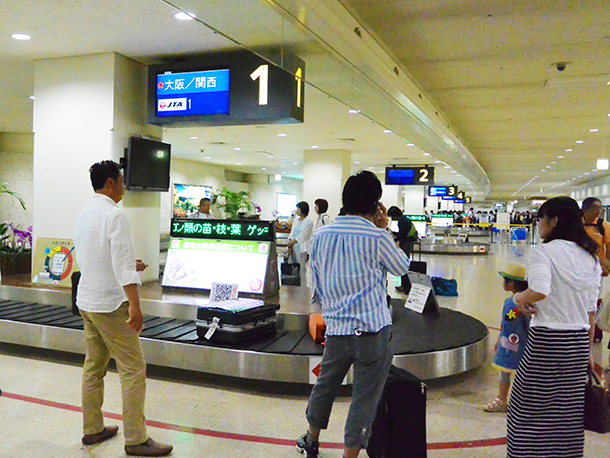 ⑨ After landing
People who did not check any luggage can just leave through the exit.
For those who did check luggage, you must go to the baggage claim area.
(Luggage will come flowing from the conveyor belt.)
When you get to the baggage claim area, confirm the flight number of the plane.
Then go to the front of the conveyor belt designated for your flight number.
Pick up your luggage as it flows past you on the conveyor belt. Look at the ticket that you received when you checked your luggage. Make sure your ticket matches the tag on your luggage.

※Because you can not re-enter the baggage claim area after you leave, make sure you do not forget to pick up any of your luggage.
No wait! How to walk non-stop to the airplane.
I think that many people are under the impression that it takes a lot of time to board an airplane.
However, in the case of people who are accustomed to flying, they can arrive at the airport just 20 minutes before departure.
You can get to your seat without a stop!
Let me explain how!
※ If you overlook something or make a mistake there is a possibility that you can miss your flight. So I do not it is not recommended this for the first time travelers. For them, I advise that they arrive at the airport with time to spare.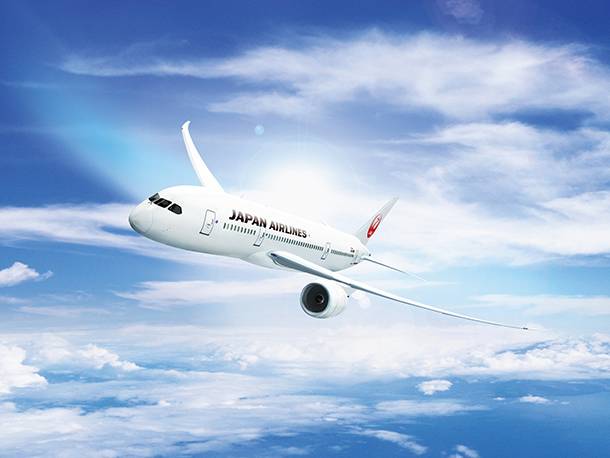 ● Using the Touch & Go (skip service).
Touch & Go is a service that works if you have already chosen your seat and don't need to check-in the day of your flight.
In other words, if you don't have any luggage to check.
You can skip the check-in machine and go directly to the security checkpoint
In addition, the security checkpoint has a priority lane for the near boarding time flights. If you arrive in about 20 minutes before your flight you can use the priority lane.
※ You must pass through the security inspection gate 15 minutes before your flight. Sometimes it may take more than 5 minutes to get through the security gate so it is best to give yourself a little extra time.

You might feel a little anxiety the first time you try this method. But it gets easier once you have a solid understanding of how it works.
Once you have experienced flying you will discover that it is not really that difficult.
So the next time you fly you will be better able to relax and enjoy your long awaited trip.
Please enjoy a comfortable journey.!