Using JAL Express tag service can speed up your luggage check in.
"Express tag" is a service that is available at Haneda Airport to speed up baggage check in.
Passengers themselves can issue tags by using special machines in the check area. This can reduce your waiting time at the counters and enable you to have a smoother flight.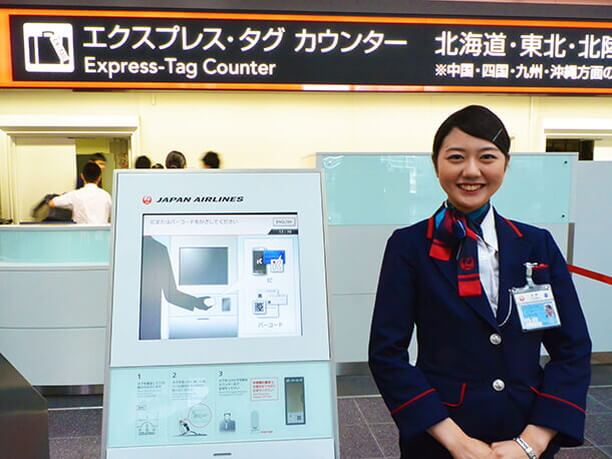 Order of Operations
【STEP 1】 Check-in and choose your seat.
You can complete your seat selection in advance. Please refer to articles listed below to learn how.
See using the Internet, airplane seat to specify to let

At the Haneda Airport you can also make your seat selection at the automatic check-in machine.

【STEP 2】 Get your baggage tags issued by the Express-Tag machine.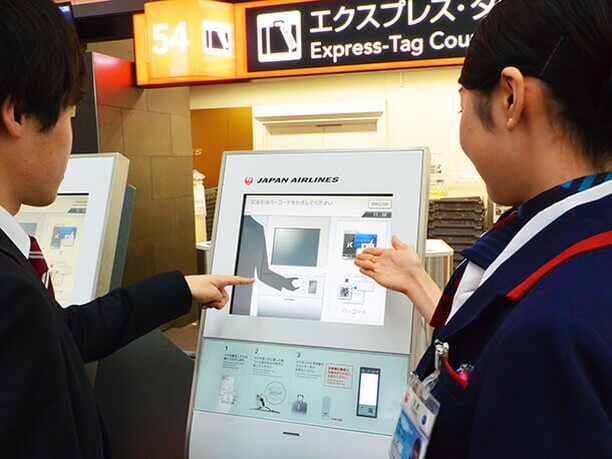 You will need to scan either your IC cards, 2-d barcodes, or boarding pass
into the machine.
You will need to provide some information such as, the number of bags.
Please also check to make sure your flight departure time and destination is correct.
Touch the "Issue tags" button on the screen and the tickets will come out on the bottom right side.
Note: (1) The tags will not be printed if you have not already checked in.

【STEP 3】 You need to attach your tags.
The tags can be attached to your bags by closing the seal with the line of pink paste.
Be careful not to try to attach the tag above the top of the pink line.
If any questions on how to attach the tag just press the "how to put on the tags"
button on the screen. The next screen will describe the mounting of the tags.
Note :Keep your baggage claim ticket to claim your bag when you arrive at your destination.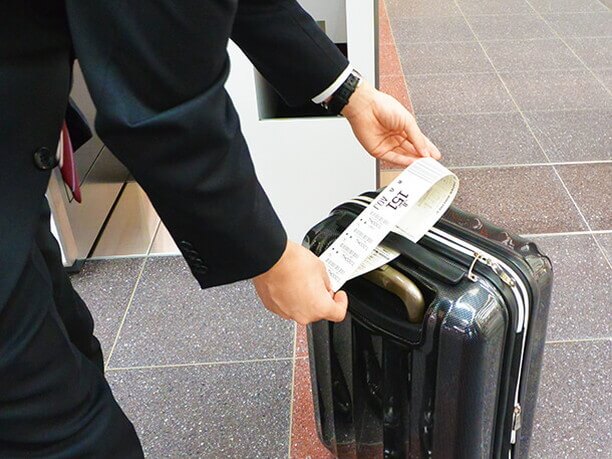 【STEP 4】 Deposit your tagged luggage at the "tagged baggage"counter.

Drop off your tagged bags at the tagged baggage dedicated counters, and your check-in is complete.
Note: When checking in your luggage they will need to see whatever you used to check in with (ie. ic cards). They will also need to see it at the security checkpoints and boarding area, so keep it handy for quick access.

Of course, Haneda Airport also has the normal check-in counters available.
So whether you want to use the Express tag service or go to the counter to check your bags,either way we hope you enjoy comfortable air travel and smooth boarding.