Making your flight more comfortable! When is the least crowded time to board? Where's the most peace and quiet seat on a plane?
Many people when thinking about a comfortable flight, consider the amount of space they have very important. This is especially true for someone traveling with small children or someone who is big in stature.
It is also something that is on the mind of busy work related travelers. So let's discuss the best times to travel and where to sit.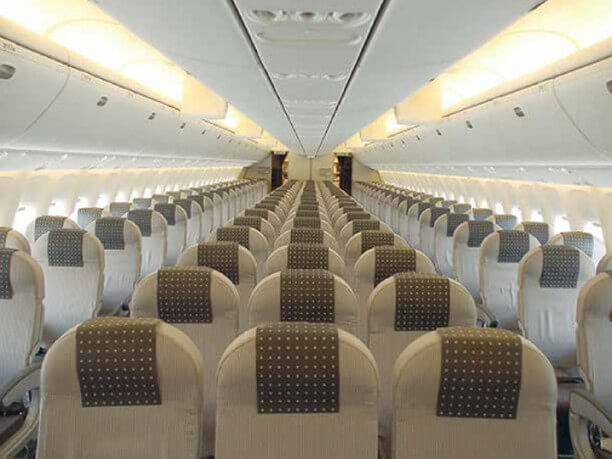 When do flights have the most vacant seats?
Basically in the afternoon is good.
Departing flights tend to be busy in the morning because people want to arrive early to their destination. Another busy time is the early evening because of travelers who just got off from work.
On the other hand, for return flights it tends to be more crowded at night since people want to stay at their destination as long as possible.

※Outward flights Haneda Airport departure → Naha Airport arrival (In the case of Tokyo,Okinawa travel)
※Return flights Naha Airport → Haneda Airport arrival (in the case of Tokyo, Okinawa travel)

Therefore, if you go in the afternoon the flights are least crowded around 2:00.
If you are planning about what day of the week to reserve the flight, typically weekdays are less crowded. Friday and Saturday departures are busy and then gets less crowded on Mondays.
The location of the vacant seat?
Let me introduce you to the knack to get a less crowded seat. In the case of the same flight at a certain time.

You can generally determine if the seating is crowded on your specified airplane when you make your reservation.

At the reservation time, if you want to secure a seat position that is least crowded
Please refer to the seat selection chart.
When the departure date is approaching, check the website of each airline,
under seat confirmation. Since you can change your seat on your own,
it is important to realize the seating patterns.

One good tip, seats in the rear are not most likely crowded. This is due to the fact that people in the front of the plane can get off first.

So now you can avoid the busy times of day for travel, choose a good seat position, and enjoy more leisurely air travel.