Your flight is cancelled because of a typhoon! A comprehensive guide on how to cope
You might panic when your travel schedule for a tour is all set and then you find out from the weather forecast that a typhoon is coming on the day you are leaving.
Okinawa in particular gets hit by a lot of typhoons.
Here we will explain how to cope with changes to your travel plans, such as flight cancellations due to bad weather, so you do not lose your head just before you leave.
Sudden bad weather is a common occurrence in travel.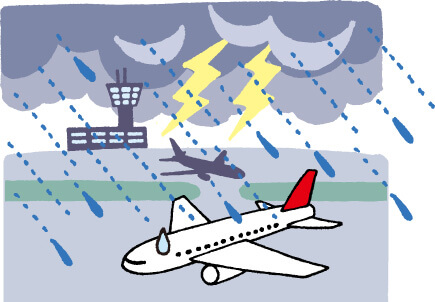 If your flight is cancelled due to inclement weather
Inclement weather refers to the heavy rains and strong winds caused by typhoons and storms, as well as various other weather conditions like blizzards and fog.
Be aware that your flight may be cancelled due to such unavoidable weather conditions.

CHECK!If your outgoing flight is cancelled
If your outgoing flight is cancelled, you have two choices: cancel your trip to Okinawa or take an alternate flight to Okinawa.

[Cancelling your trip]
● For package tours through a tour operator, in most cases you will be allowed to cancel and receive a full refund if your flight is cancelled.
★For tours booked through J-TRIP, if you cancel your trip because your JAL flight was cancelled, the full cost of the tour will be refunded, including hotel charges, etc.

● You will also receive a full refund when you cancel if you booked your flight directly through the airline.
However, you may not receive a full refund from low cost carriers, depending on the company and circumstances, so you will need to verify that.
Keep in mind that you may have to cover any service fees when receiving a refund.

[Taking another flight]
If there are open seats on the flight you want to take in place of the cancelled flight you booked (also possible for flights on the next day), you can change your flight reservations at no cost.

Even when there are no open seats when you check by telephone or Internet, if you request to be put on standby for an open seat at the airport counter, you may be able to board the flight if there are any cancellations that day.
You can only request to be put on standby at the airport counter, so if the flight you booked was cancelled but you still want to go to Okinawa no matter what, we recommend going to the airport.
Show proof of your reservation on the flight that was postponed or cancelled at the counter and request an alternate flight.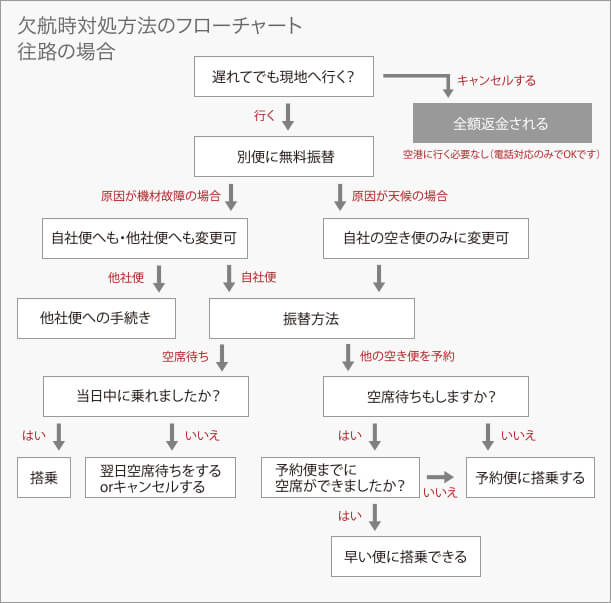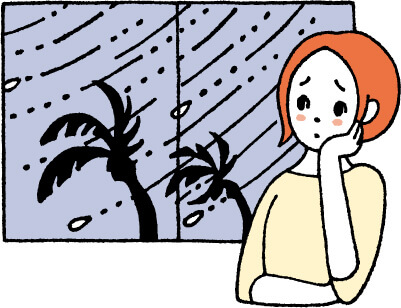 CHECK!If your return flight is cancelled
If you are already in Okinawa and the return flight you booked is cancelled, unlike an outgoing flight, you will have find some way to get home.
The only option is to fly home on an alternate flight, so you will need to change your flight directly through the airline.
If you end up taking a flight on the next day because there were no open seats, you will usually have to cover the extra cost of accommodations in Okinawa yourself, so contact the tour operator and have them refer you to a hotel.
However, if you get referred by a package tour company, the cost for handling just the hotel may be quite high, so you can often save money by using a hotel reservation service like Jalan.

On the other hand, by making the arrangements through the tour operator, you may be able to get reservations at a hotel that was fully booked when using a hotel reservations service, so you should contact both and look into it carefully.

Generally, if the next flight after the cancelled flight you booked is full, you will have to wait in Okinawa until there is a flight with open seats.
They will show you the soonest flight with open seats, but depending on the current circumstances, it may not be clear when that will be.
Do not worry, though! They can schedule extra flights, so you will almost never be stuck waiting in Okinawa for days on end.
* As with outgoing flights, you can only request to be put on standby for an open seat at the airport counter.
* Even if you change to a more expensive flight than the one you booked, you will not have to pay the difference in fares for the outgoing or return flight. In fact, if the fare is cheaper than the flight you booked, airlines like JAL and ANA will sometimes refund the difference.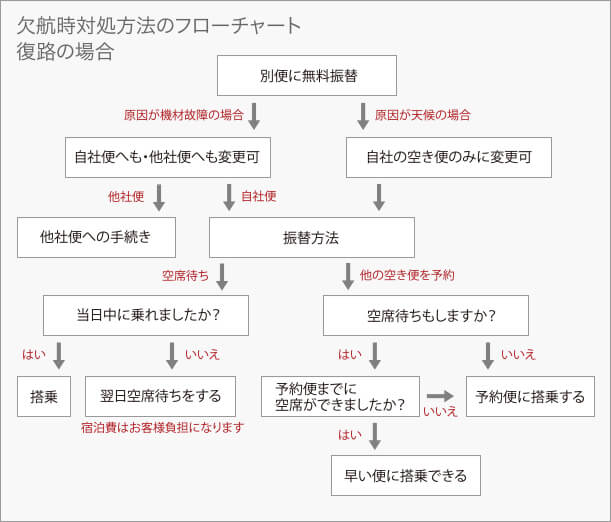 Conditional status means that although the flight is not cancelled at the current time, it may be cancelled that day due to an approaching typhoon, etc., and you can cancel (with a full refund) at your discretion.
If a flight is put on conditional status two days before it departs, you can choose to cancel at that point in time or wait until the day of the flight to cancel.
You will receive a full refund either way.
If your flight is delayed due to mechanical failure
Finally, we will cover a different scenario to cancellations caused by typhoons or other bad weather.
Delays caused by mechanical failure that are attributable to the tour operator, etc., are typically handled in the same way as inclement weather conditions.
If the tour operator has "interline agreements" with other carriers, you may be able to change your reservation to a flight on another airline.
It may also be changed to some alternative regular method of transport other than flying.

Point! How to check if the flight you booked has been cancelled
You can check this on the airline's website.
For JAL, check the "Flight Status" or "Flight Delay/Cancellation Information Search" pages on the JAL website and see if there is an asterisk (*) in the remarks column.
Flights marked with an asterisk are either cancelled, delayed 30 minutes or more, postponed due to inclement weather, or operating under restrictions.
Link: http://www.jal.co.jp/cms/other/ja/weather_info_dom.html
Every airline has a page on its official website where you can check flight status.
Airline Contact Information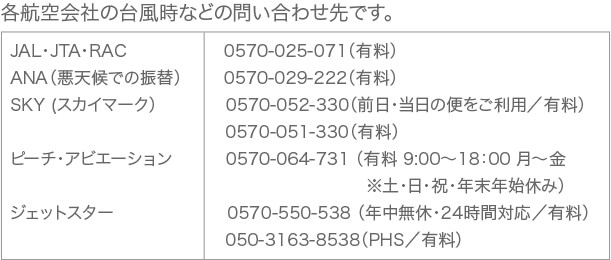 POINT! Things to watch out for
If you decide to cancel on your own, there will be a set cancellation charge, even if a typhoon is coming.
Flights will be cancelled if it is determined that the conditions would interfere with the safety of the flight in any way, so if there is a high probability that it will be cancelled due to an approaching typhoon, etc., it will usually be put on conditional status one to three days in advance.

If the forecast predicts an approaching typhoon or other bad weather, refer to the information above to keep a level head and stay calm when handling changing your reservations, etc.