Visit the Yukijirushi Meg Milk center and learn the history of dairy farming!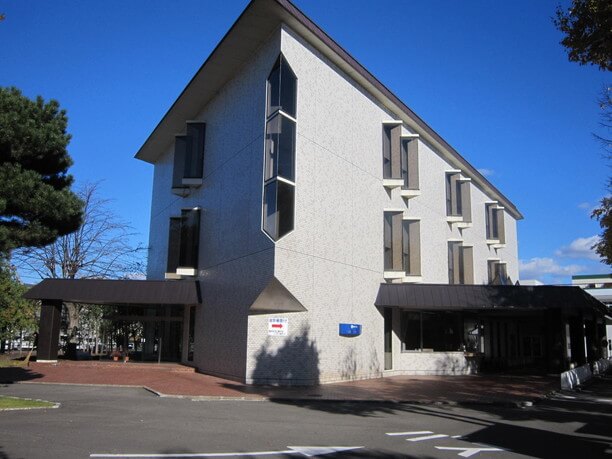 The dairy farming and milking historic center of Yukijirushi Meg Milk is located in a working dairy manufacturing plant representing Hokkaido. It opened as the Yukijirushi Milk History Museum in 1977.
There is much literature and many exhibits such as butter making machines used in the past that were carefully preserved. Admission is free. It is the best spot to learn about the history of dairy farming in Hokkaido.

You can also visit the attached Sapporo milk factory, and sample freshly made milk and cheese!

Enjoy learning the history of Hokkaido dairy farming!
To get to the dairy and milk historic center, go east from JR Sapporo station and get off at the first stop at the Naebo station and walk about 15 minutes. It is located on the premises of the Sapporo plant. You will be welcomed at the entrance on the 3rd floor by a member of their staff. You will first see a large photo panel talking about the history of dairy.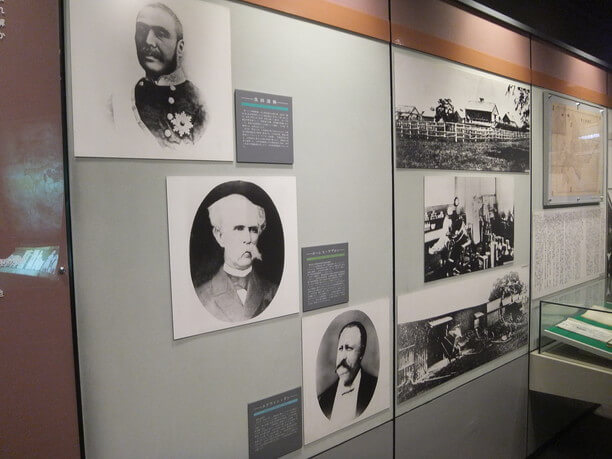 In 1874, Hokkaido Deputy Secretary of Understanding Vice-President Kiyotaka Kuroda (黒田 清隆)went to the United States to investigate dairy operations and be advised by the US Agriculture Director Hourence Keprón(ホーレンス・ケプロン). Later Edwin Dunn(エドウィン・ダン), who received a request for agricultural guidance from Kepron, came along with several cattle and sheep, and dairy farming in Hokkaido began in earnest. Precious literature written at that time is also being exhibited.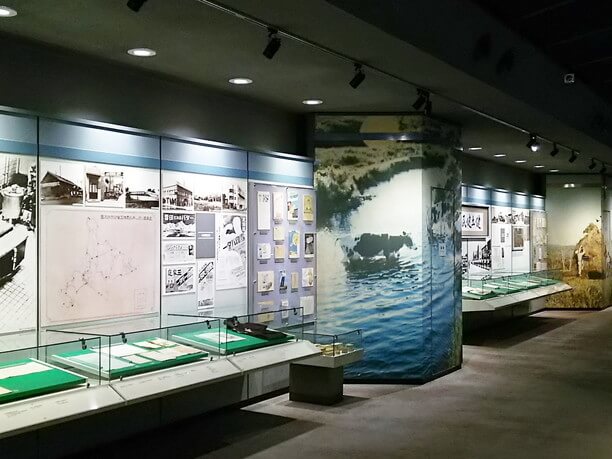 Making butter was a hard time?
Sentaro Utsunomiya (宇都宮仙太郎)who was called the father of dairy was born in the Oita prefecture. He heard that "milk makes the body sturdier," and came to Hokkaido. But in this era there was no custom of drinking milk, and even if it was produced it would not be easy to sell. So instead, Sentaro began to make butter that is easy to preserve. They have on display the butter making machine used at that time. It is a shiny piece of equipment that seems to be fully in use now!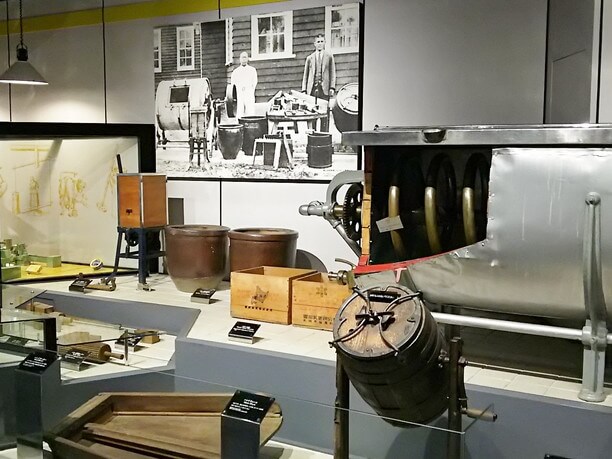 In 1925 Sentaro was appointed to the union chief of Hokkaido-made dairy sales association, the predecessor of Snow Brand Milk Industry, and full-fledged commercialization of butter began.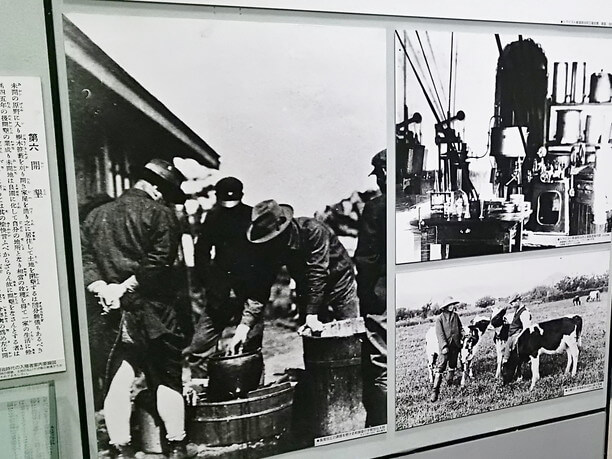 From the Taisho era to the Showa era, dairy products came to the citizens' table. Manufacturing machines also evolved, and machines that make powdered milk are displayed together with the factory's diorama. There are pictures of dairy farming in the Showa era that shows where the Emperor visits the farms. This shows that it was considered an important industry. There is also a model on display of a production line that runs electrically, and the children are delighted to see it!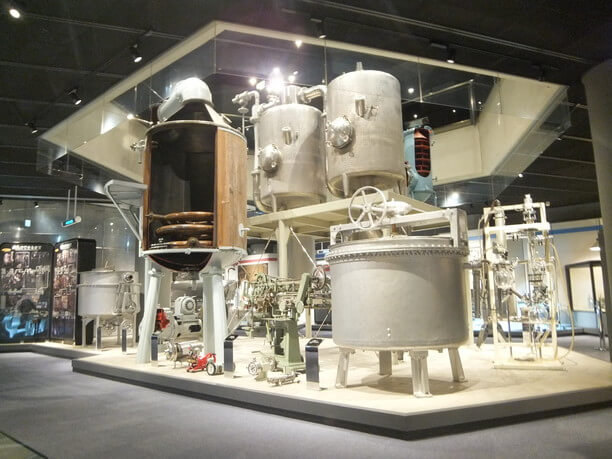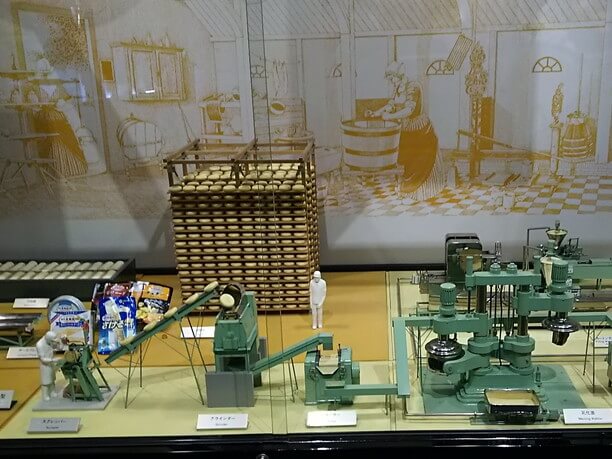 You can find a nostalgic package!
After learning plenty of the history of dairy, there is an old product package corner you can visit. The butter box design is almost unchanged!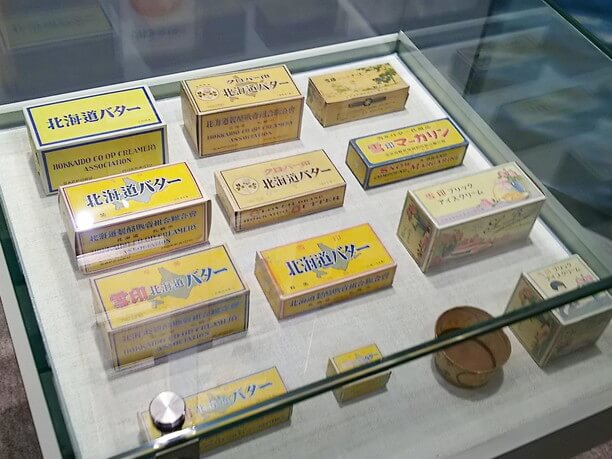 The dairy industry got its start from butter making! It was the origin of dairy farming, and various products were born over time. In the corner where the Showa 's packaging is exhibited, many people stop there because of a feeling of nostalgia. They may see a box of a dairy product that they used as a child.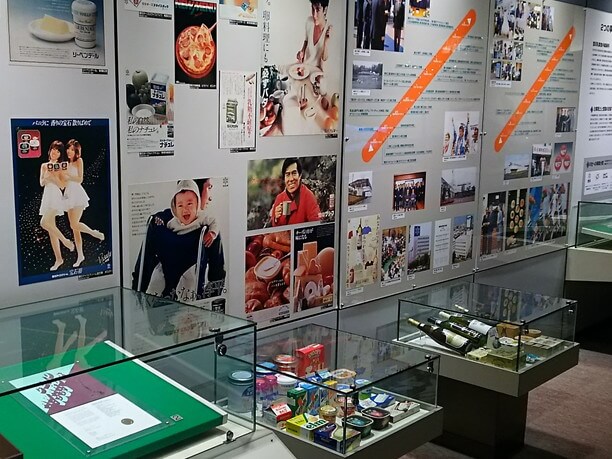 A shrine is born for the Katsugen drink!
After learning the history of dairy, you can go to the Sapporo Factory through the communication passage. There you can visit the milk production line.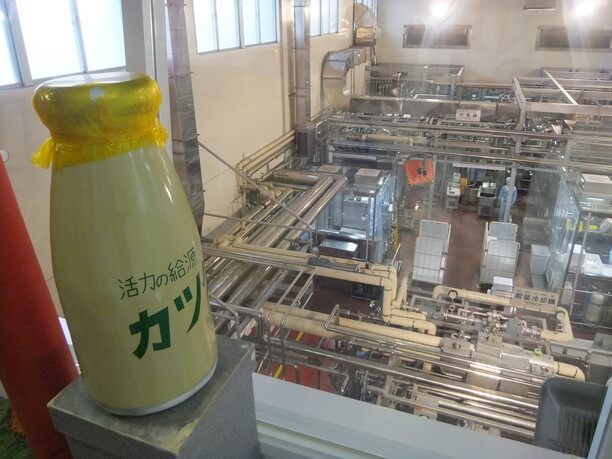 A bottle of lactic acid bacteria beverage katsugen which is offered only in Hokkaido is displayed. Currently, it is sold as a soft pack that is popular with children to adults. It is a very popular long-selling drink. There is often a request to drink the old katsugen that some people feel was tastier than what they sell now!" So in January 2016, the taste of "old katsugen" appeared in commemoration of the 60th anniversary of its release.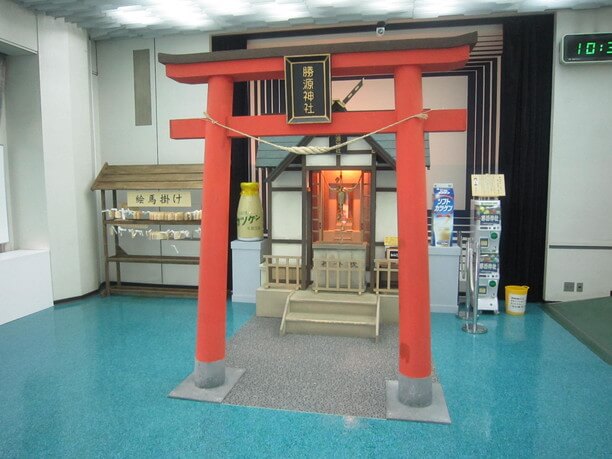 In 2005 a Katsugen Shrine using auspicious Chinese characters was born in the hall. It became a famous spot to visit by students and others. The Katsugen Shrine is next to the PR room on the 1st floor of the historical center and you can visit without having to apply for a tour. Drink, pray and pass!
Learn fun and taste deliciously!
After finishing the tour, you will be happy to taste milk and cheese! You may feel it is tastier than the milk you are always drinking. Currently, in collaboration with the chocolate maker Lloyds Confection, they developed a chocolate flavored cheese. Dairy father, Sentaro Utsunomiya says it is surprisingly delicious.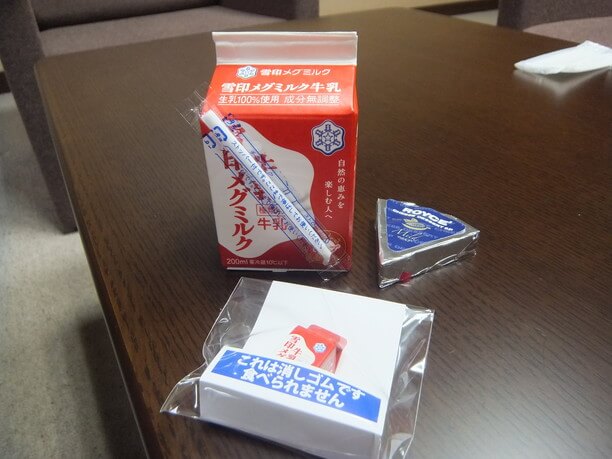 Dairy products have become commonplace now, but only because of the hardships and efforts of their predecessor. When you see the scene with a cow and a calf at the historic center of dairy and milk after learning about the pioneering era of the dairy farm, you may feel somewhat more appreciative!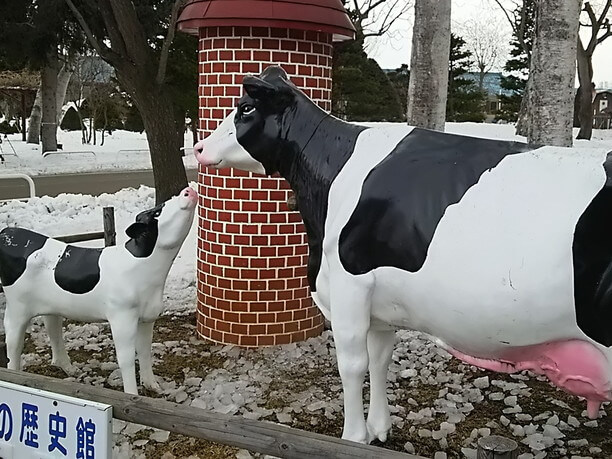 Smart tip
It is a 15-minute walk from JR Sapporo station to the historical center by getting off at Naebo station. From the north exit of Sapporo station, take the bus to "Higashi 63 east office" and get off at "Kita 6 Jo Higashi 19 chome".
When doing sightseeing in Sapporo, when the weather is not good it is perfect time to visit the historic center! They respond to reservations from the previous day. (Reservations are accepted from 9:00 a.m. to 11:30 a.m., and from 1:00 p.m. to 5:00 p.m.)
Although there are two observation courses, our recommendation is taking the A course which starts at 30 minutes after the hour from 9:00 a.m. to 11:00 a.m.! You will have plenty of time to take the tour and visit the dairy!
What's interesting
It is fun to see the old product packages and retro advertising signboards from the Showa era! It is a pleasant experience that you can have a sample with free admission.
Meg Milk Dairy and Milk History Hall
Spot name(Ja)

雪印メグミルク酪農と乳の歴史館
Address

1-1 6 - chome Naebo cho Higashi - ku Sapporo city Hokkaido
Address(Ja)

北海道札幌市東区苗穂町6丁目1番1号
Telephone

011-704-2329 (inquiries · reservation)
Price

free
Open

9:00 a.m. to 5:00 p.m.
Close

Saturday, Sunday, holiday New Year's Holiday
Parking lot

There
Note